Whirlpool Jacuzzi Baths
Available with a huge range of hydrotherapy solutions and the ability to customise your whirlpool bath or Jacuzzi bath to suit your specific needs, our range of stunning baths and systems provides the ultimate bathing experience. Bathroom City supply many whirlpool bath manufacturers ranges but can recommend our own in hour custom made Jacuzzi spar baths. 
Hydrotherapy helps sooth muscles and relieve the symptoms of many other ailments, so investing in a whirlpool bath is not only a relaxing option but it is also beneficial to your health. Bathroom City's vast range of whirlpool baths provides a huge collection of style options to suit any setting.
View sale items
Pages
Turn your Bathroom into a Home Spa with a Whirlpool Bath
As luxury features become more and more affordable it has become even easier for you to create a romantic retreat in your bathroom.
The home spa can be built up of several luxury features but one stands head and shoulders above the rest in terms of luxury essentials; the whirlpool bath.
When anyone discusses hot tubs or whirlpools one name dominates the conversation, Jacuzzi, so much so in fact that people simply use the brand name as the name for a hot tub, making it a very popular choice amongst customers
Jacuzzi is the innovator of whirlpool technology, leading the market in the right direction year after year.
Although we love to rave about Jacuzzi, we're sure you know enough about them by now, so we're going to take a break to discuss some of our other whirlpools we have on offer which could turn your bathroom into a Valentine's retreat everyday of the year.
The Ancona luxury whirlpool from Phoenix is a stunning addition to any modern bathroom. As you can see from the image, the whirlpool fits neatly under the home spa bracket when recessed into stylish tiling. The bath provides a multitude of benefits but most importantly the 8 hydro-massage whirlpool jets and generous bathing space are the most notable.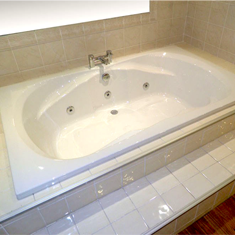 Slightly more expensive but even more comforting, the Napoli1700 Whirlpool Shower Bath provides 12 whirlpool jets, a huge curved bathing space and an integral shower, giving you everyday practicality and a romantic getaway rolled into one.
Far from a budget product in terms of style and functionality, our range of Jax whirlpool baths provide equal luxury to the big brands but at an even more affordable price.
Manufactured in our workshop right here in Birmingham gives you the confidence that you are purchasing a design with over 25 years worth of experience put into it and a product which can be collected as soon as possible.
One of our stand out designs is the Vernwy Kingsize Whirlpool Bath which excels in size with its huge 1800 x 1100 bathing space, ideal for two to share on Valentine's Day or in fact any day in your new luxury escape.
At Bathroom City we have every product to remodel your bathroom space into a luxurious retreat.