Fitted Furniture to Transform Your Bathroom: Pemberton, Oliver, Grove and Sonix
Importance of Fitted Bathroom Furniture
Fitted furniture for bathroom not only presents a designer look personalised just for you but also offers the perfect storage solution. The wide range of fitted bathroom units that the top brands offer promise sleek, stylish sophistication. Fitted bathroom suites are one of life's ultimate luxuries, fitted around your everyday needs. The result is your bathroom suite is not just visually stunning but practical, as well.
The primary advantage of fitted bathroom furniture is it allows you to create an exceptional bathroom space, regardless of the size of your bathroom. We are confident you'll find the right unit that's designed to fit exactly in your space. Let's examine the customized Bathroom City fitted furniture collection you can choose from.
---
1. Pemberton Fitted Furniture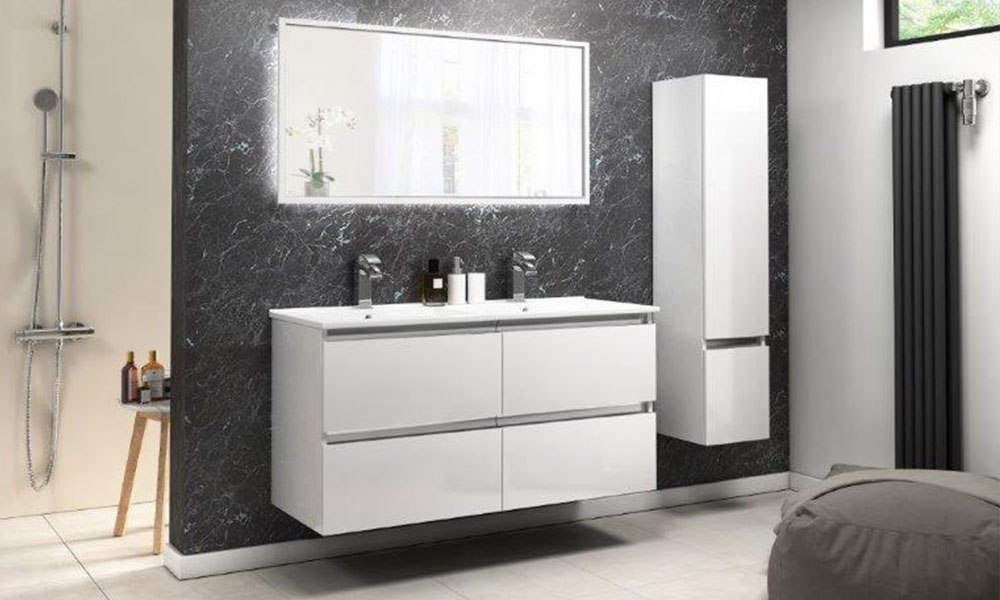 Pemberton fitted bathroom units ooze style and class as the designer cuts of this brand are distinctly stylish. This versatile range of fitted furniture is ideal for mid to large bathrooms.
The Pemberton range is truly huge. Whether you're looking for a bathroom furniture suite, gold mirror cabinet, handless tallboy, wall hung unit and basin, vanity unit and basin, double basin wall hung handless drawers, cloakroom basin and toilet unit, back to wall toilet unit, and more, you'll find it in Pemberton. This luxury bathroom furniture range is available in both Graphite and Gold.
---
2. Oliver's Fitted Furniture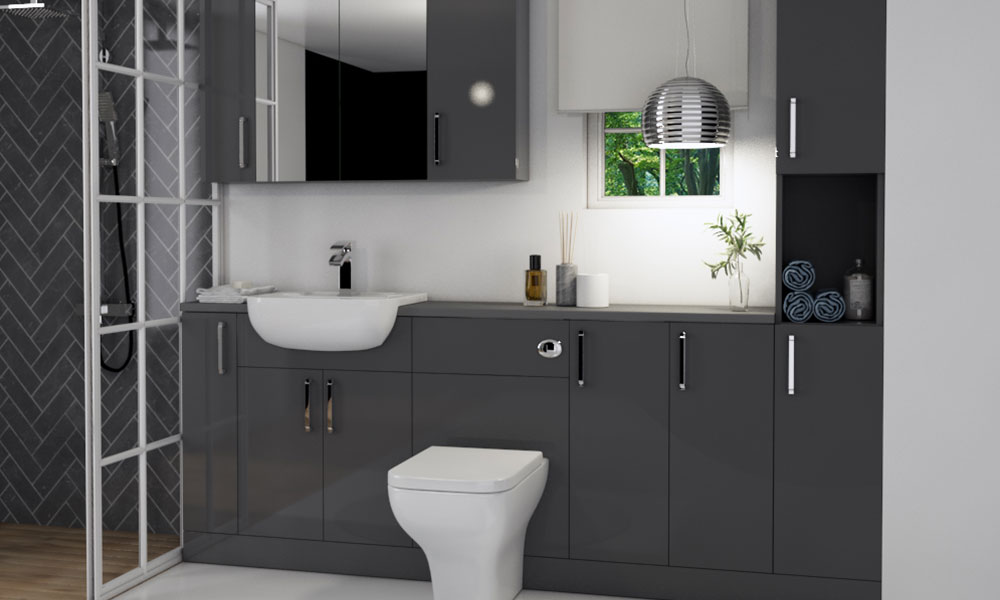 Oliver's fitted bathroom units are ideal for smaller bathrooms, en suites and bathroom renovations. This highly customisable fitted bathroom suites is versatile from top to bottom and unrivalled in utility. You can count on this furniture range to provide generous storage space and create a contemporary look in your bathroom as well.
The size range of the units under this brand is vast: 2300mm (7.54ft), 2200mm (7.22ft), 2100mm (6.89ft), 2000mm (6.56ft), 1900mm (6.23), ... right down to 1100mm (3.6ft). The installation of the furniture unit is seamless as it fits wall-to-wall. The colour options include white, anthracite and dove grey. End panels, fillers and edging ensure a pleasing finish. Also, the basin unit has a built-in service gap at the rear to facilitate quick plumbing.
---
3. Grove Fitted Furniture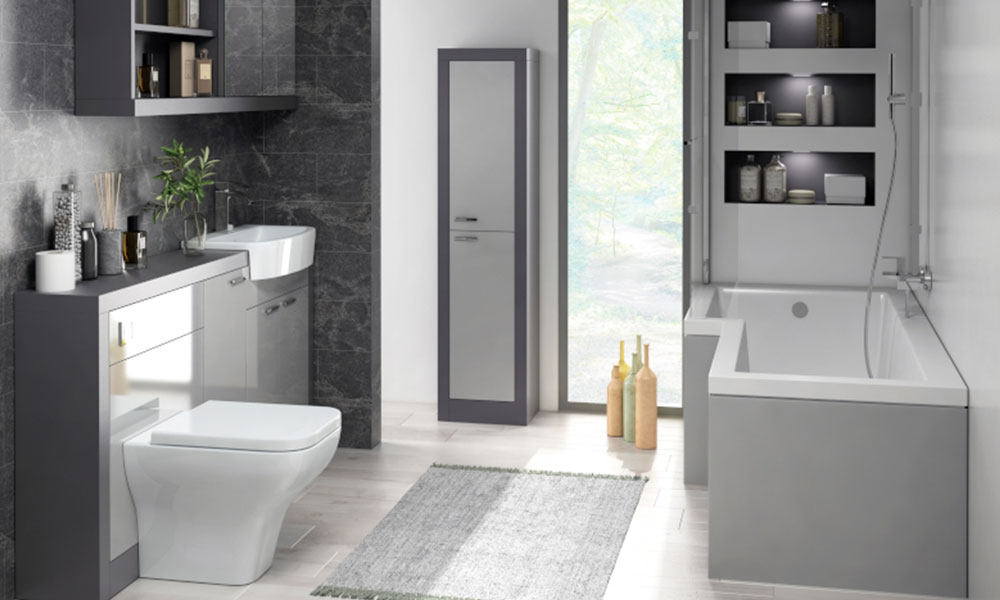 Grove custom-fitted premium furniture blends seamlessly with any bathroom shape and style – whether ensuite, small or large. This space-saving, reduced depth furniture is available in two colour options – platinum grey and grey. These furniture pieces can be either freestanding or fitted wall to wall. You can select from an assortment of items to furnish your bathroom suite. You can safely trust this brand because the hard-wearing and durable furniture pieces are fully guaranteed.
---
4. Sonix Fitted Furniture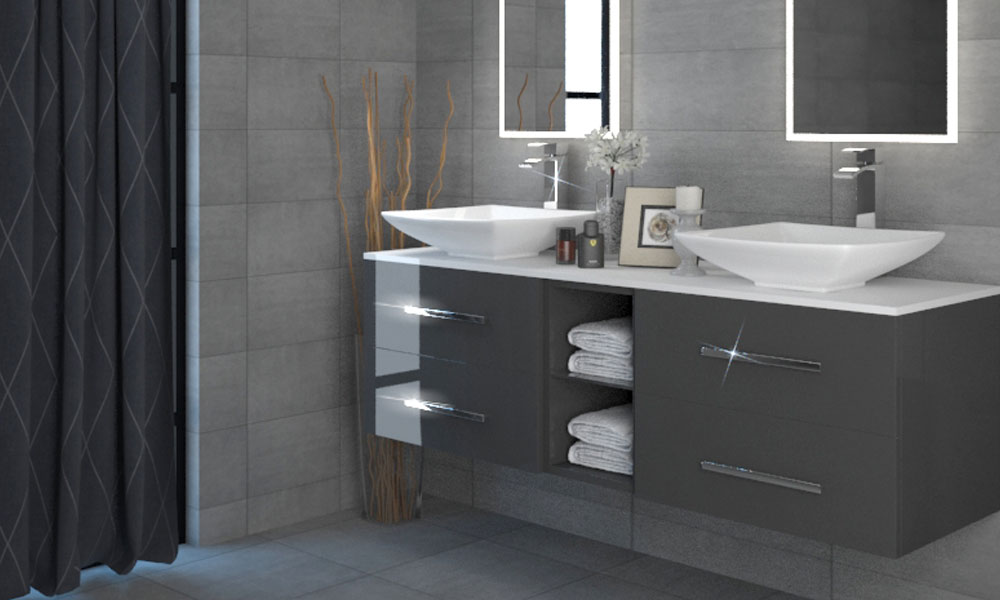 Sonix fitted bathroom units are sleek and stylish furniture pieces suitable for most small- to medium-sized bathrooms. This furniture is perfect for an en suite as well as a bathroom cloakroom. If you're looking for some extra storage space, this brand's reduced depth, wall hung unit is the right choice to keep all those little things. The masterpiece of this brand, the Sonix White 890 Bath Suite, is a fitted bathroom unit that's ideal for designing a contemporary and minimal bathroom.
---
Shop Fitted Furniture
At Bathroom City, our furniture collection includes trending designs from several other brands as well. Our renowned product range of fitted furniture for bathroom complements every style and matches every price point. We have been in this business for over three decades, so, whether it's product guarantee or after-sales service, you can count on us to stay committed.