Guide to Showering
What is a Fixed Showerhead?
A fixed showerhead is mounted onto the wall or ceiling above head height using a shower arm. Fixed showerheads create a stylish look, but due to the nature of being attached to the wall they cannot be moved or adjusted. This means you cannot direct the spray, so if you wanted to shower without getting your hair wet or wash a particular part of your body then you may struggle.
On the plus side, you can easily change a fixed showerhead by carefully unscrewing it from the shower arm and then simply screwing on another one.
What is a Hand-Held Showerhead?
Hand-held showerheads, commonly known as shower handsets, are attached by a hose and either mounted on a holder or held directly the hand for much greater control over the direction of the water. When mounted on a rigid riser rail or slide rail kit, a shower handset acts just like a fixed showerhead. Unlike a fixed showerhead, the gliding action of a slide rail means the showerhead can be raised or lowered to suit the height of the user. The hand-held showerhead can also be removed for precision showering along with other tasks such as cleaning the shower area.
Whichever type of showerhead you select, it is vital that your choice complements the style of your bathroom interior. Vintage installations will benefit from a period design such as a traditional shower rose. Sleek, angular designs are also available to suit a more cutting-edge, minimalist look. Illuminated showerheads can bring an extra wow-factor by not only providing a light display but some models can even help you gauge the water temperature by glowing certain colours.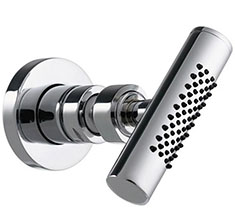 Once you have chosen your shower unit and shower head, you can personalise your shower installation further still with these optional extras.
What is a Shower Body Jet?
Adding shower body jets to your shower enclosure brings a whole new level of luxury to your showering experience. Shower body jets provide a number of spray options including deep massaging settings for the ultimate in relaxation. Unsurprisingly, shower body jets require more water than a standard shower and are only suitable for use with a high-pressure water system.
What are Shower Wall Panels?
Shower wall panels, also known as wet wall panels, are the simple way to waterproof your bathroom shower area while introducing a touch of designer style. This type of shower panelling provides a great alternative to tiling as it is much faster and easier to install. Without the need for grouting, shower wall panels provide a clean, seamless finish and add an unmistakable touch of luxury, as well as being easy to maintain and keep hygienic. Available in a wide range of styles and colours, wet wall panels will make your shower area the centrepiece of your dream bathroom.
What is a Bath Shower Screen?
A bath shower screen makes a stylish and hygienic alternative to the traditional shower curtain and allows you to step out onto a dry bathroom floor after every shower. A beautiful shower screen will not only prevent water splashes but also provides a simple and cost-effective way to upgrade your bathroom in true style. There are many varieties available to suit your space, style and accessibility requirements. D-shape bath shower screens, bi-fold bath shower screens, double bath shower screens, return bath shower screens and square bath shower screens are all options that can meet these different requirements.