MERLYN
Merlyn Showers & Shower Enclosures
Merlyn Showering is one of the leading shower specialists in the UK and Ireland and are renowned for the innovative design and high quality manufacture of their products. Merlyn aim to deliver the ultimate showering experience with their stunning range of beautiful shower enclosures in both contemporary and traditional styles to suit all budgets and bathroom layouts. At Bathroom City we supply a full range of Merlyn shower enclosures which can be viewed either online or in person at the Merlyn shower displays in our showroom.
The History of Merlyn Showering
Established in 2000 by founder Michael Hoyne, Merlyn Showering has the aim of providing the ultimate showering experience. Based in Kilkenny, Ireland, Merlyn have built an unrivalled reputation in the bathroom industry for the premium quality of their shower products and in particular the superior quality of craftsmanship. With over half a century of experience, Michael and his team are focussed on delivering a pioneering approach to shower design and function
Merlyn Showering's Quality Guarantee
Merlyn Showering take pride in creating shower cubicles that are engineered and crafted to the highest quality and boast smooth running shower doors and high quality fittings. Merlyn meticulously tests each product to the highest degree, going above and beyond industry standards in order to make sure you are getting a faultless shower installation. 
All Merlyn products undergo water testing while the durability of the roller, quality of coating on metal parts, leak and corrosion vulnerability and open-and-close mechanisms are all thoroughly tested. Merlyn also treats every shower product with their Mershield Stayclear protective glass coating to help prevent the build-up of limescale and make the glass easier to clean. 
Merlyn are so confident that their shower products are built to last that they provide a lifetime guarantee across their entire range.
Merlyn Shower Enclosures
Whichever type of shower cubicle you are looking for, Merlyn Showering will have a perfect solution artfully combining stunning design with a high standard of construction. With their wide selection of premium hinged shower enclosures, sliding shower enclosures, pivot shower enclosures, quadrant shower enclosures and bi-fold shower enclosures, Merlyn can help you build the perfect enclosure to suit your bathroom layout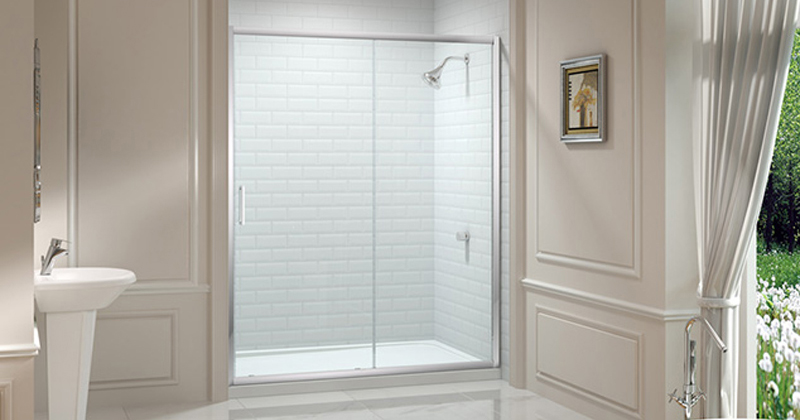 A fabulous example is The 8 Series 1600 Sliding Door Shower Enclosure which creates a luxurious showering environment with a hardwearing construction and lustrous contemporary styling. 
With its 8mm toughened safety glass and hand polished chrome frame, the stunning Merlyn shower enclosure stands as a focal point in any bathroom while the sliding door saves space as it requires less room to open than a hinged door
Merlyn Shower Quadrants
A Merlyn quadrant shower enclosure is large enough to feel spacious but specifically shaped to save you floor-space and fit neatly into a corner of your bathroom or ensuite. 
The magnificent 10 Series 900 1 Door Quadrant Enclosure is available in left and right hand options to suit different bathroom shapes and is the perfect shower solution for any modern setting. With its mirror-finished chrome frame and toughened safety glass, this is a contemporary shower cubicle that will stand the test of time and while the option of choosing smoked black glass will add an impressive designer touch.
Merlyn Showers at Bathroom City
At Bathroom City we recommend Merlyn Showering to all our customers as they consistently produce efficient, stylish designs which are always dispatched quickly and reliably. Our close relationship with Merlyn means we stock their finest products and can provide the best prices.
We supply a huge selection of quadrant, pivot, sliding, hinged and bi-fold shower enclosures from Merlyn's Series 6, Series 8, Series 9 and Series 10 ranges. You can browse our full collection of shower enclosures from Merlyn both online and showroom.