What is a Wall Mounted Basin Tap?
Wall mounted taps create a strong visual impact and instantly turn any basin into a bathroom centrepiece. As the taps do not sit on the basin itself and are attached to the wall instead, it creates a minimalist, streamlined look and can provide a space-saving solution. 
When paired with a countertop basin or a wash bowl, wall mounted basin taps can create a chic high-end look that will certainly capture attention. 
Wall Mounted Shower Taps
Wall mounted shower taps and wall mounted bath shower mixer taps provide a space-saving design ideal for complementing any bath, leaving you more space to bathe in luxury.
Bathroom City's range of wall mounted bath taps and bath shower mixer taps deliver a wealth of designs to suit any installation, with traditional, contemporary and timeless modern classics on offer from some of the world's leading brands.
Complementing your suite with wall mounted taps allows for an ultra-functional, easy to use design. Wall mounted bath shower taps can be installed at any point in a suitable wall around the bath area example so the flow of water enters the bath at the centre if that is your requirement, which will give you a wonderful double ended seating position away from any water flow or tap heads.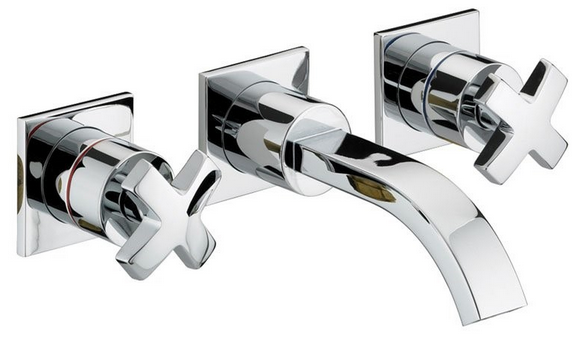 These ultra stylish Wall Mounted Moloko 3 Hole Basin Taps from Bristan come in a chunky contemporary design that would add unrivalled style to any modern basin. With a pristine chrome finish and robust construction, this is a truly stunning tap that will not fade into the background.