Bathroom Wastes And Traps
Choose the Right Bathroom Waste
As well as being a necessary complement to any basin installation, basin wastes also come in a huge array of style options to suit your bathroom suite, including contemporary, traditional and modern classic designs.
Basin Wastes, or sink plugs as they're more commonly known, serve an invaluable purpose inside your bathroom. Without one, it's impossible to get full use out of your bathroom sink, whether that's for shaving or face washing. But aside from their practical value, basin wastes are also a fantastic platform to enhance your bathroom's style, and with a wide range available in both branded and non-branded options, Bathroom City is confident we can cater for all your basin waste needs.
The Style of Your Basin Waste
Like any other accessory, your basin's plug should tell something about your bathroom. Typically, wastes are designed to correspond with the rest of the bathroom design as they help to increase style.
From porcelain wastes engraved with a brand logo to chrome-plated modern wastes that are truly cutting-edge, our range of is both wide and diverse. Yet in spite of this, we find that customers can experience as much difficulty when choosing accessories as they do when choosing a new bath or shower. So to help, we've selected products we believe represent our range of styles.
A classic look available in a range of traditional and contemporary styles, plug and chain wastes is very helpful accessories. Both easy to use and durable, the classic plug and chain waste is a solid investment that will stand the test of time.
Both Traditional and Modern Plug and Chain Wastes Available
With plenty of leading brands to choose from, Bathroom City's range of plug and chain wastes can complement any brassware.
Also known as bath plugs or sink plugs, plug and chain wastes are the perfect finishing touch for your bathroom.  Available in a range of styles and materials, they're typically made for traditionally styled bathrooms, contributing towards the small details that add to the luxury and opulence of a period designed bathrooms.
Bathroom Accessories for Your Home
Although initially considered insignificant, bathroom accessories play an important role in your bathroom's appearance. One accessory that can truly create a distinctive bathroom edge is a complementary plug and chain waste.  A timeless solution in most bathrooms, plug and chain wastes will enhance your bathroom's personality instantly.
Beads or Chain?
Plug and chains wastes are only needed for two-hole tap basins. Basins with one and three tap holes do not require. One of the most important factors when choosing a plug and chain waste is whether the chain is made of separate links or separate beads.
Whether you choose to have beads or links is completely down to personal preference, but each option provides a different image. Beads create more of a minimal look, whilst chains create more of a classic and luxurious feel.
Create an Illusion of Grandeur
Plug and Chain waste's create the opportunity to add a feeling of luxury, even if the rest of your bathroom suite doesn't break the bank. Plug and chain wastes can be installed on to any kind of two tap hole basin no matter what brand it is or is not.
Our range of plug and chain wastes come from some of the best bathroom brands in the world and can add that touch of class when you're looking to create the right first impression
Available in a huge range of designs including pop up bath wastes, click-clack bath wastes and plug and chain bath wastes, Bathroom City's collection of bath wastes are practical accessories and essential additions to any bath installation.
Bath Wastes for Any Bathroom 
As well as being essential, bath wastes also come in a huge range of stylish options and colours, chrome, brass, gold contemporary, traditional and modern classic designs.
The stylish angles and glimmering chrome finish of the Minimalist Round Bottle Trap from HiB mean it will complement a contemporary basin unit. This modern bottle trap boasts a solid design and robust construction which ensures it will stand the test of time.
For a timeless, traditional look then the elegant Round Bottom Basin Bottle Trap from Burlington is a great choice. Finished in chrome, this traditional bottle trap has a hard-wearing brass construction and full complements Burlington's range of wall hung basins.
Bottle Trap Brands
At Bathroom City we have a wide selection of bottle traps from leading brands including Bristan, Burlington, Vado, HiB and Imperial Bathrooms.
With modern and traditional designs to suit every taste and budget, at Bathroom City you'll make the right choice.
A practical solution to wall hung basins, bottle traps are efficient accessories that supremely complement your bathroom's style and functionality. We currently boast a huge range of eye-catching designs from some of the world's leading brands.
With both traditional and contemporary bottle traps on offer, Bathroom City delivers a stylish solution for any basin installation.
Choosing a Bottle Trap
Have you ever noticed the bottle trap that sits underneath a sink or wall hung basin? While the basin and taps may get the most attention in your wash area, the right bottle trap can create a beautiful decorative accent to complete your perfect wash area.

What is a Bottle Trap?
The bottle trap is a must-have for all washbasins. When we use the sink the water goes through the basin waste, into the drainage pipe and then into the sewer. The bottle trap helps to keep the bathroom fresh by providing a seal between the wastewater pipe-work and your plughole which stops odours from entering the bathroom.
As well as being extremely practical, the wealth of stunning bottle trap models means you can choose to turn yours into an eye-catching design feature. So whether you are creating a minimalistic, modern bathroom interior or opting for a more traditional style, there will be a beautiful bottle trap to suit.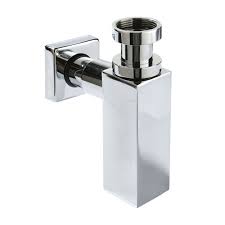 An essential component to any shower installation, Bathroom City's range of shower wastes and shower traps provides a stylish and functional solution.
Shower Essentials at Bathroom City 
Shower wastes and shower traps are not only an essential feature for the shower's functionality, but they're also user-friendly accessories that are available in a huge range of styles so you can maintain a stylish, consistent look throughout your installation.