Community Projects & Events
At Bathroom City we love to support good causes which is why we get involved with charity events and community projects across the Midlands. From supplying bathtubs for sitting-in-a-bath-of-beans fundraisers and shower cubicles for "gunge the teacher" events to donating sanitaryware to community groups who need to upgrade their bathroom facilities, we like to do what we can to help make a difference.
Our onsite workshop creates leftover wood shavings that we donate to local animal sanctuaries and sawdust that we have supplied to cricket grounds to make their pitches less slippery. Take a look at some of the recent events and projects we have been involved with and if you have any ideas of how Bathroom City can help a cause you support then contact us – we'd love to hear from you!

Wood Shaving Donation For Coventry's RSPCA Centre
A new off-lead play area for dogs at the RSPCA's animal rescue centre in Coventry has just been built and Bathroom City was delighted to be able to help. With our furniture factory producing huge amounts of wood shavings, we were able to donate nine industrial-sized bags to the centre for them to lay on the ground. When making the delivery we were given a tour of the centre and got to meet a very excited dog called Sam (pictured) who the RSPCA team have rescued and need to find a home for.
Animal Care Assistant Nathan Moxham-Atkin said: "Thank you Bathroom City for this donation. This area gives the dogs a different sensory experience than when playing on concrete or grass. It is going to be very beneficial for the dog's enrichment and welfare – they'll love it."
Each year the centre rescues rehabilitates and rehomes over a 1,000 animals who've been neglected or cruelly treated. To find out more about or the work of the centre then call 024 76336616.

"Bag It Beat It" at Bathroom City
Staff at Bathroom City brought their unwanted clothing, shoes, bags and DVDs into work and filled our charity bathtub for the British Heart Foundation's "Bag It Beat It" campaign. A total of 28 bags of items were donated and then delivered to the charity's Birmingham City Centre store on September 12th. With an average bag of donations netting the charity around £20 then the money raised from the sale of the items could exceed £500!
The store's assistant manager Peggy Colclough said: "Thank you Bathroom City for running your "Bag It Beat It" event. Among the items, you donated were loads of handbags, menswear and aftershave sets which are all particularly big sellers for us. The sale of all your donations will help to save lives."
Following the event, we went behind the scenes at the store to find out how our donations will be turned into cash and discovered just how the BHF raises tens of millions each year from selling unwanted items. Read the full story in our blog.

Baked Bean Barrage Outside Birmingham BHS
Imagine sitting in a bathtub in one of the UK's busiest shopping streets and having complete strangers throw tins of cold baked beans over your head. That's exactly what Zak Hardwick endured on Saturday, August 30th when Bathroom City teamed up with BHS for an NSPCC charity fundraising event.
Our bathtub was set up on New Street in Birmingham city centre, which was packed with weekend shoppers, outside the BHS store where Zak works. Bathroom City also supplied 250 tins of baked beans which passers-by got to throw over his head in return for a donation to the charity. Zak's baked bean ordeal was a great success, raising the fantastic total of £375. The cash will support the amazing work of the NSPCC, a charity that aims to protect children from cruelty. Well done Zak!

Ice Bucket Challenge Makes A Splash
Forget the Ice Bucket Challenge – at Bathroom City it became the Ice Bath Challenge! Five brave staff members were drenched with bucketsful of freezing cold water while perched in a bathtub to raise cash for the Motor Neuron Disease Association on August 29th 2014.
The Ice Bucket Challenge has been a social media phenomenon with millions worldwide posting videos of themselves online suffering the icy ordeal. The challenge dares nominated participants to be filmed having a bucket of ice water poured over their heads and then nominating others to do the same.
Bathroom City's Leanne McCann, David Wier, Rebecca Lucas, Nicole Danielle and Michelle Wilbore had all been nominated but claimed they just hadn't got round to it yet. So we rounded them up, stuck them in one of our baths and grabbed some buckets. The picture speaks for itself… All the participants – the victims and those wielding the buckets - then made a donation to the MNDA who fund Motor Neuron Disease care, research and campaigning.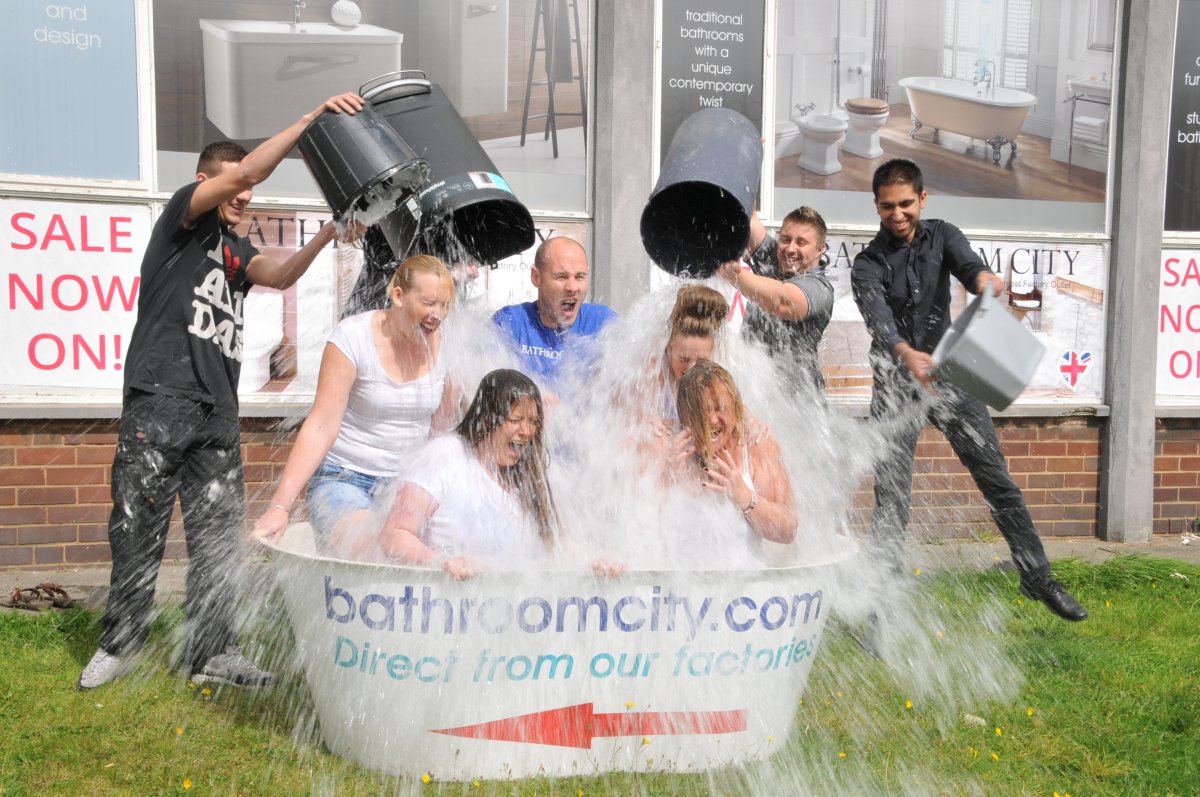 Donation Sinks In At Local Community Centre
Derelict bathroom facilities at the Hilton Hall Community Centre in Wolverhampton are a step closer to getting a makeover thanks to a donation of sinks from Bathroom City. On August 19th 2014 we delivered four pedestal washbasins to the centre and were shown the current state of the fire-damaged changing rooms and toilet area by directors Keith Jones and Debbie Cox. They hope to begin the refurbishment work later this year, with the building work being carried out by a team of volunteers.
The centre is used by local people of all ages and plays host to fitness clubs, senior citizens groups, residents meetings, Wolverhampton Youth Judo Centre and Dudley Town Youth Football teams. As a not-for-profit organisation, the Hilton Hall Community Association relies on donations from local businesses and hours of unpaid work from volunteers to run and upgrade the centre.
Mr Jones thanked Bathroom City for our donation of sanitaryware. He said: "Mega thanks for Bathroom City's support and sponsorship. This donation will help the refurbishment of our toilet facilities which we hope to start in October or November."

Custard Chaos At Merry Hill Shopping Centre
Bathroom City brought custard carnage to the Merry Hill Shopping Centre, near Dudley, on August 1st 2014 at a charity bath sit-in that raised £1,000 for the Midlands Air Ambulance. We supplied the bathtub and 380 tins of custard for the event in the centre's BHS store on August 1st 2014, which saw three of their staff members sat in the yellow stuff for hours on end. If that wasn't punishing enough, passing shoppers could also pour tins of custard over their heads in return for a cash donation.
The Midlands Air Ambulance's Fundraising Manager Adam Williams said: "The Bathtub Custard Challenge was a fantastic initiative and really captured the fun element that raising funds should be about. How often do you see a bath full of custard and have the opportunity to pour a tin of custard over someone's head. We will surpass £1000 once all the sponsor money is in. Brilliant day!"
See our amazing video of the gunging mayhem and more photos by clicking here.

Shaving the Cost Of Bedding For Animals
When the bathroom furniture is being made in our workshop we produce a large number of high-quality wood shavings which makes excellent bedding for animals. Bathroom City has donated these leftover shavings to the Holly Tree Animal Sanctuary in Birmingham to provide a comfy bed for the animals in their care. The sanctuary has helped unwanted animals since for over 60 years by providing shelter, spraying, neutering, rehabilitation and in many cases, a new home.
We have also given shavings to the Redwing Horse Sanctuary who provide rehabilitation and re-homing for horses, ponies donkeys and mules at their nine centres across the UK. Bathroom City was delighted to be able to contribute to the sanctuary's fantastic work and dropped off fifteen bags of shavings and two baths that were used as drinking troughs.

Sarah Takes The Baked Bean Bath Challenge
Sitting in a bath of baked beans is the quintessential way to raise money for charity, so when Sarah Dobbins contacted us at Bathroom City to see if we could help her do it we jumped at the chance. We supplied the bathtub plus 250 tins of beans in which Sarah sat for a full working day at the Eyeway Signs office in Aston on May 23rd 2014. Her colleagues opened all the tins and emptied the cold beans over her while every moment of the seven-hour ordeal was streamed live on the internet. The total raised for the Alzheimer's Society has reached an amazing £1,455.
Eyeway Signs specialize in the production of signage for care homes and as a field sales rep for the company, Sarah has visited many nursing establishments and seen the impact of dementia first-hand. So when she noticed Dementia Awareness Week was coming up she decided to run the event and raise much-needed funds. After the event, she said: "It wouldn't have been possible without Bathroom City. The cheapest bath we found on eBay was £150 and with the cost of the beans on top it would've meant less money would be going to the charity."
Soma Pillay from Bathroom City said: "When I was approached by Sarah to provide a bath for this community event I was so overwhelmed by the concept and the idea to raise money for such a good cause that we decided to also donate the 250 cans of beans as well. I am proud of Sarah's efforts!"

Cricket Ground Bowled Over By Our Sawdust
It's no surprise that a busy furniture factory such as Bathroom City produces huge amounts of sawdust but we have made sure this doesn't go to waste. Our sawdust is actually playing a part in sporting history by being utilised at a world-famous sporting venue. Edgbaston Cricket Ground in Birmingham is the second largest cricketing venue in the country with permanent seating for 25,000 fans. The home to Warwickshire Country Cricket Club is also used for test matches and one-day internationals and will play host to the biggest test match series in the world next year.
Dave Wier from Bathroom City got in touch with the venue to see if they could make use of our excess sawdust. He said: "A colleague said that cricket grounds need sawdust so I phoned up the groundsman at Edgbaston and he told me said they would like ours. We delivered fifteen large bags down to the ground and took them right out onto the pitch."
So why does a cricket ground need sawdust? When it rains the ground on which the bowlers have to run can get very slippery. The sawdust is used to dry the area in which the bowler runs and plants his foot when he performs the bowl.