Jump to any question(s) you may have about our delivery procedure, or please feel free to contact us in case of confusion
---
How Much Does Delivery Cost?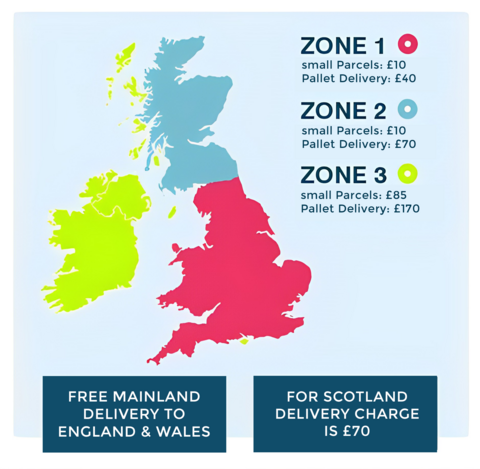 UK Delivery Charges Based on Regional Zones
 
 
Delivery Charges
Zone
Areas Covered
Order Up To £499
Order Above £499
1
Most parts of England and Wales

Small Parcels: £10  

Medium parcel: £25

Pallet Delivery: £40

small parcel: £10

Medium Parcel: £25

Pallet Delivery: Free

2
Scotland

Small Parcel: £10  

Medium Parcel: £25

Pallet Delivery: £70

Small Parcel: £10  

Medium Parcel: £25

Pallet Delivery: £40

3
Ireland, Scottish Islands, Some Scotland postcodes: IV, KW, PA, and PH

Small Parcel: £85

Medium/Pallet Delivery: £170

Small Parcel: £85

Medium/Pallet Delivery: £170
Note: All Prices Above Include VAT. There are no HIDDEN charges
---
Do We Ship Internationally?
We do offer International Shipping on a case-by-case basis. Please write to us at [email protected], detailing your order items and value. We will get back to you with a quote within 24 hours.
---
What Is The Delivery Procedure?
FOR ITEMS IN STOCK:
Bathroom City's transport department will contact you a few days before the expected delivery date to confirm that you are ready for the goods. Somebody needs to be at the delivery address on the day of delivery because the carriers will require a signature for the goods. In stock items with fast delivery = we aim to deliver your items between 3 to 5 working days. The speed of your delivery will depend on all the items in your basket. Free fast delivery terms apply ( 1 free delivery orders over **) .
We must stress even at this point you are strongly advised not to pre-book contractors, plumbers or engage in any preparatory work until you have all your goods and are happy that they are as ordered and damage free.
If you are not ready to begin work on your development, goods can be stored in our warehouses free of charge for a period of 2 months from Date Of Order so you can get your plumber scheduled in.
Please remember that we are dealing with fragile products and accidents can happen. If your order is damaged, our staff will be as helpful and understanding in resolving any issues.
FOR ITEMS NOT IN STOCK:
Sometimes one or more of the products you have ordered may not be in stock. These items will have to be ordered from our suppliers. This may generate a longer lead time to receive your order. If you are not sure the products you have chosen are stocked, please call us for details. Our friendly sales team is reachable at 0121 753 0700 or you can drop us an Email: /> [email protected].
---
1. For Standard Orders, we aim to deliver in 3 - 5 working days for In-stock items and deliver your order using an efficient and reliable distribution company that covers every corner of the United Kingdom.
2. For Overnight/Next Day Orders, If your order is required a next-day service please place your order directly with our dedicated sales team who will guide you thru the availability in your area for a next-day delivery service.
3. For customers who live in rural areas, farmhouses, manors, country homes, and hard to get to places, please guide our transportation partners to easily get through narrow lanes and dirt roads, etc.
---
Our bathroom products are typically delicate and are transported on secure pallets. Deliveries are made to the exterior of your property, usually as close as possible to the ground floor front door. Please note that our delivery partners are unable to carry your items in to your house, we recommend ensuring that you have sufficient assistance available to inspect, unpack, and carry your items indoor.
If you happen to notice any issues with your items during the delivery process, please immediately inform the delivery driver and importantly record these issues on any paperwork you are asked to sign. This will help expedite any damage claims. Please contact us as soon as possible, we will then take the necessary steps to resolve the situation.
It is important to be aware that if you are not present to receive a delivery after having booked or confirmed a delivery slot we reserve the right to charge a redelivery fee that reflects any additional costs we may incur due to this.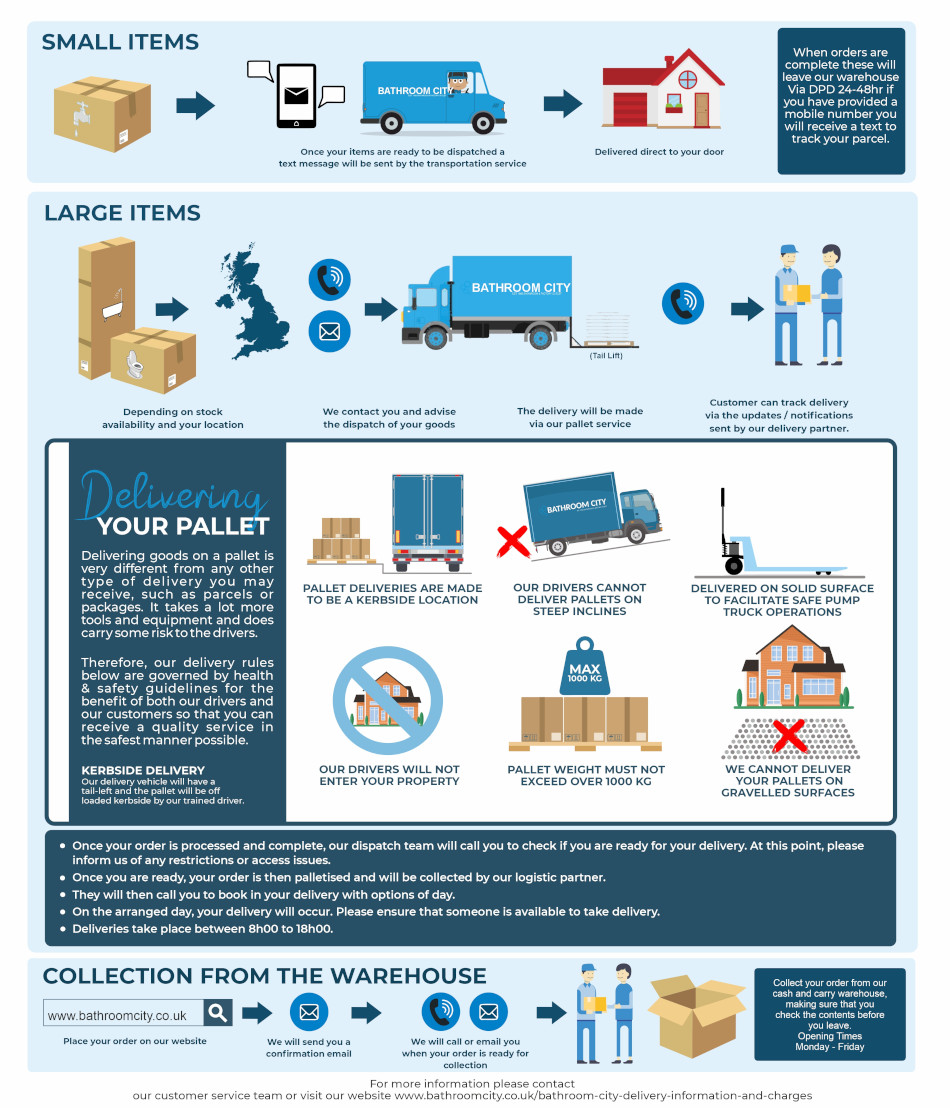 ---
The driver will wait while you check the major components i.e. the panels, baths, and any other bulky parts. There is no need to check robust items such as taps, seats, well-packaged shower doors, and cubicles on delivery. Please check the number of items. We allow 48 hours for notification of any issues on these items.
In the unlikely event of transit damage, if you accept the delivery or part delivery, please sign as damaged.
---
Being located in the Midlands is great news for our customers as we're not too far from anywhere. This allows all of our customers to collect their order from our cash and carry warehouse if it's a more convenient option than delivery.
Please check all your items on collection for damage of any kind as we are unable to accept goods back after you or your representatives have taken the goods away.
Please also be aware that telephone calls between our customer services team, sales, and customers are recorded for training purposes. They may also be reviewed for clarity and HR purposes during disputes.
---
When developing a new bathroom, timing the delivery of your bathroom suite with the time you schedule your plumber to begin work can be difficult with time constraints playing a major role: we advise all of our customers to not schedule any work until their order has arrived and has been checked for suitability.
---
Customers under the Consumer Protection (Distance Selling) Regulations 2000, who wish to cancel their Online order, should do so within 14 days, commencing the day after the day of delivery. Cancellation should be in writing. The delivery costs and safe return of these products are at the customer's expense and within a reasonable time scale.
Please phone or email customer services to obtain the step-by-step guide and documentation to obtain your unique returns number.
The products will only be refunded under the distance selling regulations if the item or items are returned complete in the original packaging and undamaged. All boxes and packaging must be unmarked and in a resaleable condition. If the product arrives back in an unsaleable condition, the company will deem the item to be damaged and no refund will be given. Goods that arrive damaged will need to be collected within 7 days at the customer's expense or the items will be disposed of and disposable costs will be sent to the customer for payment. Goods returned by your transport company without the dedicated returns number will be refused. Returns are only accepted into our warehouse Monday - Friday between 9 - 5.
---
•We strongly recommend inspecting your delivery as soon as it arrives. In the rare event of any damage during delivery or if any items are missing, please notify us within 2 working days.
•In some cases, smaller items may be placed within the boxes of larger items. Therefore, we advise thoroughly inspecting your delivery before reporting any shortages. We conduct a thorough scan of every item before it leaves our facility, so it is uncommon for an item to be completely missing.
•Please retain all packaging materials in case you wish to return your items to us. If product packaging is missing or heavily marked/damaged, we may be unable to accept returns. If your order arrives on a wooden pallet, please note that the driver will not be able to remove the pallet. All packaging materials become your responsibility after delivery. If you cannot dispose of or use the pallet, many local firms in most areas will collect them for free. Alternatively, you can contact your local council for assistance.
•If, for any reason, we are unable to meet the delivery timescales that were communicated to you, we will make every effort to contact you as soon as possible to provide updated information.
•We recommend refraining from scheduling tradespeople until your order has been received. While we take great care to provide accurate delivery information, occasional delays may occur. We regret that we are unable to compensate you for any costs resulting from delivery delays.
•Before installing your products, please conduct a thorough inspection. Once items have been installed, we cannot offer refunds or exchanges (unless the items are faulty). We also cannot compensate you for installation costs resulting from errors related to product specifications or information provided on our website. Therefore, please ensure that you are fully satisfied with the products before passing them on to your installer. We are unable to replace items that have been handed over to a third party.
---
---
For any questions related to your order, you can get in touch with us at [email protected] or call us at 0121 753 0700.