Sliding Shower Doors
Sliding Roller Shower Doors
Ideal for more compact spaces, sliding shower doors allow for easy access to your shower without compromising the space in your suite. A stunning solution when complementing a recessed shower enclosure, a sliding door allows for a large showering space that can be neatly packed in between walls. Our selection of roller shower doors is the ultimate in space-efficiency and elegance.
A sliding shower door functions on rollers. The door moves along rails when it's opened and closed. A sliding door maximises space as it occupies the same amount of floor space as the shower enclosure. The door handle is also functional as you can use it as a towel rack. 
Bathroom City offers a wide range of sliding shower doors in various sizes - 900, 1200, 1400 mm, quadrant shower enclosures, and the widely used walk-in showers. 
Elegant Designs
Our exquisite selection of roller/sliding shower doors is the ultimate in space-efficiency and elegance.There are many different ways to fit a sliding shower door. It's typically fitted onto a shower tray, and it's suitable for a recessed space. You can fit it onto a special shower floor or straight onto a waterproof tiled floor, too. You can also customise the height of the doors and side panels to match the dimensions of your bathroom.
Impeccable Quality
The multiple bespoke options and extended guarantee make the sliding shower door a great feature for any luxury bathroom. The best feature of contemporary sliding shower door designs is they come with concealed fixings. Durable soft-closure mechanisms ensure easy open/close operations. The shaped track inners provide extra smooth door action. The neat, streamlined design and translucent seals prevent stray water splashes from landing outside the shower enclosure.
The Benefits of Sliding Shower Doors
Sliding Shower Door Styles
The functionality of the shower doors defines the shower enclosure, providing us with the first port of call before turning the valve and indulging in showering luxury.
With so many shower doors on offer it can be hard to choose a design that suits your installation, sometimes it's not just about the functionality of the door, it's about taking into account the surround features and the floor space you have available in your bathroom suite.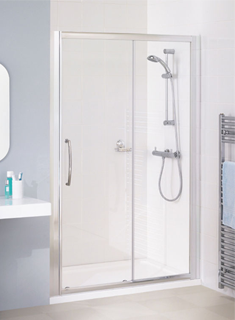 Once you are settled on the placement of your shower, it's time to consider the shower door. If your installation is quite compact with little room for a hinged door to swing out into your space without touching another feature, then a sliding shower door is the perfect solution.
Sliding shower doors provide a smooth gliding mechanism that eliminates the need for any surrounding space around the showering enclosure.
Having to double up the width of the shower enclosure so that the shower door has an equal side panel to slide behind means that sliding shower door enclosures tend to be a generous width, delivering a luxurious showering experience.
With there generous proportions, sliding shower doors are particularly useful when installed in an alcove in between walls, delivering a wide shower enclosure that works brilliantly alongside other features, helping to save space and open up the floor space in large family bathrooms.
Although popular amongst customers looking to fill an alcove, sliding shower door enclosures can be coupled with a side panel for a corner installation, allowing for a more versatile solution for more routine installations.
Our Popular Most Popular Sliding Shower Doors
Bathroom City is home to a wealth of shower door options and our choice of sliding shower doors offers a number of varied designs that are popular with our customers.
The White Semi Framed Sliding Shower Door from Lakes Bathrooms is a quintessential take on the sliding shower door enclosure, offering a sleek modern design that recesses neatly in between walls and a vast range of size options to suit any alcove.
Alternatively, a similar look can be achieved with the Silver Semi Framed Double Door Sliding Shower Door again from Lakes Bathrooms, delivering a double door functionality that positions the entry to the centre of the shower enclosure.
Similarly, the Motion Twin Sliding Shower Door from Phoenix delivers a double door design at an affordable price, so you can get all the premium appeal of a double sliding shower door enclosure without breaking the band or discounting quality.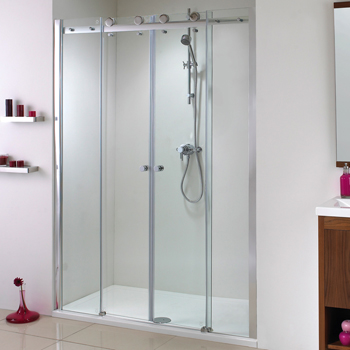 The Motion Twin Sliding Showering Door Enclosure offers an eye catching frameless design with 8mm thick tempered safety glass and a twin magnetic seal for a watertight close; ideal for any recessing neatly in between walls.
For a space saving shower that delivers generous internal proportions, Bathroom City's range of sliding shower doors offers a solution for any alcove or corner, working alongside other features or standing alone as the focal point in your bathroom suite.
The Benefits of Sliding Shower Enclosures
A shower can bring a whole new dimension to your bathroom suite, coupled with other sanitaryware and furniture for a complete experience.
Of course, adding a shower enclosure isn't just a luxurious complement to your bathroom suite, it also delivers functionality beyond the call of duty, not only offering the option to shower but a secondary solution when the bathroom is busy at peak times of use.
When we make the decision to buy a shower, the first thing we take into account is the shower door.
The type of shower door can massively impact the functionality and dynamics of the bathroom suite, so choosing a shower enclosure with an appropriate door can drastically alter your space.
Sliding shower enclosures offer a minimalist design that can suit compact bathroom suites as well as large family bathrooms.
A sliding shower enclosure utilises a sliding shower door, making it a great shower enclosure to save space, unlike hinged shower doors which require space around the exterior of the shower for the door to swing out into, a sliding shower enclosure's functionality is self-contained.
With such a versatile design, sliding shower enclosures work well as stand-alone complete corner installations or as recessed solutions that tuck neatly into alcoves.
Sliding Shower Enclosures at Bathroom City
With a number of shower enclosures to suit any bathroom suite, Bathroom City is home to a wealth of sliding shower enclosures that can tuck in between the walls of an alcove, stand against a wall or tuck into a corner.
A fantastic recessed solution, the Radiance Sliding Shower Enclosure from Matki Showering delivers a sleek design that tucks neatly in between walls, offering a high lustre Aluminium frame and hard wearing toughened safety glass.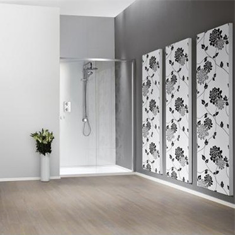 Complete with a capped shower tray, low profile top track and soft closing sliding shower door, this sliding shower enclosure is a popular choice amongst Bathroom City customers.
The New Unity Sliding Shower Enclosure from Heritage Bathrooms stands at the forefront of the contemporary bathroom suite, offering a substantial alternative to a bath.
With its generous showering space, this Heritage sliding showering enclosure sits beautifully alone or combined with other contemporary features.
For a sliding shower enclosure that complements the corner of your installation, the Venturi 6 Sliding shower enclosure from Aquadart sits neatly in a corner, making it perfect for smaller bathroom installations such as en-suites or working alongside other features in larger family bathrooms.  
With sliding shower enclosures for any setting, Bathroom City offers a vast range of designs, some of which are available to collect on the day of purchase from our cash and carry warehouse.