Welcome to Bathroom City, one of UK's oldest Online Bathroom Specialists with one of the largest Bathroom Showrooms in the UK. Through more than three decades of hard work, we have evolved and grown into one of the UK's most trusted bathroom retailers and manufacturers, providing Complete Bathroom Furniture and Bathroom Related Solutions.
Whether it's making sure we have delivered a product on time, or providing friendly and helpful customer service, we continually strive to make the Bathroom City Showroom experience as memorable as possible. We are very proud to be one of the biggest UK Bathroom Suppliers online that also have our own Bathroom Factory Showroom in the West Midlands. Our Large Bathroom Showroom has 1000s of Furniture Items on display for you to choose from, the Best worldwide brands in addition to our own UK manufactured Bathroom Furniture Ranges. Visit us 7 days a week.
Longstanding.
Our 1st Birmingham Bathroom Shop opened in 1986 and is one of the oldest family businesses in the Midlands.
Efficient.
We are proud to be the biggest Bathroom Company Factory Outlet in the West Midlands showcasing our own handcrafted bathroom furniture.
Trusted.
Bathroom City's Seeleys Road showroom supplies the ultimate bathroom experience, ultra convenient and versatile.
Flexible.
Pay online through your preferred credit/debit card or avail of our easy financing options. Our cash & carry Store allows for order collection on the same day of purchase.
Bathroom City, Birmingham's Largest Bathroom Showroom
Our Birmingham Bathroom Showroom has supplied Bathroom Furniture to generations of customers in and around the West Midlands, Wales and other areas for the past 35 plus years. We not only service Shirley, Solihull, Coventry, Birmingham, Sutton Coldfield, Wolverhampton, Coventry and Cannock, we also supply to all UK locations on a weekly delivery schedule.
In 1986, Dash Virdee set out to actualise his vision. Unlike other companies in the Bathroom Furniture and Accessories market, he wanted to create a Bathroom Retailer that specialised in supplying quality bathroom solutions at competitive prices. 35 years later, this vision continues to be realised.
At Bathroom City, we have built 35 years of credibility through building and supplying sustainable bathroom solutions to our customers. As much as we are proud of this achievement, we also know our best is still to come. We are currently entering a stage of transition, adding to our arsenal with a new state-of-the-art showroom. We are looking forward to bringing the bathroom company into the 21st century and continuing to provide quality bathroom supplies to our customers.
Our 35 year anniversary is a significant milestone, but we believe our story is largely unwritten, so here's to the next 30 years of welcoming customers to the Bathroom Showroom, Birmingham.
Why Choose Bathroom City?
Since the very beginning, our core value of providing quality to customers has been the very essence of our business. We believe that staying true to this ethos has been paramount in building our long-term success, and as we continue to grow, we have not lost sight of it. Unbeknown to many people, the typical lifespan of a toilet is around 10,000 flushes whilst taps are used around 100,000 times before they need replacing. This means providing a quality product is essential for long-term customer satisfaction.
Too many times we come across consumers browsing the marketplace, choosing cheap alternatives and neglecting the bigger picture. Unfortunately, these poorly made products aren't sustainable, and often people end up spending more money than they bargained for replacing them. At Bathroom City, we have created a culture of quality for a reason. Since the general business consensus is that 80% of a company's business comes from 20% of its customers, we want our customers to return to us because of the experience we provide.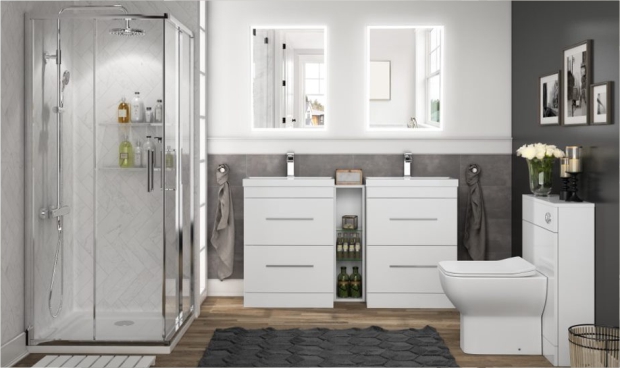 Complete Bathrooms
Proudly Manufactured in the UK
Our Birmingham Bathroom Factory is One of the
Largest In The Country.
Get in touch with us today for your complete Bathroom needs!
Showroom
Monday to Friday
9am - 5.30pm
Saturday
9am - 5pm
Sunday
10am - 4pm
Customer Services
Monday to Friday
9am - 5.30pm
Bathroom City Discount Voucher For Showroom Visitors
As an incentive to visit our Birmingham Bathroom Showroom Centre, close to Shirley Solihull, to see our in-store exclusive offers, we offer discount vouchers. This is our way of saying thanks for paying us a visit.
We offer both £20 and £50 vouchers depending on your spend. Please ask our friendly sales staff about this offer when you visit our Showroom.