Stone Bathroom Basins
Natural Stone Basins | Marble Bathroom Sinks
A beautiful natural stone bathroom basin is a stunning addition in any suite, turning a bathroom essential into a unique centerpiece that will attract comment and admiration in your home. Available in Basalt, Black Granite, Blue Stone, and Travertine, this Forzalaqua stone-wash, stunning bathroom basins are each handcrafted from a single piece of stone, making them individually unique and full of character as well as history.
Why Choose a Stone Basin?
There are so many reasons to choose a natural stone washbasin for your contemporary bathroom installation. Handmade out of a single piece of stone, each of these natural stone basins is unique, containing millions of years of history and character from their individual formation. From small stone marble basins and stone vanity bowls to stone countertop basins and stone basins installed on plateaus, Bathroom City stocks a range of solutions for your unique bathroom installation.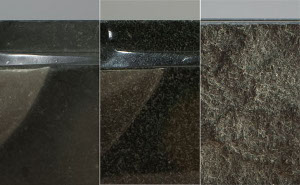 Blue Stone Basin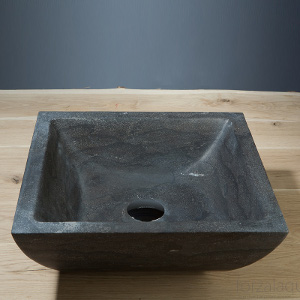 Formed of blue-grey compact limestone over 300 million years, the sedimentary layers in this rock contain silhouetted fossils captured during its formation, which gives your Blue Stone natural stone basin an individual character that makes it unique.
Basalt Stone Basins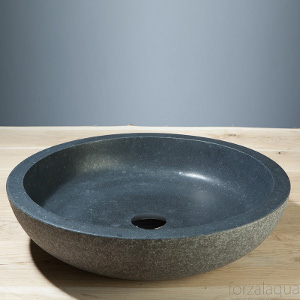 This igneous rock is formed out of volcanic magma and contains innumerable tiny crystals made out of minerals such as olivine, pyroxene and feldspar. Basalt is a dark, hard rock that ensures your natural stone basin is durable and long lasting.
Travertine Stone Basin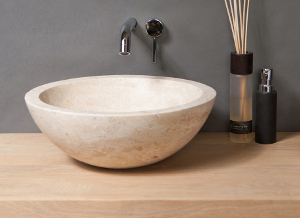 Formed out of the precipitation of lime water from hot springs, Travertine basins contain twigs, leaves and other materials that have fallen into the water of the springs. This causes the rock to form irregular pores that have been filled and brushed during the production of the stone washbasin. These pores are still visible, creating the unique character of each natural stone basin. or marble sink. 
Black Granite basin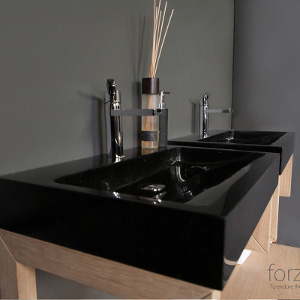 Consisting of three minerals – quartz, feldspars and micas (biotite), Black Granite stone washbasins originate from solidified underground magma and come in various finishes.
How to Care For Your Stone Basin
When not in use, ensure your natural stone basin is clean and dry. Wipe clean with a damp cotton cloth and mild detergent if needed.
Do not use corrosive bleach or substances on natural stone basins.
Avoid sharp objects falling or placing heavy objects into the stone basin and do not sit or stand on the basin.
Do not use water over 60°C in the stone washbasin.