Complete Shower Sets
Mixer Showers and Complete Shower Sets
Mixer showers and complete shower sets are a practical complement to your installation, providing all you need for complete control over a stunning shower experience. Providing a range of stylish designs and functions, Bathroom City's mixer showers and complete shower sets allow a total solution for premium showering. 
Mixer Showers and Complete Shower Sets
A Wide Range of Complete Shower Mixers at Bathroom City 
With a range of leading brands such as Matki and Vado, Bathroom City's wealth of stunning mixer showers and complete shower sets supplies a solution for any setting. 
Once a shower enclosure, shower tray, side panel and shower door has been decided, naturally Bathroom City customers begin thinking about the primary function of the shower; where the water is going to come from.
Your choice of mixer shower, shower set or shower kit depends on the style of your bathroom suite, whether it's a classic traditional trend you have throughout your suite or a minimalist contemporary design, your choice of brassware should always maintain the same trend.
Moreover, mixer showers also offer a range of functionalities, allowing Bathroom City customers to add body jets to the installation or choose a mixer shower that is easiest for them to optimise the water temperature and spray.
Buying a mixer shower or complete shower set online is just the same as making an order in the store, as either way you will not be able to test out the shower!
Bathroom City customers often ask plenty of questions concerning our range of mixer showers and complete shower sets when they visit our Birmingham bathroom stores. Here are some of most frequently asked questions:
What is a Mixer Shower?
Mixer showers take water from both the hot and cold water supplies for you to get your optimum temperature using an easy to use valve or lever handle. In general, a mixer shower will deliver a stronger flow of water than an electric shower.
Certain mixer showers can function with any system while others are only suitable for either a low-pressure or high-pressure water system. Another option is a bath and shower mixer, where the water temperature and flow are controlled by the bath taps.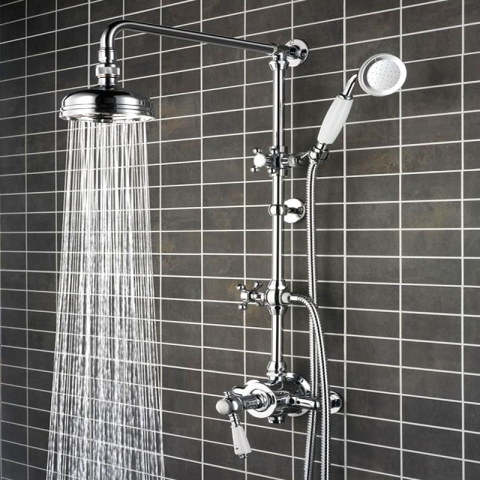 How Does an Exposed Shower Mixer and Concealed Shower Mixer Differ?
Exposed shower mixers are visibly attached to the riser rail and shower head whereas concealed shower mixers hide all the pipework for a sleek contemporary finish.
One of the main advantages of choosing an exposed shower mixer over a concealed shower mixer is that there is no need for the shower's valve to be built into the wall thus minimising disruption and mess.
What is a Complete Shower Set?
A complete shower kit, as the name suggests, has everything you need for the perfect shower area in one convenient purchase. So, in addition to a shower mixer, a complete shower set could include a fixed showerhead, removable shower handset and rigid riser rail or slide rail.
Complete shower sets are available in both traditional and contemporary designs at Bathroom City to suit any style of bathroom interior.

What is a Thermostatic Shower Panel?
Thermostatic shower panels compact all the functions of a shower in one easy to use design complete with a shower head, handset, mixer and sometimes with additional body jets.
Thermostatic shower panels are a popular choice amongst Bathroom City customers due to their simple design and contemporary styling.