Free Mainland UK Delivery Over £399
Bathroom Specialists Since 1986
0% Interest Free Credit for 4 Months
3 Sided Shower Enclosures
3 Sided Shower Enclosures | Angled Shower Enclosures
Extremely easy to access and ultra-versatile in its styling, 3 sided shower enclosures are stylish modern shower enclosures that complement any sized bathroom installation.  Bathroom City's range of 3 sided shower enclosures provides a look and feel for any setting, with timeless traditional designs and ultra sleek modern chic.  Each of Bathroom City's 3 Sided Shower Enclosure carries a substantial guarantee so you can be confident in your investment.
What is a 3 Sided Shower Enclosure?
What is a 3-sided Corner Shower?
When deciding to develop our bathroom suite with a shower enclosure, it is standard procedure to fit it into the corner of the installation. Bathroom City offers a comprehensive range of shower enclosures that can tuck neatly into the corner of your bathroom suite.
The beauty of installing a shower in a corner is that it can save space, making way for other features or allowing the shower to stand alone in an en-suite bathroom. Certain shower enclosures are designed especially for a modest bathroom corner and 3 sided shower enclosures are a perfect example of a corner shower enclosure that can save space with its versatile dimensions.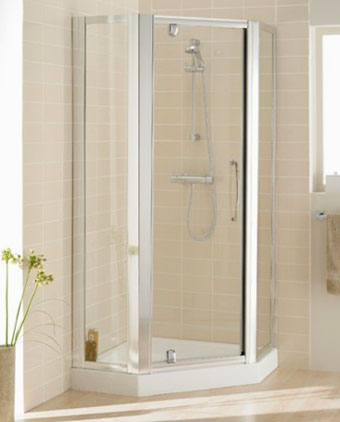 3 sided shower enclosures utilise the 2 sides of the bathroom's corner and couple it with 2 side panels and a shower door to a form pentagonal shower enclosure. Similar to a quadrant enclosure, 3 sided shower enclosures wrap neatly around the corner and save a lot of space thanks to their design, making them ideal for smaller bathroom suites or en-suites.
Beautiful Branded 3 Sided Shower Enclosures at Bathroom City 
The Silver Semi Framed Pentagon Inline Shower Enclosure from Lakes Bathrooms delivers a compact design that works brilliantly with other features, beautifully combining a bold silver finished frame, toughened safety glass and sleek contemporary styling for a timeless look.
A popular choice amongst Bathroom City customers, 3 sided shower enclosures and pentagon shower enclosures are the perfect design for when space is at a premium.