Back to Wall Toilets
Back To Wall Toilets
Back-to-wall toilets are the ideal toilets for all bathroom shapes and sizes. With their minimal design, they can be tucked away in any corner of a bathroom, saving space and providing efficiency. Back to Wall toilets are usually fitted to a unit that conceals the cistern, providing a neat and sleek design. If you wish to buy a standard-style toilet, please take a look at our close coupled toilets. For some guidance on the different types of toilets available to you, do refer to our helpful Toilets Buying Guide. 

In addition to Back To Wall Toilets, we stock other types of toilets including all-in-one Bidet Toilets, Close-Coupled Toilets, Rimless Toilets, Wall-Hung Toilets, and more. 
Hidden-Cistern Design
Back To Wall Toilets come with a concealed cistern, hidden away in the wall or bathroom furniture, saving precious floor space in smaller bathrooms. Browse through our collection of Back To Wall Toilets that are excellent value for money and come with generous guarantees.
Back to Wall Toilet
What Is A BTW Toilet?
When you're developing your bathroom suite, taking into account the space you have to work with will massively determine your choice of features, it's never wise to base your bathroom's design on what you really want without considering the dimensions of your suite; nobody wants to be going to the toilet with their knees touching the basin.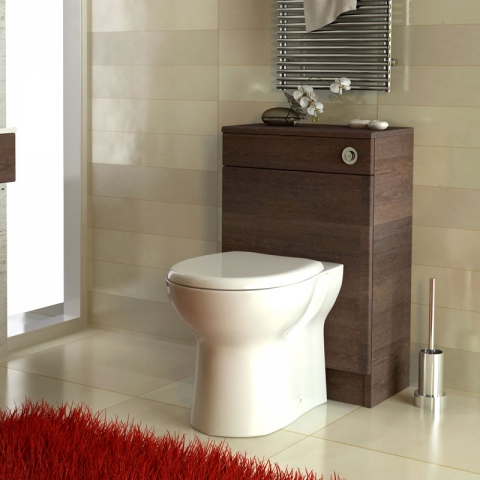 After measuring up a suite and deciding the basic elements you want and where you want them, you may look to save further space with features that are designed to create the illusion of space as well as genuinely increase the floor space in your suite.
There are a number of space-saving bathroom features available and plenty of customers choose these designs in both large and small bathroom suites in order to increase the size.
Back to wall toilets and WCs are a fantastic space-saving option that does not massively alter the style of your bathroom suite but save a substantial amount of space.
The humble back to wall toilet shaves off the space that the cistern on a standard close-coupled toilet will take up, choosing to conceal the cistern in your wall or within a back to wall unit.
Back to wall toilets are particularly popular amongst customers developing en-suites and cloakroom suites, as they are far more compact than a traditional close coupled toilet, allowing customers to tuck the back to wall toilet neatly into almost any space.
Moreover, back to wall toilets are not just a practical solution, they are a stylish alternative that delivers a minimalist look whether coupled with a back to wall unit or with the cistern concealed in your stud wall.
Bathroom City is home to a number of back to wall toilet designs that provide both sleek modern concepts and timeless period artistry; perfect for any setting.
Back to Wall Toilet Styles
With such a large range of back to wall toilets to choose from, we've compiled a handful of design ideas for all bathroom styles. 
If you're looking for a top brand and an ultra-modern look then the Zaar Back to Wall WC from Heritage Bathrooms offers elegant contemporary curves and a hard-wearing vitreous china construction, complete with a soft closing seat and a 25-year guarantee.
With Heritage being such a versatile brand, they offer a number of stunning back to wall units to match the Zaar back to the wall unit, making it a popular choice amongst Bathroom City customers.
For a traditional alternative from another top bathroom brand, the Imperial Firenze Back To Wall Pan with Concealed Cistern and Extended Lever captures the essence of yesteryear with its distinctive period details and choice of natural wood toilet seats in wenge, white, pine, mahogany, natural oak and ash finishes.
Combining modern chic with an affordable price tag, the Jorja Back To Wall Toilet Pan from Jax Bathrooms delivers a high-quality design that exudes class with its lustrous contemporary feel, ideal for predominantly white minimalist bathroom suites.
With a huge number of back to wall toilets on offer, Bathroom City has a style to suit any setting or back to wall unit, ideal for those looking to save space while adding style.