Wall Hung Basins
Wall-Hung Basins | Wall Mounted Sinks
Wall hung Bathroom basins are a stylish space-saving solution available in a range of styles from some of the world's leading bathroom brands.
Perfect for compact spaces Wall Hung designs are the ideal basins for en-suites and cloakrooms. They are also a great way to add the functionality of a basin without compromising much-needed floor spaces.
Bathroom City's vast collection of wall-hung basins offers a range of style options, from sleek contemporary chic to period artistry.
Saving Space with a Wall Hung Basin
How to Choose a Wall Hung Basin
Small cloakrooms can be a real test of the imagination to find the best way to maximise the space. Small spaces need small sanitaryware and if you are really short of space it is worthwhile considering a wall hung wash basin.
Wall hung basins save space by eliminating the standard pedestal design and creating more floor space underneath, allowing you to use the underneath for storage or just to remain clear and create the illusion of more room.
Bathroom City has a fantastic variety of wall hung basins that have been specifically designed with smaller proportions, making them ideal for compact spaces such as cloakrooms and shower rooms or just for where space is limited.
Although being a predominantly modern feature, wall hung sinks are available in a wide range of designs including traditional designs so you can be sure to create the exact look that you require.
If you are planning a small bathroom project then take the time to carefully consider a wall hung basins. At Bathroom City we can talk you through your project and provide you with the best advice, suggesting products that will suit your space and style.
At Bathroom City we offer a wealth of different space saving wall hung basins from leading brands such as Phoenix, Burlington, HiB and many more, as well as our own home grown designs from Jax Bathrooms.
The ultimate wall hung space saver is a wall hung corner basin, delivering the most compact design tucked in the most unimposing space in the bathroom suite and this Burlington Corner Basin and Towel Rail is a perfect example of how a wall hung corner basin can deliver storage, style and functionality in a smaller bathroom suite such as a cloakroom or en-suite.
For a modern alternative, the Tilly Corner Wall Hung Basin from AET Italia combines sleek lines and compact dimensions for a minimalist contemporary complement to small cloakroom suites.
The Luzio 70 Basin and Wall Console from Phoenix is an eye catching combination of a natural wood wall mounted console and a modern basin that makes for a focal point in any contemporary bathroom suite, providing a small amount of storage on top and saving space underneath, ideal for keeping your bathroom essentials on hand.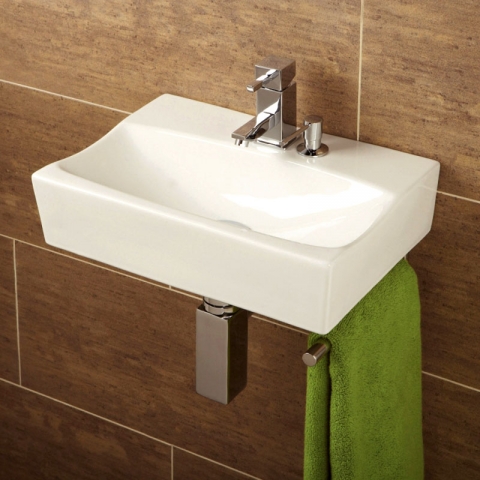 With a vast range on offer, Bathroom City has a solution for any cloakroom installation. A wall hung basin could be the space saving solution that your cloakroom needs for the most functional design and feature placement for your small bathroom.