Pivot Shower Doors
Small Space Pivot Shower Door
A Pivot Shower Door opens and closes by rotating on a pivot. The pivot point, however, is not located at the end of the door. The door swings outwards to open. Most of these aesthetically-pleasing shower doors don't use a plastic or metal framework. The primary advantage of these doors is moisture accumulation isn't an issue at all. Hence, you don't need to worry about harmful mould and mildew.
Space Saving Design
The unique design of a shower pivot door allows some part of it to open into the shower enclosure. This means the whole door does not swing out into the enclosure's exterior space. So the door does not intrude into the rest of your bathroom when it's opened. This feature is especially useful in a small bathroom as the adjacent accessories won't be obstructed.
Value For Money
A glass Pivot Shower Door is the perfect fit for a small, tight space. The door can be fitted easily on any surface. Another bonus is the crystal clear glass is low on maintenance. The base model is priced at just £166.00. The number of options in the mid-range – £286.00 to £502.00 – is truly vast. Even the premium models are competitively priced.
.
The Benefits of Pivot Shower Doors
When you're choosing a shower door, it's important to take into account space around the shower as that determines the type of door most appropriate for your installation. On deciding how much space you have to utilise around the shower enclosure, it's now time to look at shower doors that will make the most of that space.
If there is not enough space for a hinged shower door to swing out into, or there is no need for a space-saving bifold option, then a pivot shower door could be the solution you need to utilise our space. Similar to a hinged door, a pivot shower door allows a similar functionality that swings out into your bathroom's space but takes up less room thanks to the position of their pivots.
Located on the top and bottom of the frame, when you open a pivot shower door, part of the door swings into the shower installation, allowing for less of shower door to swing out into the shower's exterior space.
By utilising this design, you can gain the same sleek minimalist appeal as a hinged shower door without having to take into account the wealth of space they often require.
Bathroom City's Range of Pivot Shower Doors
Designed to recess neatly into an alcove, pivot shower doors are available in a range of styles from leading brands.
What is a Pivot Shower Enclosure?
The shower door is one of the most important components to take into account when considering which shower enclosure to buy, often changing the dynamics of the bathroom suite and the space needed.
Two types of shower enclosure that often get confused are pivot shower enclosures and hinged shower enclosures. Looking fairly similar in their functionality, these two shower enclosures both offer their own individual benefits.
Starting with a pivot shower enclosure, these types of installations utilise a swing out door but with the hinges being replaced for pivots located at the top and bottom of the shower enclosure's frame.
With the pivots featuring along the top and bottom of the shower door, it allows them to be located inwards so that part of the door can pivot into the showering area, leaving less of the door to swing out into your bathroom suite, saving space and allowing for a more versatile design.
Hinged enclosures utilised hinges located on the side of the door, attached to the inline panel or side panel, so the full width of the door will always swing out into the bathroom's space, making for a shower enclosure that requires more space surrounding it.
Pivot shower enclosures are a fantastic solution for those who want the swing out functionality but can't afford to discount too much space in their bathroom suite.
Pivot Shower Enclosures are a popular choice with Bathroom City customers as we offer a huge range of designs from leading brands as well as more affordable options for those shopping on a budget.
Offering premium luxury and exuding all the qualities that make Matki products so popular, the NCP8000 Colonade Range Pivot Shower Enclosure offers functionality and style beyond the call of duty, with stunning high-lustre polished Aluminium frame and Celtic silver finish.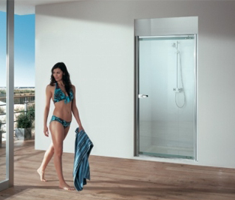 This Matki pivot shower enclosure is the perfect solution to a wing out shower door design, recessing neatly in between the walls of an alcove with a matching shower trays in different colours.
For a cost-effective but equally stylish alternative, the White Framed Pivot Shower Enclosure from Lakes Bathrooms tucks in between the walls of an alcove, making it ideal for saving space.
Beautifully versatile, this pivot shower enclosure offers several options that further increase its functionality, with an optional stool, shower seat, extension profile and grab bars, ideal for those with mobility problems.
Sitting in the corner of your bathroom suite, the Form 6mm 1000 Pivot Shower Enclosure combines a side panel, shower tray and pivot shower door with an Aluminium frame, chrome finished handles and 6mm thick tempered safety glass.
Available in a wealth of size options and 5 years manufacturer's guarantee, this Phoenix pivot shower enclosure remains a popular choice amongst Bathroom City customers.
Maintaining a prestigious look, saving space and recessing or standing alone in a corner, pivot shower enclosures deliver a self-contained design that saves space as well as offering all the essential components that make up a complete shower enclosure.