For UK customers, there's now an easy way to treat yourself to the bathroom of your dreams using easy instalment offers from PayPal Credit.
It's a quick, straightforward process allowing you to spread the cost of your purchase over monthly instalments for purchases over £99.
We know that purchasing a new bathroom can be a stretch, that's why we offer the option to Pay on Finance using PayPal credit.
If you spend more than £99, you can choose to spread the cost of your purchase over 4 months at 0% Interest. Just select the PayPal credit option when you check out.
The amazing thing with PayPal Credit is that you'll automatically get 0% for 4 months every time you spend over £99.00.
What is PayPal Credit?
PayPal Credit is a simple and flexible credit line that sits alongside your PayPal account. It is a paperless, card-less revolving credit limit.
If approved, PayPal Credit is accessible from your PayPal account, allowing you to manage your payments, view your balance and check your monthly statements online.
There's no lengthy application to fill out, just answer some quick questions, review and accept the terms and get a decision in seconds.
How Does The 0% PayPal Credit Offer Work?
As long as you are a UK customer and have £99 worth of goods in your basket you will be eligible to apply for PayPal Credit.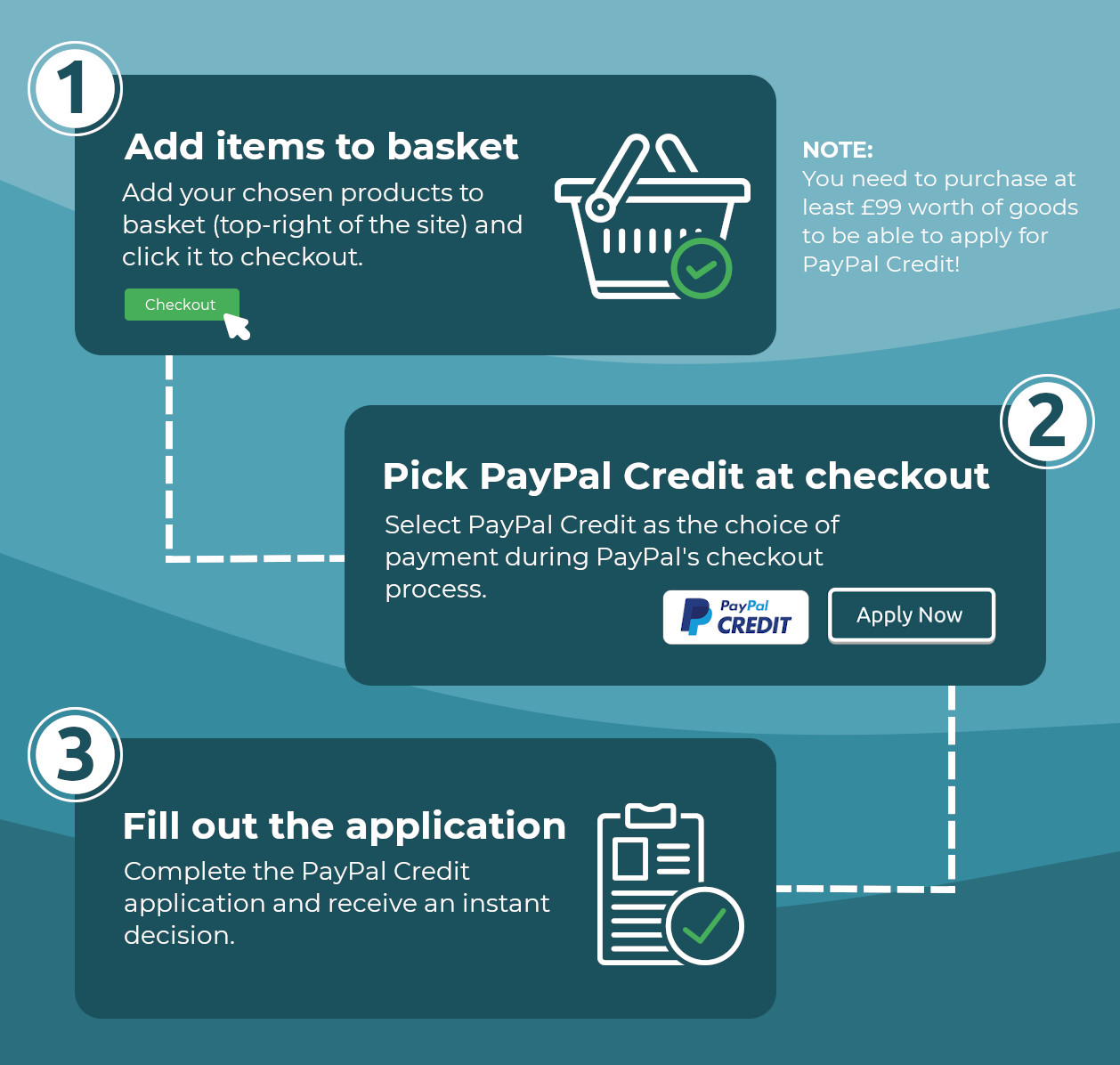 Please note that any remaining balance due after the initial 4-month promotional period or any transactions under £99.00 will be charged interest at 21.9% p.a. (variable).
How do I use PayPal Credit with bathroomcity.co.uk?
You can apply for PayPal Credit directly at checkout. Just select the PayPal payment option on the payment page.
This will guide you to PayPal Credit's application page where you can start the process of applying for PayPal Credit.
The application should take no more than 10 minutes to complete, and you will then be redirected back to Bathroom City to complete your transaction.
All that is left to do is wait for your chosen products to turn up!
Frequently Asked Questions about PayPal Credit (FAQs)
What are the eligibility criteria to apply for PayPal credit?
Before you apply for PayPal credit, please make sure that you comply with the following criteria:
Be a UK resident aged 18 years or older
You should have a good credit history
You should not have recently been declared bankrupt
You should be employed and have an income greater than £7,500 per year
Do you need to have a PayPal account?
Yes. Once you have chosen the PayPal Credit payment option, you will be directed to the PayPal website. It is a PayPal Credit requirement that you log in to your PayPal account or create an account at that point.
Alternatively, you can easily sign up for PayPal.
What do I do if I am unsuccessful in applying for PayPal Credit?
Unfortunately, we have no control over the success or failure of an application - this is entirely PayPal's decision.
If you have been declined, PayPal will email you with information about why your application was unsuccessful.
Don't worry, although you weren't approved for PayPal Credit, you can still use PayPal to check out securely with your bank account, debit or credit card.
I do not see PayPal Credit as a payment option?
Check that you are eligible by ensuring you have £99 worth of goods in your basket.
If you have checked that the minimum spend of £99 has been reached, and you still have no option for PayPal Credit, please give us a call, and we will help you out.
Can I make a phone order and apply for PayPal Credit?
Sorry, that's not possible.
For all the information you need about how PayPal Credit works for you from your PayPal Account check out PayPal Credit Basics Help.
What happens if I want to return the item/s I bought using my PayPal Credit?
Just return as normal, and we will refund the money to your PayPal Credit account.
Once returned to your PayPal Credit account, the credit will be available to you as part of your limit for all your future PayPal Credit purchases, including future instalment offers with us.