Whirlpool Jacuzzi Baths
Whirlpool Jacuzzi Baths
Available with a huge range of hydrotherapy solutions and the ability to customise your whirlpool bath or Jacuzzi bath to suit your specific needs, our range of stunning baths and systems provides the bathtubs experience. Bathroom City supply many whirlpool bath manufacturers ranges but can recommend our own in hour custom made Jacuzzi spar baths. 
Hydrotherapy helps sooth muscles and relieve the symptoms of many other ailments, so investing in a whirlpool bath is not only a relaxing option but it is also beneficial to your health
Whirlpool baths have transformed from an elitist purchase to a more affordable and practical addition to the bathroom that adds the feel of luxury, but they now come with a much more reasonable price tag - especially at Bathroom City.
The bath is the central point of most main and family bathrooms. But some baths are definitely more special than others. Throw your rubber duck away and engage in a whole new bathing experience from Bathroom City.
Offering the feel of a spa in your bathroom, whirlpool baths help your mind and body unwind in the luxury of your own home.
Designed for pure relaxation, the jets allow a flow of water direct to where your body needs help most. Proven to relieve the pain of rheumatism and arthritis, whirlpool baths can also help those who suffer from stress, migraines and circulatory problems.
No longer an elitist purchase, whirlpool baths are now a viable option to many, with sizes and prices to suit most budgets and designs to suit any style. And the best thing about a whirlpool bath? They're designed around you - you chose how many jets, you can position them to suit your individual needs and you can even change the flow speed. All this guarantees you the bath you always dreamt of at a price you can afford.
At Bathroom City we have a huge range of whirlpool baths, not to mention our whirlpool systems. Here are just a few examples from our massive range - available online and in store now.
The benefits of a whirlpool bath are widely known - water and/or air jets that soothe tired muscles and can even help ease the pain of physical ailments such as arthritis. Designed to unwind the body and massage the muscles through a series of jets (often bespoke designed for your individual needs) the whirlpool bath market is now bustling with variety and whirlpools to suit almost any budget.
Potentially the best purchase you could ever make for your bathroom, a whirlpool bath can transform the room into a haven of relaxation and calm, giving, in most cases, a spa-like feel. Now requiring minimal cleaning, these baths are durable, practical and a much welcomed addition to both family homes and young professional apartments.
Contrary to the myth, installing a whirlpool bath is much like a regular bath and, providing you have a good qualified plumber, should not upset your bathroom as it stands.
Whirlpool baths come in various shapes and sizes depending on the style you are looking to achieve. They also range dramatically in price but luckily, at Bathroom City, we have a whirlpool that can make any wallet breathe a sigh of relief. Remember - the level of luxury is entirely up to you!
Basic styles offered aside from the standard rectangular bath include whirlpool shower baths, whirlpool corner baths, freestanding whirlpools and Jacuzzi whirlpools. We recommend our own exclusive Laguna whirlpool bath range. 
- Shower whirlpool baths allow you to enjoy the relaxation of a whirlpool but offer the practicality of having shower access too.
- Corner whirlpool baths save space and ensure you have plenty of space to enjoy your jets in
- Freestanding whirlpool baths are perfect for more than one bather
- Jacuzzi whirlpools are often designer and can even be fitted into the floor for pure spa luxury
For those who just simply want to upgrade to a whirlpool bath, there are even whirlpool systems on offer (ranging from 6-18 jet) which can be fitted to a standard bath. The choice of where they sit is yours.
Whirlpool Corner Baths
Mirroring the soothing ambience of a luxury spa, a whirlpool corner bath or Jacuzzi corner bath brings functionality and style to your home installation, supplying you with a premium feature which can sit neatly in a corner and change your lifestyle with its reinvigorating hydro-massage.
Hydrotherapy provides a wealth of benefits, soothing muscles, easing back pain and other ailments such as arthritis and diabetes; so not only does it allow you to relax and unwind, it also supplies a rang of health benefits.
Whirlpool corner baths are the perfect solution for when space is at a premium, creating more floor space in family bathrooms with their precision design
Our best whirlpool offer is the exclusive Supper Strong Laguna Jacuzzi Bath with a factory fitted self draining 6 jet whirlpools system. The laguna whirlpool baths are also available in the L shape Shower bath or course if you need to save on space and create style then choose the luxury corner whirlpool bath.
Whirlpool Baths Explained
Whirlpool Baths at Bathroom City
Often misunderstood as being associated with canapés and champagne rather than standard home bathing, a whirlpool bath is actually an ideal bathroom solution, providing a system which helps muscles and makes you feel invigorated at an affordable price.
With a range consisting of big inset whirlpool baths right though to whirlpool bath shower combinations, Bathroom City have a collection so comprehensive that you can find a solution for any size bathroom.
For large home spa style installations, the Whirlpool Linea Corner Bath from Balteco summarises all that is grand about the modern whirlpool bath with its versatile corner bath design, number of size options and choice of 5 different jet options.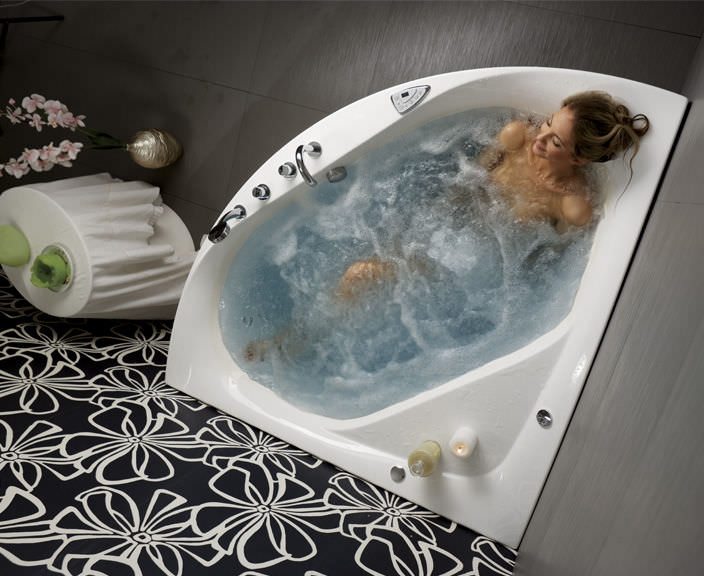 Similarly, the Whirlpool Rhea Corner Bath from Balteco also tucks into a corner but with a more offset shape that delivers a more traditional bath style with a wealth of different whirlpool systems and sizes available.
Delivering even more space to bath in supreme luxury, the Marino Whirlpool Bath offers similar dimensions to that of a hot tub installation with its spacious 460 litre water capacity for your whole family to enjoy its relaxing properties.
With its comfortable double ended design, 5mm thick acrylic and 25 years manufacturer's guarantee, this Phoenix whirlpool bath stands the test of time in all aspects of its design.
If you're looking for that additional luxury edge then a whirlpool bath is the perfect complement to a modern bathroom suite, delivering a wealth of relaxing qualities to enhance your bathing experience.
As luxury features become more and more affordable it has become even easier for you to create a romantic retreat in your bathroom.
The home spa can be built up of several luxury features but one stands head and shoulders above the rest in terms of luxury essentials; the whirlpool bath.
When anyone discusses hot tubs or whirlpools one name dominates the conversation, Jacuzzi, so much so in fact that people simply use the brand name as the name for a hot tub, making it a very popular choice amongst customers
Jacuzzi is the innovator of whirlpool technology, leading the market in the right direction year after year.
Although we love to rave about Jacuzzi, we're sure you know enough about them by now, so we're going to take a break to discuss some of our other whirlpools we have on offer which could turn your bathroom into a Valentine's retreat everyday of the year.
The Ancona luxury whirlpool from Phoenix is a stunning addition to any modern bathroom. As you can see from the image, the whirlpool fits neatly under the home spa bracket when recessed into stylish tiling. The bath provides a multitude of benefits but most importantly the 8 hydro-massage whirlpool jets and generous bathing space are the most notable.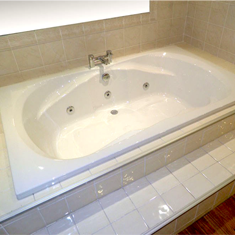 Slightly more expensive but even more comforting, the Napoli1700 Whirlpool Shower Bath provides 12 whirlpool jets, a huge curved bathing space and an integral shower, giving you everyday practicality and a romantic getaway rolled into one.
Far from a budget product in terms of style and functionality, our range of Jax whirlpool baths provide equal luxury to the big brands but at an even more affordable price.
Manufactured in our workshop right here in Birmingham gives you the confidence that you are purchasing a design with over 25 years worth of experience put into it and a product which can be collected as soon as possible.
One of our stand out designs is the Vernwy Kingsize Whirlpool Bath which excels in size with its huge 1800 x 1100 bathing space, ideal for two to share on Valentine's Day or in fact any day in your new luxury escape.
At Bathroom City we have every product to remodel your bathroom space into a luxurious retreat.