The Ultimate Guide to Whirlpool Baths
The first whirlpool tub was created by Roy Jacuzzi more than 50 years ago, in 1968. Jacuzzi, in fact, did for hot tubs what Xerox did for copiers and Kleenex did for tissues. A whirlpool bath lets you experience dual benefits: bubbling bathing pleasure as well as revitalising after-effects. The air bubbles quicken your blood circulation, and the water massage speeds up the blood flow. You feel rejuvenated and carefree, as pent-up stress and muscular pain vanish. So a whirlpool tub is simply sublime in soothing you from bothersome throbs. We are sure you'll find this ultimate guide useful in your pursuit of the perfect whirlpool bath.
Jump to any section of this guide by clicking on the links above
---
Everything You Need to Know About Whirlpool Baths
What Is a Whirlpool Bath?
A whirlpool bath is essentially a self-contained jetted tub in which whirlpool jets – usually 6 to 8, but some whirlpool baths even have 24 or more – are fitted on the sides of the bath shell at various points. Controls placed on the bath deck or mounted remotely close to the bath operate the jets. A whirlpool bath offers the feel of a spa and helps your mind and body relax in your own home. The jets are powered by water or air. The whirlpool bath is designed for a more therapeutic soak with the jets positioned to massage your body. And the high-powered jets of a whirlpool bath provide a sense of comfort that conventional bathtubs simply cannot match.
---
How Does a Whirlpool Bath Work?
A whirlpool bath is operated by air and water, and an electric motor pumps water through its jets. Water from the bath is sucked into the pump by the suction of the whirlpool via a suction plate. The pump then forces out the water under pressure through the whirlpool jets. You can adjust the force of the expelled water with an air controller. This control is usually in the form of manual knobs. You can adjust both the speed and pressure of the water to the desired level.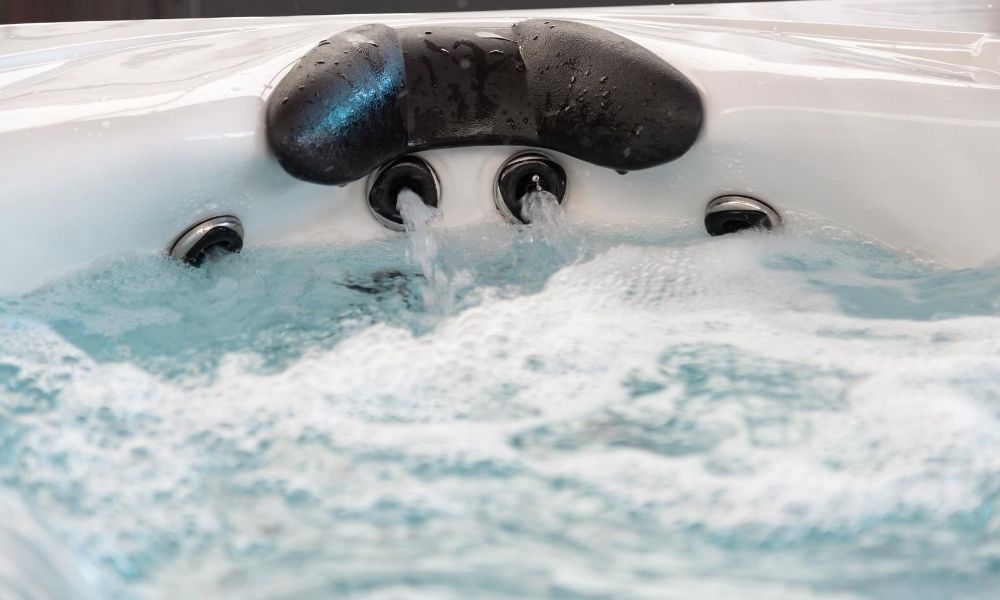 ---
What Are the Different Types of Whirlpool Baths?
Like standard baths, whirlpool baths also come in an assortment of styles and sizes to fit any bathroom.
1. Drop-in Whirlpool Bath:
A drop-in whirlpool bath is the most common style of whirlpool baths. This bath is virtually "dropped in" to a carved recess or space. The bathtub matches its surroundings and saves space without compromising on its aesthetic appeal.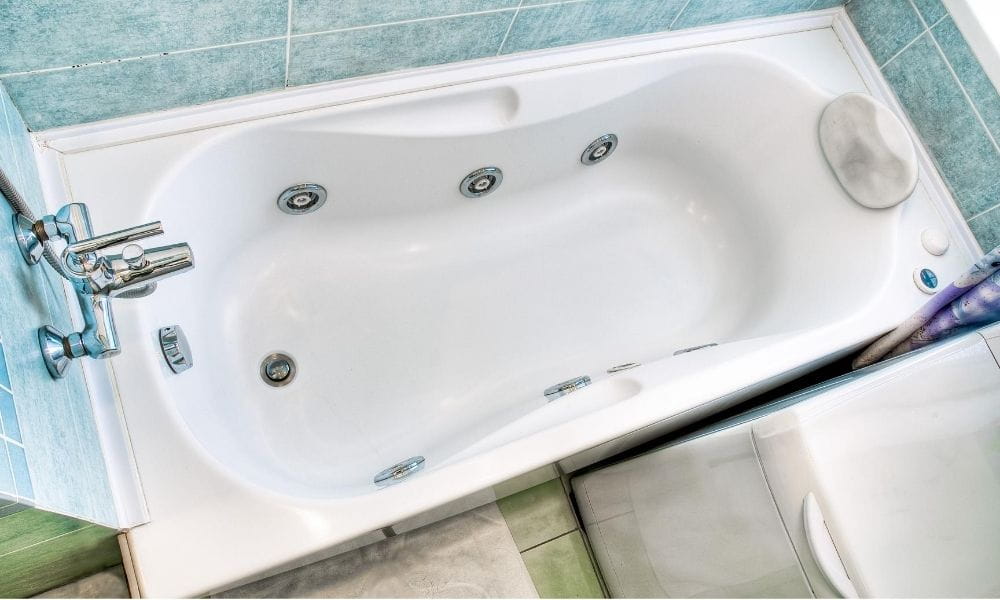 ---
2. Corner Whirlpool Bath:
This type of drop-in whirlpool bath is designed to sit in a corner. A corner whirlpool bath saves bathroom space and provides generous space to bathe. The shape of a corner whirlpool bath is normally triangular, presenting you with a distinctive shape to fit into your bathroom.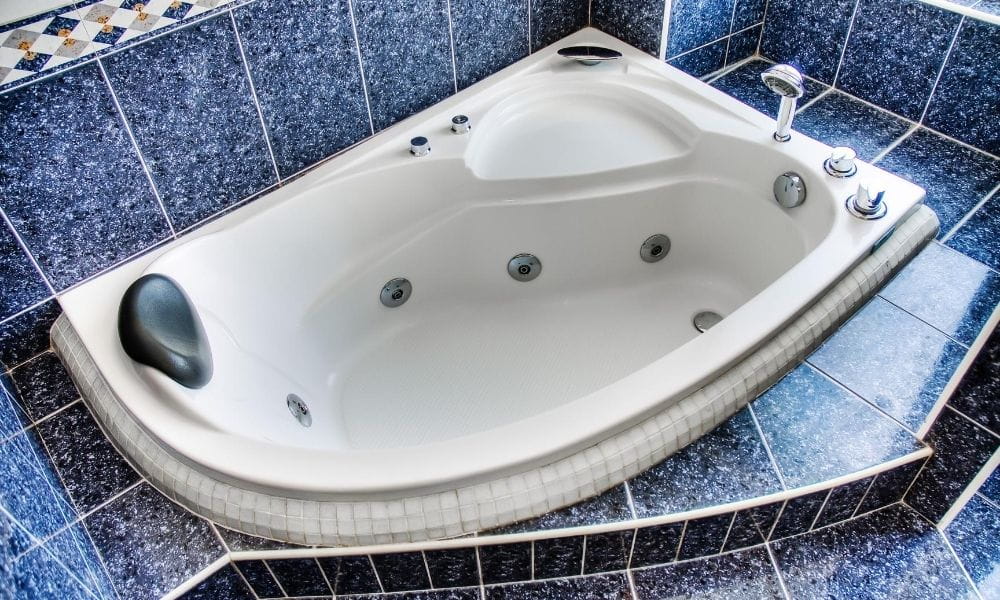 ---
3. Freestanding Whirlpool Bath:
A freestanding whirlpool bath is quite large and presents you with lots of freedom in terms of installation. You can place this large and more luxurious bath anywhere in your bathroom.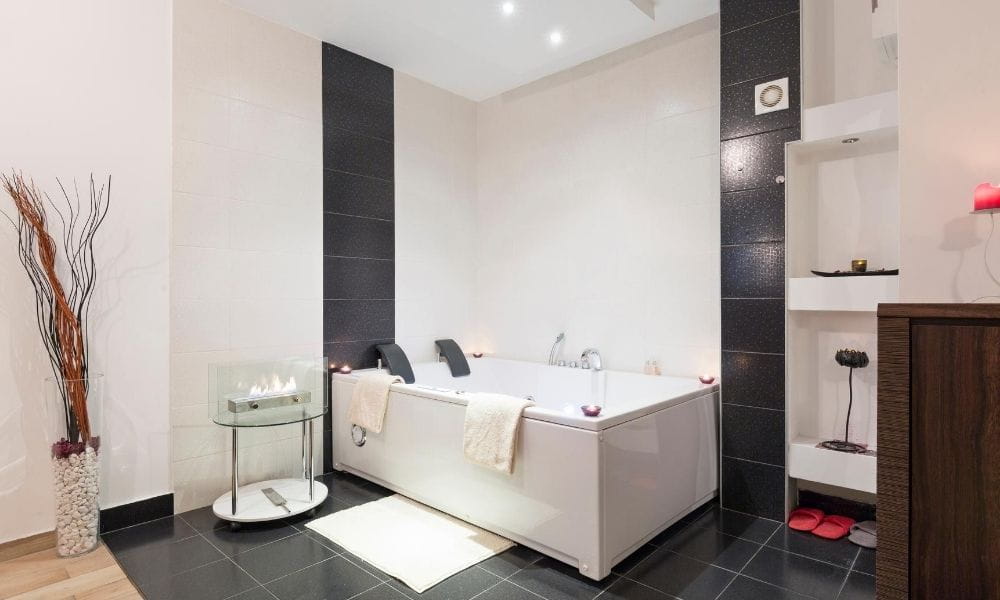 ---
4. Jacuzzi Whirlpool Bath:
A Jacuzzi whirlpool bath is often a designer piece and promises premium quality and stunning looks. For pure spa luxury, you can fit this whirlpool bath into the floor.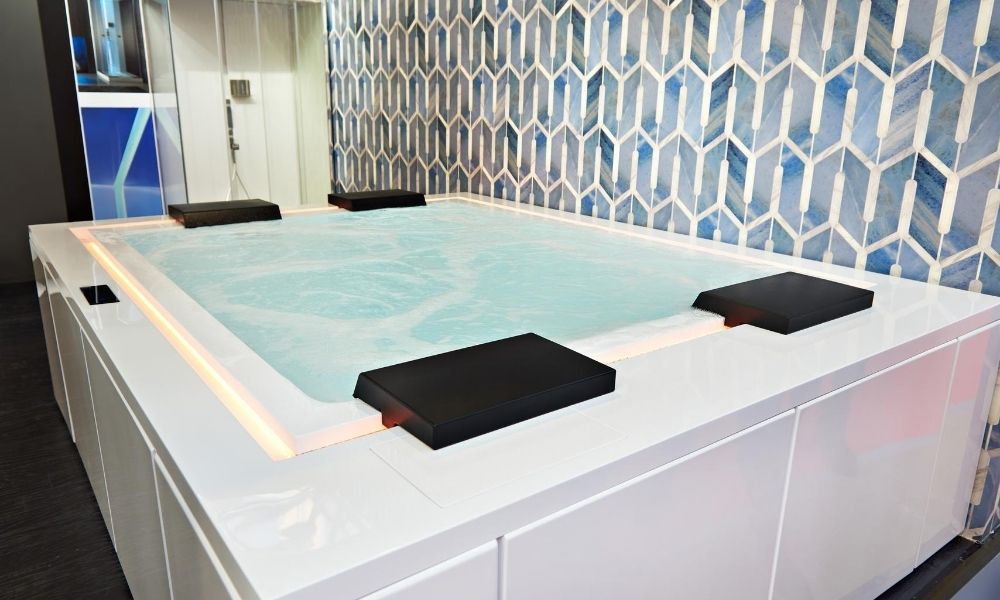 ---
5. Double Ended Whirlpool Bath:
A double-ended whirlpool bath, thanks to its double-ended design, is suitable for a couple. The main feature of this bath is the centrally positioned taps that enable you to fill the bath effortlessly.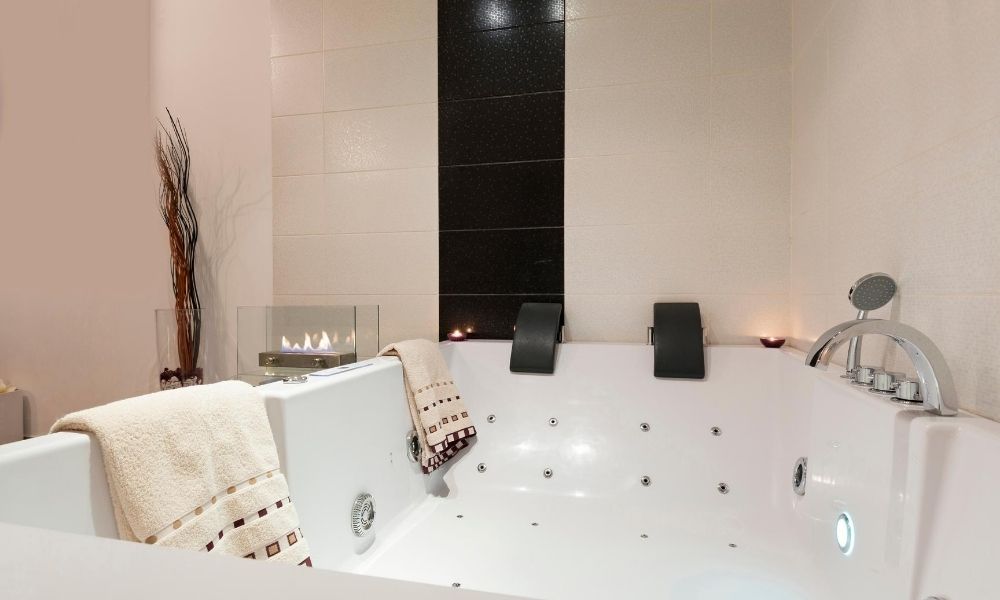 ---
6. Whirlpool Shower Bath:
A whirlpool shower bath allows you to enjoy the therapeutic features of a whirlpool and offers the practicality of shower access, as well. An L-shaped whirlpool bath is an example of a whirlpool shower bath.
---
7. Walk-in Whirlpool Bath:
A walk-in whirlpool bath is designed to assist people with movement difficulties. They can rest comfortably on the seat in the bath and freely bathe, as the whirlpool jets massage their joints and muscles.
---
What Are the Different Bath Accessories Needed with a Whirlpool Bath?
No whirlpool bath is complete without the following bath accessories:
1. Bath waste keeps the water in the bath when you fill it up. And when you are finished, it is the bath waste that permits you to drain the water.
2. Bath panels ensure that water is well-contained during your pleasant time in the whirlpool bath. They cover the chosen section of your bath and match the remainder of your bathroom's decor.
3. A Bath Shower Screen, also called a shower screen, is made from safety glass. This bath accessory is favoured over the old-fashioned shower curtain because you can prevent wet spots on your bathroom floor.
4. Some luxury accessories include a bath pillow, Bluetooth audio system, and chrome bath grips.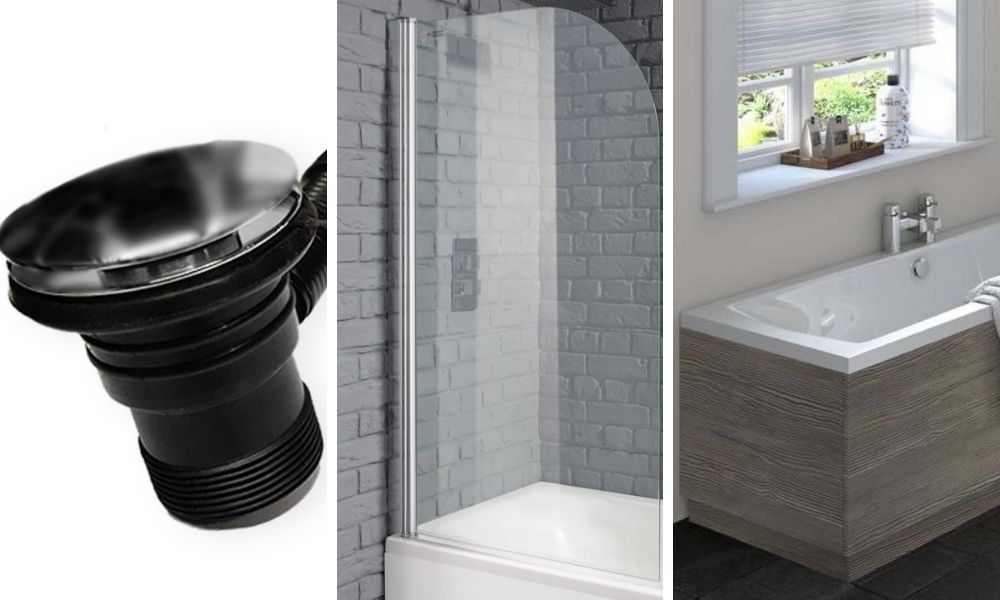 ---
How Much Does a Whirlpool Bath Cost?
The base model of a whirlpool bath costs £177. There is a wide range of whirlpool baths available at every price point, starting from this price. The premium models are priced at £718 and £899. But more than the price, you can choose the right whirlpool bath by carefully considering your needs. With a clear goal, it's easy to choose the whirlpool bath that works perfectly and complements the aesthetic appeal of your bathroom.
---
Are Whirlpool Baths Expensive to Maintain?
No. But prompt cleaning makes it easier to maintain a whirlpool bath. (It's as easy as cleaning the dishes after dinner.) You should always clean a whirlpool bath immediately after use. Start as the water is draining. When the bath is still warm, it's easy to remove the layer of grime and insoluble soap products. Use a clean cloth and hot soapy water. Simply wipe the bath dry. (Also, you will face minimal maintenance issues if you follow the manufacturer's recommendations on cleaning with the suggested products.) Pure-Spa Whirlpool Bath Cleaner & Degreaser 1L is a proven cleaning solution for whirlpool baths. The main feature of this product is it cleans the concealed pipes and inside jets and pumps, as well. Note: Since bleach can damage the plastic/rubber seals in your whirlpool bath, avoid using bleach when you clean the bath.
---
Are There Health Benefits of Using a Whirlpool Bath?
A whirlpool bath is not a silly luxury expense. Several scientific studies have confirmed the health benefits of using a whirlpool bath. Some of the health benefits of using a whirlpool bath include:
Improved range of motion.
Reduction in anxiety and stress levels.
Relief from lower back pain.
Relief from osteoarthritis.
Improvement in the quality of sleep.
Weight loss.
Reduced inflammation.
Reduction in blood pressure.
Relief from rheumatoid arthritis.
---
Are Whirlpool Baths Too Noisy?
Whirlpool baths are a lot quieter than they used to be years ago. The home spa market is huge, and whirlpool technology has seen several advancements. The noise level of a whirlpool bath is about 71 dB. If noise is a serious concern, you can consider models that present you with a remote pump location option. The noise is reduced significantly when you move the pump away from the whirlpool bath.
---
Shop Whirlpool Baths
Bathroom City has a wide range of whirlpool baths from corner whirlpool baths to double-ended whirlpool baths and from Jacuzzi whirlpool baths to whirlpool shower baths. The selection is so comprehensive that you are guaranteed to find the right Whirlpool Bath for your needs. Visit our showroom now and transform your bathroom into a luxurious retreat.
---
Other related articles that you might be interested to read: