You are here
Delivery Methods
Special Next Day Dispatch :We're offering our customers the option of a Special Overnite Dispatch for all products In-Stock, ordered before 8:00 AM, on our Weekly Dispatch Days.
This Offer is valid for all orders within Mainland UK.
Please see below table for more information:
Time Cut-Off for your Order
Day Time Cut-off: 8:00 AM BST
(If you place an order on a day not listed below, your order will roll-over to the next dispatch day, subject to email confirmation. (Bank Holidays Excluded)
Dispatch & Delivery Schedule
| | |
| --- | --- |
| DISPATCH | DELIVERY |
| Monday | Tuesday |
| Wednesday | Thursday |
| Friday | Monday |
What we need from you to dispatch
Once you place an order, you will receive an email from us. Please reply before 11:30 AM (on the same or following day), letting us know your availability to receive the order at your home address.
The time cut-off is important to ensure timely order dispatch.
Please note that email confirmation is mandatory.
FAQs for the Special Dispatch Offer
Question: Why do I need to order a product before 8:00 AM? What happens if I do not meet the time cut-off?
Response: We have placed a time cut-off due to our staff's restricted working hours during these times, as well as to allow us enough time to get your order out as early as possible. If you're unable to meet the time cut-off, we will still deliver your order on the next delivery day, subject to email confirmation.
Question: Do all products on the website qualify for the "Special Dispatch Offer"?
Response: No, all products on the Bathroom City website do not qualify for this offer. Only products with the special "In Stock| Special Weekly Dispatch" sticker, qualify for this offer. If your order contains one or more non-stock items your order will not qualify for the next day delivery services.
Question: Why is email confirmation mandatory? Why does email confirmation have a time-cut off of 11:30 AM?
Response: An email confirmation is mandatory to ensure your availability to receive the order, at your home address. Failed deliveries will incur extra charges that will need to be paid for by the customer. We want to ensure a speedy and efficient delivery experience, so please help us do so. The cut-off time is to allow us to make same-day dispatches if you're able to meet the cut-off. If you're unable to meet the time cut-off, we will still deliver your order on the next delivery day, subject to email confirmation.
Question: How should I contact Bathroom City if I have questions about my "Special Dispatch Offer" order?
Response: Please send us an email at [email protected], and someone will get back to you at the earliest.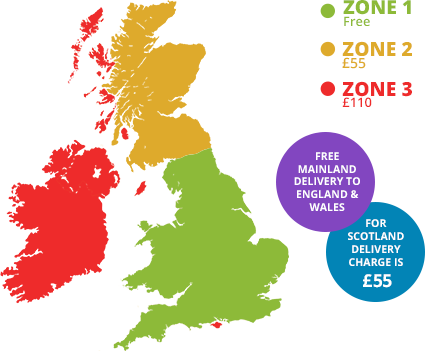 Zone 1 Delivery (England)
Standard Parcels  - Delivery is priced at £8 in zone 1 (England). We deliver small items via Parcel Force.
Large Parcels Pallet Delivery (Normal Delivery) Delivery isFREE for orders over £399 in zone 1 (England). £35 for orders £399 and under
Zone 2 Delivery (Scotland)
All standard and large parcels delivered to post codes in zone 2 (Scotland) are charged at £55. For orders over £399 there is a reduced delivery charge of £35.
Zone 3 Delivery (Offshore)
All standard and large parcels delivered to postcodes in zone 3 (Offshore) and some Scotland postcodes IV, KW, PA, and PH are charged at £110.
Special Delivery
Products listed as Special Delivery (i.e. Bath Panels and Shower Panels) are charged at £35 per order.
Products such as Wet Walls and Shower Walls are charged at £35 per item for specific areas, all other areas POA.
All prices above include VAT - NO HIDDEN COSTS at Bathroom City
Free Delivery on Orders over £399
It can be a pain when you find the products you want at a great price and then have to add postage expenses to the overall cost, that's why Bathroom City keeps delivery costs to a minimum and also offers free delivery on orders of £399 and over to England and Wales (inland), as well as discounted delivery on some products.
Overnight Delivery
At Bathroom City we understand that timing your delivery with the date you book your plumber can be a pain, so for situations that require a quick delivery we also offer an overnight delivery service.
Overnight delivery is available at a small extra cost depending on your location, simply make your order online and contact our team to upgrade.
If you would like to take advantage of our overnight delivery service then please contact us on 0121 753 0700.
EXPORT  - Please contact us direct for shipping costs. 
Delivery Procedure
Some items may not be in stock and will have to be ordered from our suppliers, this may generate a longer lead time to receive your order. If you are not sure the products you have chosen are stocked please call for details.
Bathroom City's transport department will contact you a few days before the expected delivery date to confirm that you are ready for the goods. Somebody needs to be at the delivery address on the day of delivery because the carriers will require a signature for the goods.
We must stress even at this point you are strongly advised not to pre-book contractors, plumbers or engage in any preparatory work until you have all your goods and are happy that they are as ordered and damage free.
If you are not ready to begin work on your development, goods can be stored in our warehouses free of charge for a period of 2 months from Date Of Order so you can get your plumber scheduled in.
Remember we are dealing with fragile products and accidents can happen. If your order is damaged our staff will be as helpful and understanding in resolving any issues.
Standard and Large Parcels – Standard and large items will be delivered by Parcel Force courier service.
Bulky Delivery (Secure Pallet Delivery) - You will be e-mailed/telephoned with the consignment details directly by the transport company to arrange a suitable time for delivery.
Next Day  Delivery – this service is available at a small charge - all customers must check with the sales team that the item is available from stock and available for next day delivery before placing there order. 
We aim to deliver in 3 - 5 working days for stock items and deliver your order using either  Bathroom City vans  or a  designated distribution company which reached every corner of the United Kingdom.
For customers who live in rural areas, farmhouses, manors, country homes and hard to get to places please let us know so we can use a suitable van or a small truck to get through narrow lanes and dirt roads etc.
Delivery Assistance
Our carrier vehicles are frequently manned by the driver only so we ask you to provide suitable help in the unloading of heavy or bulky items. As we are not insured whilst on your property delivery's are curbside delivery only, drivers may help at their discretion, please make sure you have help getting the goods into your property. All packaging materials are the responsibility of the customer after delivery.
Checking Deliveries
The driver will wait while you check the major components i.e. the bath, pottery etc. There is no need to check robust items such as taps, seats, robustly packaged shower doors and cubicles on delivery. Please check the number of items. We generally allow 48 hours for notification of any issues on these items.
IT IS VITAL YOU CHECK YOUR DELVERY FOR DAMAGES AND REPORT WITHIN 48 HOURS OF DELIVERY 
  In the unlikely event of transit damage, if you accept the delivery or part delivery please sign as damaged.
Collection
Being located in the Midlands is great news for our customers as we're not too far from anywhere, allowing all of our customers to collect their order from our cash and carry warehouse if it's a more convenient option then delivery. 
Please check all your items on collection for damage of any kind as we are unable to accept goods back after you or your representatives have taken the goods away. 
Please also be aware that telephone calls between our customer services team, sales and customers are recorded for training purposes. They may also be reviewed for clarity and HR purposes during disputes.
When developing a new bathroom, timing the delivery of your bathroom suite with the time you schedule your plumber to begin work can be difficult with time constraints playing a major role: we advise all of our customers to not schedule any work until their order has arrived and has been checked for suitability.