Why Choose a Designer Radiator?
If you want to deliver a premium heating solution for any setting, investing in a designer bathroom radiator creates a warming ambiance for the ultimate bathroom escape.
When you've spent a great deal of time and money on designing and installing a swish new bathroom suite, the last thing you want to have to do is detract from all that hard work with a big old-fashioned unsightly heating unit.
Thankfully, here at Bathroom City we have a range of luxury designer bathroom radiators and heated towel rails in a variety of finishes and styles that make an impact in any suite, whether it be traditional or contemporary, as well as providing a high level of heat output for a cosy bathing experience.
Traditional Old Style Radiator 
If your suite is classic or period in style, your bathroom radiator should complement that theme. A traditional bathroom radiator doesn't have to look old-fashioned or out-of date.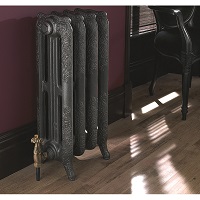 The Taby Cast Iron Radiator by Imperial emits class and sophistication as well as unrivalled heating. This beautiful bathroom radiator would even look at home in your lounge, living room or other reception area.
Contemporary Modern Style Radiator
A modern bathroom should be completed with an up-to-the-minute state of the art designer bathroom radiator, and Bathroom City has plenty of these available to suit any contemporary suite.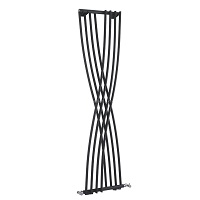 The Anthracite Xcite Designer Radiator boasts a unique and sleek design that makes a statement in your luxury modern suite as well as offering functionality.
Horizontal Radiator Shape
If you have the wall space available, a horizontal bathroom radiator provides a superb amount of heat and creates a focal point in your bathroom suite. Why settle for anything less than one of our stylish horizontal designer bathroom radiators?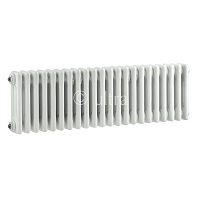 The White Colosseum Triple Radiator is available in a range of sizes and exudes timeless class in any bathroom suite.
Vertical Shape Bathroom Warmer 
A vertical bathroom radiator maximizes your available wall space whilst providing high-quality heat output and a sleek, contemporary look in more modern suites.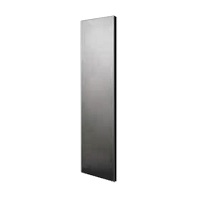 This Radiator enjoys a high-quality Anthracite finish, providing a luxurious visual appeal as well as supreme heating and practicality.
Floor Standing Bathroom Heater 
A floor standing bathroom radiator has the flexibility of being able to be mounted anywhere in a room as they do not need to be fixed to a wall. This frees up your wall space for other things and potentially allows you more space around your bathroom radiator for heat to escape.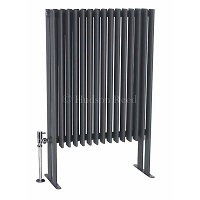 The Fin Floor Mounted Double Panel Radiator is a modern design that is as visually dramatic and stylish as it is practical.
Tubular Designed Radiator 
Tubular bathroom radiators are a versatile concept that comes in a variety of shapes and sizes, meaning there is always a suitable designer tubular radiator for your bathroom installation.
This Tubular Steel Radiator is a wall-mounted design that looks stylish in all suites and indeed in any other room in your house.
Mirrored Radiators For Every Room Of The Home 
A bathroom radiator with an integrated mirror provides eye-catching style as well as an efficient way of maximizing the space in your bathroom suite.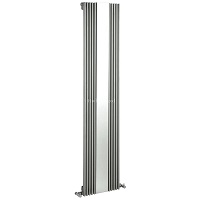 The Keida Radiator is an attractive design which makes a statement among any contemporary bathroom décor.
Column
Column bathroom radiators are a classic of interior design and come in a variety of traditional and modern styles.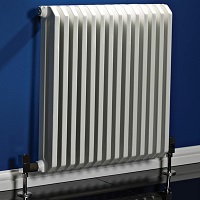 The Phoenix Dee Radiator is a stylish modern design which offers simple efficiency and an inoffensive minimalist look that will blend into any contemporary décor.
Panel
Panel bathroom radiators are extremely popular in the UK due to their heat exuding power, and can come with either single or double panels depending on the amount of space you have available in your suite.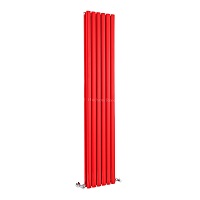 The Red Revive Double Panel Radiator is a striking contemporary style which immediately draws attention and will make a dramatic statement in a bold, up-to-date suite, as well as exuding the highest standards of heat.