Are Toilet & Sink Combos Any Good?
What Is a Toilet and Sink Combo Unit and the Need and Benefits of One?
A toilet and sink combo unit is a smartly designed accessory that combines multiple needs into one. In small residential units, lack of space is a stark reality. In most homes, bathrooms are decidedly small. But you still have an elegant alternative, as a 2-in-1 toilet and sink unit presents you with the perfect solution.
The main feature of this space-saver combo is it doesn't compromise on style. Another feature is this unit is truly green, as the dual-flush cistern fittings save a precious resource – water. Yet another advantage is you are spoilt for choice as the top brands offer you an assortment of designs. Let's check out some of the best toilet and sink combo units that are stylish yet practical.
---
Our Top 5 Toilet Sink Combo Recommendations That Will Be Perfect for Small Bathroom Spaces, Cloakrooms and En-suites
1. Kiana Toilet and Sink Combo Unit
New times demand innovative answers.
The Kiana 1050mm Combo Unit presents you with a compact all-in-one solution. In addition to a sink and back-to-wall toilet, this unit combines a spacious double-door vanity, as well. This neatly designed unit makes even a small bathroom appear large.
The luxurious white finish of this combo unit will complement any bathroom aesthetic. You also don't need to worry about the next renovation, as the fully-guaranteed vanity unit is made of water-resistant Medium Density Fibreboard (MDF).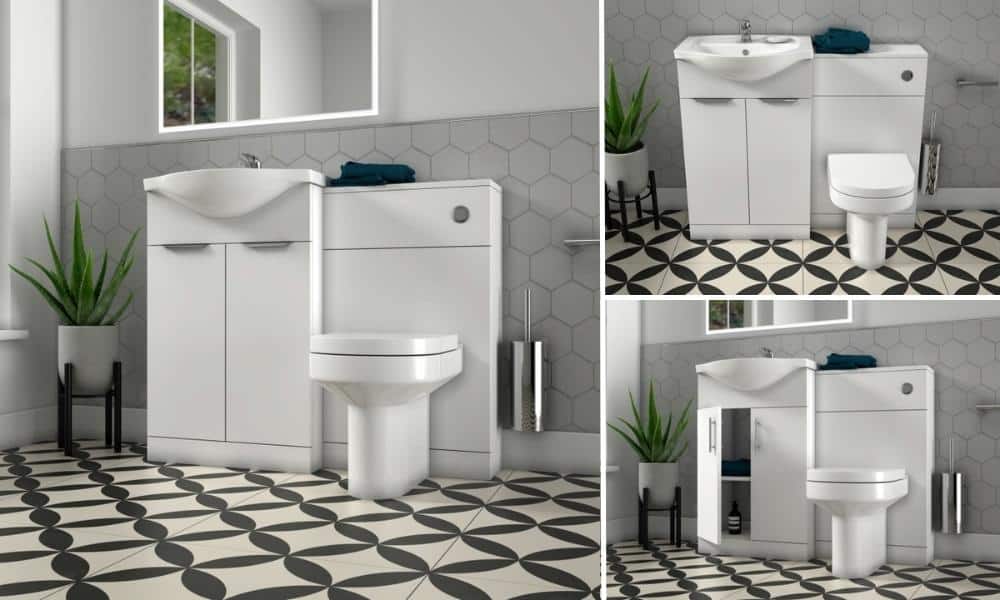 ---
2. Patello Luxury Sink and Toilet Set
Looking for a convenient solution for modern life?
Then the stunning Patello 1200mm Furniture Set is the automatic choice. The standout feature of this 2-in-1 toilet and sink unit is its ultra-white acrylic gloss finish. Another advantage is the reduced depth of the toilet unit saves valuable floor space.
The vanity unit is built to last and can easily withstand the wear and tear of everyday living. Also, the drawer runners and door handles are durable, as they are built to the highest standards.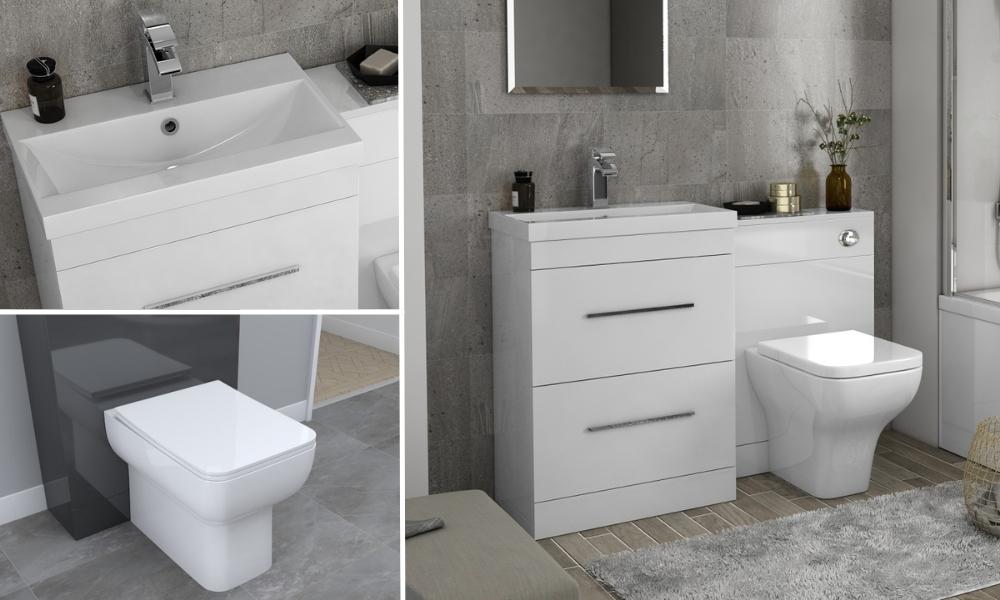 ---
3. Oliver Fitted Furniture Toilet and Sink Combo Unit
Interested in a fully modular furniture unit for your bathroom?
Then we suggest the cleverly designed Oliver 1100mm Fitted Cloakroom Suite, as it allows wall-to-wall installation, making optimal use of space. This stunning fitted furniture unit is available in light grey, anthracite or white. But it's not just about looks.
It's about utility too, as you'll never run out of storage space with this furniture set in your bathroom. The reason is because besides a vanity, this highly functional unit combines a mirror cabinet, as well.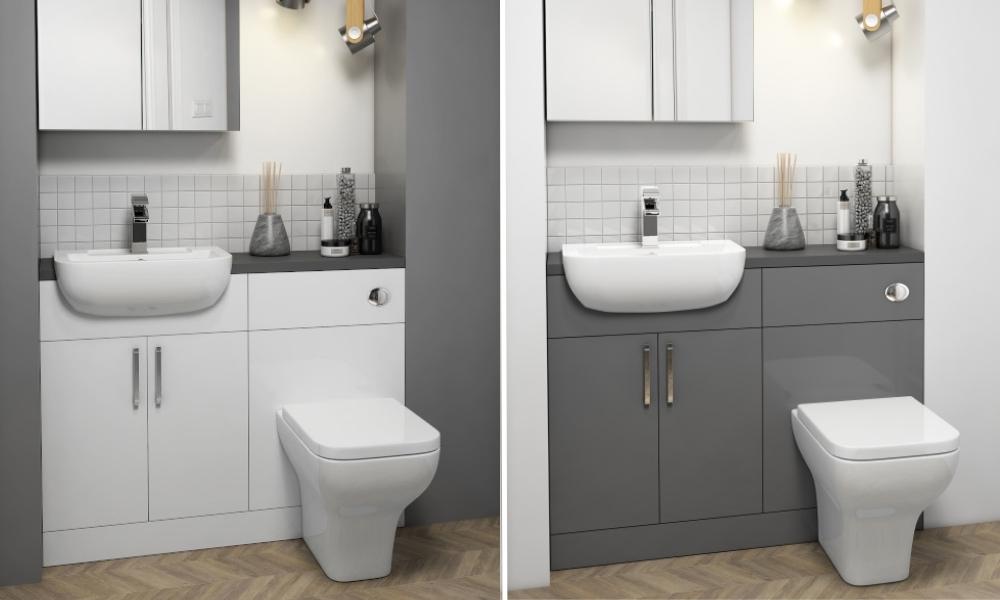 ---
4. Pemberton L-Shaped Basin and Toilet Unit
Are straight lines, style and class important to you?
Then the Pemberton 1100mm Combination Unit is the right choice, as this statement piece boasts an exceptional finish that would suit your bathroom the best.
This L-shaped combo unit combines a grey vanity with a toilet and basin. You can also add an L-shaped bath to finish the look.
The main feature of this brilliant design is it's practical for a compact space. The handle-less design of the splash-proof vanity unit is another convenient feature.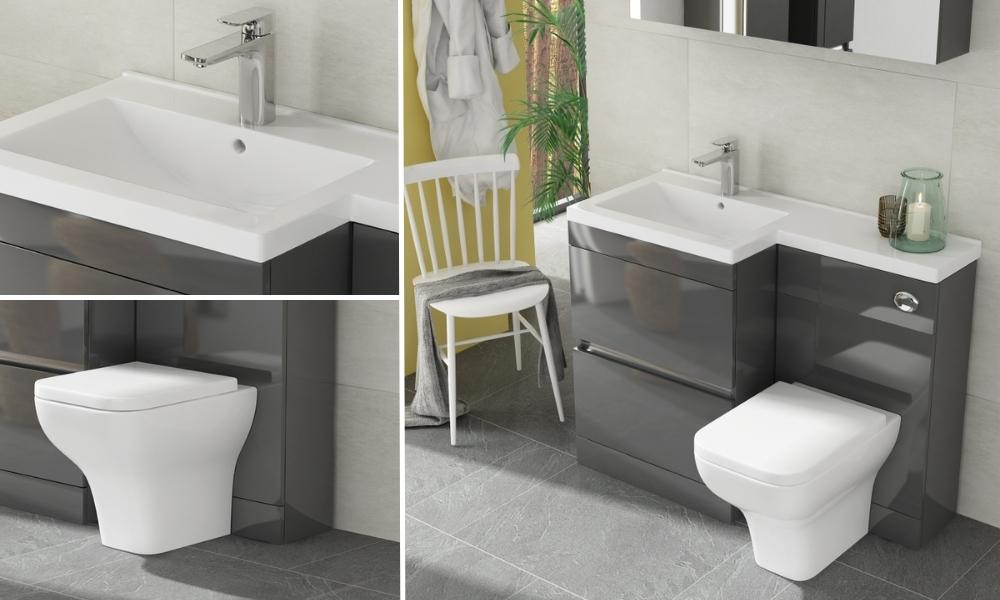 ---
5. Ashford Cloakroom Toilet and Sink Combo Set
Want to create a warm, fresh look in your bathroom?
Then the minimalistic Ashford Pearl Grey Cloakroom Suite is the right choice to do precisely that. This fully-guaranteed furniture set goes along well with any style of bathroom aesthetic.
The main feature of this combo unit is the two handle-less drawers that provide ample storage space. You can also access the water-saving, dual-flush cistern from the top and front for easy maintenance.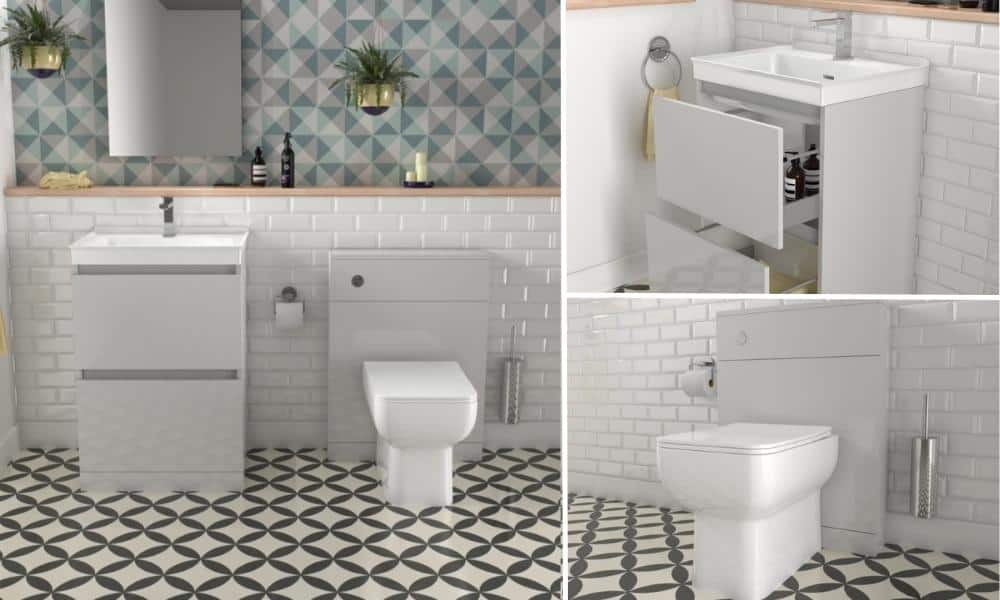 ---
Shop Toilet and Sink Combo Units
At Bathroom City, our collection of toilet and sink combo units includes the latest designs from several top UK brands as well as our own in-house designs. Our acclaimed product range of basin and toilet combo sets complements every bathroom style and are available at varying price points.