Bathroom Ideas for 2022
The era of dull, boring bathroom design is long over.
Today, a bathroom is a highly preferred destination to relieve stress and tension. Imagine you arrive home at the end of a tiresome day. Is there anything more appealing than a relaxed, refreshing shower? Or, do you favour a long, luxurious soak in the bathtub?
Either way, it's obvious that people tend to spend a long time in the bathroom – much longer than they used to a few decades ago. That's the reason technology has taken over.
As a result, bathrooms are filled with the latest gadgets and accessories. So, it isn't uncommon to see a digital shower, heated towel rail, hot bathtub, LED lights, demister pads and other smart equipment in a modern bathroom.
The 10 inspiring bathroom ideas discussed here will help you pick the best everyday conveniences that you truly need.
1. Gold Bathroom Sets
In recent years, metal has been an essential element in bathroom trends. And this trend is here to stay.
A golden metallic hue is simply irresistible as it presents a sophisticated appearance. A touch of gold offers glamour and class. Gold bathroom sets also reflect just enough light to complement the aesthetics of your bathroom to perfection.
The Alani 900mm Navy Blue Vanity Unit combines striking colours with practical storage. This wall-hung, two-drawer furniture piece features a light oak finish worktop. The unit also features a rectangular countertop basin with a single hole for a brushed gold mixer tap.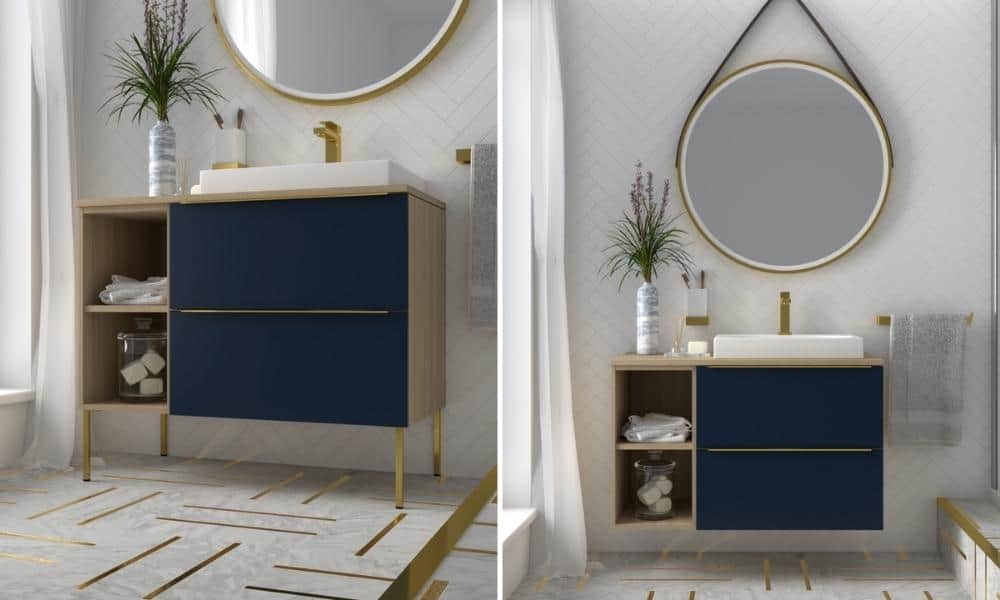 ---
2. Traditional Basins & Sinks
The Chester Traditional 800mm Cloakroom Suite is elegant and minimalist. This fully-guaranteed grey vanity unit comes with a white ceramic, space-saving short projection toilet.
The floor-standing vanity unit features decorative woodworking on the fronts of the double doors. The artistic touch of this cloakroom suite gives character to your bathroom.
You don't need to worry about this unit being dated, as the stylish basin tap and door handles combine traditional details with a smooth modern aesthetic.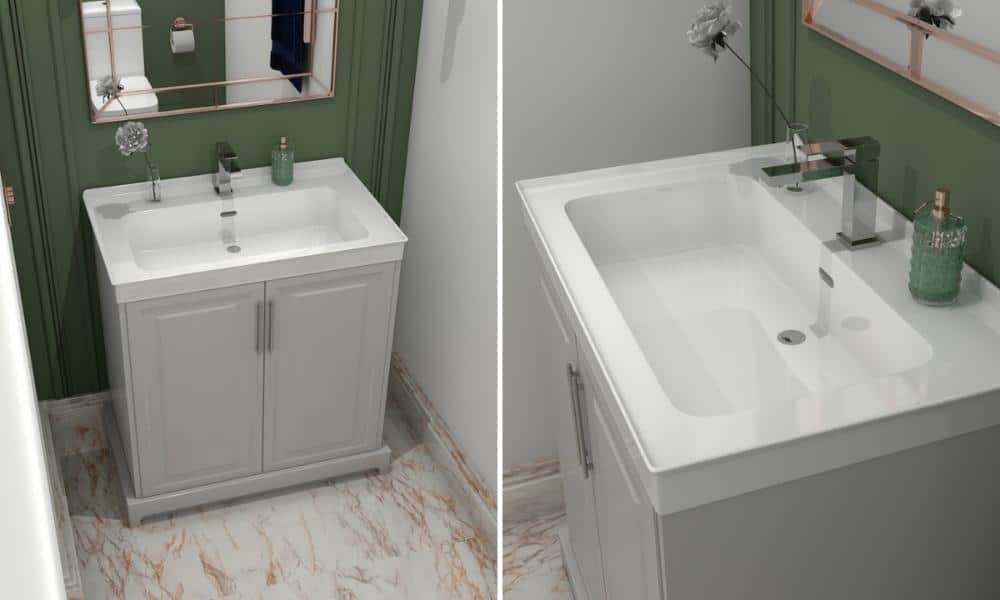 ---
3. Double Basin Vanities
Couples lead busy lives. When you add children to the equation, life becomes busier. So a double basin vanity unit is a great addition to a family bathroom.
This is where the Alani 1500mm Green Vanity Unit fits in. The wall-hung unit features twin, rectangular countertop basins. This 4-drawer, durable MDF (Medium Density Fibreboard) furniture also offers generous storage space.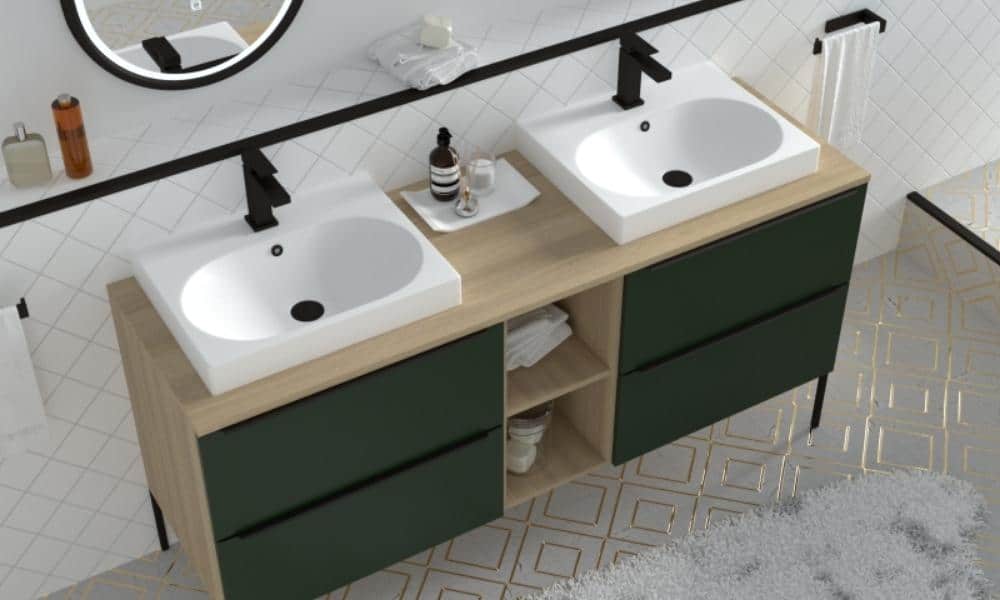 ---
4. Light Fixtures and LEDs Lighting
Illuminated bathroom mirrors have been around for many years. They are especially useful in bathrooms that lack ventilation. If the amount of natural light in your bathroom isn't adequate, then an illuminated mirror is a practical solution.
The easy-to-install, Damana LED illuminated mirror comes with a heated demister pad. So, a foggy mirror will fade fast into memory. You can also hang this eye-catching mirror in either landscape or portrait mode.
An added advantage is the bright lighting will ensure everything is in plain sight. You can save valuable time when you are in a hurry.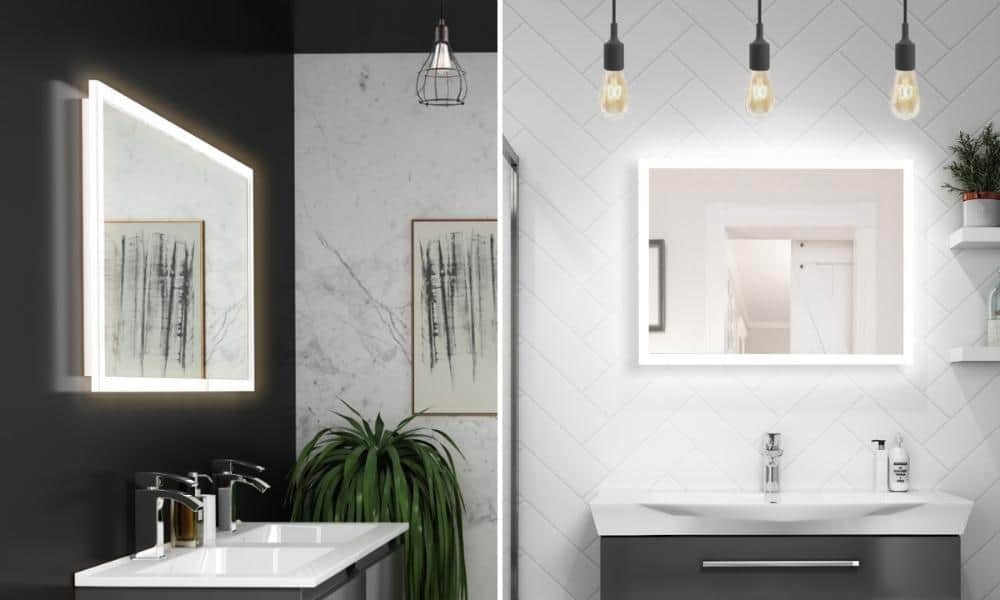 ---
5. Monochrome Wet Rooms
The black-framed Jaquar Wetroom Shower Screen with its concealed fixings is ultra-modern.
The horizontal partition lines exude visual elegance and contemporary architecture. Also, the black frame adds a crisp contrast to the other accessories in your bathroom.
The main convenience of this statement piece is you can say goodbye to soap scum and grime, as the 8mm toughened glass is coated with a fine film of easy clean glass protection.
The shower screen comes with a 10-year guarantee, and it is reversible for right- or left-handed installation.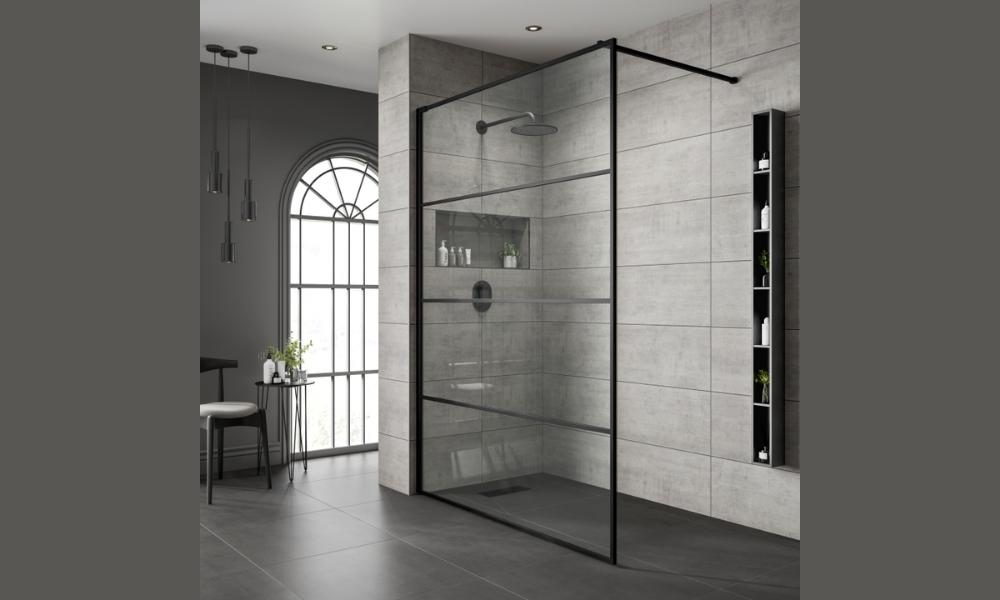 ---
6. Jacuzzi Shower Baths
When you think of a Jacuzzi shower bath, the first thing that comes to mind is the exorbitant price. So this bathroom idea may seem a bit pricey. But we have some good news. It's now possible to enjoy the healing power of a Jacuzzi shower bath without spending a lot of money.
The L-Shaped Luxury Whirlpool Shower Bath costs just £741. We have more good news. The running cost of this small-sized Jacuzzi is low, too.
The sleek look and rich white finish of this trendy bath balances style and functionality. When you are time-poor, you can have a quick shower. So, you get to enjoy all the premium qualities of both a bath and shower.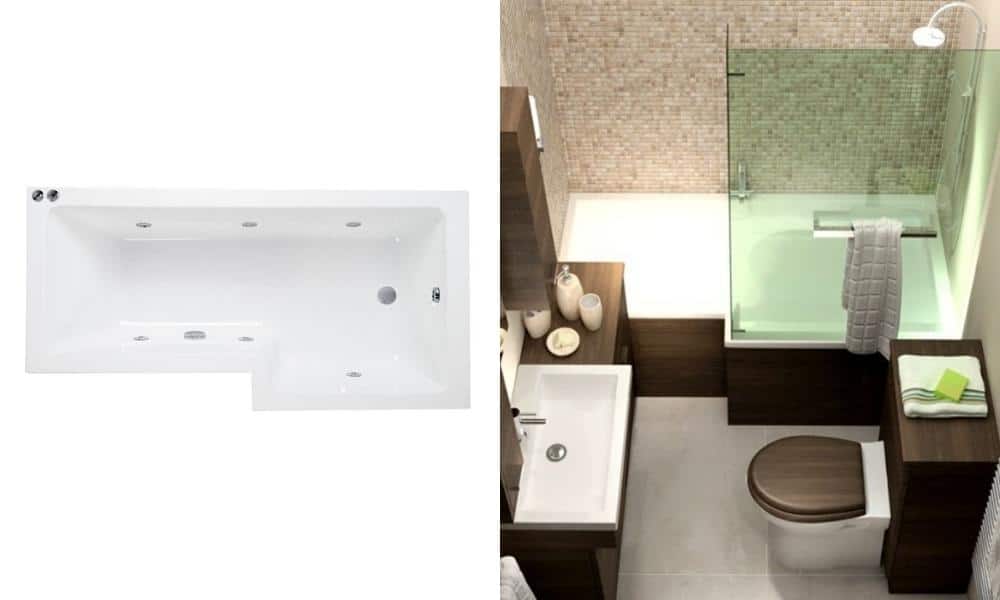 ---
7. Minimalist Designs
Minimalist designs are currently the rage. The trend for streamlined bathrooms is set to hit a new high in 2022. The less-is-more approach effectively creates a calming space with smooth, clean lines.
You can easily achieve this contemporary look with the Ashford 800mm Light Grey Shower Suite. The suite bundle combines a minimalist vanity basin unit with a quadrant shower enclosure and a back-to-wall toilet.
You can also opt for additional extras such as a basin tap, basin waste, bottle trap, shower kit, shower tray and more.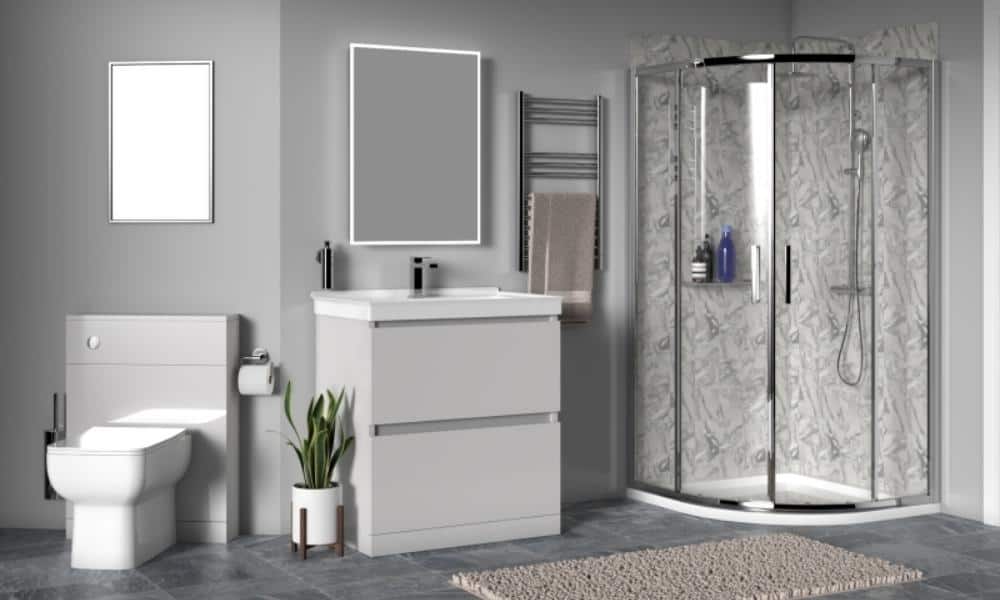 ---
8. Swadling Brassware
A gold-finish bathroom accessory on solid brass is synonymous with splendour, glamour and fashion.
The Swadling Illustrious Gold Bath Shower Mixer Tap is a luxury art deco tap. This premium, timeless piece comes with a hand shower, cradle holder and hose.
The highly functional design is guaranteed to illuminate your bathroom. This mixer tap is built to last, as it is manufactured from sturdy brass and finished with quality gold plating.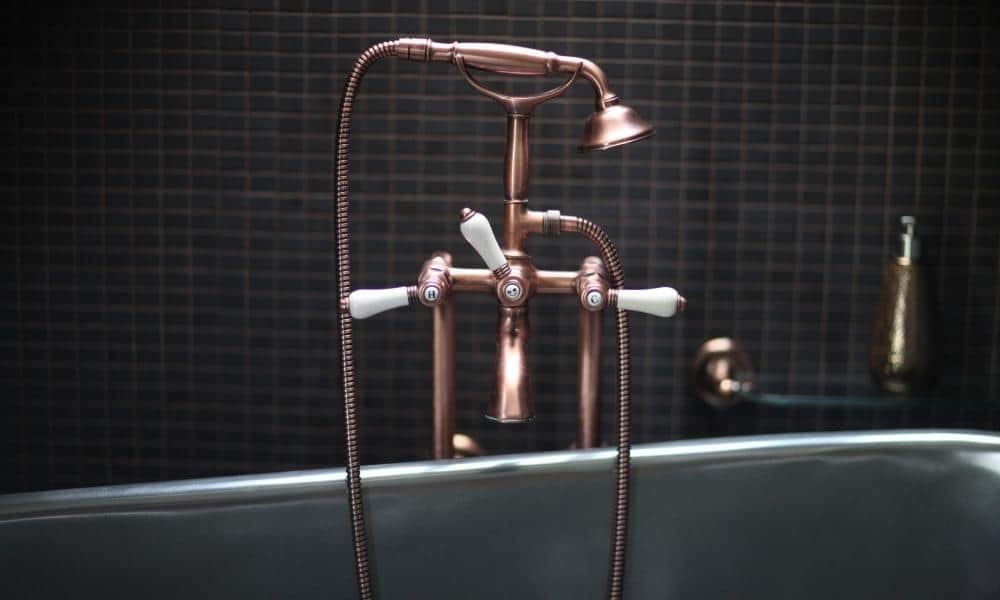 ---
9. Wooden Bathroom Storage
Some bathroom ideas are practical, inexpensive and beautiful. Wooden bathroom storage is one of them. The reason is every bathroom needs storage space. And any storage unit that will provide tonnes of space will grab the market and not let go for years and years.
One such unit that fits the bill to perfection is the 100% recyclable Balto 4-Door Tallboy. This non-porous, sealed finish bespoke furniture piece is available in a variety of colours and surfaces. The unit also has four glass shelves for ease of storage.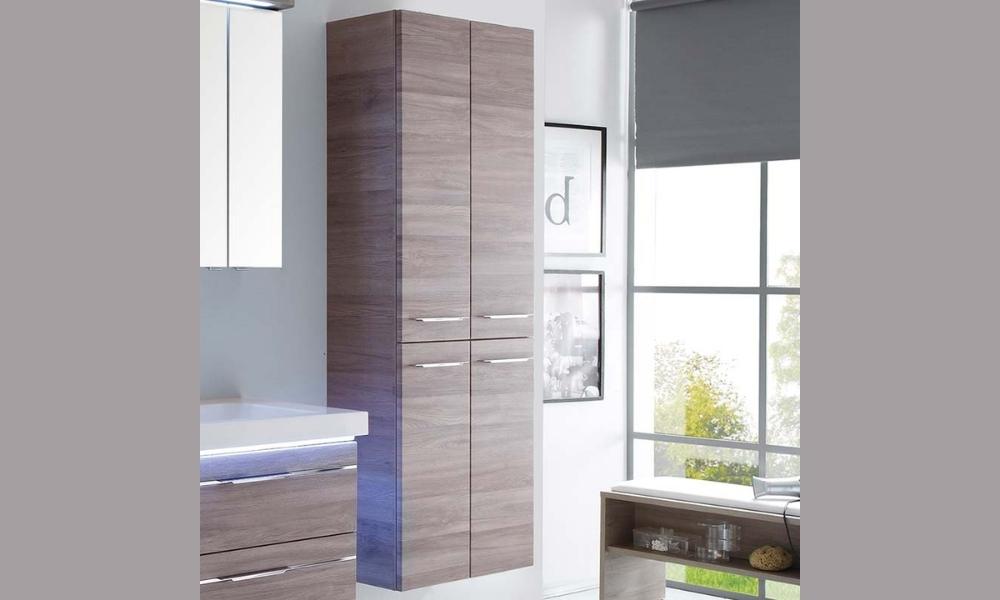 ---
10. Stunning Designer Radiators
A designer radiator is a value-for-money buy, as it elevates the comfort of your bathroom.
In this regard, you can consider the Baro Stainless Steel Designer Radiator as part of your bathroom design. You don't need to worry about the reliability of this practical and aesthetic radiator, as it comes with a 5-year guarantee. You simply can't go wrong with this excellent purchase.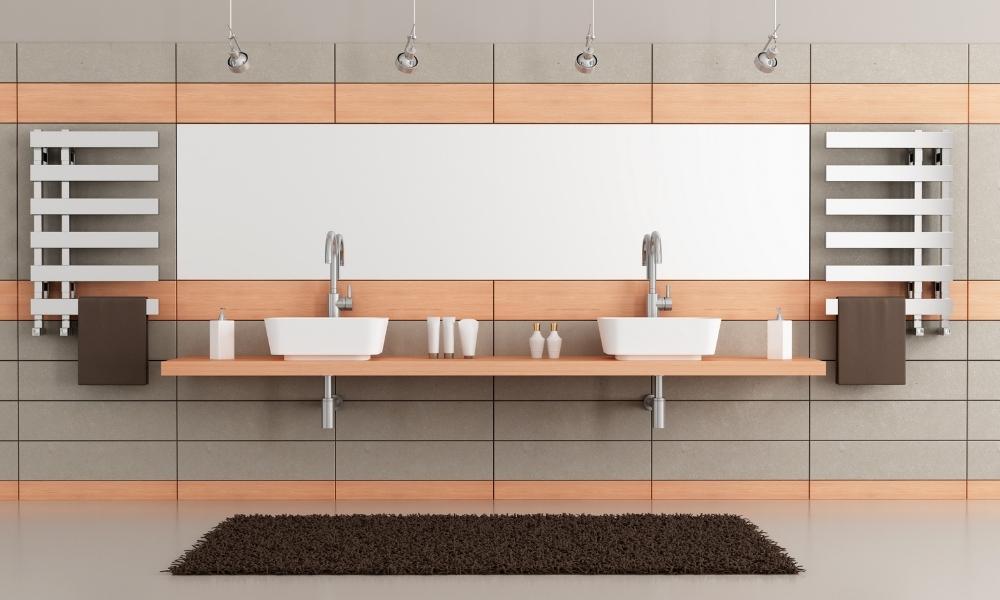 ---
Bathroom City is among the UK's premier bathroom retailers and manufacturers. Take a look at the enchanting new collections we have launched this year. natural stone basins, wall cabinets, wall-hung toilets and designer bathroom furniture and storage units.
---
Looking for some more inspiration? Check out Bathroom Ideas from previous years: