10 Stunning Black Bathroom Ideas
Why Black Bathroom Ideas?
Black is a colour that's associated with a range of sentiments including power, mystery, strength, authority and elegance. In bathroom design, black is the new sophisticated colour—at once dramatic and the stuff of dream décor. Black is not only elegant, but it's also visually appealing. If you're serious about adding grandeur and brilliance to your new bathroom, we're sure these 10 stunning black bathroom ideas will give you plenty of inspiration.
---
Why Should You Set Up a Black Bathroom?
Since your bathroom is the ultimate space for winding down after a stressful day, this room – and you – will benefit from a dark, soothing colour scheme such as black. A black accessory not only brings character and life but also brings dramatic glamour.
A black bathroom fixture or sink can make an emphatic statement in an otherwise dull bathroom. This colour has taken centre stage right now – black floors, black tiles, black walls, black fixtures, et.al. The colour fads and bathroom trends around you may change every year. But black needs little to no updating because this colour does not date. You can match black easily with other shades as fixtures of this colour create a beautiful contrast.
---
Our Top Black Bathroom Product Recommendations
1. Black Vanity Unit
A vanity unit is a stylish piece of bathroom furniture that allows for extra storage and a minimalistic design. The curvaceous design of the Sting Vanity Unit maintains a contemporary appeal in your bathroom. This generously sized wall-mounted vanity unit comes with a right-hand basin and two drawers. The noiseless open/close action of the drawers resists the general wear and tear associated with daily use. This unit is also available in three other colours – white, red and grey.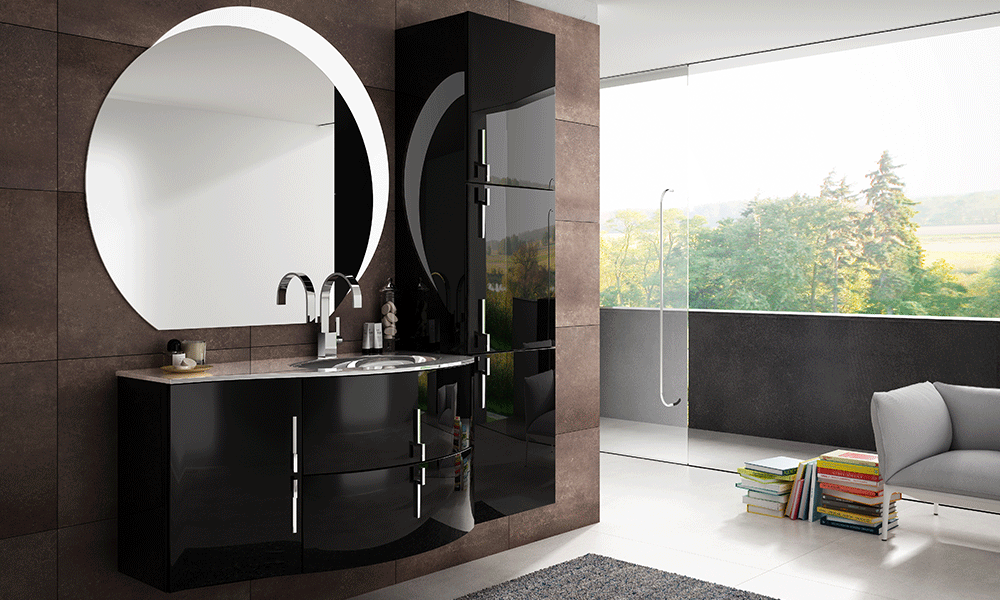 ---
2. Black Wash-Stand and Basin
A splendid wash-stand and basin combo complements a bathroom of any size. The Victoriana 725 Black Marble Wash-Stand and Basin enables you to upgrade your bathroom to elite status and make a statement of sophistication. This premium wash basin stand creates a glamorous and luxurious appeal in your bathroom. The standout feature of this wash-stand is the top quality spray finished legs. These exclusive wooden eyelash legs are individually carved from solid oak. The ceramic underslung basin is spacious and comes with an integrated overflow.
---
3. Black Electric Power Shower
An electric power shower saves you time as it heats water to the desired temperature in a jiffy. The energy-efficient 8.5-kilowatt Designer Black Electric Shower comes with 5 Spray Head Modes. The shower unit is equipped with Clearscale technology that cuts the build-up of limescale to deliver a better performing, longer lasting shower. The LED display has illuminated buttons with a start/stop switch and a phased shutdown. This power shower comes with a 2-year guarantee and is compatible with any cold water mains supply.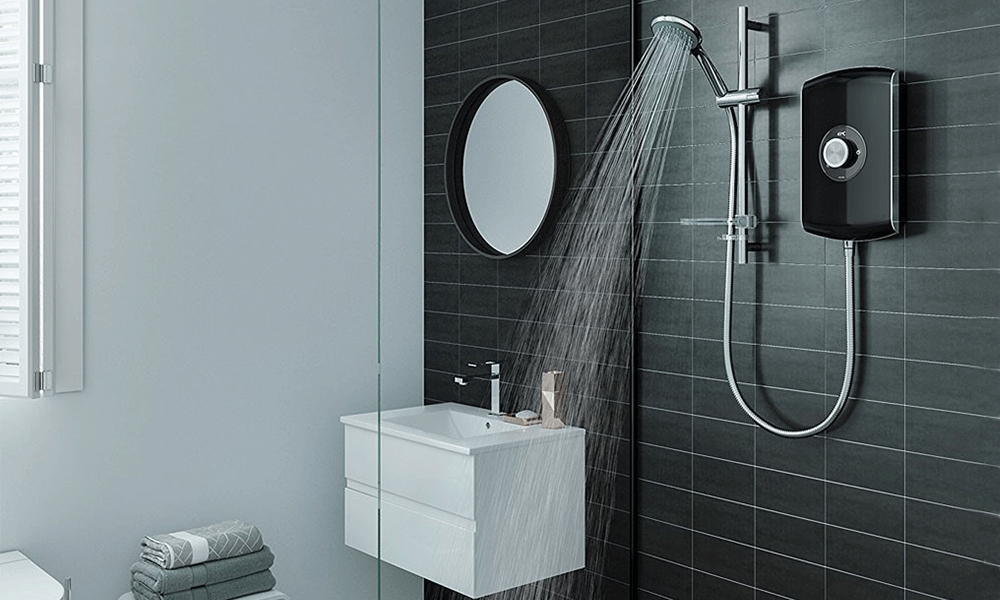 ---
4. Black Thermostatic Shower
Black showers are in. The Patos Thermostatic Shower Column is a magnificent shower appliance that features a trendsetting black finish and delivers the ultimate shower experience. In addition to the overhead shower, this shower column has a chrome hand shower and three in-built body jets. This robust and durable black bathroom accessory is made from premium quality materials. The beautifully polished slim chrome hand shower evokes a striking contrast to the black monochrome column fixture.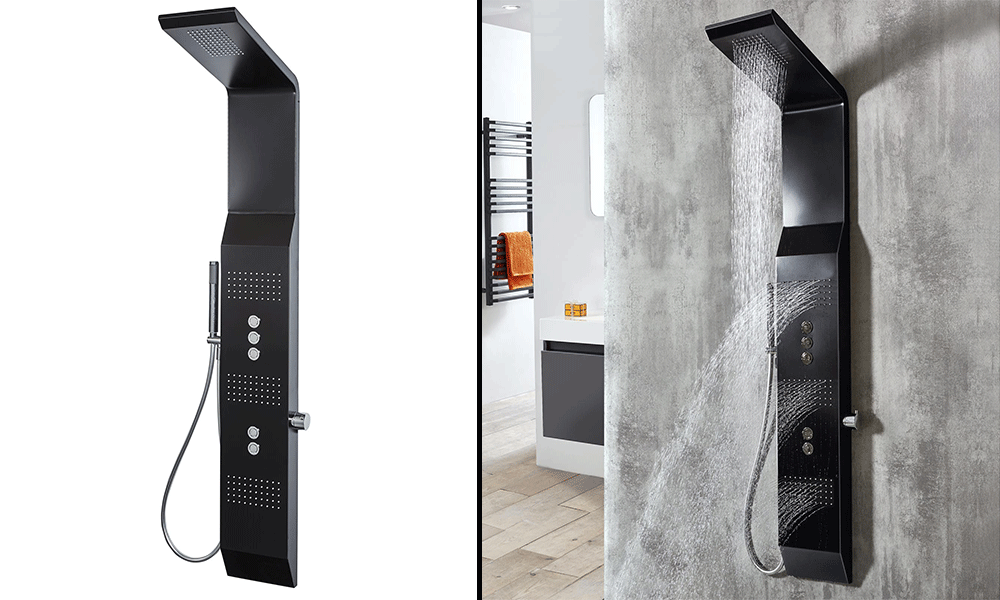 ---
5. Black Fitted Furniture Set
Fitted bathroom furniture will help you create a designer bathroom without spending a fortune.
The Hacienda 1500 Fitted Furniture Pack Black brings contemporary chic to your bathroom. The glossy black unit fronts of this stylish set complement the grey surround and designer handles. Also, the storage cupboard, the vanity unit, the basin and the cistern unit combine well to make this furniture set practical in every respect. Installation is easy and hassle-free because you have three extra options for adding different black bathroom accessories you want.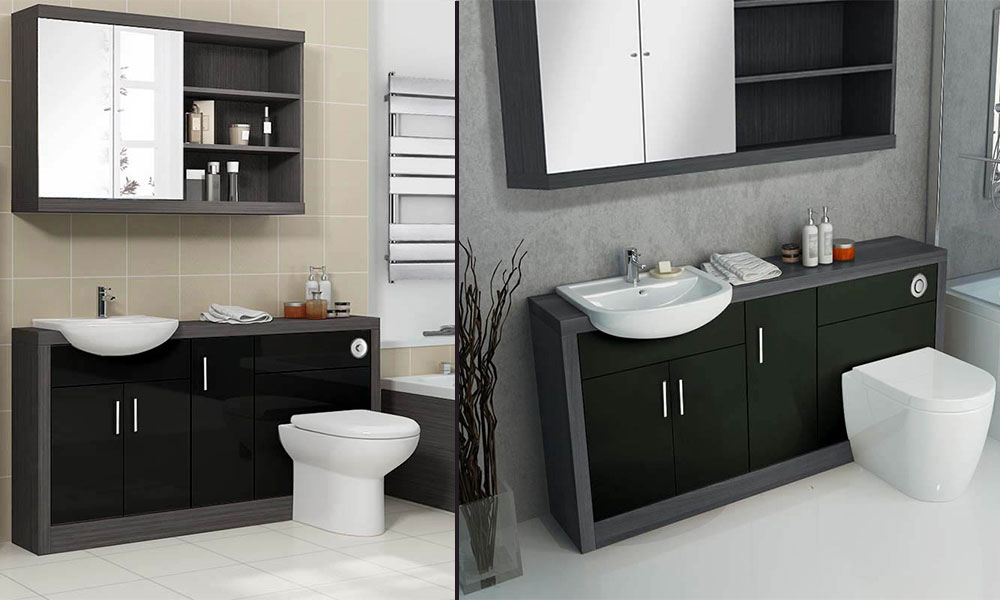 ---
6. Freestanding Black Bath
A freestanding bath is reflective of your design style. The Marilyn Bow Freestanding Black Bath presents a touch of difference in your bathroom. Whether your bathroom is traditional or contemporary, this innovative creation renders a marvelous design. On the outside, this all-in-one twin-skinned bath has a matte black finish. Both wall-mounted and free-standing taps complement this black bath to perfection. The superior quality acrylic material of this bath is ideal for longer heat retention.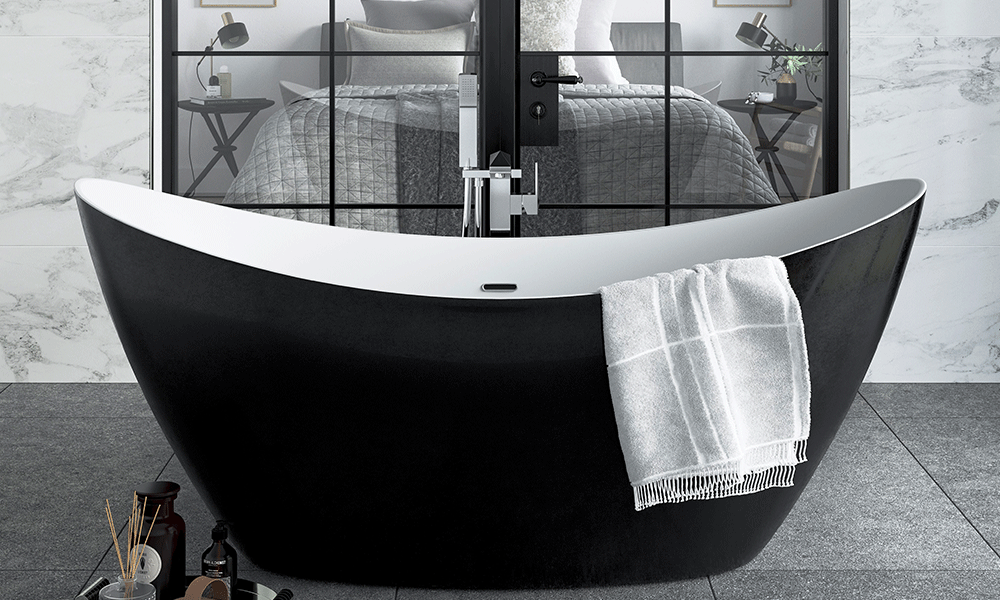 ---
7. Black Radiators
A bold radiator can strike envy into the heart of every visitor to your home. The superior heat output and the stylish black finish of the Revive Double Panel Radiator make it the first choice for your bathroom. This high gloss black unit is available in two sizes: 1500 and 1800. An added advantage is this easy-to-install perfect heat solution comes with a 5-year guarantee.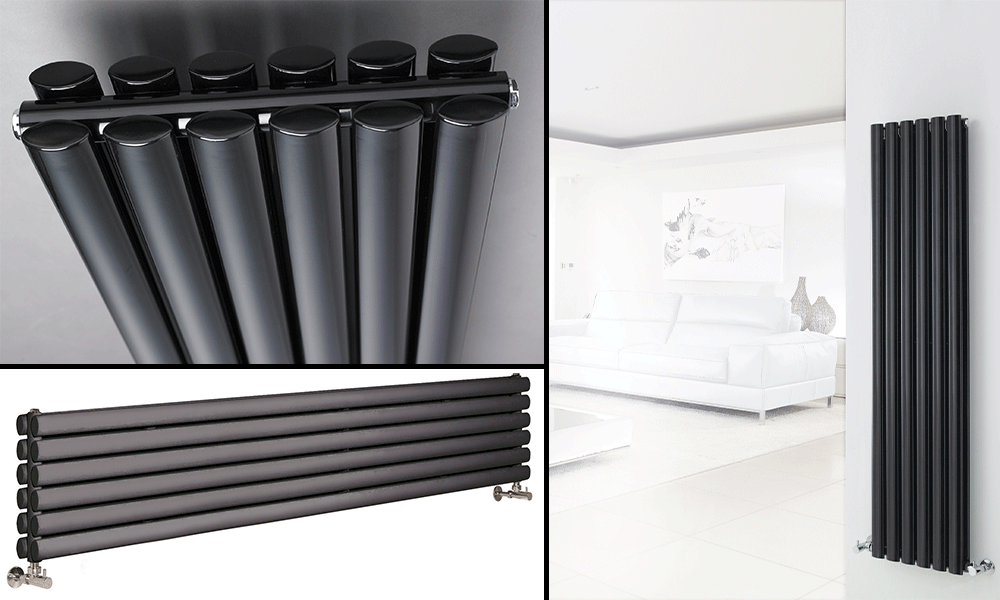 ---
8. Black Wet-Room Walk-In Shower Enclosure
A walk-in shower enclosure is ideal for maximising space. The sublime Wetroom Walk In Shower Enclosure from Aquadart comes with a designer return panel that is perfect for deflecting steam and water. This enclosure featuring 10mm toughened black glass creates the perfect contemporary shower area. The black glass has been treated to render a smoked effect. This enclosure comes with a lifetime guarantee and promises to make your bathroom truly spectacular.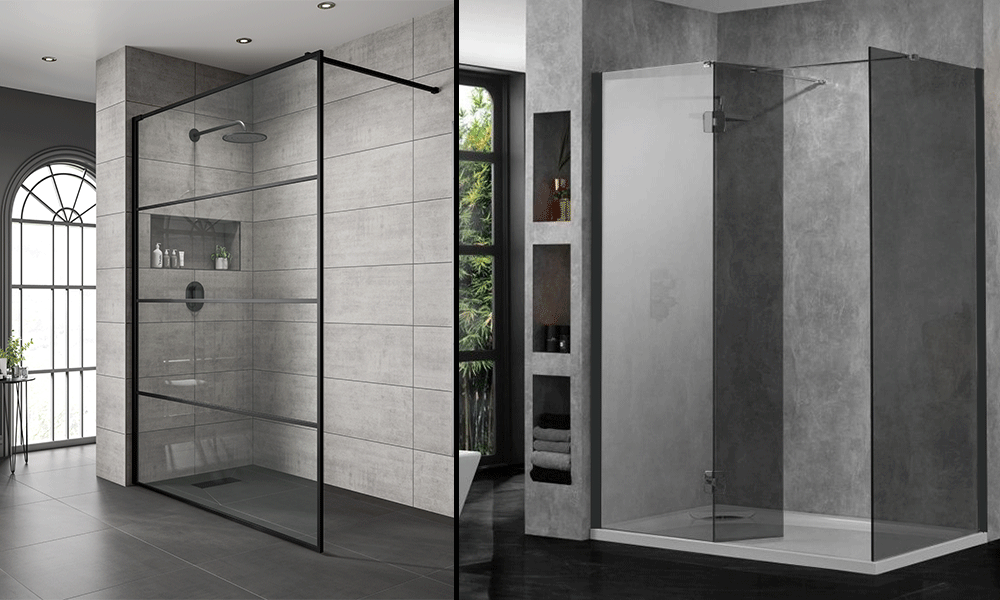 ---
9. Waterproof Shower Panels
Waterproof shower panels are an inexpensive alternative to traditional tiling. The black marble gloss IDS Showerwall Waterproof Panels, manufactured from moisture-resistant MDF, come in various size options. These panels are available in two styles: Proclick and Square-cut. Proclick panels can be fitted without trims, while Square-cut panels do need fixing trims. Proclick panels are best for bathroom-wide installations, presenting a watertight and seamless finish. Square-cut panels work well for specific areas of your bathroom. These panels are 100% waterproof, and they come with a 15-year guarantee.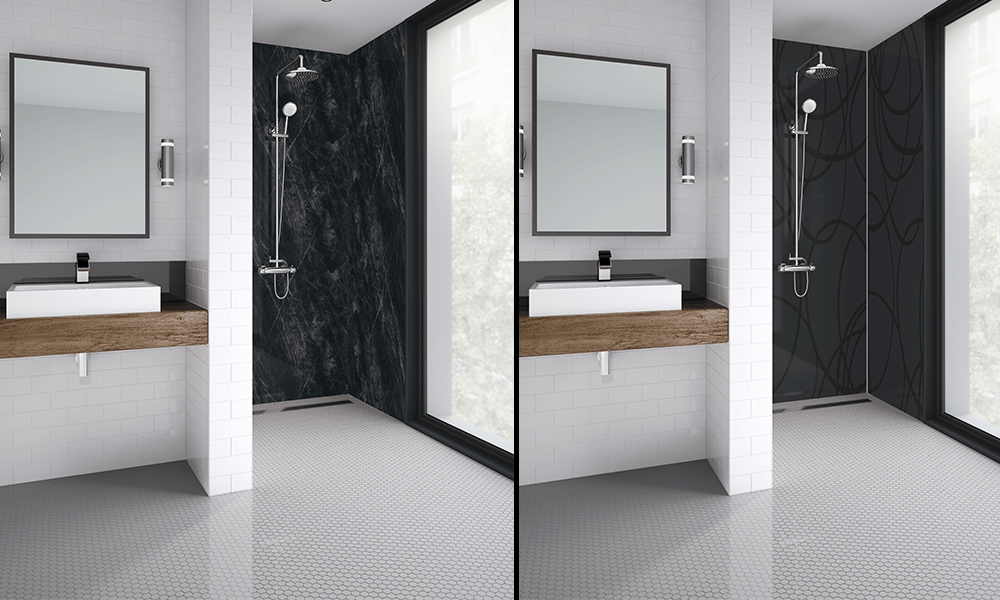 ---
10. Black Bathroom Lighting
A bright bathroom is easy to navigate. The Astoria Wall Lamp is an exquisite black bathroom fixture that brightly illuminates your bathroom. The easy-to-install Astoria Wall Lamp (Price: £196.00) comes with an oval plain black percaline shade. While a black wall light is a great choice for a bathroom of any size, this light will look it's glamorous best in a family bathroom. The chrome wall bracket and base conceal the fixings. The timeless designs of this lamp are stylish and practical. You get a lifetime guarantee for them, as well.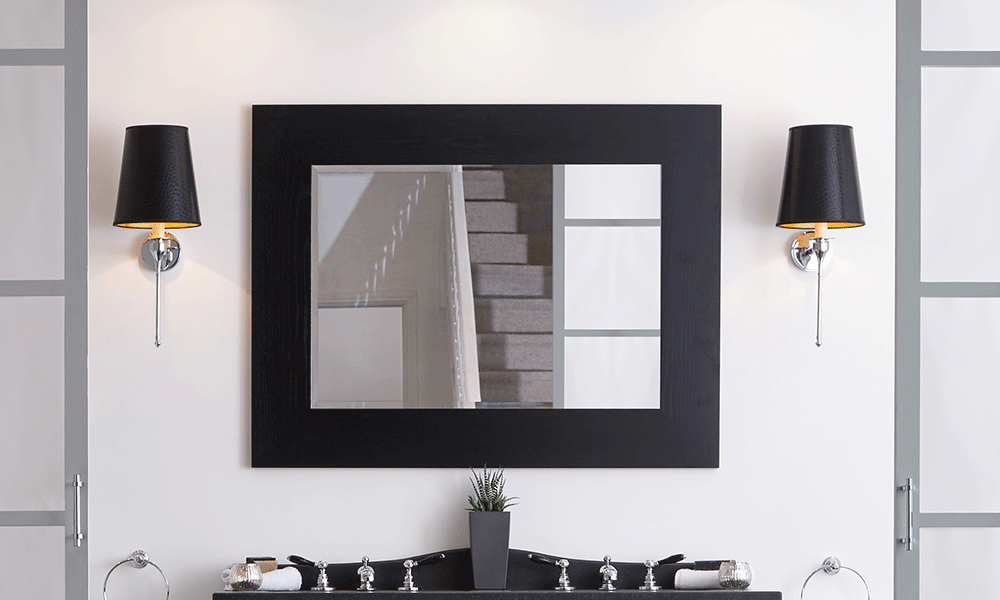 ---
Shop Black Bathrooms
Black bathroom accessories are an inexpensive and easy way to introduce the on-trend black colour to your bathroom. At Bathroom City, our range of accessories casts itself far and wide to fulfil any black bathroom design you have in mind.
---
Other Articles That You May Enjoy Reading