5 Stunning Bathroom Trends for 2020
If you've been thinking of designing a new bathroom or remodelling an existing one but you aren't sure how, the best approach would be to look at the most recent design trends for inspiration. Our mission is to find the top design ideas that are expected to make a splash in 2020. We are confident these trending design ideas will help make planning your bathroom construction/renovation project a lot easier. So get a coffee (or tea) and sit down. Explore the latest bathroom trends of 2020. Before you implement any of them, however, consider whether the trend will be in vogue – and stand the test of time – for the next 10–15 years.
Click on any of the links below to directly jump to the respective sections.
---
1. Nature Oriented Bathroom Accessories
Nature is disappearing from modern homes at a rapid rate these days. That's the reason everyone is probing for more natural-looking bathroom accessories. Furniture made of organic or recycled wood is the most preferred accessory that guarantees success in the pursuit of making your bathroom plastic-free. You can always refill a soap dispenser made of glass, marble or soapstone. And stainless steel or wooden soap rack is functional as well as eye-catching. Likewise, organic cotton bath towels and shampoos, soaps and shower gels of organic origin are an eco-friendly choice as well.
An assortment of bathroom accessories is available in natural stone—sinks, tiles, tubs, shower trays, toothbrush holders, and more. Wood towel bars and bronze towel warmers remind you of nature, too. Another quick way to integrate your bathroom with nature is to sprout some indoor plants in it. You can also incorporate colourful images of trees and wildlife on the natural stone wall tiles of your bathroom and create a greener atmosphere.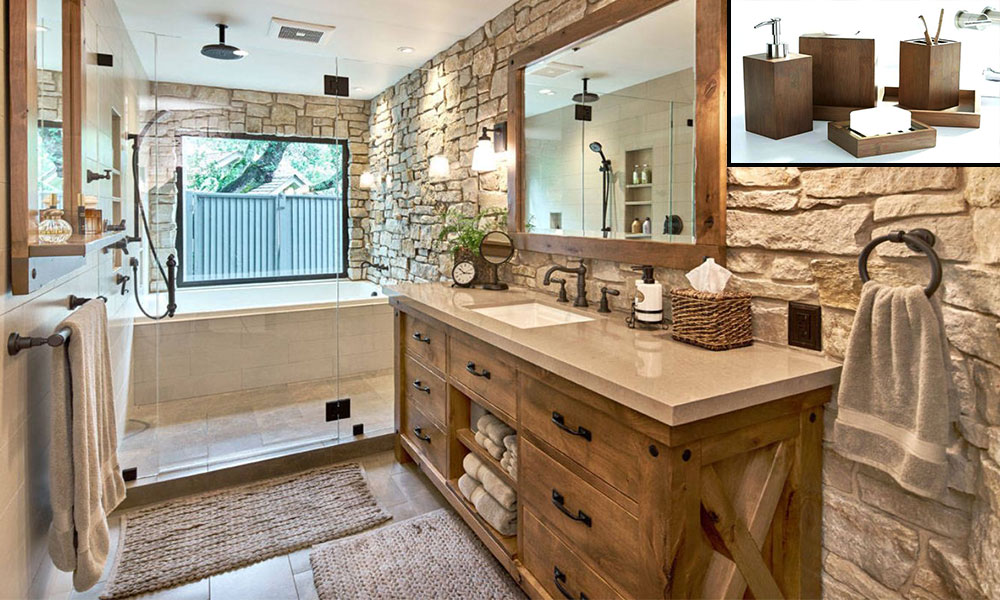 ---
2. Luxurious, Yet Minimalistic and Simplistic
The trend during the last few years has been a move towards minimalism and simplicity. In fact, the Royal Institute of British Architects (RIBA) has pointed out that more than 50% of new homes in the UK are too cramped for families to live in, likening them to "tiny, rabbit-hutch new-builds".
Although many people view small spaces – especially small bathrooms – as cramped and limited, there is a growing shift towards making optimal use of smaller spaces. The sudden influx of studio apartments and under-sized houses has resulted in a bias towards minimalist design. In support of this, people are using luxurious bathroom fixtures that are sleeker to achieve a cosy environment even in a tight space.
Since bathrooms are getting smaller, there's less space to start with. But this isn't a hurdle. It's an advantage in 2020 because the most luxurious and expensive bathroom accessories – like shower enclosures and bathtubs – have become much more affordable. As a result, everybody can afford rimless toilets, unique designs on sinks, accented walls, and digital showers.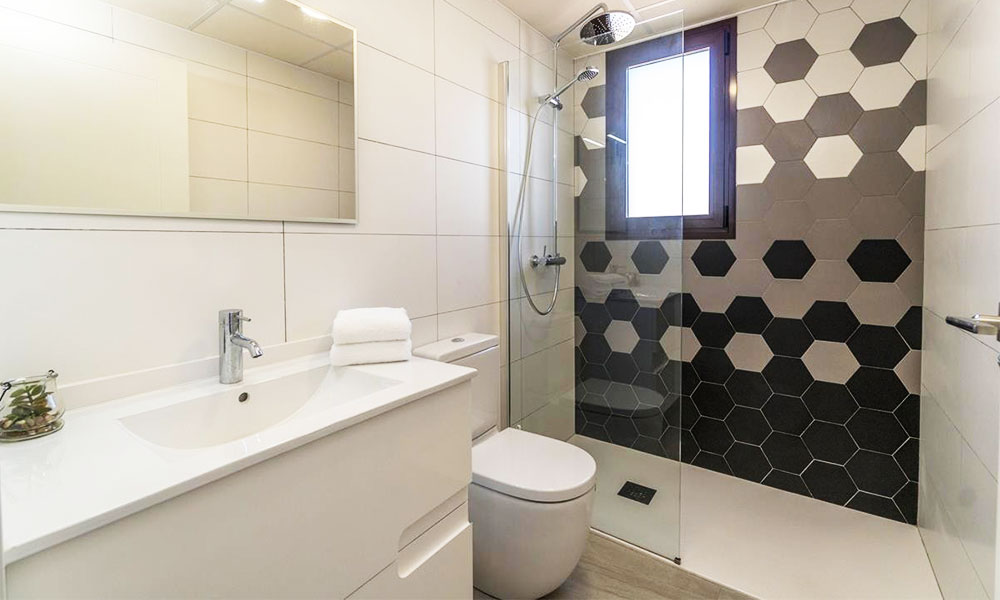 ---
3. Digital Showers
Technology plays a decisive role in our daily lives. Hence, it's no surprise that groundbreaking technology that safeguards life has found its rightful place in our bathroom. With the demand for luxury and convenience expected to hit a crescendo in 2020, digital showers present an innovative showering solution that is set to revolutionise the way people wash.
The reason digital showers are trending today is because they present you immense power. You can say goodbye to sudden and nasty hot or cold water surges, forever! A simple touch of a button is all you need to make the most accurate adjustments and get your desired water flow and water temperature. And you are guaranteed a marvellous showering experience – every single time – because the water flow or temperature will not go up or down.
The family-friendly, built-in safety features of a digital shower make it an irresistible bathroom accessory to own in 2020. Although this stylish masterpiece uses the most advanced technology, it's suitable for all plumbing systems in the UK. And this easy-to-install accessory presents you with several sophisticated features: one-touch control, temperature perfect blended water and 'shower-ready' LED indicator.
---
4. Designer Lighting
For obvious reasons, your bathroom is one place where bright lighting is very important. Shaving lights help you see your reflection in the mirror more clearly. Likewise, lights inside the shower are also helpful. But lights aren't simply for helping you to see.
Imagine you're soaking in the tub – relaxed and carefree. Good ambient lighting lends a lovely, indulgent atmosphere. There's every reason you must use designer decorative lights to make a bold statement in your bathroom. Designer lights make your bathroom stylish, as much as they make your living room or master bedroom stylish. Prioritising the function of your bathroom lighting does not mean you should overlook its appearance.
Both ceiling-mounted and recessed designer lights are effective for uniform illumination. You don't need to pop a dozen lights in your bathroom to make sure it's bright enough. Moderation is important. You can achieve ample lighting by installing the right light fixtures at strategic places in your bathroom. The sheer variety of designer lights available today gives you the freedom to pick the right ones that harmonise with the rest of your bathroom accessories and complement the overall aesthetics.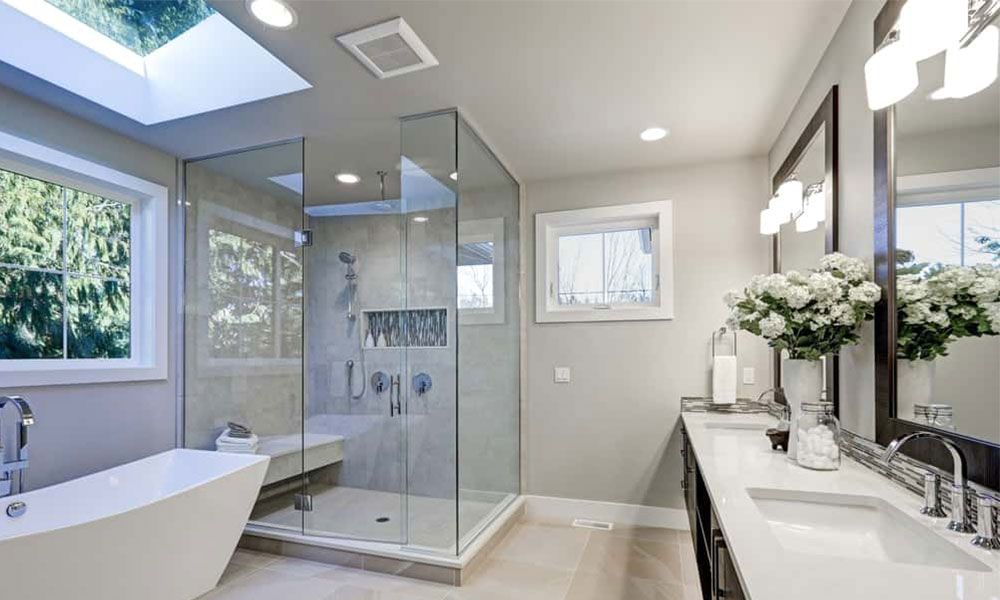 ---
5. Freestanding Bathtubs and Sinks
A freestanding bathtub is a statement piece that promises relaxation and well-being. This exquisite bathroom accessory not only creates a stunning focal point but also adds a touch of elegance. A freestanding sink is a bathroom classic in its own right. Its style and elegance will ensure it will not go out of style after 2020. This combination will match your bathroom decor with ease, whether you opt for contemporary natural stone or traditional copper. Although these bathroom accessories appear pricey, they are excellent buys as they retain their value for decades. And they will increase the resale value of your home as well.
A freestanding bathtub and wash basin combo can be quite a showstopper. This back-to-basics style is expected to be the rage in 2020 because it places a lot of emphasis on our origins and culture through its subtle and refined shapes. Integrating this trend of a freestanding bathtub and sink can be a challenge. You can install your freestanding bathtub by a wall, in a corner or even right in the centre, depending on the size of your bathroom.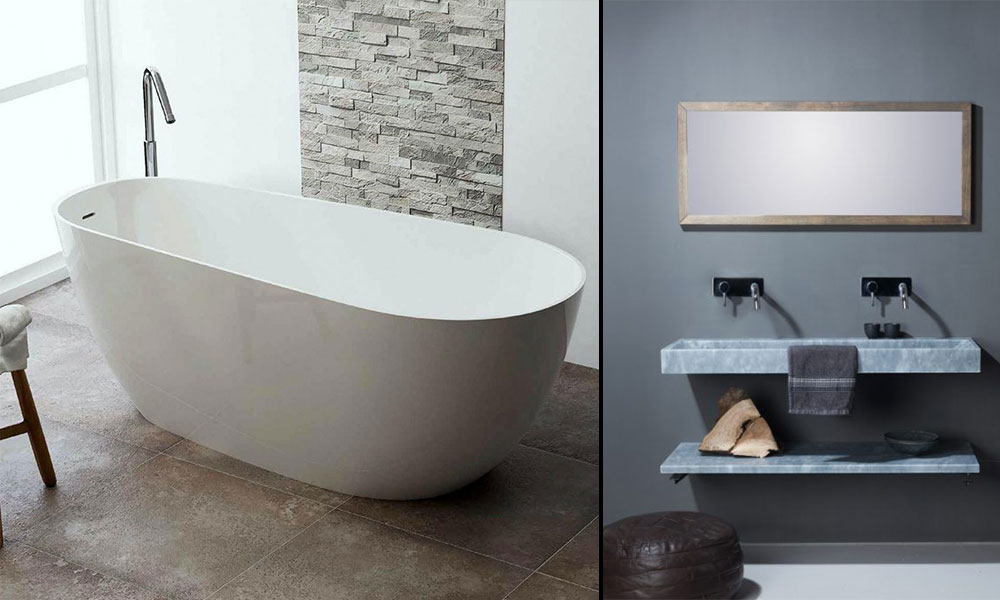 ---
Keep with the Bathroom Trends of 2020
At Bathroom City, you will discover a wealth of innovative solutions that suit every imaginable setting. You'll find the perfect bathroom accessory/furniture, whether you're looking to keep up with the latest trend or add a functional complement to your small bathroom or family bathroom.