Top 5 Bathroom Trends for 2021
Your bathroom is often the only place where you regularly have time to yourself.
And to be fair, bland bathrooms that lack personality belonged to a different era. But 2021 is different.
From bringing nature into your bathroom to going for gold in your bathroom accessories and from choosing stunning fitted bathroom furniture to installing streamlined rimless toilets, let's look at the five bathroom trends that are expected to be all the rage in 2021.
---
1. Bring Nature into Your Bathroom – Wood and Stone Basins
Want to create a relaxing environment inside your bathroom? Then bring in some natural products, such as stone basins and bathroom furniture made out of wood. Bringing nature into your bathroom is really cool. Actually, it's been the trend for the last several years. And it's one of the easiest ways you could start your day on a positive note.
Connecting with nature early in your day or at the end of it presents you with a chance to rejuvenate. The installation of wooden accessories and stone basins in your bathroom creates natural and rustic textures.
Unlike natural stone, you can't incorporate raw wood straightway into your bathroom. While it's true that the moisture in your bathroom will damage raw wood, you can use wood treated with anti-humidity products on the floor and for framing the mirror. You can also include a wooden countertop and a couple of wooden chairs. A natural stone basin is a great investment because it is exceptionally durable. With proper care, this unique centerpiece can easily last for decades.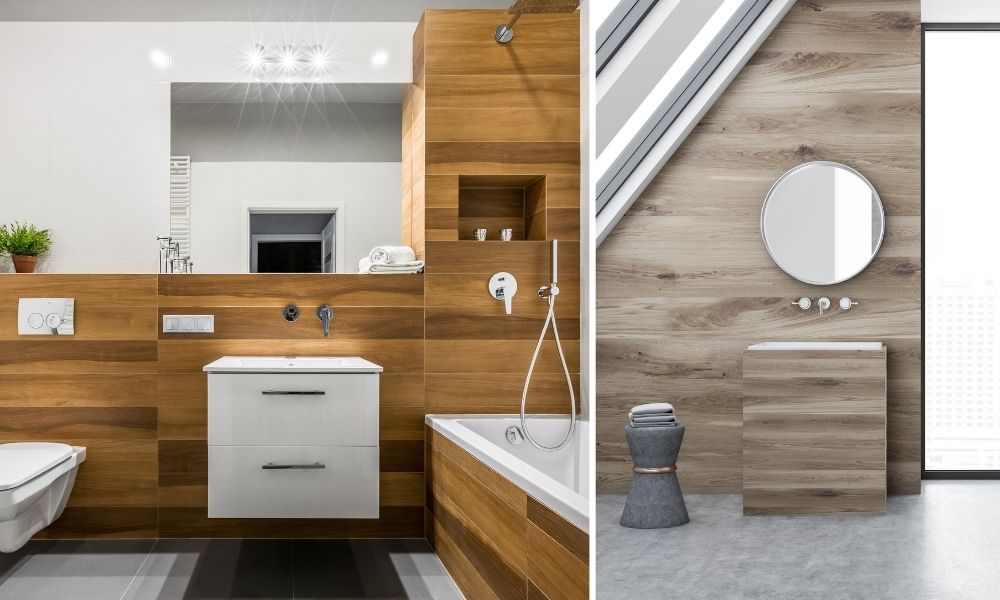 ---
2. Go for Gold – Copper Coloured Basins and Vanity Units
Your bathroom typically consists of cold, hard surfaces. In this backdrop, tinges of luminous metals, such as gold and copper, can add comfort. You can warm up the atmosphere in your bathroom by using gold. For instance, golden handles on vanity units and gold taps on washbasins add extra shine and glitter, capturing the eye of your guests.
Copper coloured basins are available in an assortment of styles. You can choose either a smooth or hammered finish, depending on your taste. A copper basin vanity unit with an artistic design is
a statement piece that exudes exclusivity. And you can also customise your design so that it matches your bathroom decor to perfection.
Copper is the warmest metal you can use in your bathroom. Its anti-microbial properties make it a natural choice. The natural glamour and good looks of a copper basin atop a vanity unit make it eternally seductive. And the aesthetic beauty of a copper basin makes it extremely popular. Another advantage of installing a copper basin is it can withstand corrosion and oxidisation due to frequent use.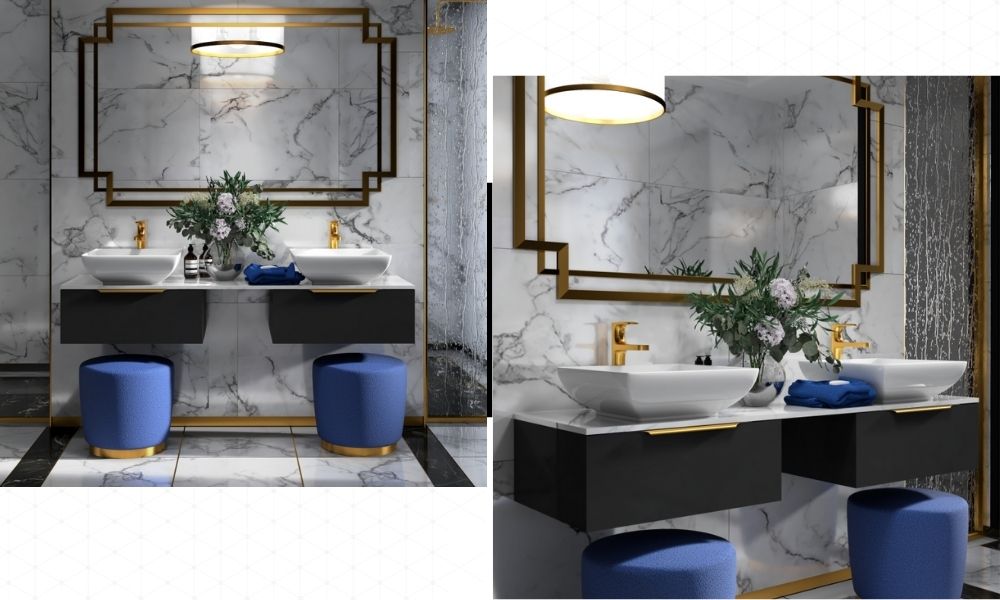 ---
3. Fitted Bathroom Furniture
Do you feel the storage options in your bathroom are jaded and outdated?
You are not alone! But don't worry.
Fitted bathroom furniture – another bathroom inspiration in 2021 – can make or break the overall aesthetics of your bathroom. Your bathroom will look lively, as this innovative piece of furniture also provides the perfect finishing touch. This compact bathroom storage solution is a popular choice at the moment.
The reason we favour fitted bathroom furniture is because its clever design is timeless. And while it's true that the design of this furniture is minimalist, it still provides generous storage space. The main advantage is the compact storage area is well organised by neat shelves, cabinets and drawers.
You can count on the organised storage of modern wall shelving and concealed cabinets to de-clutter your bathroom. And with your vanity under space storage neatly organised, the entire bathroom will feel more open and organised.
Still worried that the installation of this unit isn't easy or it isn't suitable for a small bathroom? If yes, then your fears are unfounded. The installation of fitted bathroom furniture is pretty easy. Moreover, this sleek and stylish space saver fits wall to wall and maximises storage area even in the smallest of bathrooms.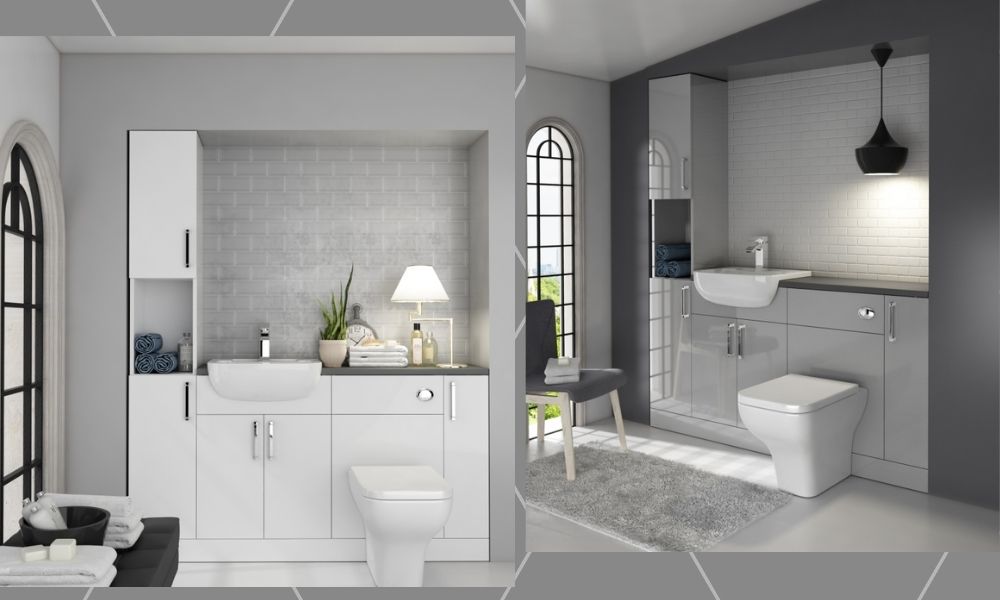 ---
4. Rimless Toilets
The design of rimless toilets has been tried and tested over the last six years. Hence, you don't need to fear that this bathroom inspiration in 2021 will go out of fashion next year. But what is a rimless toilet?
A rimless toilet is not much different from a normal one. The only difference is that the rim of the toilet has been removed at the design stage itself. You might easily miss this subtle difference if you don't look closely.
So what's the big deal with Rimless Toilets?
Hygiene is an area in which a rimless toilet is leagues ahead of a normal toilet. Since the toilet rim has been eliminated, you and your family can have peace of mind. The build-up of harmful germs around the rim area is going to be minimal in a rimless toilet. But in a normal toilet, this area is especially vulnerable to the build-up of germs. And unlike in a rimless toilet, this area is difficult to clean in a normal toilet.
The other advantage of a rimless toilet is the marked reduction in water consumption. A water-efficient toilet is the norm nowadays, as the availability of freshwater has been depleting at a rapid pace. So, the installation of water-efficient toilets in your house is all the more essential. A rimless toilet reduces water consumption, affecting both your water usage and utility bill over the years.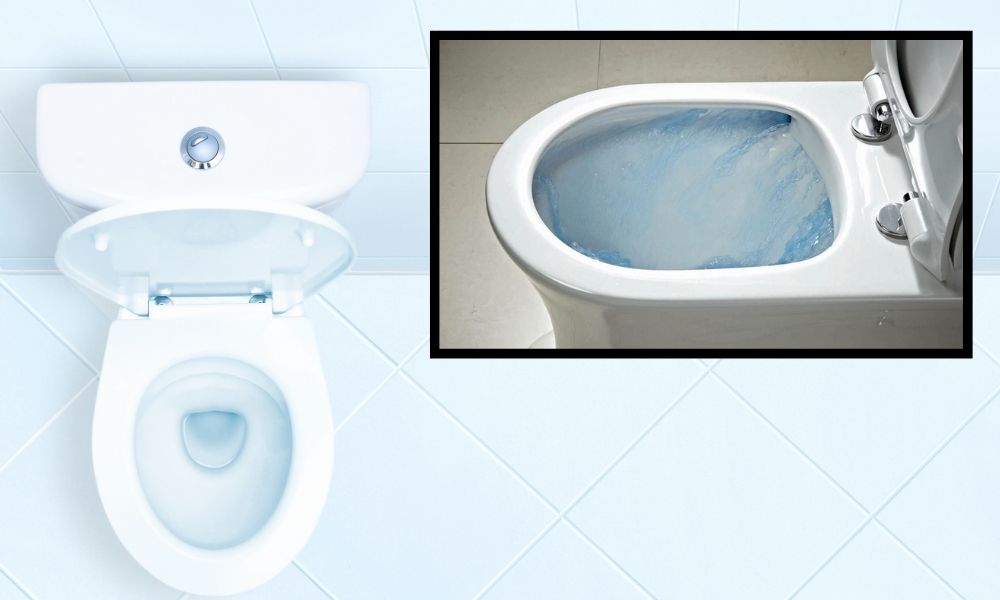 ---
5. Open Spaces - Wet Room Shower Rooms
A wet room is expected to be another bathroom inspiration in 2021. But what's a wet room?
A wet room is essentially a functional and fabulous wet space – really an open space shower room. All the surfaces of this room are water-proofed. But how is a wet room different from a shower enclosure?
First of all, unlike a conventional shower enclosure, a wet room uses glass panels and doesn't have a door. The bathroom floor is altered to facilitate the free flow of water through a drain. And unlike a shower enclosure, a wet room is easy to clean and maintain. The other thing is you can clean the entire area of a wet room without stray splashes trickling on to the rest of your bathroom.
A wet room is classy and luxurious. It's perfect for a large family with playful children and pets, splashing joyfully without care. This space saver is also a practical solution for people with mobility issues. You'll simply love a wet room if you are the kind of person who enjoys generous shower space and fancies accessible openness.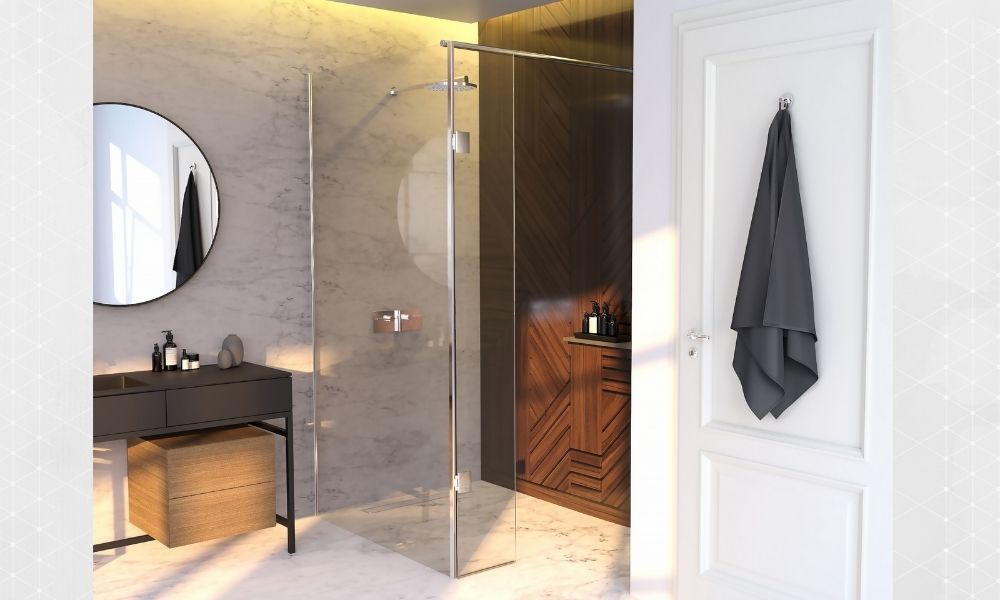 ---
Shop Quality Bathrooms 
Discover innovative bathroom inspirations in 2021 at Bathroom City. You'll find sure-fire solutions for every imaginable setting. And you'll have no trouble in keeping up with the most recent trends or adding a functional accessory, whether it's for your tiny bathroom or master bathroom.
---
Other related articles that you might also like: