7 Bathroom Spaces Ideal for Reduced Height Shower Enclosures
Introduction
The shower enclosure is a vital functional element as it keeps the wet and dry areas apart in your bathroom. But finding the perfect-sized enclosure for an unusual space like a camper van, granny flat, house loft, or garage shower can be difficult due to the non-standard height and layout.
The problem is accentuated further if the roof is low or sloping with different angles. In such situations where readymade options are impractical, a reduced height shower enclosure is the ideal solution.
Discussed here are the various considerations when choosing a shower enclosure for unique spaces.
1. Showers for Camper Vans
The chance to escape the daily drudgery of life has made owning a campervan very popular. According to the National Caravan Council Limited (NCC) industry statistics, there are over one million leisure caravans and approximately 100,000 residential park homes in the UK.
But fitting an onboard shower can be a challenge. The absolute minimum space needed for a shower enclosure is 32 inches square. So, if you opt for an onboard shower, you'll need to fit an enclosed wet room to avoid water splash and flooding.
While an indoor shower provides convenience and privacy, height can be an issue. It's important that a person should be able to stand up straight in the van. One more downside is the waste of precious floor space.
At Bathroom City, we offer Reduced Height Shower Enclosures, which cater to the Camper Van size requirements
---
2. Showers for House Lofts
A house loft allows you to make the best use of the smallest spaces. It's also a brilliant idea if you intend to extend upwards. While a sloped-roof loft conversion is tricky, a frameless glass shower enclosure will help you keep things simple.
Don't let the awkward height of the loft space prevent you from creating a perfect shower enclosure. Just fix the showerhead at the highest point in the ceiling and take complete advantage of natural light.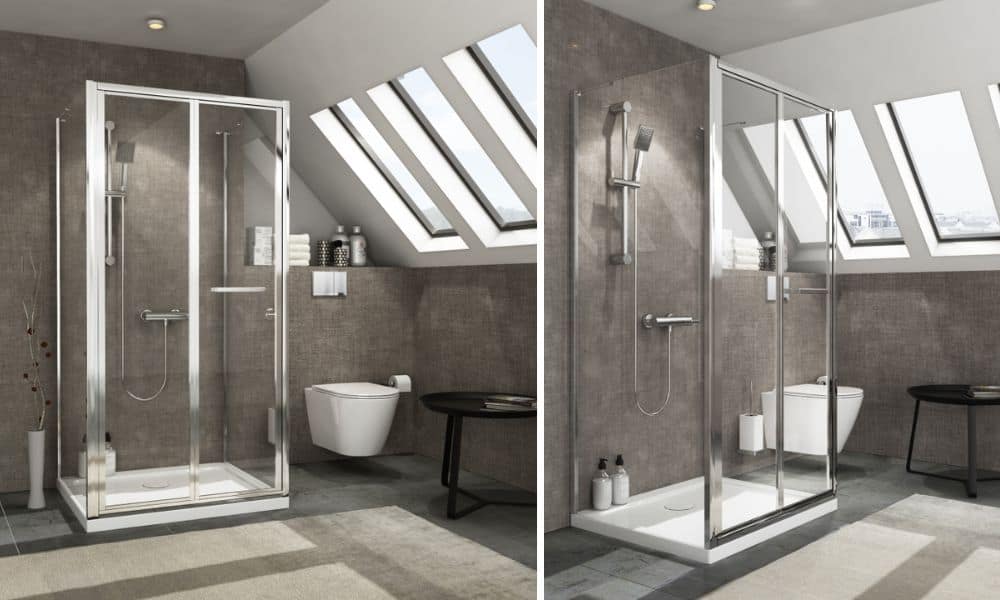 ---
3. Showers for Garden Sheds
Make full use of the space outside your home. For instance, during summer, if you spend a long time in your garden shed, either working or relaxing, it makes sense to have a small bathroom in it. Moreover, you can make your garden shed truly self-contained by adding a shower enclosure to it.
It depends on your choice. The point is building a minimalist combination room need not be expensive. So, you can install a shower enclosure or toilet or both. You can also work with the space to include extras such as a basin or a wall-hung vanity unit.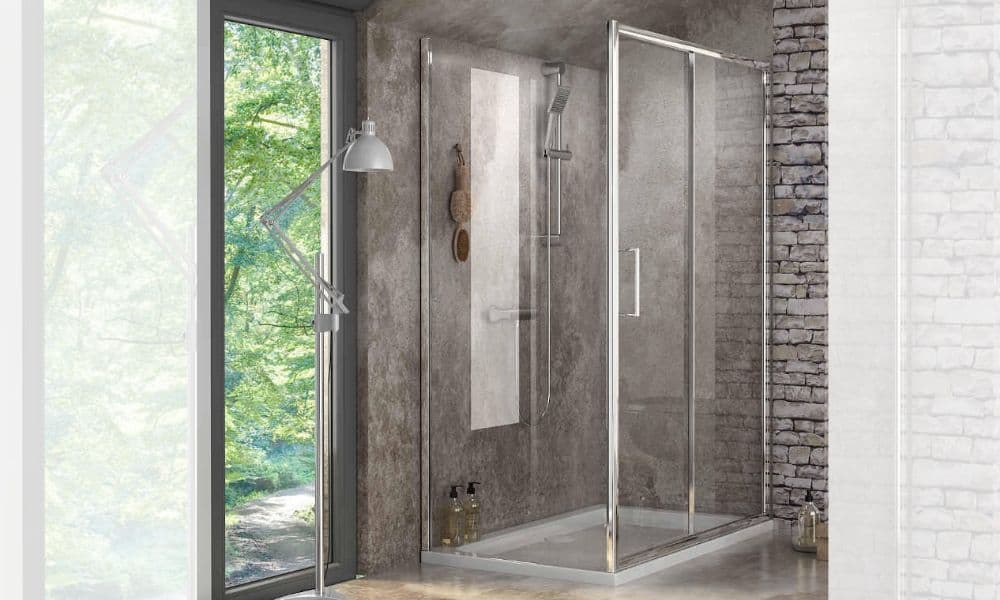 ---
4. Showers for Granny Flats
A granny flat is a worthy addition to your home when you have to care for an elderly relative who is reluctant to go into a care home. And a granny flat bathroom is unique because you need to design it in such a way that no space is wasted.
You also need to plan the integration of essential bathroom elements carefully. Remember to maximise usable space. Since the bathroom is tiny, a walk-in shower would be a great choice because it's both versatile and stylish. But any shower enclosure designed to fit a small space would also be ideal.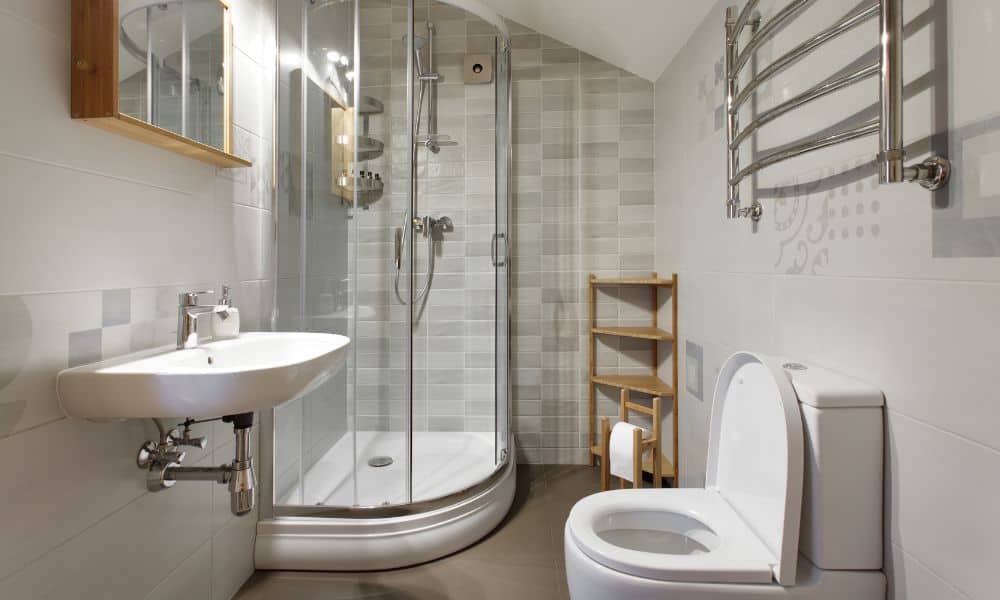 ---
5. Showers for Dogs
Washing your dog need not be chaotic any longer. The Pet Wash Shower Enclosure with detachable shelf and wheels can be hooked up to any tap in your home. This enclosure is made from durable composite material and comes with in-built pet safety restraints and entry and exit doors.
The main features of this pet wash enclosure are the 6-mist jets and the shower wand. You can use the jets and shower wand simultaneously for total soaking. The only downside is that the tub drains continuously, and you cannot fill it with water.
---
6. Showers for Yacht Bathrooms
Ever wondered what a yacht bathroom looks like? The image below will give you a clear picture of how exciting it is.
Yacht Bathrooms come in different shapes and sizes but they all have some things in common -  space and height are both a premium. Reduced Height or Half height shower enclosures fit perfectly within these requirements.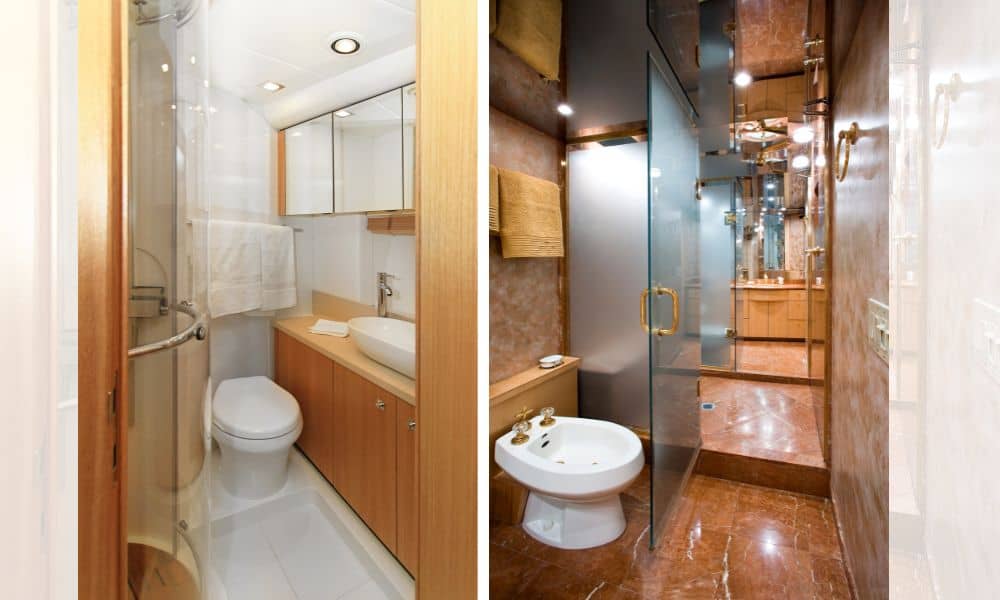 ---
7. Garage Showers
Planning to make some extra room at home? Why not install a shower enclosure in your garage?
You'll need to get the required electrical supply into your garage first. Inform your electrician how you intend to use the space. This will help them to install sockets and light fittings that comply with British safety standards.
The next step is for your plumber to create separate water inlet and outlet systems. The new plumbing lines have to be 2.5ft underground. In addition, you'll probably need planning permission to install a shower enclosure. If the ceiling of your garage is low, opt for a reduced height shower enclosure.
---
Looking to Buy a Reduced Height Shower Enclosure?
The options for a reduced height shower enclosure are limitless. From bifold to quad shower, pivot shower door to slider shower door, corner enclosure and more, it's easy to find the shower enclosure that complements your bathroom to perfection.

Regardless of the dimensions of your bathroom, you can easily find the perfect reduced height shower enclosure at Bathroom City.