7 Most Popular Bathroom Colours for 2020
Role of Colour in the Bathroom
Every colour has its distinctive characteristic and psychological value. When you understand this simple principle, you can choose the right colours for your bathroom furniture with ease. You only need to equip yourself with some elementary information about different colours and their effects. But before you shortlist your bathroom furniture colours, you also need to visualise the exact vibe you desire for the whole bathroom. Make every effort to use only the colours that make you comfortable and are a genuine reflection of your personality. Let's take a quick look at the positives of the most popular bathroom colours for 2020.
---
Top Bathroom Colour Recommendations
1. White, Pure and Fresh
White is one of the finest bathroom furniture colours for creating a clean and bright look for any bathroom. This soft colour simply enhances the aesthetics of your bathroom, regardless of its size and shape. White coloured bathroom furniture gives the illusion of space even in a small bathroom. Also, white is the most obvious colour option that's proven to be timelessly fail-safe and remain in-trend for a long time.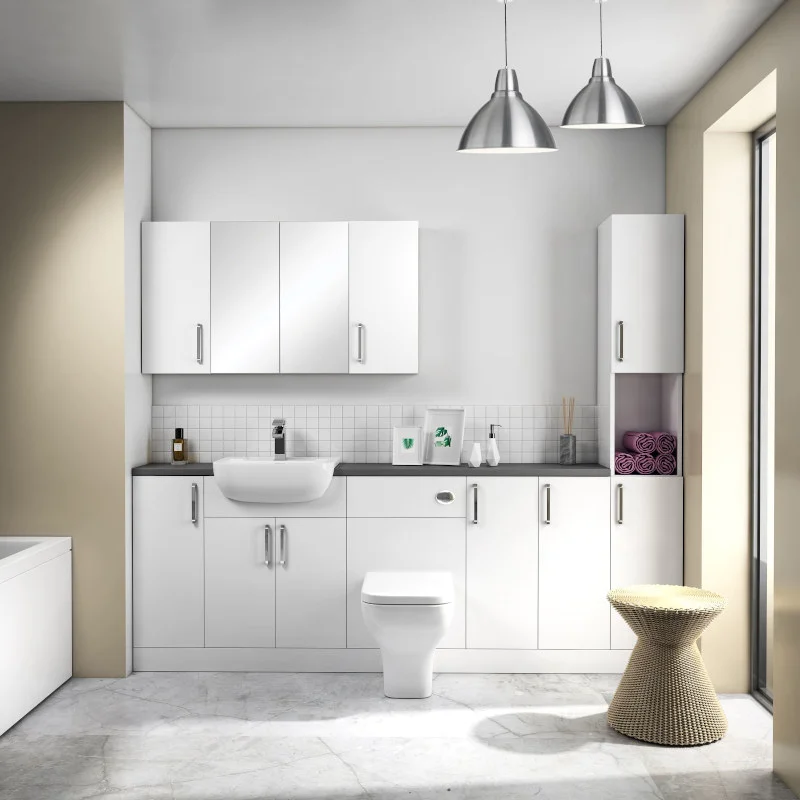 ---
2. Gold, Glamour and Class
Gold is a vibrant and versatile colour that transforms your bathroom and gives it an instant cheer. Add a small detail with gold to highlight the look of the interior. Since gold is available in an assortment of shades, you can surely find the perfect shade to match your style dreams. Gold symbolises wealth and prosperity. Since gold accentuates the existing design style, use a subtle shade of gold or a bolder shade to rejuvenate your bathroom and achieve your ideal aesthetic.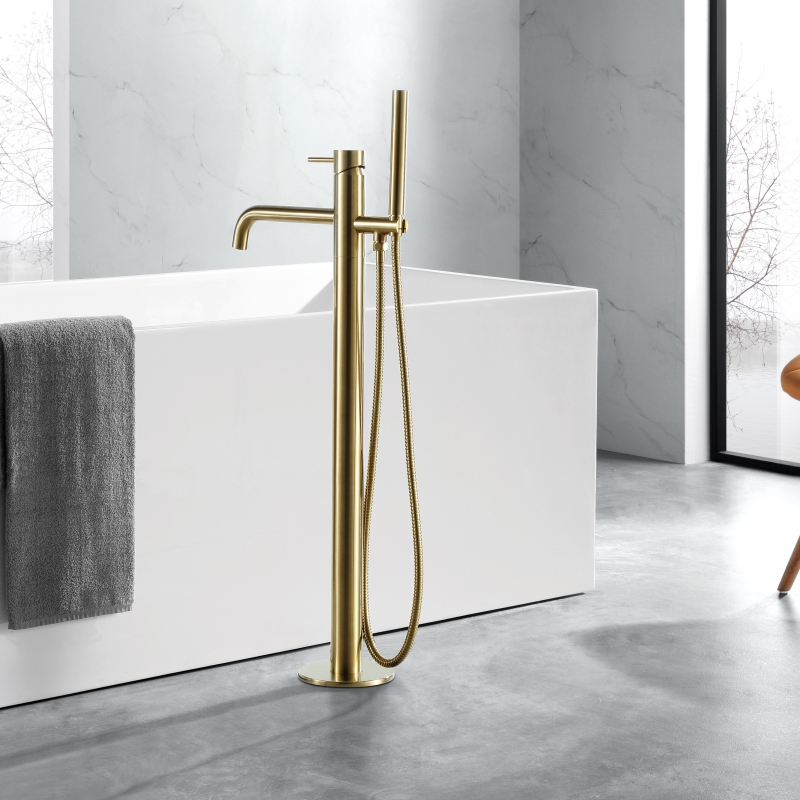 ---
3. Grey, Elegant and Timeless
Grey has been around for close to a decade now, but it's still going strong. Grey coloured fitted bathroom furniture blends exquisitely well with white to give your bathroom an airy and spacious feel. As you can see, sleek grey cabinetry with a bit of white provides adequate storage space, without creating clutter. This contemporary colour also guarantees a unique aesthetic, regardless of the decor of your bathroom.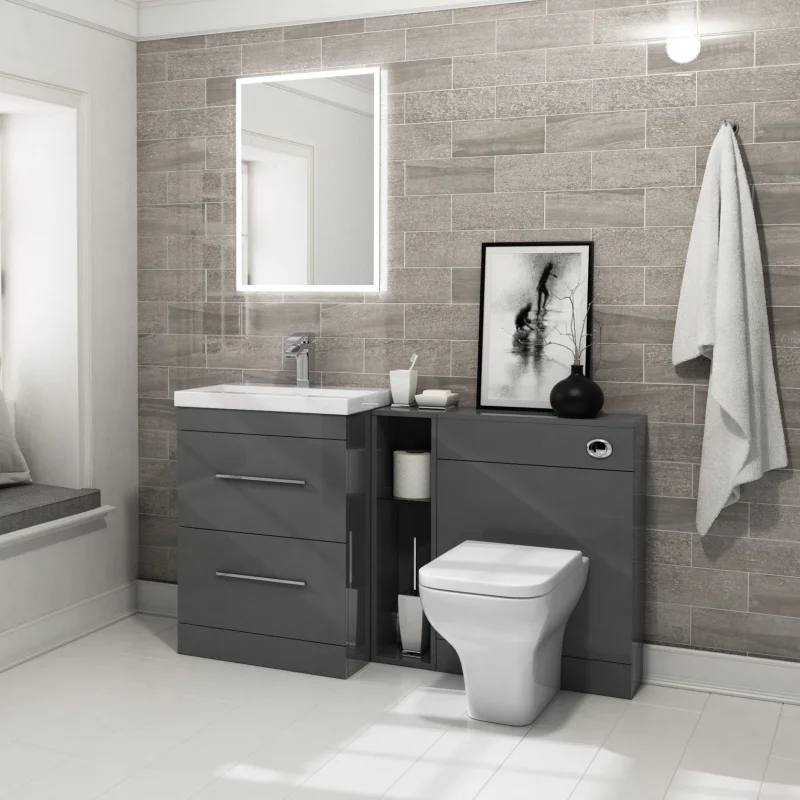 ---
4. Black, Luxury and Sophistication
Black holds a special place in bathroom interiors. This colour is expected to make a noticeable reappearance in coloured fitted bathroom furniture during the coming months. The sheer black shade in high gloss coloured bathroom furniture highlights the other colours of your bathroom. This conventional colour is formal yet dignified and strong yet balanced. Even when you use black as the main colour in bathroom furniture, it gives sublime power to the overall decor.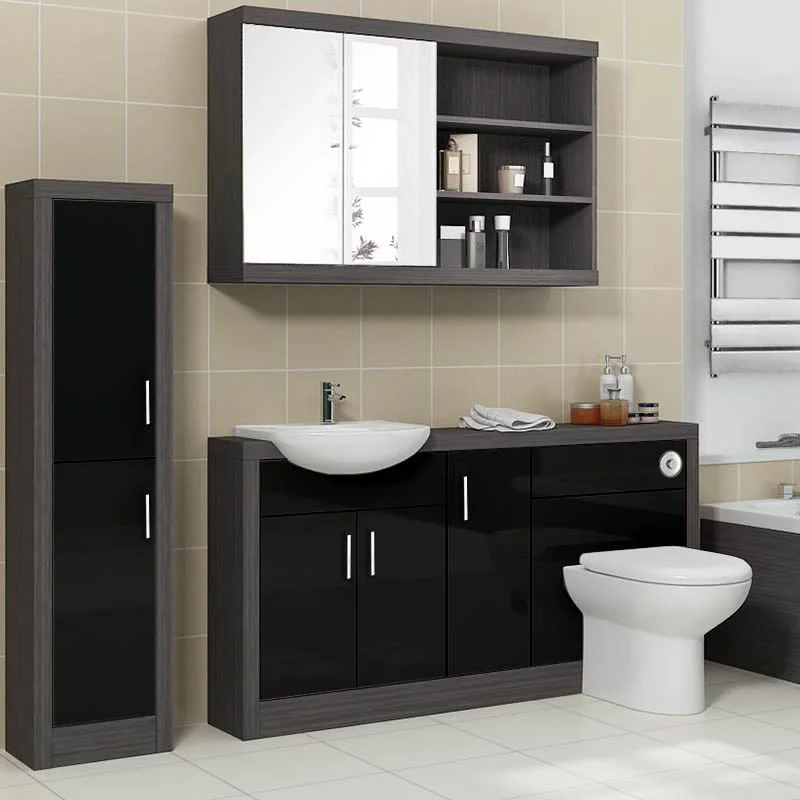 ---
5. Wood, a Top Pick
Wood creates a rustic, natural effect in your Bathroom. This calm and mature shade will never go out of style.  Natural light or even an overhead light fixture can brighten the bathroom's colour scheme. It's best to use the Paint Colour Visualizer app and paint your bathroom walls online before you pick the right shade of timber.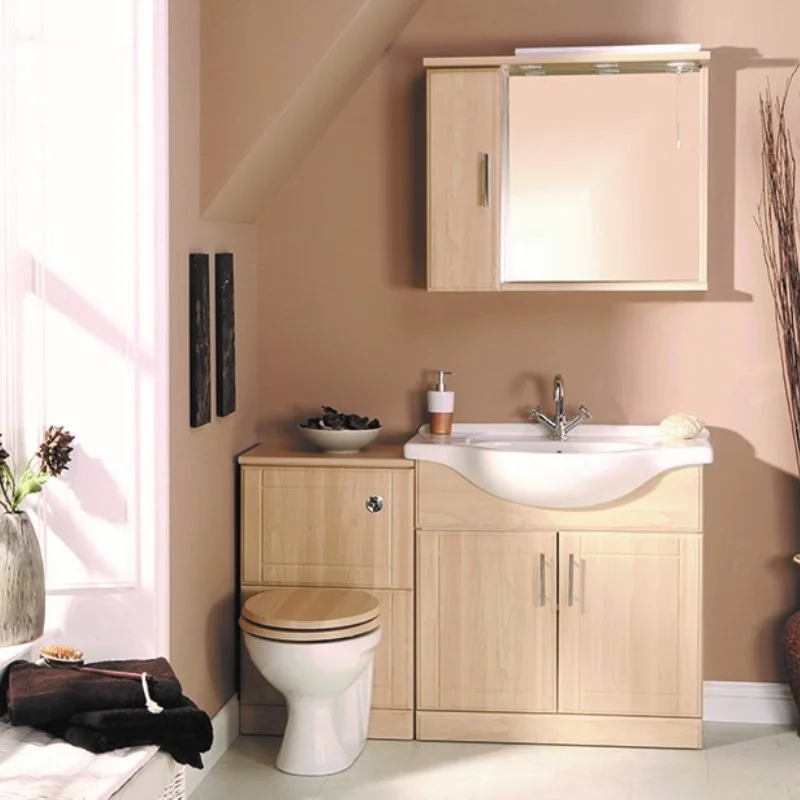 ---
6. Blue, Imaginative and Inspirational
Icy blue or pale blue, the colour of the sky and the ocean, is a popular shade of blue. You'll love to gaze on this soothing colour as it exhibits a peaceful and quiet ambiance. When you pair blue with an abundance of white and black, the result is soothing yet bold. This colour scheme provides you with a pleasant, crisp space that is perfect for relaxation!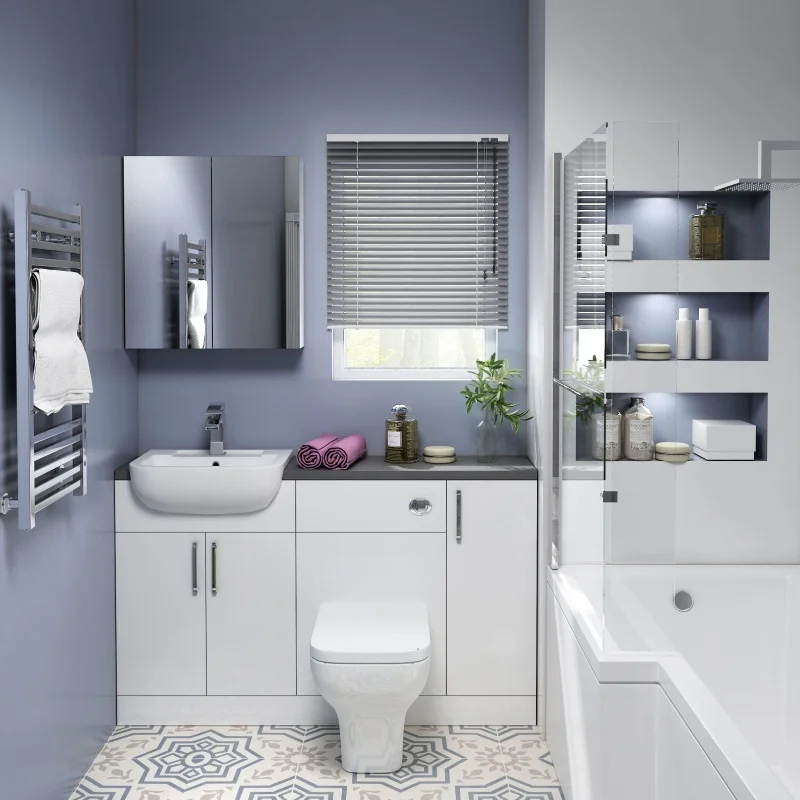 ---
7. Green, Your Safest Bet
Green is an extremely calming colour, and it relieves stress by helping you relax. You can bet on this colour to make your bathroom cosier. The current craze for a clean environment – electric cars, solar energy, green textiles and recycled products – means when you paint your bathroom walls green, it presents you with the feeling of bringing the outdoors inside your home. In addition, green complements other earthy shades inspired by nature, such as brown, sand and taupe.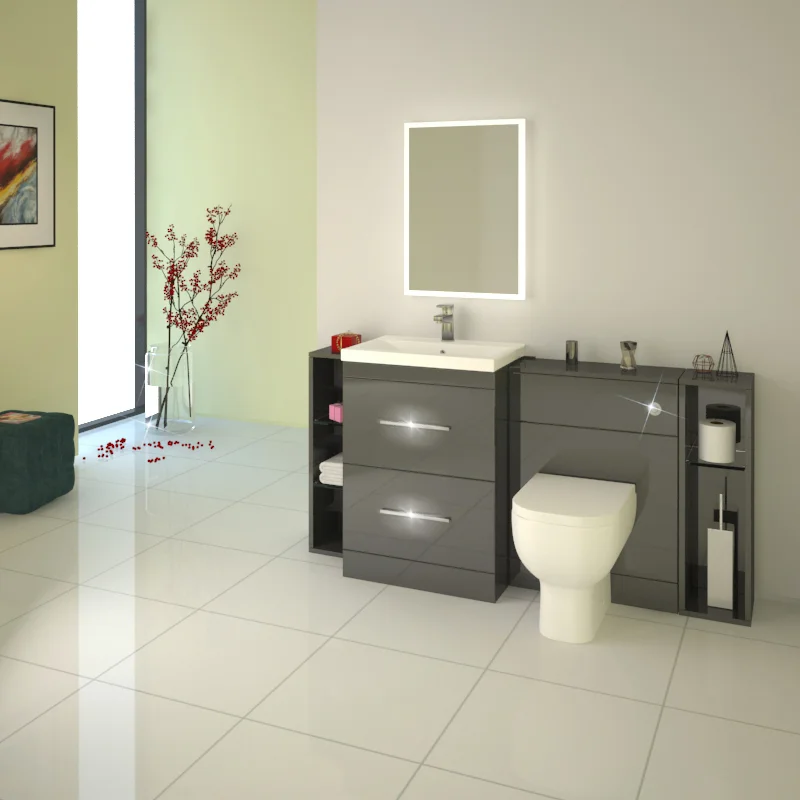 ---
Shop for Coloured Bathroom Furniture
At Bathroom City, our high gloss coloured bathroom furniture selections are available in a broad range of styles and finishes. And if you simply have to have things exactly your own way, our friendly team will help you explore your creative interests.