Five Modern Bathroom Trends to Inspire You This Summer
In the UK this year, we have started experiencing a long, pleasant stretch of summer. It's been a rather surprising change in the weather. The blistery cold climes in April and May have turned to glorious sunshine all of a sudden. And the temperatures have been in the enjoyable range of 19° C to 23° C.
Who wouldn't love sunny weather all year round?
But Brits know the local weather can be finicky. We only hope that this glimmer of warmth will last for the next few months at least.
So, discussed here are 5 modern bathroom trends to inspire you this summer and beyond.
Five Summer 2021 Bathroom Trends
Navigate to any section of this post by clicking on the links above.
---
1. Add Earthy Furniture Shades
Earthy shades are colours that draw inspiration from the outdoors. They are inviting, friendly and contemporary. These subtle tones are rooted in nature. And these subdued hues are soothing, warm and reassuring. Earthy furniture shades create a more intimate, calm and comfortable atmosphere in your bathroom.
During the past few years, earthy tones and natural materials have increasingly become the preferred choice in bathrooms. Let's look at a couple of earthy-shade furniture pieces.
The Chester Traditional 600 Small Suite with grey vanity unit and white rimless toilet is sturdy and beautiful. This built-to-last design boasts decorative period-style details. You can pick either chrome or gold handles for the soothing pearl grey cabinet. The elegant handles complement the traditional-style design of the luxurious ceramic basin. Yet another handy feature is the space-saving rimless pan that projects only 605mm. Optional accessories include basin tap, bottle trap and waste.
The Jivana 1500mm Wall Hung Double Vanity Unit brings modern opulence to your family bathroom. This space-efficient, wall-hung furniture is fully guaranteed. The soft-closing drawers come with designer gold or chrome handles. Two white ceramic basins sit on either a black or white 15mm glass worktop. You can also purchase matching gold tap and waste to complement the exclusive gold-finished handle.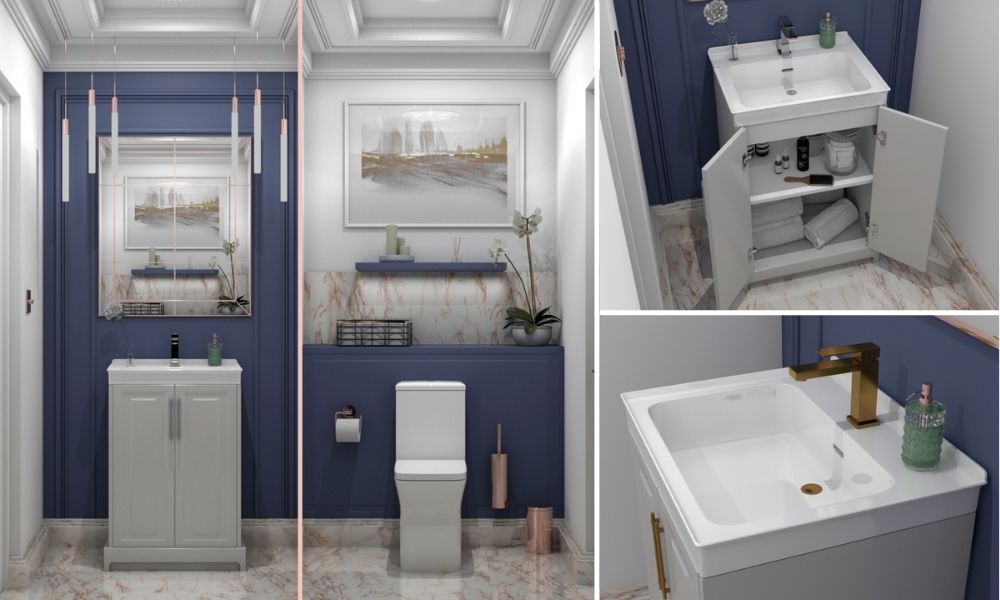 ---
2. Invest in Walk-in Shower Enclosures
A walk-in shower is one of the best modern bathroom ideas. It works well because it's designed to be open. The other thing is a walk-in shower uses a straight geometric shape, such as a square or rectangle. The straight lines and right angles are striking and contemporary. The plain design also makes this shower enclosure appear minimal and streamlined.
You can also personalise your walk-in shower based on your preferences. framed or frameless design, glass style and shower features. Let's check out a couple of modern shower enclosures that promise to deliver the ultimate showering experience.
The Matki Boutique (1500mm x 800mm) Walk-In Shower Enclosure offers generous showering space. The shower glass fits like a glove into the shower tray, resulting in a seamless watertight seal. This clear safety glass enclosure comes with a 10-year guarantee. It features high-quality construction and unmatched craftsmanship. This contemporary centrepiece balances durable materials with splendid artistry to perfection.
The hard-wearing Matki Boutique (1200mm x 900mm) Three-Sided Walk-In Shower Enclosure is styled beautifully. This premium shower enclosure wins over the test of time in every aspect of its construction. The high-lustre aluminium frame and acrylic-filled shower tray are robust. This easy-to-install shower enclosure comes with a 10-year guarantee.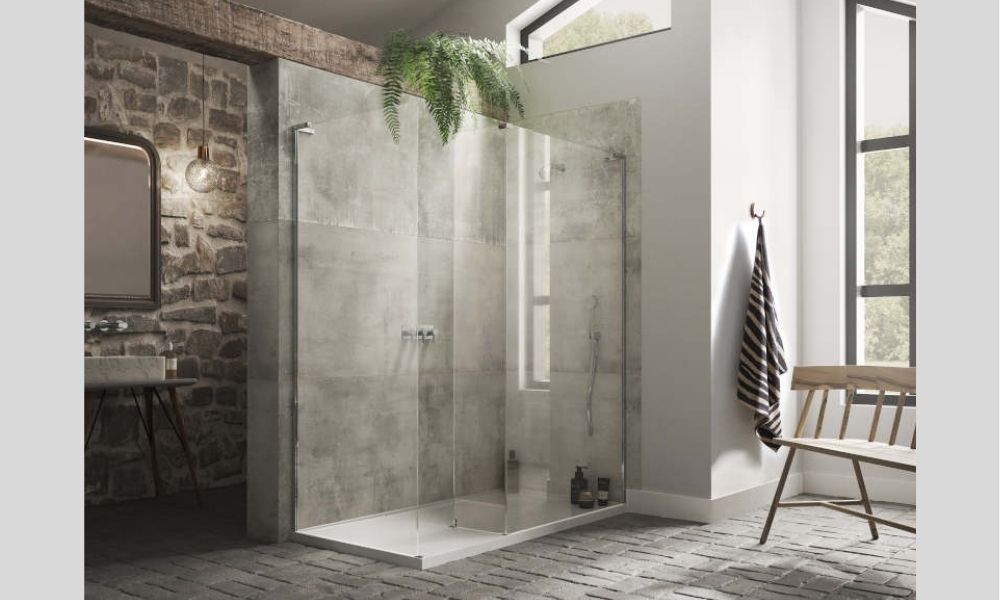 ---
3. Use Natural Materials (Wood, Stone, etc)
Incorporating natural materials in your bathroom is one of the best summer bathroom ideas. The reason is because natural materials like wood, stone, etc. are timeless and eco-friendly. They create an inviting atmosphere. Quality natural materials like marble and travertine are authentic and have a unique personality.
During the past one year alone, you've possibly spent more time inside your home than you have in the last five years combined. So why not bring the outdoors in? After all, natural materials enable you to create a soothing space without much effort. Here are two bathroom accessories that bring the outside in.
Natural oak is classical, all-purpose wood. The Old England Oak Vanity Bathroom Suite  is aesthetically beautiful, easy to clean and durable. The hand-painted finish emphasises the beauty of natural wood. This handcrafted dove grey Oak Sapele and Beech furniture withstands moisture or even wetness easily. So you don't need to worry about water damage. The matching tallboy and 2-door vanity unit offers generous storage space. That would settle the issue of storage space. Finally, the large mirror provides a marvellous focal point.
The meticulously crafted Forzalaqua Firenze Travertine Basin Washbowl presents your bathroom with a contemporary appeal. This warm travertine basin exudes class and style. With perfectly smooth curves and delicately cut edges, this natural stone basin has been sculpted to precision. Other options include Bluestone, Basalt and Cloudy Marble basins. This basin is truly a striking display of natural allure.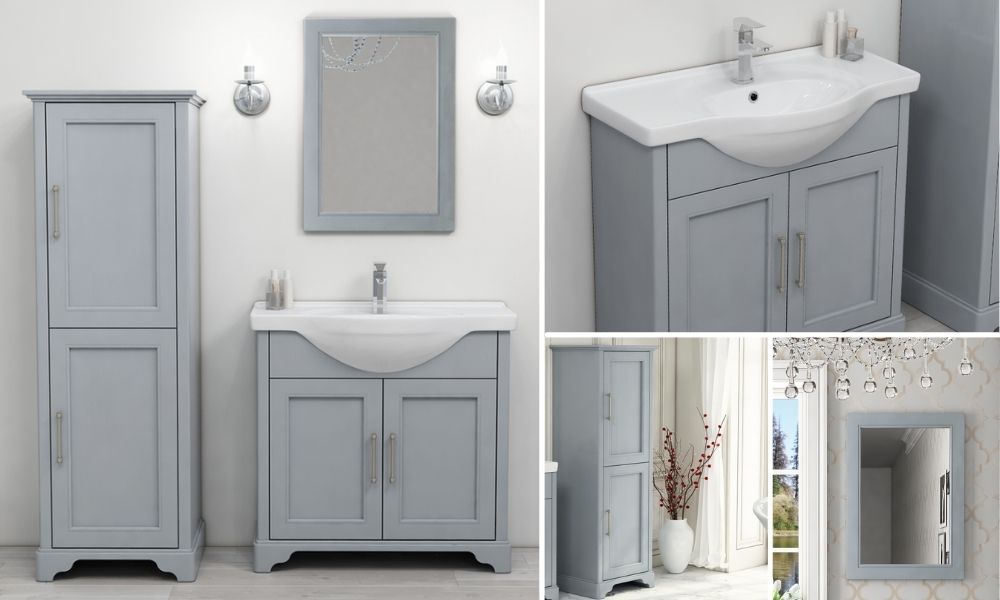 ---
4. Adding a Bit of Green
A green bathroom is the new infatuation. Years ago, people considered wall pastels to be appropriate only for children's rooms or nurseries. But that's changed now. This soft family of colours – especially shades of green – lends a soothing tint to your bathroom walls. Pastels are colours for all seasons, not just summer. The good news is people have rediscovered their use in recent times.
We are sure that the soft, relaxing shades of green can quickly change your mood for the better. A pop of pastel green can enliven even the dullest of bathrooms. You don't need to limit pastel colours to the walls. Breathe new life into your bathroom by colouring shelves and cabinets with pastel colours.
Adding a bit of green is a great modern bathroom idea to create an eco-friendly space. Pick a simple plant and place it on the window. It's the perfect way to introduce a bit of green into your bathroom. You could quickly turn your bathroom into a little tropical oasis by simply adding some potted plants. Opt for indoor plants such as Spider plants, Snake plants, Philodendron and Devil's Ivy that grow easily.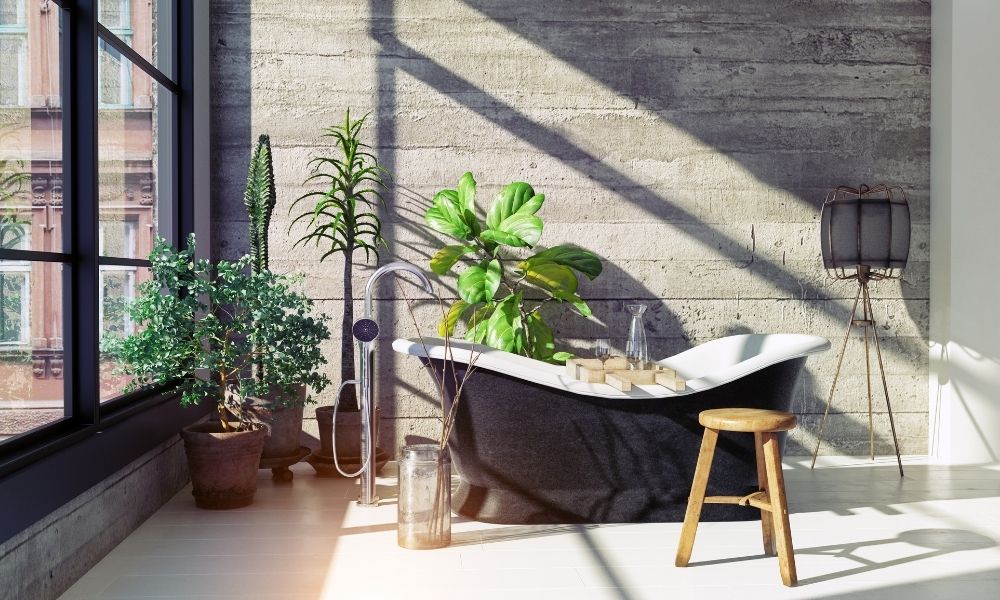 ---
5. Soak Up in Luxury
Need a fresh summer bathroom idea? Why not soak up in luxury?
A bathtub not only enhances the overall aesthetic appeal of your bathroom but also offers you a therapeutic experience. Relaxing in water is a fantastic way to relieve stress. This is especially so if you are the kind of person who enjoys soaking up in luxury. You wouldn't want to miss the opportunity of unwinding in total luxury this summer, would you?
The Grove 1700 Slim Freestanding Bath is the perfect way to make the most of the favourable weather this summer. Enjoy the sleek, luxurious design of this classic freestanding bath. The slim bath edges maximise the already generous 800mm width of this bathtub. The main feature of this back-to-wall bathtub is the twin-skinned acrylic construction that is ideal for optimal heat retention.
The design of this versatile bath is appropriate for both floor-standing as well as wall-mounted taps. With a lifetime guarantee on this bathtub, you don't need to worry about replacing it for at least several decades.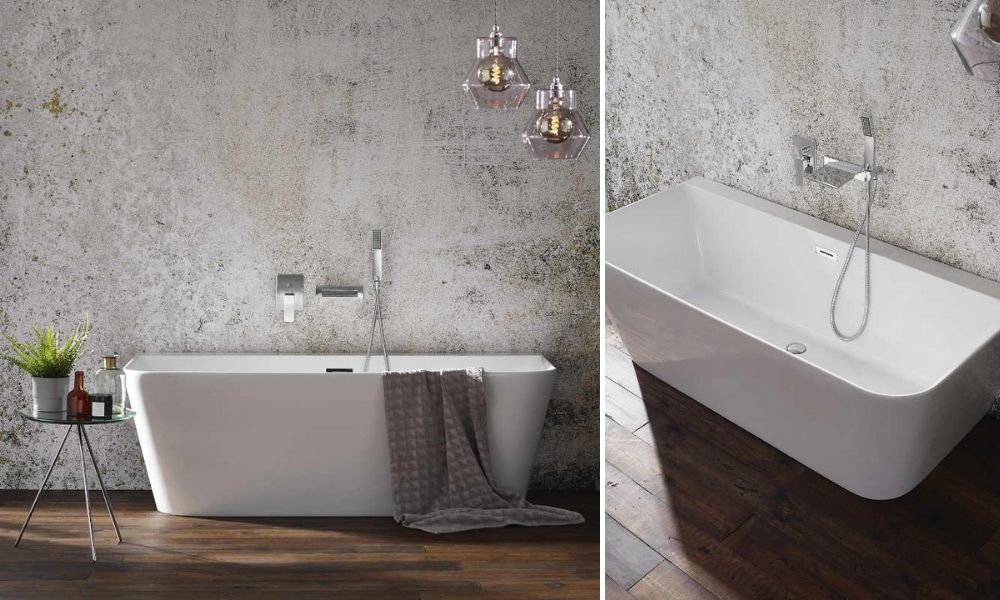 ---
Keep with the Bathroom Trends of This Summer
At Bathroom City, you will find an assortment of innovative bathroom furniture solutions that suit any setting, regardless of your bathroom size. Whether you're looking to keep up with the most recent trend or add a functional element to your bathroom, you'll find the perfect accessory/furniture.