How To Become An Interior Designer?
Thinking of becoming an interior designer?
Do you often get complimented on your home décor design taste? Do you love decorating rooms, arranging furniture, choosing paint colours, and making decisions about fabrics and furnishings?
If so, this is a good sign, whether you are considering a first-time career in interior design or you are thinking about changing careers. According to Susie Rumbold, former president of the British Institute of Interior Design (BIID), half of the institute's members enter the industry after university, and half are in the process of changing careers.
At this point, you may be wondering how to get a job in interior design. But before you make such a life-changing decision, you need to be sure you know what to expect. Read on to find out all we know about how to become an interior designer and what this career path actually involves.
Jump to any section of this guide by clicking on the appropriate link:
---
Can I become an interior designer with no experience?
As is the case for many other arts and design careers, there is no single route to a successful career in interior design. For example, some of the UK's best-known designers — such as Kelly Hoppen and Nina Campbell — have no degree in interior design.
However, interior design is an increasingly competitive industry - meaning that a great eye and entrepreneurial flair may only get you so far today without the relevant qualifications.
If you do not have the qualifications, it is difficult – but not impossible – to gain experience. Without sufficient experience, it is very unlikely you would be able to practice as a professional interior designer (except perhaps on an informal basis for family and friends).

---
How long does it take to become an interior designer?
Becoming an interior designer is not something that can happen overnight. How long it takes will depend on the qualifications you already have and the career route you follow.
However, if you really want to be an interior designer, with determination and hard work it should be possible to break into the industry within a few years.
Later, we outline the various interior design courses available to students in the UK, and we also look at how to get into interior design without a degree or other higher education qualification.
---
Is interior design a good career choice?
Although interior design can be challenging, it can certainly be a very satisfying and fulfilling career choice if you have a good feel for space and enjoy being creative with colour, textiles and lighting.
However, when people ask this question, they are most often thinking about money, and what they really want to know is whether interior designers get paid well.
---
How much does an interior designer earn?
The average entry-level starting salary for an interior designer in the UK is around £18,000, but more experienced, reputable professionals can earn up to £45,000.
As in most other industries, interior designer salaries depend on many factors, such as education, location, experience, and the size and reputation of the company. For example, an interior designer working for a small family design business in rural Cornwall will earn less than a designer who works for a high-end architectural corporation in central London. Qualified interior designers who are educated in fields such as architecture, building regulations and structural design tend to make the most money.
---
What does an Interior Designer do?
To broadly summarise the role in one sentence, interior designers plan and supervise the layout, remodeling, furnishing and decoration of the inside of buildings.
Designers often specialize in a particular area, such as green spaces, home design or corporate workspaces. They design and create functional new spaces, as well as renovating old ones, and ensure that lighting, colours, fixtures, fittings, and furnishings work together stylistically, as well as practically.
An interior designer's day-to-day tasks might include:
meeting clients to discuss their requirements and ideas
developing designs to suit clients' needs, their budget, and the type of building
preparing initial sketches and mood boards for the client to approve
advising on the use of space, colour schemes, fabrics, fittings and furniture
working out costs and preparing estimates
creating detailed drawings from the initial sketches, using computer-aided design software
finding fittings, furniture, fabrics, wall and floor coverings
maintaining inventories of materials, equipment, and products.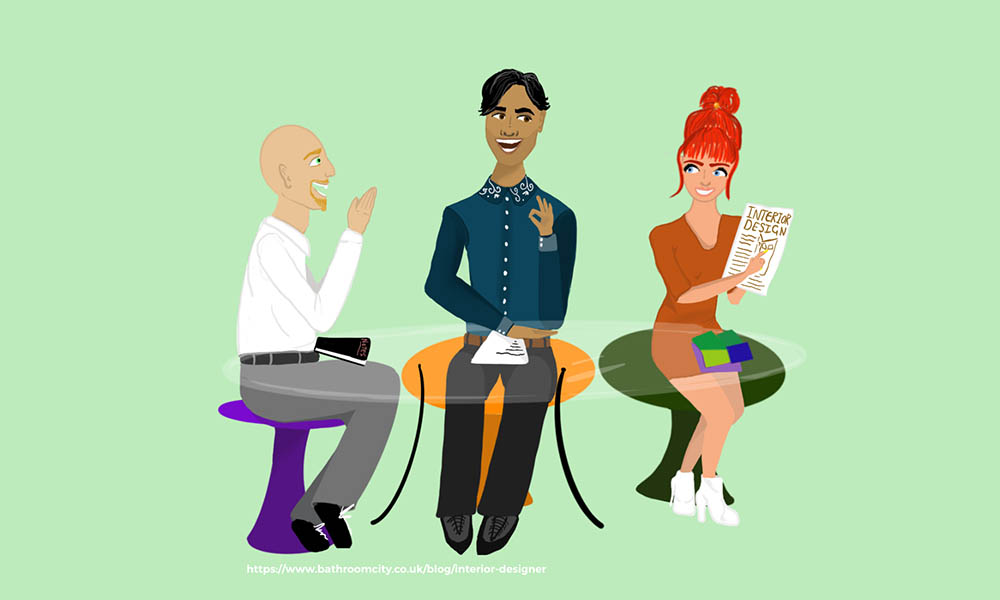 ---
What skills and traits do you need to be an Interior Designer?
A wide range of diverse skills
Successful interior designers possess several different skill sets, including artistic skills, design skills, technical skills, interpersonal skills and management skills.
Although possessing artistic flair, creativity, taste and a sense of style is hugely important, interior designers also need to understand the relationship between materials, colour, lighting and texture, and the effects these can create on a particular space. This will require being educated about textiles, building legislation, electrical layouts, structural integrity principles, architecture, ergonomics, spatial concepts, ethics, psychology, computer-aided drawing (CAD), and more.
Artistic talent and genuine passion
A great interior designer will have obvious innate talent and a genuine passion for design. This will be demonstrated through their work by their drive and enthusiasm, their positive attitude in the face of challenges, and their ability to inspire others with exciting ideas. This same talent and passion enable interior designers to visualise and positively communicate potential and possibilities in any given situation, before bringing to life the preferred design.
Good listening and communication skills
It is essential that an interior designer has great listening skills. A client will usually want their home to reflect their personality, so it is crucial to listen to their functional needs and their aesthetic desires very carefully before starting to plan the design. An interior designer must also be able to clearly translate a client's desires to design teams, engineers and other professionals working on the project. Failing to do either of these things properly can result in a trail of dissatisfied clients and very few recommendations.
Tact and diplomacy
Interior designers are constantly having to balance their own design ideas with their clients' desires. While designers can offer clients a variety of design styles to consider, they must always remember that it is ultimately up to the client to decide on the style that will suit them best. Part of the interior designer's job is to direct the client towards the right design choice, whilst simultaneously ensuring that the client feels in charge of any final decisions made.
Attention to detail
Another essential skill for an interior designer is being able to pay attention to detail. Small changes can transform a space when close attention is given to every detail, through the use of colour, lighting and texture.
Ability to multi-task and budgeting skills
An ability to multi-task, problem-solve and schedule tasks and deliveries efficiently is also vital. An interior designer will need to coordinate many aspects of the project, and will need to liaise with a number of different parties (such as clients, architects, construction workers, engineers, plumbers, suppliers, project managers, etc), as well as ensuring that the project is completed within the budget and deadline set.
Historical and contextual knowledge
Finally, a professional interior designer will have a diverse knowledge of many different styles, techniques and aesthetics, and will usually have been educated about the history of interior design. This enables them to imagine and emulate period themes, or to create unique designs with strategic historical references and stylistic influences. It is also a necessary form of knowledge needed for working on historic building renovation and restoration projects.
At the core of their role, designers must be able to understand their clients' desires and translate those to design teams, engineers and other professionals working on the project. Designers should be able to look at any space and visualize how different components will come together.
---
What qualifications do you need to be an Interior Designer?
You will usually need a minimum of five GCSEs (A*- C passes, including Maths and English) or an equivalent level 2 qualification, such as the BTEC First Diploma in Art and Design.
If you intend to pursue a higher level Interior Design qualification such as HND, a foundation degree or a bachelor's degree, then you will need to study 2-3 relevant A-Levels or a BTEC level 3 course first. Although a degree or other higher education qualification isn't strictly necessary to become a professional interior designer, it can certainly give you a significant advantage. According to the British Institute of Interior Design – the leading professional organisation for interior designers in the UK – there are a number of essential criteria you should take into account before considering which interior design course to apply for.
---
What degree or diploma should you study to be an Interior Designer?
Industry employers tend to prefer qualifications in relevant subjects, such as interior/spatial design, interior architecture, furniture design, textile design, fine art, or product design.
The Second year Interior Design degree student Megan Hancock recommends doing plenty of research since different courses focus on different areas of design:
"Some are more focused on "dressing" interior spaces, whereas others - such as Interior Architecture courses - have an element of dressing but also cover remodelling and structural design. There's generally more work in interior architecture - for example, kitchens and bathroom providers - but it does vary. It may help to go along to some degree shows or look up the work of students on different courses to understand the different types of focus."  
---
How many years of study does it take to become an Interior Designer?
How and where you choose to study interior design depends on your circumstances and the level and number of qualifications you already have?
If you choose to study for a degree beyond your A-Levels or BTEC course, then the standard length of full-time study in the UK is 3 years. If you decide to continue with a Masters degree after graduating, this can add an additional 1-2 years.
---
Which Universities in the UK offer degree courses in Interior Design?
There are currently 54 universities in the UK offering degree courses which include Interior Design (as of Summer 2019). Here is a list of the top 30 (in alphabetical order). It is usually possible to obtain a Student Loan to cover the tuition fees for these courses if this is your first degree.
Anglia Ruskin University
BA (Hons) Interior Design
Length: 3 years
Fees: £9,250 per year
Complete University Guide Subject Ranking: 54th
Arts University Bournemouth
BA (Hons) Interior Architecture & Design
Length: 3 years
Fees: £9,250 per year
Complete University Guide Subject Ranking: 11th
Buckinghamshire New University
BA (Hons) Interior & Spatial Design
Length: 3 years
Fees: £9,250 per year
Complete University Guide Subject Ranking: 64th
BA (Hons) Interior & Spatial Design with Foundation Year
Length: 4 years
Fees: £9,250 per year
Complete University Guide Subject Ranking: 64th  
Camberwell College of Arts (University of The Arts, London)
BA (Hons) Interior & Spatial Design
Length: 3 years
Fees: £9,250 per year  
Chelsea College of Arts (University of The Arts, London)
BA (Hons) Interior Design 
Length: 3 years
Fees: £9,250 per year
Coventry University 
BA (Hons) Interior Architecture & Design
Length: 4 years
Fees: £9,250 per year
Complete University Guide Subject Ranking: 17th
Falmouth University
BA (Hons) Interior Design
Length: 3 years
Fees: £9,250 per year
Complete University Guide Subject Ranking: 27th
Goldsmiths College, University of London
BA (Hons) Design
Length: 3 years
Fees: £9,250 per year
Complete University Guide Subject Ranking: 16th
Glasgow School of Art
BA (Hons) Interior Design
Length: 4 years
Fees: £9,250 per year
Heriot-Watt University
BA (Hons) Interior Design Top-Up
Length: 2 years (check website for entry requirements)
Fees: £9,250 per year
Complete University Guide Subject Ranking: 15th
Kingston University, London
Once you are qualified and have gained some experience as an interior designer, it is advisable to join a professional organisation such as the British Institute of Interior Design. Membership of an organisation that represents the profession can enhance your CV and your employability, add credibility to your marketing, as well as opening up opportunities for networking, professional development, advice and guidance.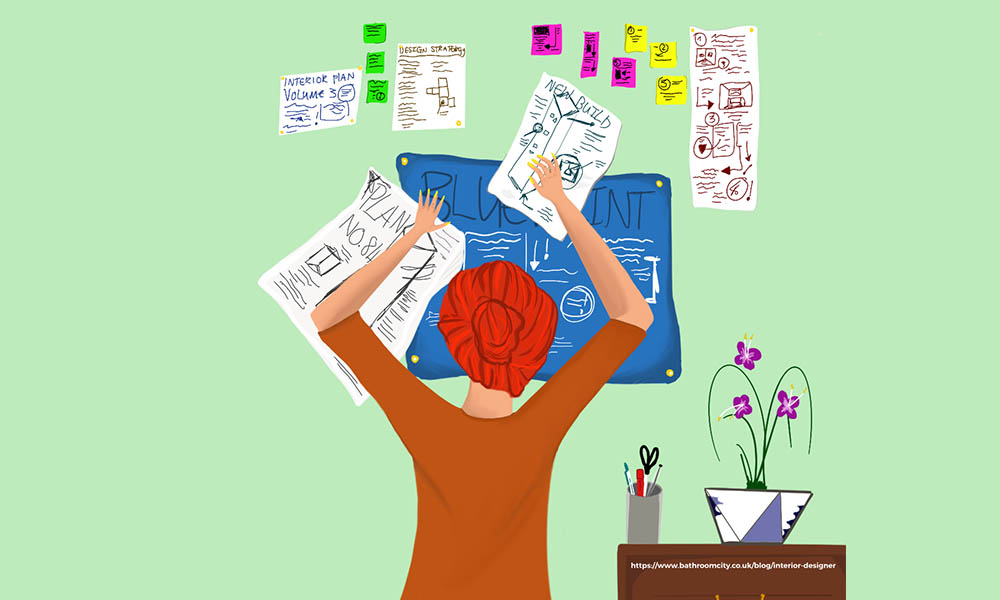 ---
How much do freelance interior designers charge?
The three most common ways interior designers charge for their services are:
A fixed fee
An hourly / day rate
A percentage of total spend (agreed with the client in advance)
When charging a fixed fee, designers work out the amount of time and resources they anticipate the project will require, and quote accordingly. This involves setting an hourly rate for their services and calculating how many hours the job is expected to take, as well as researching and obtaining quotes for all the materials needed for the project.
When the fee is being fixed at the outset, it is important that both client and designer are clear about the parameters of the work involved. There should be a written agreement in place stating that if more work than anticipated is needed, then this will be charged at the designer's hourly or day rate.
A freelance interior designer's hourly / day rate will depend on factors such as how much experience they have, how well qualified they are, their location, and their reputation in the marketplace. For example, the hourly rate of high-end, expert interior designers based in central London can be many times more than a recently graduated designer based in Leeds. Consequently, hourly rates for freelancers can range from £50 to over £400 per hour.
---
Learn from the experts
In an interview with the BBC, professional award-winning interior designer, Sophie Conran offers budding designers several helpful tips, as well as talking about her creative approach. She recommends that, if you want to be a great interior designer, you need to be able to empathise with your client.
"When you have designed space or an object or anything really and the client loves it, that is why I do what I do. That is the best feeling and the best thing about the job. If you create something and you put it out there and you know that somebody else is genuinely thrilled with it, then that is your reward and there is no better feeling!"
Speaking about routes into today's industry, Conran recommends taking the formal education route.
"I think it is very competitive now. I would always encourage people to stay in education for as long as they can, really. I think it shows staying power, demonstrates a certain seriousness about things and allows you to get your thoughts in order. Even though I didn't do it, I do think … getting some sort of grounding in architectural interior design is a very good thing to do. You need to learn to do things like scale drawings and maths is very important too. It's not all choosing lovely curtains and fabrics!"
Co-founder of Design Miami, Amy Lau recommends thinking holistically when it comes to creating room designs.
"I like to think of my interiors as a unique piece of art, where every element has an important role within the space to create an overall harmony. My projects represent the interests and tastes of clients, so part of my work consists of discovering who they are and then showing them how their style can be elevated to new levels."
As well as reading books and interviews with famous and successful interior designers in magazines such as House & Garden (see their Top 100 Interior Designers awards list for 2018), check out popular interior design blogs and follow individual bloggers who inspire you, to get you started.  
---
Wrapping Up
In the UK, there continues to be a healthy demand for interior design professionals, as more and more people realise the potential benefits of hiring an interior designer.
Above all else, as with many other professions, the experience is crucial for success. Gaining qualifications along the way can be very helpful, but it's not absolutely essential if you possess passion and determination in equal measure.
If you aren't able or would prefer not to study Interior Design formally at college or university, then try getting your foot in the door by learning essential skills on the job as a volunteer or apprentice at a local design company. Learn from experts, offer to design and decorate rooms for friends and family, develop your portfolio, continue to showcase your talents, and put your new-found skills into practice.
The world of professional interior design may be competitive, but with a little hard work, persistence, and a top-notch portfolio, you can become a successful interior designer. After all, even world-class designers had to start somewhere!
Further interior design career information can be found on the Prospects website.
---
Other related articles that you might also be interested: