Top 10 Ensuite Bathroom Ideas For Your Bathroom
Whether you're designing a new ensuite or remodeling an existing one, it's important you make optimal use of the available space. While bathroom layouts can be challenging, a small bathroom layout can be even more challenging. And when space is a limiting factor, you certainly need plenty of inspiration to create an imaginative layout. The small ensuite ideas illustrated here will help you make your ensuite bathroom appear larger and maximize every square inch. Some of the ideas are especially compelling as they reveal to you how to make optimal use of otherwise wasted space.
Designs for a New Ensuite Bathroom or Remodelling an Old One
Navigate to any section of this post by clicking on the links above.
---
1. Corner Vanity Unit — Patello 410 Cloakroom Unit Anthracite and Basin | £153.00
If you are looking to make a shrewd, tasteful enhancement to your ensuite bathroom and exploit the available space, this sleek 410 Cloakroom Unit from Patello is the perfect answer. This unit's stylish basin provides you with exemplary utility while offering lots of storage space without compromising on aesthetic appeal. The grey finish will blend well with the rest of the elements in your bathroom. Grey bathrooms are elegant and unlike other colour trends, grey promises to remain a contemporary shade. Installed together, this freestanding vanity unit and basin combo present a visually pleasing aura.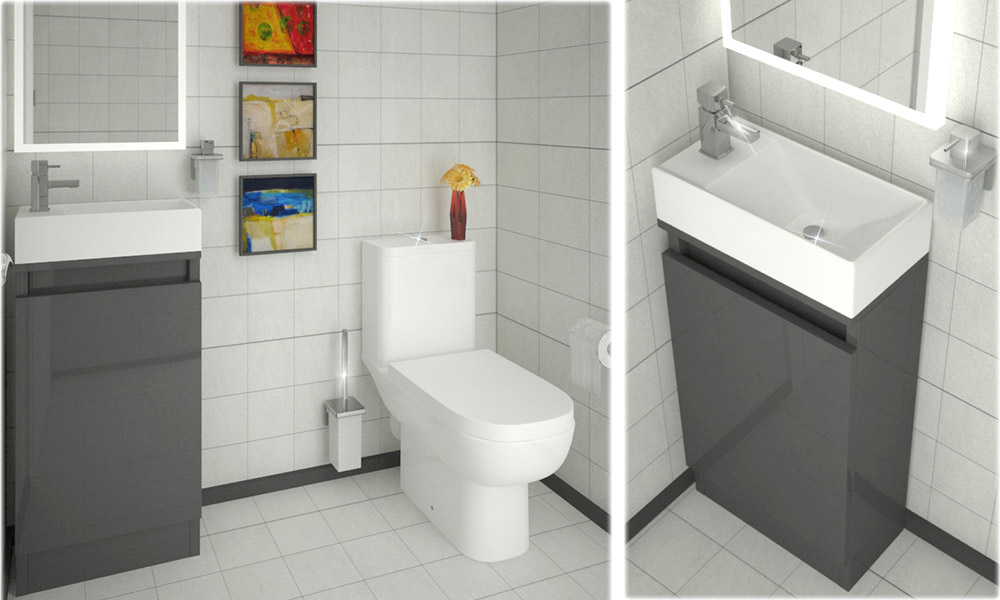 ---
2. Corner Vanity Unit — Westminster Esteem Vanity Unit from Imperial | £756.00
The Westminster Esteem is an ideal vanity unit for a traditional setting. This spectacular wooden cabinet provides superior practicality and gives your ensuite bathroom a natural aesthetic, decorating it with a rustic style. You can choose from a wide range of hand-painted finishes. If your bathroom size or layout is preventing you from creating a stylish design, fit the Westminster Vanity Basin that's available as an option with this vanity unit. This basin will complete the traditional look you want to accomplish for your ensuite. Install this beautifully crafted wooden unit in any corner of your bathroom for a functional and enticing appearance.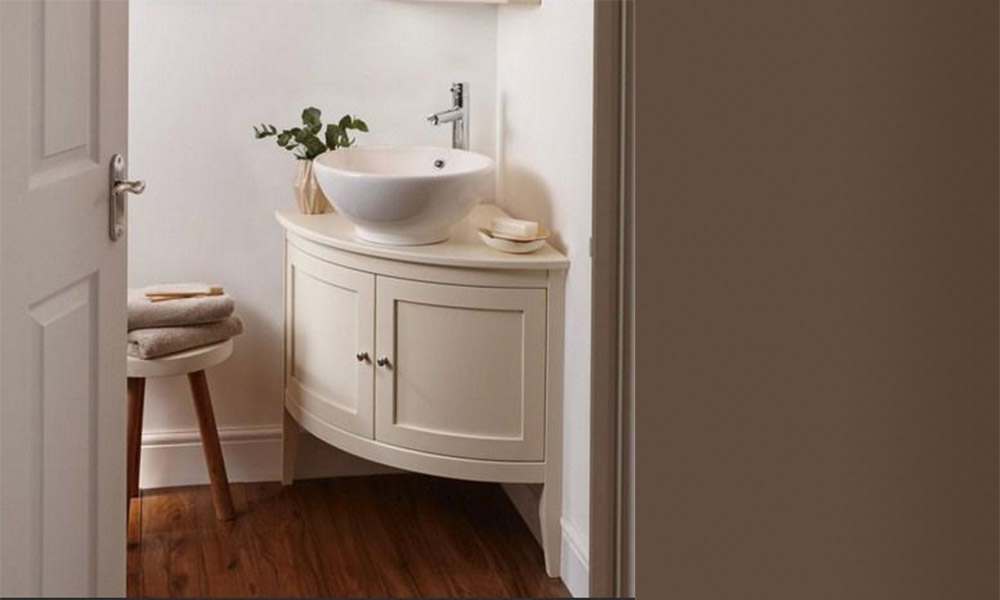 ---
3. Wall Hung Vanity Unit — Sonix White 600 Wall Hung Bathroom Unit | £665.00
The Sonix White 600 is a wall hung bathroom unit that successfully blends style and function. This unit boasts an affably sleek, contemporary look that matches well with a range of decors. This white-coloured unit is equipped with a ceramic countertop basin. The unit has two drawers and offers you ample storage space. If you want to purchase a vanity unit without compromising on convenience, no other unit can match the Sonic White 600. This stylish unit boasts clean straight edges and two drawers in a neat yet sophisticated design.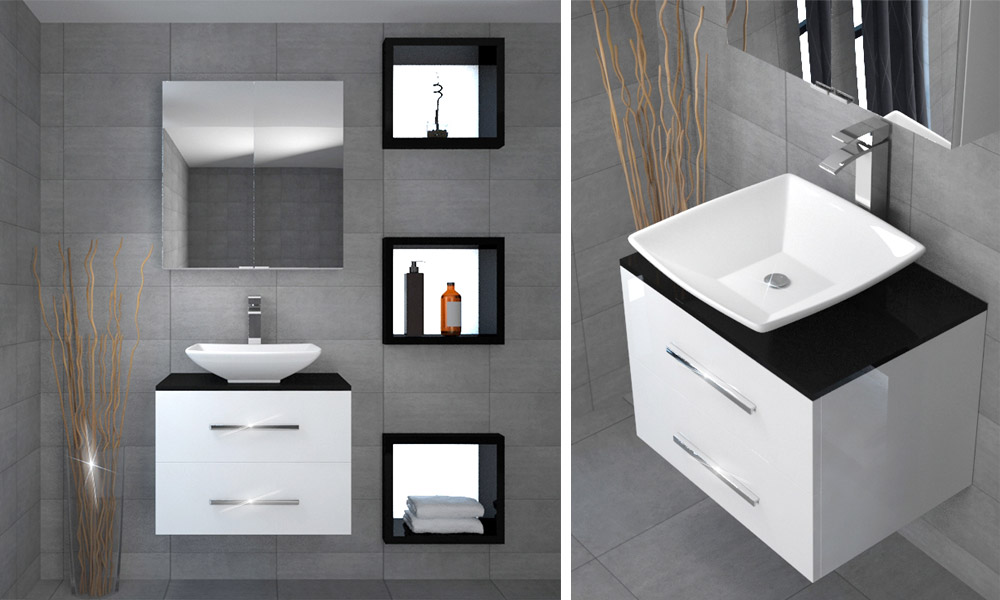 ---
4. Shower Bath — L Shape Shower Bath (Left Handed) | £331.00
Whether you need a revitalising bath or a relaxing shower, the L Shape Shower Bath presents you with the best of both worlds. The 'L' shape provides you generous space to shower and the bath screens safeguard the remainder of your bathroom from any stray splash. The added comfort and freedom allows you to unwind after your daily grind. This shower bath is without question the most cost-effective way to install an ensuite shower enclosure. The unique design of this bath permits it to retain heat much longer than a standard tub, making that long weekend soaks more enjoyable.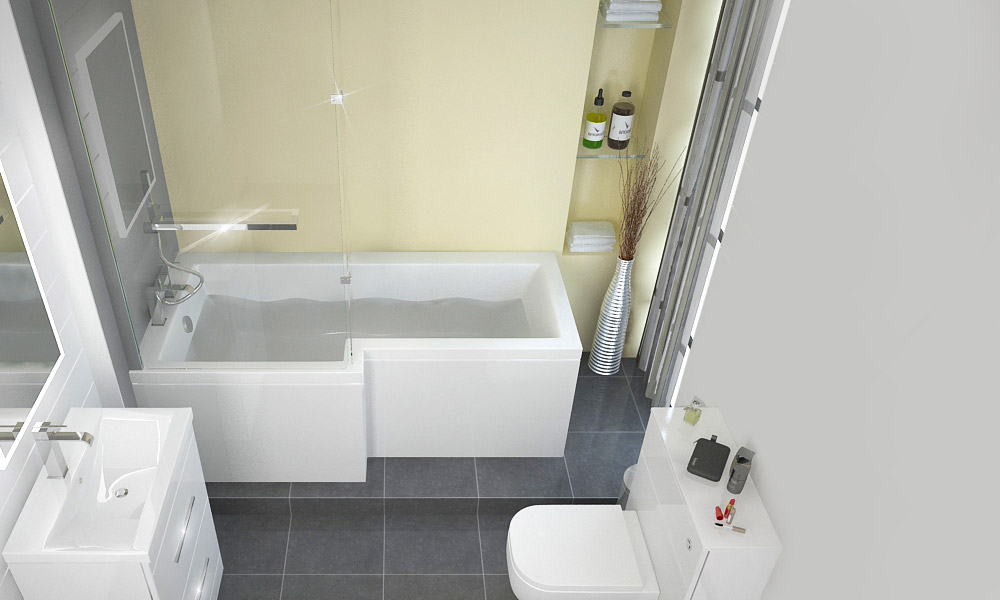 ---
5. Shower Bath — Clia Corner Bath | £279.00
The compact, curvaceous, and organic design of the Clia Corner Bath blends with a small space to perfection. This luxurious corner bath comes with weight distributing legs for stable installation. This stunning ensuite bathroom complement is made of acrylic, a material that's pleasant to the touch and makes you feel at ease. The shimmering gleam of the Clia Corner Bath harmonises with the rest of the accessories in your ensuite shower, ensuring continuity of design. You can rest assured, confident in the knowledge that this bathtub will retain its original colour right through its long life.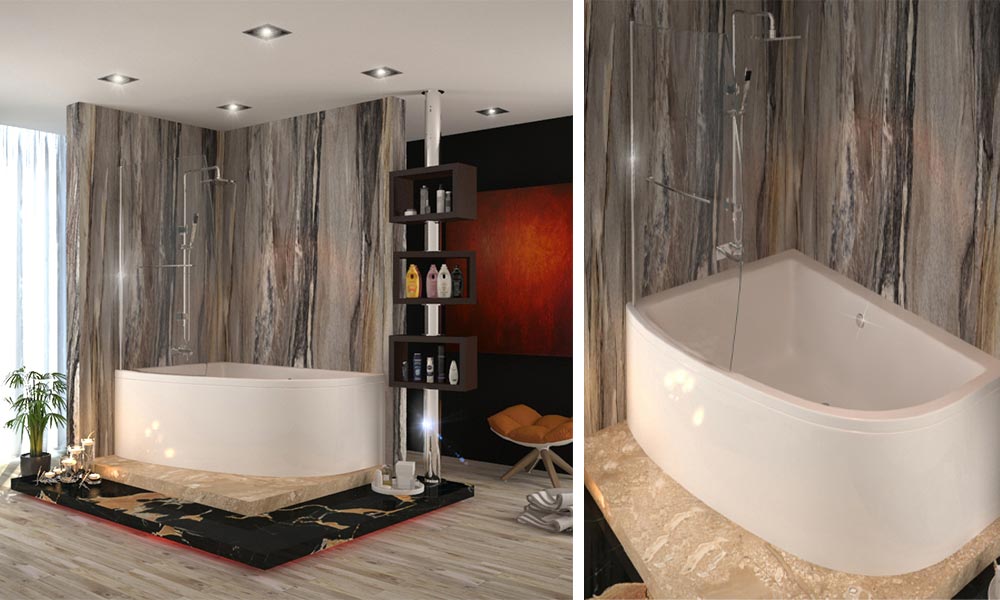 ---
6. Basin and Toilet Combination Unit — Grove 1500 Vanity Unit Platinum Grey | £699.00
Give your ensuite that extra dose of wow factor by installing this elegant Grove Grey Platinum Vanity Unit x 1500 that fascinates with its sheer beauty. This basin vanity unit and toilet cabinet combination are available in five different options. Each option provides you with maximum flexibility to choose the bathroom accessories that you want. The entire Grove range ensures the finest design, as well as, durability, hygiene and performance. The sparkling finish and minimalistic design present a soothing sight. The main feature of the toilet is the cushioning soft close seat that contributes to a captivating toileting experience.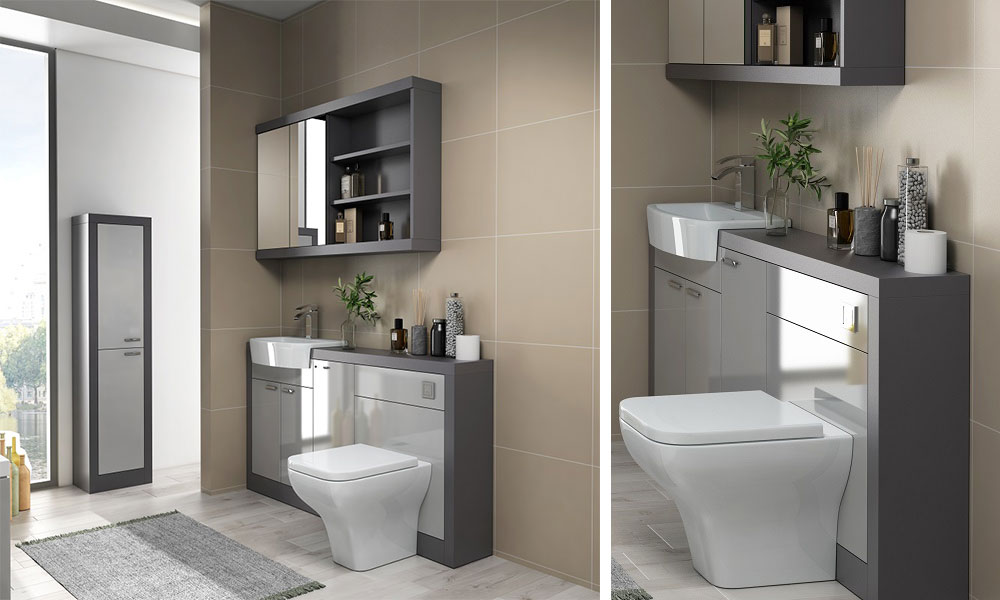 ---
7. Close Coupled Toilet — Melissa Close Coupled Toilet with Soft Close Seat | £259.00
Our new range, the Melissa Close Coupled Toilet, is manufactured from premium real wood materials including Beech and Oak Sapele. Sustainable wood materials are selected for the finest cuts. The selected panels of the highest grain qualities are then carefully crafted into different sections of the unit to enhance its texture. Each unit is produced through this handmade process. Hence, each unit is unique with dissimilar grains subtly emphasising the elegance of natural wood. The classic variable hand-painted finish highlights the individual grain qualities. The best feature of this close coupled toilet is the soft close carbonite seat that is both practical and comfortable.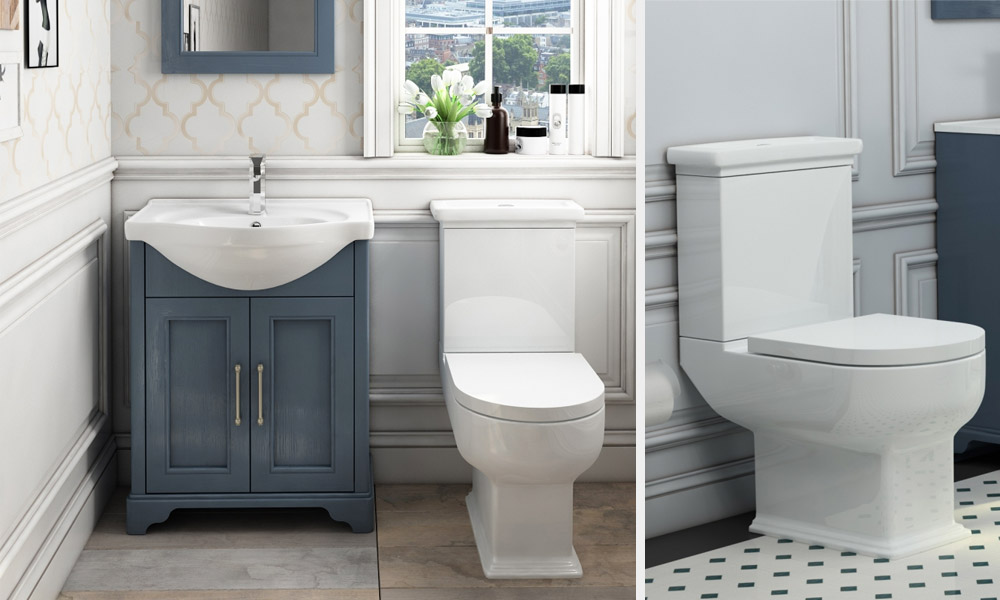 ---
8. Corner Wall Hung Basin — Tilly Corner Wall Hung Basin | £116.00
The Tilly Corner Wall Hung Basin is a fabulous small ensuite idea. This unit's minuscule dimensions of width 410mm, depth 470mm and height 140mm is perfectly suitable even for the smallest of spaces. This 3-sided basin comes with 1 tap hole and an integral overflow. If your ensuite bathroom is small, this basin creates an illusion of space. And if your bathroom is larger, then this basin becomes an attractive feature in it. Optional features of this basin include fixing brackets, chrome finished basin tap, waste and bottle trap.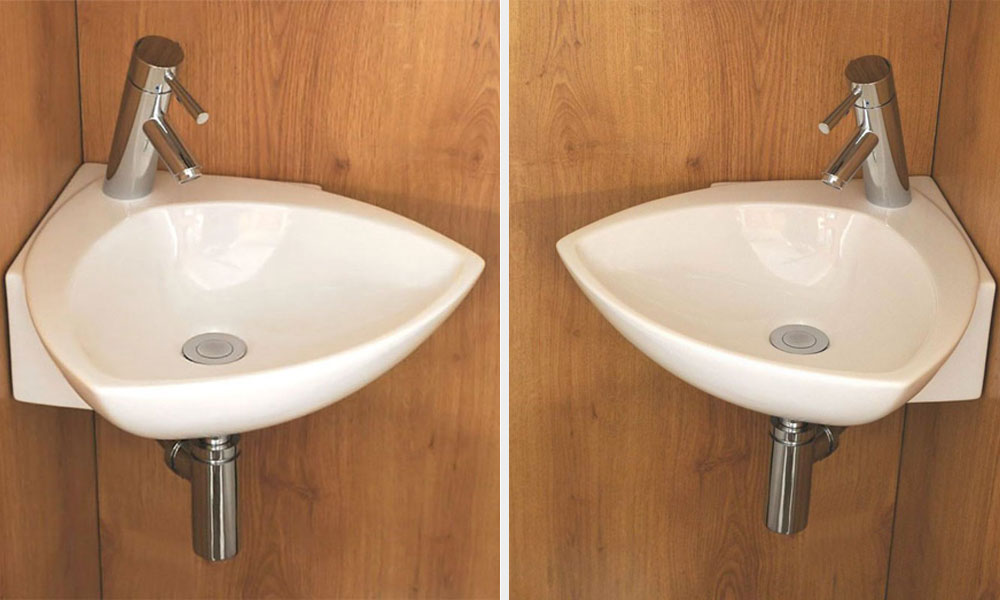 ---
9. Wall Hung Basin — Luxor 600mm Wall Hung Basin | £89.00
The Luxor 600mm Wall Hung Basin is a flexible unit because you can also install it as a countertop basin. The optional features include basin tap, bottle trap and waste. This square basin helps you create a sleek and contemporary look in your ensuite bathroom. The wall-mounted design makes it the right choice for a small bathroom. This Luxor basin is made from prime quality ceramic for lasting durability. The finest feature of this basin is the hard-wearing glazed finish that retains its dazzle for many years. Other notable features of this Italian-made basin are clean geometric lines and generous wash space.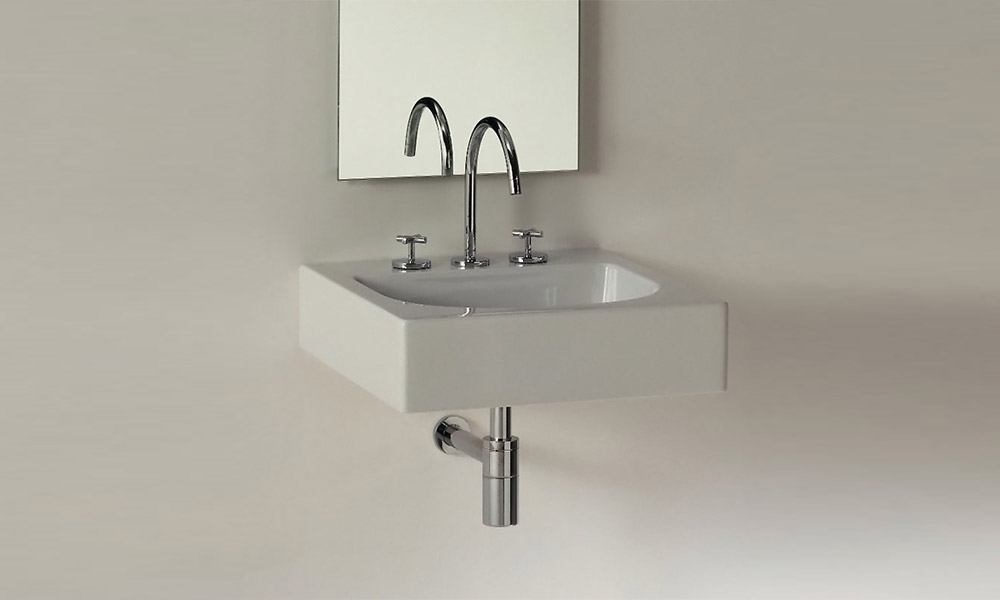 ---
10. Mirror Cabinet — Balto Bathroom Mirror Medicine Cabinet | £398.00
If you are looking for a mirror cabinet that includes a shaver socket and makes a stunning difference to the overall aesthetic of your ensuite bathroom, the Balto Bathroom Mirror Medicine Cabinet is the right choice. Besides the power socket, this feature-loaded mirror cabinet includes two glass shelves, 12V LED lighting in the canopy and offset doors. The alluring appearance of this skillfully designed cabinet is complemented by its multiple functions. The two shelves give you extra storage for keeping your beauty products, toiletries, toothbrushes and the like. The best feature of this mirror cabinet is the soft, comforting glow of the LED lights.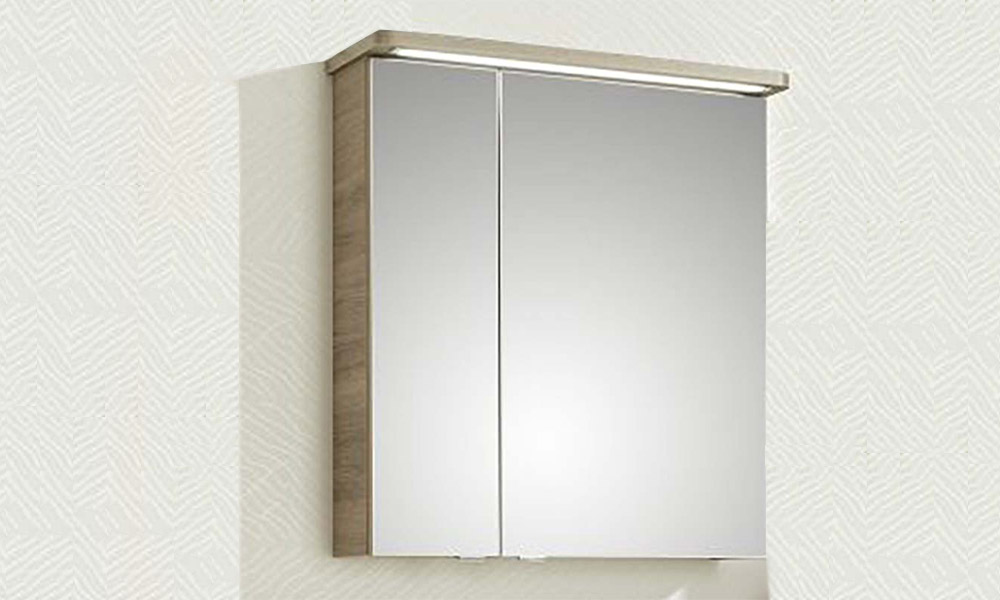 ---
In Summary
The incredible advantage of an ensuite, even if it's tiny, is that you can use some space-saving small ensuite ideas regardless of your budget. Whether you want to remodel your home or design a new bathroom, the ideas discussed here will give you valuable inspiration. All the ensuite bathroom ideas suggested here will help you design a spacious and luxurious ensuite.
Bathroom City presents you with a matchless combination of service, selection and value. You'll find our decades of experience helpful for choosing the right products that suit your specific needs. Our online store is designed for people like you – people looking to build or renovate their ensuite bathroom.
---
Other Articles That You May Enjoy Reading