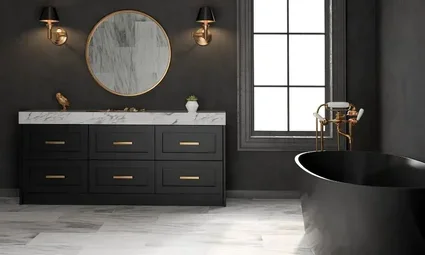 4 Min Read
The sophisticated, opulent, and extravagant décor style of the Victorian era (1840s to 1890s) is striking. 
Some exquisite design elements – a roll top bath, pedestal basin, traditional vanity unit, and close coupled toilet – distinguish a Victorian-style bathroom from an innovative modern bathroom.
Navigate to any section of this post by clicking on the links above.
---
The Advantages of Victorian Bathroom Style
The Victorian bathroom style focuses on elegance, charm, sophistication, and timelessness. That's the reason traditional bathroom suites can appear grand and awe-inspiring compared to one-dimensional modern bathrooms.
The major advantage of traditional bathroom suites is they will never go out of style. 
Unlike a modern bathroom that needs remodelling and personalising once every few years, the timeless feature of a Victorian bathroom means you can leave it untouched for decades. Say goodbye to bathroom renovations!
Durability is another advantage of a Victorian bathroom: A cast iron bath instead of an acrylic or glass fibre bath; a porcelain pedestal basin rather than a ceramic basin; and a hardwood vanity instead of a laminate or MDF vanity.
Each of these materials is more durable and lasts much longer than its modern counterpart.
We have detailed many Victorian bathroom ideas to help you create a Victorian-era bathroom. 
The five premium products discussed in the post can help you quickly create a Victorian bathroom style, bringing the classic beauty of this era into your home.
Discussed below are our top traditional bathroom suite recommendations.
---
5 Traditional Bathroom Suite Recommendations
1. Royal Shakespeare Traditional Bathroom Suite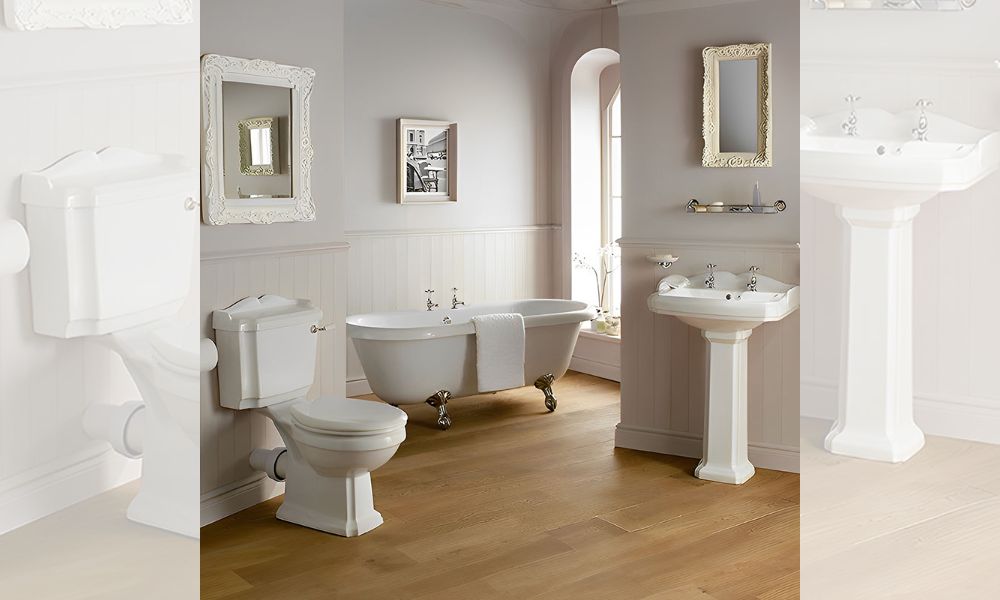 The stunning Royal Shakespeare Traditional Bathroom Suite is available in three options.
These three options enable you to create and style a Victorian bathroom to your taste and preference.
The first option includes two basic elements: A traditional ceramic basin and pedestal and a traditional close-coupled toilet pan, cistern, soft-closing seat, and ceramic flush lever.
This basic model (Price: £315) is ideal for any small bathroom.
The second option (Price: £353) includes a pair of traditional taps with plug and chain waste besides the two basic elements in the first option.
The third option (Price: £1,089) is a complete traditional bathroom suite that includes a double-ended roll top bath, retainer bath plug waste, and traditional bath shower mixer, in addition to a traditional basin, a traditional close-coupled toilet, and a pair of traditional tap. 
The combination of classic styling and unique design features of this traditional bathroom suite enables you to capture the essence of yesteryear. The traditional bath shower mixer tap and chrome-finished claw feet complete the traditional freestanding roll top bathtub.
The timeless bathroom accessories of this suite will deliver peace and tranquillity. With this complete suite that includes a shower handset, cradle, and hose, you can create an extraordinarily beautiful Victorian bathroom.
---
2. Juliet Traditional Bathroom Suite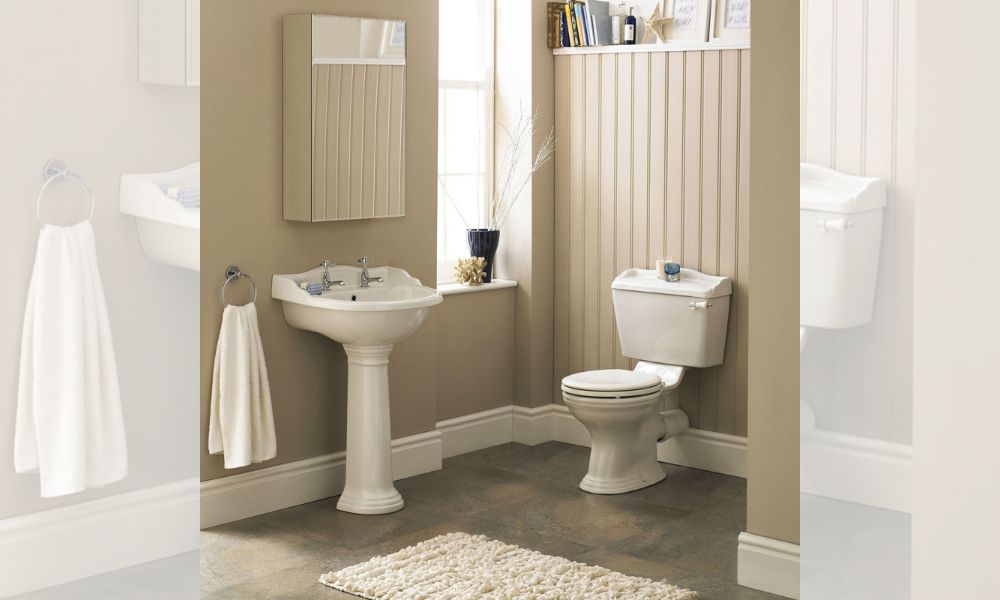 The Juliet Traditional Bathroom Suite is the most competitively priced traditional bathroom suite.
The Juliet suite is a basic package comprising only two essential bathroom accessories: the Juliet basin with pedestal and a close-coupled toilet with a porcelain flush lever.
Buying the Juliet suite package is much cheaper than buying the two bathroom fixtures separately. Also, you can be confident that the two fixtures match each other to perfection.
The basic version of this compact suite costs £245, and the price of the suite with tap and waste is £276. 
This suite is ideal for a guest bathroom as it offers every practical necessity you'll need in a bathroom. You can quickly incorporate this Victorian bathroom design in a small bathroom, as the installation is fast.
Both the traditional bathroom fixtures convey an authentic Victorian ambiance. In addition, the traditional-looking two tap system suits the vintage-style pedestal basin perfectly.
The installation and maintenance needs of the Juliet suite are minimal, driving down the overall cost. If budget is a consideration, then this suite is the most cost-effective and convenient option.
---
3. Old England Indigo Cloakroom Suite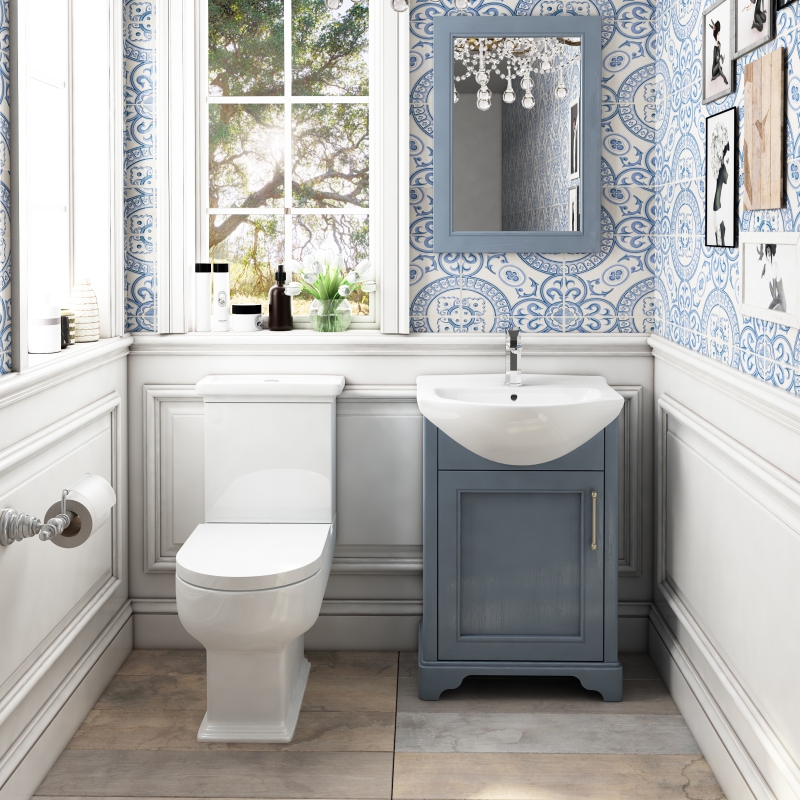 The Old England indigo Cloak room Set (Price: £657) is another basic traditional bathroom suite consisting of a timeless vanity unit and mirror.
The addition of this stylish traditional cloakroom suite can instantly bring Victorian sophistication to your bathroom. This suite comprises a solid oak unit with a basin and traditional wall mirror.
The indigo vanity unit is manufactured from different real wood materials, including Beech and Oak Sapele. Since the company sources sustainable wood materials worldwide, it enables them to select only the finest cuts for the production of vanity units.
The panels are chosen based on their open and closed grain attributes. These panels are then carefully crafted into various sections of the vanity unit, enhancing and complementing its texture.
Each unit is produced through this rigorous hand-made process. Hence, every unit is unique, with contrasting grains gracefully highlighting the beauty of natural wood. The hand-painted finish further emphasises the individual grain quality.
The rectangular traditional indigo bathroom mirror is a splendid, functional addition to this vanity unit. Featuring a straight-line design that complements the vanity unit, this wall mirror will add an elevated touch of sophistication to your bathroom.
With its simple design and clean lines, the mirror conveys an authentic Victorian décor style, giving your bathroom a decorative lift.
The ceramic luxury basin has one tap hole. The vanity unit also comes with a designer handle, soft-close door hinges, and solid oak legs. The unit itself is fully assembled and ready to install.
---
4. Chester Large Bathroom Suite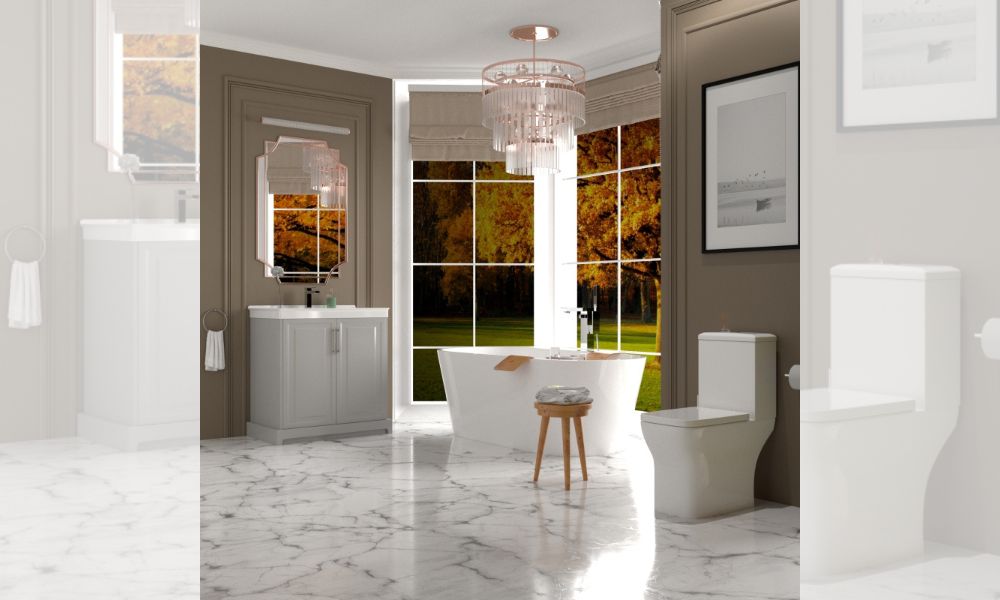 The Chester Large Bathroom Suite is ideal for a Victorian-style bathroom. 
The characteristic feature of this fully-guaranteed suite is it blends classic designs, traditional details, and gentle colours. A 1700mm freestanding bath, 800mm pearl grey vanity unit, and rimless toilet are the fixtures included in this suite package.
The vanity sits on a robust plinth, featuring a large traditional-style basin with a built-in splash back. The deep ceramic basin has one tap hole and overflow.
The double-door floorstanding vanity unit has generous storage space.
The panel designs on the unit's door fronts are safeguarded by a thermofoil layer in soothing pearl grey colour that complements the classic designer handles (available in gold-style brass or chrome finish).
The freestanding bath is manufactured from sturdy twin-skinned acrylic featuring simple, streamlined curves. The thin rims provide a spacious bathing area. Also, the superior heat retention and higher bath capacity (263 litres) ensure a rejuvenating bath. 
The short projection, ultra-hygienic rimless toilet is made from easy clean ceramic. A water-saving dual flush cistern and soft-close seat are the main features of this close-coupled toilet.
You also have the option to complete your purchase by selecting from an assortment of suitable accessories such as taps, wastes, and bottle traps.
The price of this premium suite package is £1,533 for the model with gold-style brass handles and bath and basin taps and £1,351 for the model with chrome-finish handles and bath and basin taps.
---
5. Chester Traditional Bathroom Suite
The Chester Traditional Bathroom Suite includes a Victorian-style vanity unit, an extra strong freestanding bath, and an easy-clean rimless toilet.
The 600mm vanity unit sits on a sturdy, decorative plinth, featuring a deep ceramic sink with built-in splashback. The unit's double doors are finished in warm cashmere colour and foil-wrapped for superior protection.
The classic freestanding bath is made from twin-skinned acrylic, ensuring durability and heat retention. Also, the ultra-slim 30mm rims give more bathing space. 
The short projection close-coupled toilet features a water-saving dual flush (3 and 6 litres) cistern and a soft-close seat. This timeless classic accessory also features a high-quality ceramic cistern and rimless pan.
The semi-open back style of the toilet enables you to fit the soil pipe either straight, right hand or left hand, depending on the layout of your bathroom.
You can also add suitable accessories and extras such as taps, wastes, and bottle trap to your order.
The price of this premium suite package is £1,451 for the model with gold-style brass handles and gold-finished taps and £1,280 for the model with chrome-finished handles and chrome-finished basin taps.
---
In Summary
We are sure this detailed blog post has been an educative trip through the characteristic elements of a Victorian-style bathroom.
You can also browse through our collection of traditional freestanding baths and traditional toilets and pick the fixtures that match your bathroom aesthetic. 
Take care to choose fixtures that match each other to perfection. You can then use these fixtures to create and personalise your own Victorian-style bathroom.
Remember, a Victorian-style bathroom need not be old-fashioned.
Bathroom City offers a range of Victorian-style products that can stimulate your imagination. Our friendly team can present you with innovative Victorian-style bathroom ideas that will help you design your own Victorian bathroom.
Contact us online or over the telephone. We look forward to your call or email!
---
Other related articles you might also like to read: