Buyers Guide to Bathroom Heating
Bathroom heaters are practical, affordable, easy-to-use and indispensable accessories that you can rely on during the winter. In this guide, we hope to answer some of the most important questions related to Bathroom Heating.
Jump to any section of the guide by clicking on the appropriate link:
---
Why is Bathroom Heating Important?
Warmth is the most essential aspect of comfort, especially when it comes to your bathroom. A cold and damp bathroom not only feels uncomfortable, but it's also a natural breeding ground for dangerous pathogens and mould. The last thing you want in the morning is to step into this unhealthy environment that can make your showering experience an unpleasant one and downright dangerous as well. This is where bathroom heating plays a vital role.
---
What are the Different Bathroom Heating Solutions?
Consider the specific area of your bathroom that you want to be heated. For instance, if your bathroom floor is frozen during the winter months, you can buy a heating solution that will address this problem. The three main types of bathroom heating solutions are Radiators, Heated Towel Rails and Underfloor Heating.
Radiators are the most expensive heating solutions. However, their performance is worth the cost. A radiator is a set of electric bars installed on your bathroom wall. The heat is distributed uniformly throughout the bathroom and guarantees a warm and comfortable environment.
 
Heated Towel Rails and Towel Radiators are stylish and effective. They keep your towels warm, fluffy and dry. If having a warm towel ready as soon as you step out of the bath is important to you, then you'll love an electric towel rail. Although a heated towel rail may not be the best option for a large family bathroom, it provides sufficient heat to warm a small-sized bathroom or even a medium-sized one.
 
Underfloor Heating is also expensive like radiators. The great benefit of underfloor heating is that you can heat the bathroom floor to your preferred temperature. No inch of the bathroom will be left cold. When renovating your bathroom or building a new one, it is the perfect time to make use of this luxury. The reason for this is it requires the floor to be stripped, so it will be easier to do it with the whole bathroom.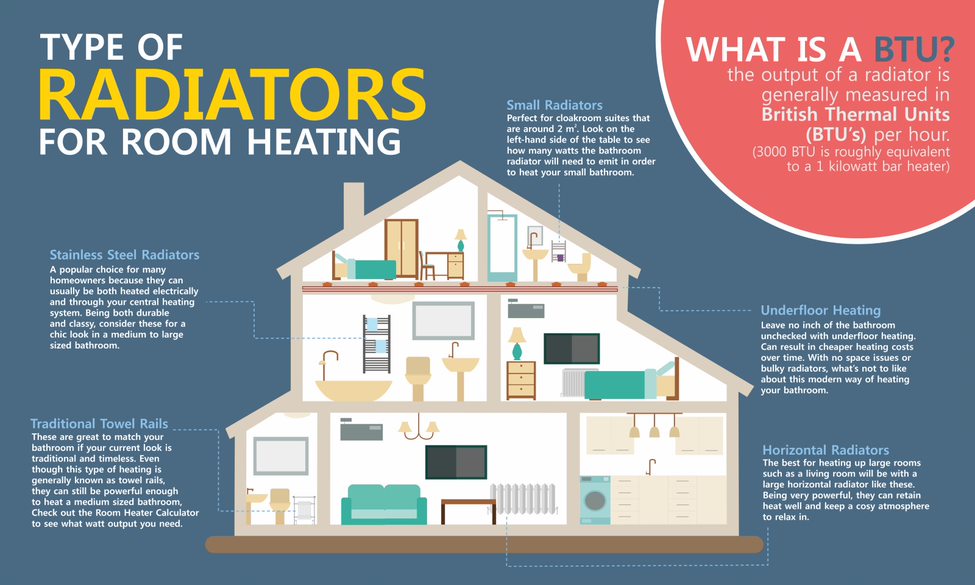 ---
Manual Versus Thermostatic Heating
Manual Heating: Think of a heater with a manual valve as a water tap. You control the temperature of the bathroom by turning the valve on or off. The main drawback of manual heating is you have to keep an eye on the temperature inside the bathroom yourself – it can get too hot or too cold if you are not careful. Manual heating is suitable for a bathroom that's not used frequently or in places where the temperature does not drop too much during winter.
Thermostatic Heating: A Thermostatic Radiator Valve (TRV) has a built-in temperature sensor to maintain the temperature inside the bathroom at a constant level. Thermostatic heating is the right choice for a busy bathroom or in places where the temperature drops significantly during winter.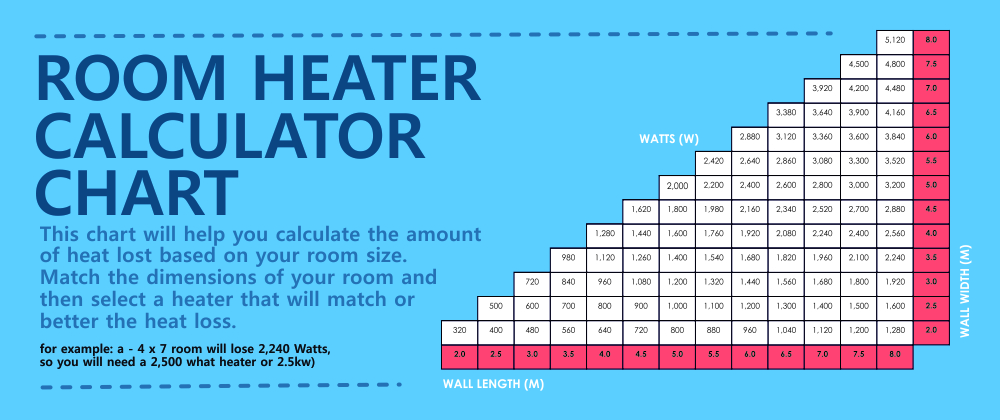 ---
Installation Costs of Bathroom Heating Solutions
Installation of underfloor heating takes a lot of time and effort compared to other heating solutions. The different factors that affect the installation costs of an underfloor heating system include:
The type of underfloor heating
The condition of the bathroom – remodelling or new
The type of floor cover
Contractor costs range between £200 and £300 per day, depending on the duration of the installation project. You will also need to factor in the cost of the materials and the tradesman charge.
The installation charges for towel radiators, towel warmers, electric towel rails and heated towel rails are minimal as they are easy to install.
---
Running Costs of Bathroom Heating Solutions
Accurate information on the running costs of a bathroom heater is difficult to calculate because you need to consider so many variables – the duration for which the heater will be on every day, the prevailing weather conditions, the precise electricity tariff, the thermostat setting, and several others.
You can rest assured that electric radiators and electric towel rails have low running costs compared to gas heaters. The latest advancements in the electric heating industry have resulted in a marked improvement in product development. Bathroom heating solutions with sophisticated thermostatic control and timers present advanced levels of control as well as economy.
---
How much space do you need for your bathroom radiator?
The size and dimensions of your walls are going to affect the radiator you can buy. For instance, if you have narrow walls, a wide radiator is never going to fit. Small narrow walls are best suited for Heated Towel Rails or Horizontal Radiators.
With a large spacious bathroom, you have a lot more options available. You can opt for more diverse, larger designer radiators, because your walls are likely going to have space for them.
---
Bathroom City's top radiator recommendations: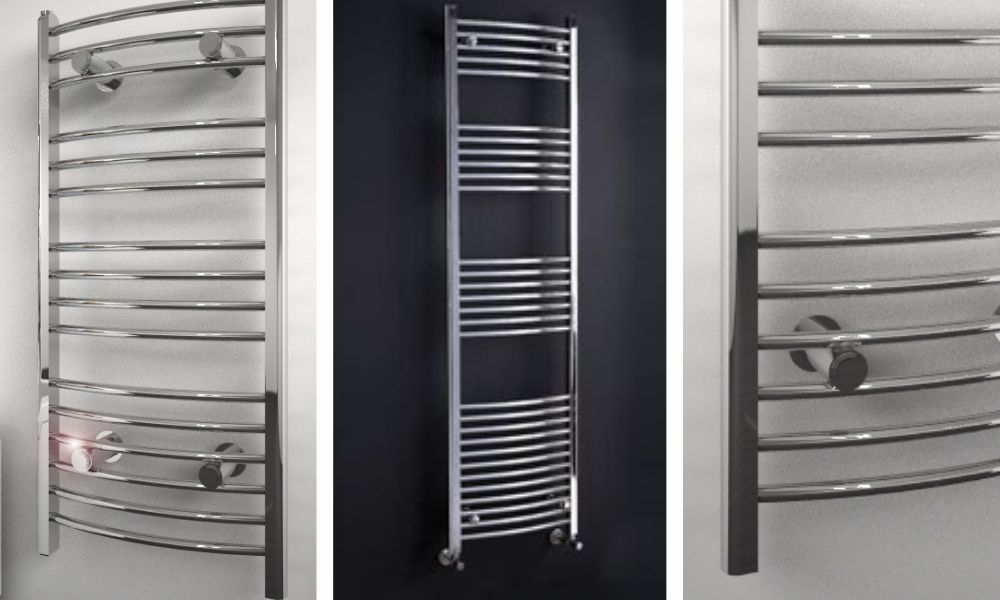 The Diva Curved Design Radiator is one of our best sellers. It comes in three different sizes! This radiator is one of the more flexible options because each size has the power to heat different sized bathrooms. With its minimalistic modern design, it is hard to go wrong with the Diva Curved Designer Rail. 
Material: Mild Steel
Heat output: 363 Watts
Heating Style: Central Heating
Room: Small to Large Bathroom (available in three sizes)
Size: 800 x 500, 1200 x 500, 1800 x 500 (mm)
Price: £59
Manufacturer Guarantee: 1 Year
Sophia Designer Radiator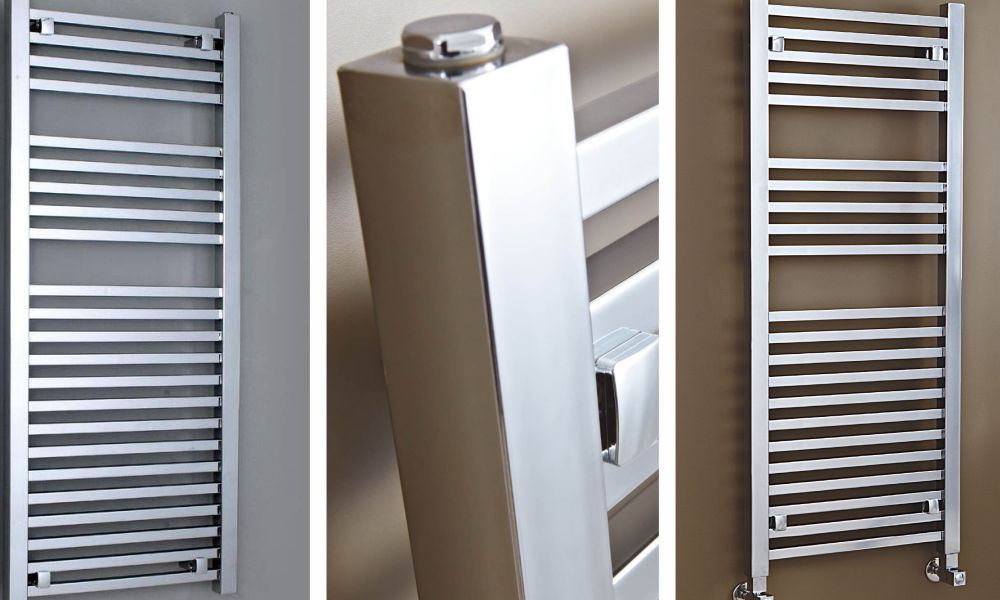 The Sophia Designer Radiator is a trendy choice for those looking for quality affordable options. You can easily heat a cloakroom bathroom to a medium-sized bathroom with this. Can also be electrically powered. Feel free to also browse the Electrically Heated version.
Material: Mild Steel
Heat Output: 642 Watts
Heating Style: Central Heating and Electric
Room: Small to Large Bathroom
Size: 800 x 500, 1200 x 500, 1800 x 500 (mm)
Price: £156
Manufacturer Guarantee: 1 Year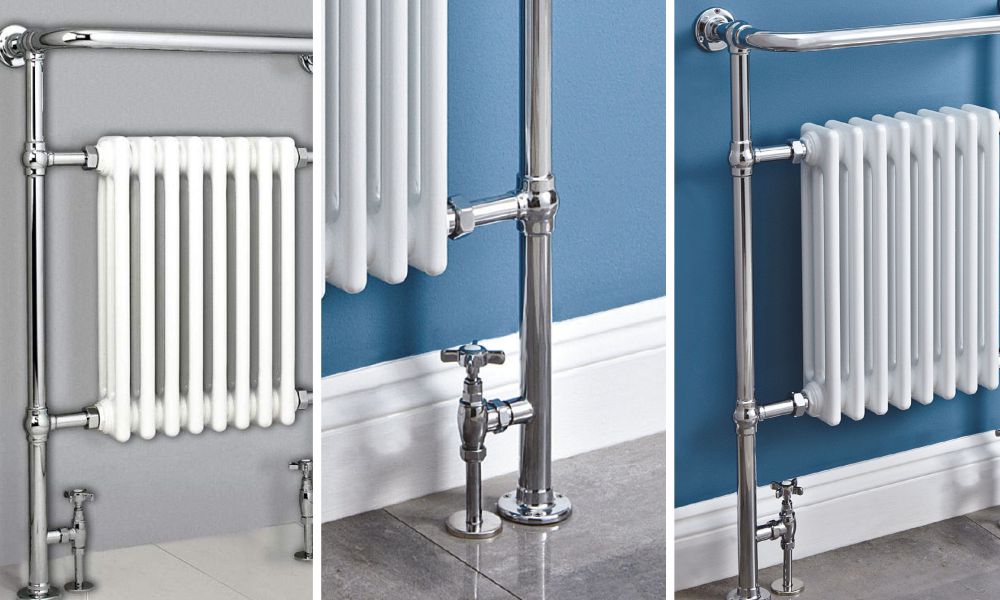 The York Designer Radiator is an outstanding radiator in function and aesthetics. With its traditional appearance, it could be the perfect choice of heating and for creating a period effect in your bathroom. Another benefit is that this radiator can be heated through both central and electrical heating. These types of radiators were popular in the early 20th century but weren't as aesthetically pleasing. In recent years, better versions have become available in the UK market.
Material: Mild Steel with a chrome finish
Heat output: 628 Watts
Heating Style: Central Heating and Electric
Room: Medium to Large Bathroom
Size: 952 x 659 (mm)
Price: £228
Manufacturer Guarantee: 1 Year
Adore Radiator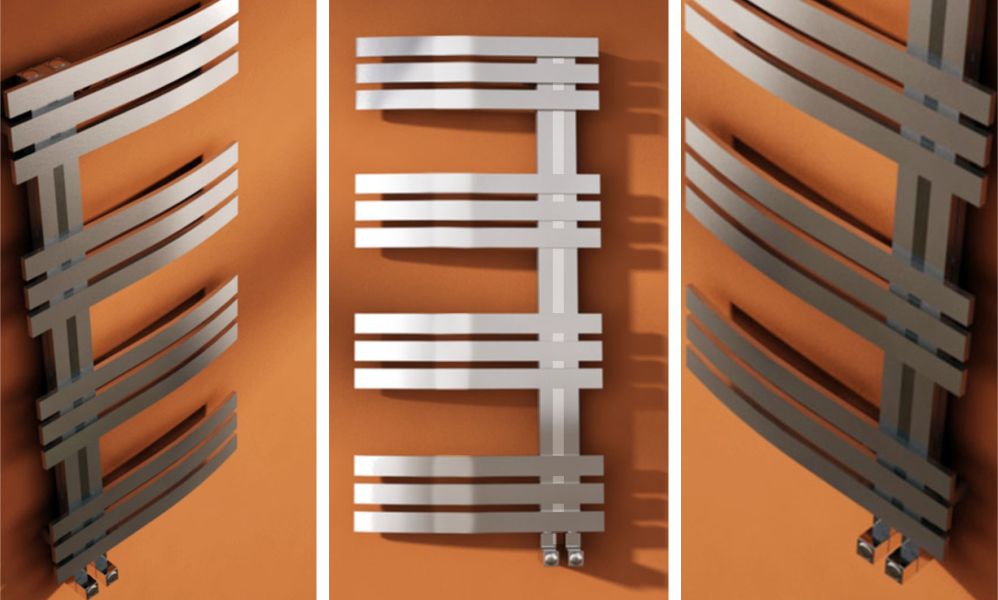 Made from stainless steel, the Adore Radiator is one of our premium-quality radiators. This radiator is extra rustproof and helps to retain heat better. The quirky design makes it appealing and you also get an unbeatable 20-year manufacturers guarantee. This sustainability could make it a worthy investment. 
Material: Stainless Steel
Heat output: 445 Watts
Heating Style: Central Heating and Electric
Room: Medium-Sized Bathrooms
Size: 1000 x 500 (mm)
Price: £575
Manufacturer Guarantee: 20 Years
Carla Grey Radiator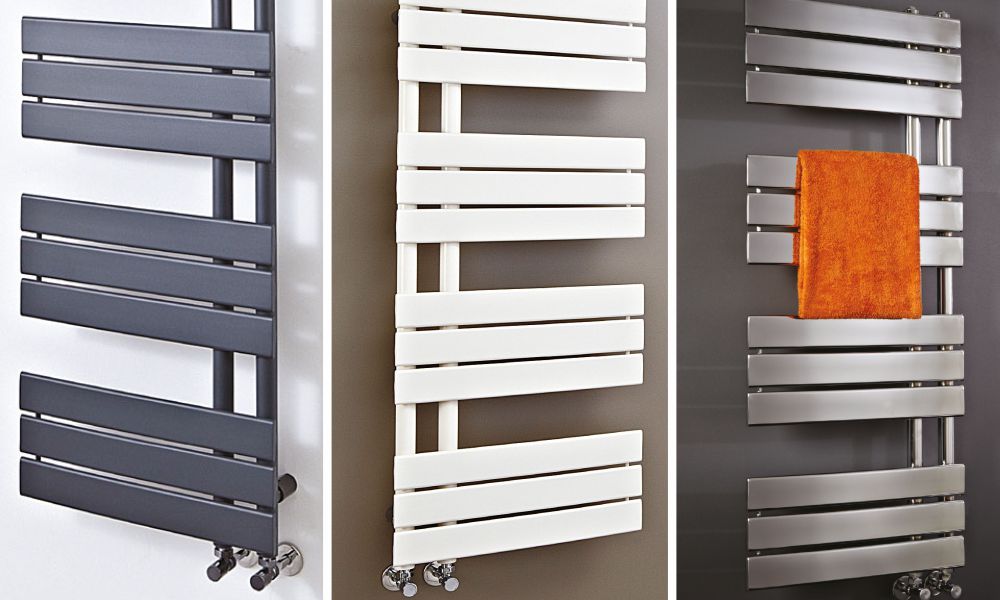 Small in size but large in power, the Carla Grey Radiator is a quality option that is very space-saving. Many would just consider this a towel rail but it is capable of heating a medium to a large-sized bathroom. This radiator is also dual-powered, meaning it can be heated both electrically and through central heating. Take a look at the electrically powered option.
Material: Stainless Steel
Heat output: 717
Heating Style: Central Heating and Electric
Room: Medium to Large Bathrooms
Size: 800 x 500 (mm)
Price: £132
Manufacturer Guarantee: 5 Years
Thame Curved Polished Prefilled Radiator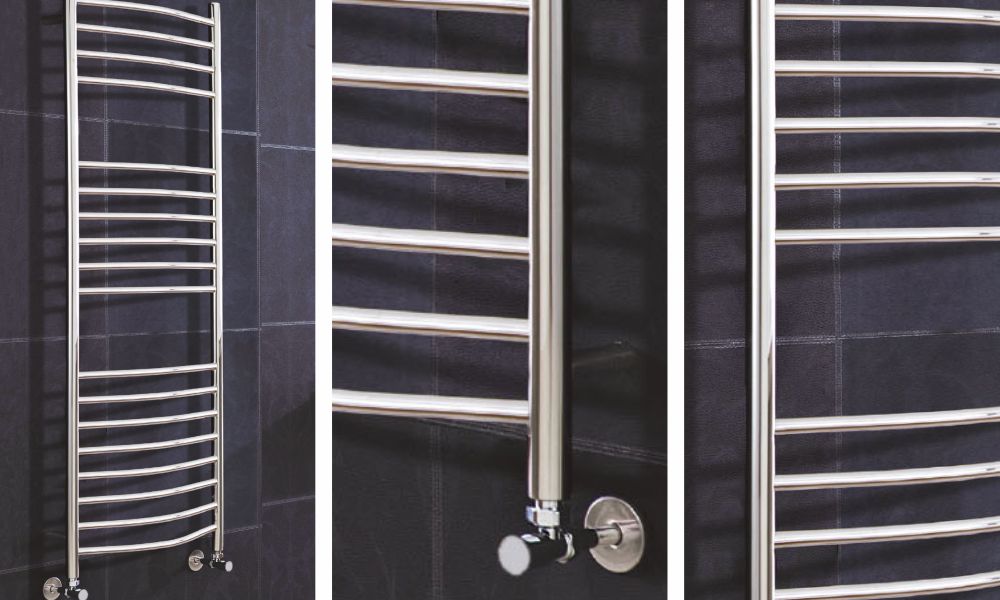 The Thame Curved Radiator has a beautiful curved design which is wonderful for bringing a luxurious vibe to your bathroom. It is only electrically powered and comes with a prefilled element for installation. Consider this radiator for any contemporary or modern bathroom suite. 
Material: Stainless Steel
Heat output: 150 Watts, 300 Watts, 600 Watts
Heating Style: Electric
Room: Small to Large Bathroom
Size:  800 x 500, 1200 x 500, 1500 x 500 (mm)
Price: £269
Manufacturer Guarantee: 1 Year
---
Shop Bathroom Radiators
At Bathroom City, we stock an assortment of bathroom heaters. The most popular heating solutions in our store are heated towel rails, curved radiators, chrome radiators, under floorboard heating systems and tall radiators. Visit our store and speak to one of our knowledgeable team members who can provide you with valuable guidance and help you pick the perfect bathroom radiator.
---
Other related articles that you might also like: