11 Easy Bathroom Safety Tips to Keep Seniors Safe
Bathroom safety is of utmost concern for seniors. General frailty, weakness, balance problems, and cognitive issues such as Alzheimer's and Parkinson's can make even a routine visit to the bathroom difficult and risky. It's true that sometimes using the toilet might be challenging for the elderly. But it's also important that dignity and independence are preserved as much as possible.
Slip and fall accidents in the bathroom can cause serious injury. The risk of slipping in a bathroom is high because there is so much water. Other than using the toilet, getting in and out of the bathtub can also be highly risky for the elderly.
People with medical issues and seniors are at a higher risk of slipping and falling. Although most falls are uneventful, some can result in fractures or serious injuries. It's a fact that millions of elders suffer a fall every year.
Navigate to any section of this post by clicking on the links above.
---
Types of Bathroom Hazards: Different Unforeseen Hazards in the Bathroom
There are several hazards in a bathroom for the elderly. With so much plumbing, humidity, and water vapour inside, a bathroom is replete with unexpected hazards.
The most dangerous one is water that's too hot. If the temperature setting in the water heater is set too high, it can result in burns and scalding. Seniors, by default, have a slower reaction time when they encounter too-hot water.
According to the HSE Information Sheet, if the temperature of water used for bathing or showering is above 44°C (111.2°F), the risk of serious injury or even fatality is increased manifold. Take care to set the thermostat to a safe level. You can save on energy costs, as well.
Another hazard is the slimy build-up of soap scum in the bathtub, which can be as dangerous as too-hot water. This build-up is not always evident, but it can make bathing itself hazardous and getting in and out of the bathtub more so. The only way to avoid unintentional injuries is by keeping the bathtub clean.
As far as improving the safety in a bathroom for the elderly goes, it's never too soon to take the right steps. And it's the least you can do for an ageing loved one. Detailed below are 11 easy bathroom safety tips to keep seniors safe.
---
1: Install an Elevated Toilet Seat
An elevated toilet seat is an essential elderly care product. There's an expensive alternative, of course. You'll need to replace the toilet with a taller model. But that can be a major renovation project with a high price tag. Adding an elevated toilet seat to the existing toilet is easy and economical. The installation is fast and secure, too.
There are two key advantages of an elevated toilet seat. The first one is that sitting at a raised height on the toilet is comfortable, as it reduces the effort needed to come to a standing position. Also, the distance from a sitting to a standing position is reduced significantly, as the legs of the user are a lot straighter and flat on the ground. With so many options available, it's easy to choose the right elevated toilet seat that can transform the whole bathroom experience for your loved one.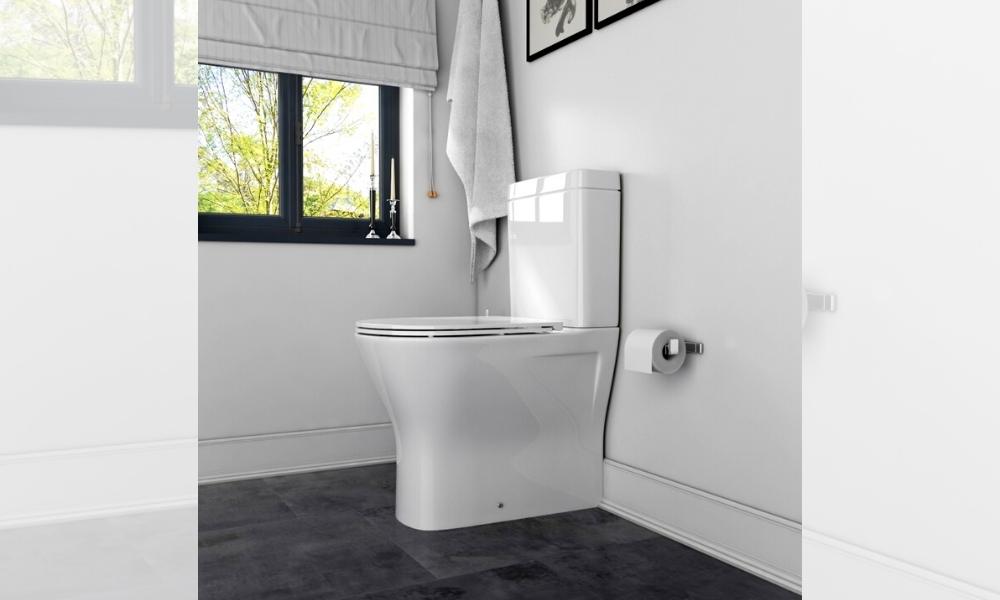 ---
2: Install a Walk-in Shower
A walk-in shower is not only easily accessible but also easy to clean. It's an excellent bathroom safety design for seniors. And the minimalist contemporary design of a walk-in shower creates the illusion of more space.
Getting in and out of a bathtub can be difficult for seniors. Sure, there are bathtub aids for the elderly that make this process a lot easier. But a shower is the only option for a frail senior. Unlike a shower enclosure or bathtub, a walk-in shower doesn't involve stepping over or walking around. Hence, it's the perfect solution for elders with mobility issues.
A walk-in shower is versatile, as you can install it in a bathroom of any size. You can also personalise it to suit your actual space. Installing a walk-in shower for the elderly in an irregular-shaped bathroom isn't difficult either.
---
3: Keep Essential Items Within Easy Reach
Make the accessibility of essential items a priority. The most effective way to do this is to clear out clutter and keep necessities accessible. Ensure your loved one is able to reach the items they need effortlessly and put them back in their place without having to bend or stretch. If the existing bathroom furniture is inaccessible, consider buying an affordable storage alternative online.
Accessibility is of prime importance when bathing. People have a habit of keeping soap, shampoo, conditioner, and other bathroom essentials along the edge of the bathtub or shower. This way of placing items poses a fall risk for seniors each time they enter and exit the bathtub or shower. And when they bend down to reach these items, the chances of slipping are high.
You can put an end to this vexing issue by purchasing a wall-hung shower caddy or even dispensers to keep these items. With either of these options, you can clear the clutter and ensure the products are easily accessible.
---
4: Ensure Lighting Is Adequate
In an ideal world, it's better if more natural light enters the bathroom. But with bathrooms getting smaller these days, it doesn't work that way all the time. An overly bright lighting setup that dazzles or blinds seniors will not improve bathroom safety. So this is a definite no-no. Instead, the light needs to be adequately bright so that your loved one can clearly see what they are doing.
Overhead lighting isn't the right way to illuminate a bathroom either. Seniors would find it highly inconvenient, as the light casts shadows. Also, this setup will not light up all spaces uniformly. For instance, the space behind shower curtains and under cabinets will remain in shadows perpetually.
So the best way to illuminate a bathroom uniformly is to incorporate multiple bright white lights. Install a separate light over the washbasin and one close to the shower.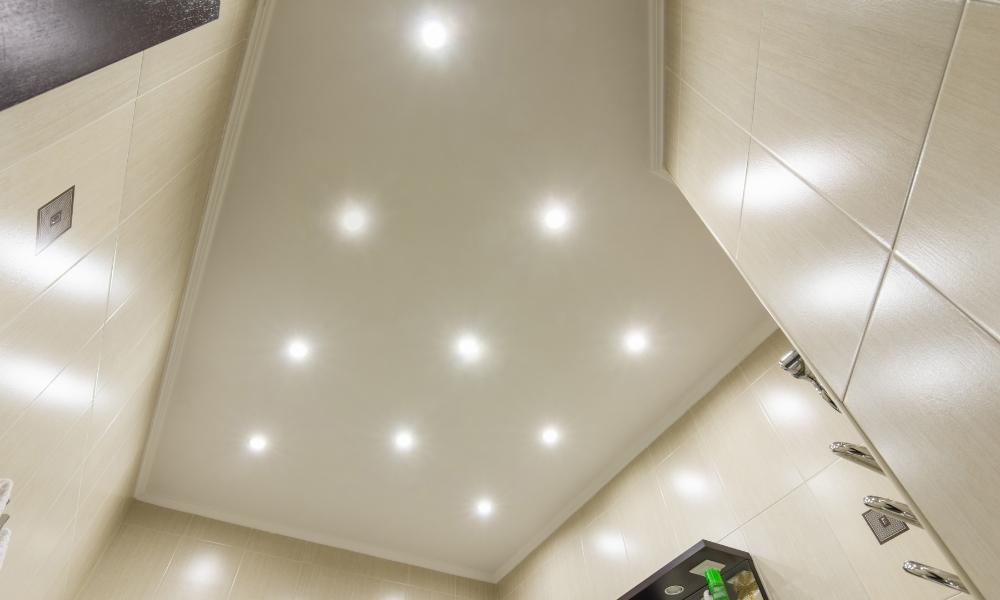 ---
5: Hand-Held Shower Head
A hand-held shower head is handy as it offers better control. This accessory is especially helpful for the elderly and their care takers. A hand-held unit is attached to the shower wall via a lengthy hose. With this detachable unit, it's easy to direct the spray of water to the desired areas. It's also possible to conserve water and energy and yet retain the water pressure.
The main advantage of a hand-held shower head is it allows seniors to clean effectively while staying seated. Not only do they retain their independence, but they can also shower without assistance. The added flexibility of this unit makes the work of caregivers easy too. They can bathe seniors in their care by directing water to the right areas.
---
6: Ergonomic Taps
Instead of the normal spherical knobs, install taps with an easy-to-operate lever. Seniors will find taps with levers more convenient than taps with spherical, twistable knobs.
Taps with sensors are also highly recommended. These taps are activated by a simple swipe of the hand, and water gushes out at an optimised pressure. A bathroom for the elderly is incomplete without sensory taps. These taps have a tiny in-built infrared light mounted close to an infrared detector. Hand movement alerts the detector, which in turn opens the valve. Water comes out through the nozzle of the tap, and the water flow stops automatically when the hand is withdrawn. The key advantage of a sensory tap is it eliminates the need to physically turn it on/off.
---
7: Weighted Shower Curtain
A weighted shower curtain has a unique design. The weighted hem at the bottom reduces or even prevents water droplets from splashing onto dry areas in the bathroom. This functionality is especially useful to seniors, as it will decrease the risk of falling considerably.
A premium weighted shower curtain features heavy-duty magnets along the bottom edge. The key advantage of this curtain is it won't creep upwards during use. Another advantage is the extra weight of the material will prevent cold air from outside entering the showering area.
When buying a weighted shower curtain, opt for one that's mildew, mould, and stain resistant. Also, a shower curtain made of a natural material such as linen, hemp, polyester, or cotton is better than one made of PVC.
---
8: Install Shower Safety Handles and Grab Bars
In a bathroom for the elderly, shower safety handles and grab bars provide added safety and convenience. If you position them strategically, they can act as effective bathroom aids for the elderly. Grab bars close to the bathtub or shower can provide extra security to navigate safely inside the bathroom.
Positioning safety handles and grab bars correctly is extremely important. A solidly anchored shower safety handle would be useless if you fail to position it in the right place. It's wise to allow your loved one to determine the best location for safety handles and grab bars.
---
9: Use a Shower Chair or Shower/Tub Transfer Bench
A shower chair, also known as a bath chair or shower seat, is a lightweight and durable accessory. With this handy accessory, your loved one can shower independently, without any assistance. The main benefit of using a shower chair is it makes a senior feel safer and more capable, encouraging them to take an active role in their personal hygiene.
A shower/tub transfer bench will help your loved one to get in and out of the shower or bathtub safely. It also gives them a comfortable seat to use while showering or bathing. A transfer bench makes bathing easier. Before you purchase a transfer bench, look closely at its adjustability, seating, and size and weight capacity.
---
10: Place Non-Slip Mats in the Bathroom
A non-slip shower mat laid down in the showering area will help seniors take their daily showers without fear of falling. Non-slip mats are actually a thoughtful addition not just for seniors but for all age groups as well.
A non-slip mat isn't simply a safety accessory. It can also add a fashionable touch to your bathroom. The key features of non-slip mats are they aren't very expensive, and they add an amazing finish to your bathroom.
---
11: Better Flooring Alternatives
Cork flooring is an excellent flooring alternative in a bathroom for the elderly. With proper maintenance, it can last for two to three decades. The resilient sponge-like structure of cork tiles provides good traction underfoot. This floor also reduces the impact of a fall, safeguarding seniors from serious bruises following a fall. Cork flooring normally comes with a strong sealant. The only downside to cork flooring is it needs a new coat of sealant every year, which can be rather expensive.
Rubber flooring is another great flooring alternative in a bathroom for the elderly. You can opt for rubber flooring confidently as it offers adequate cushioning. Thanks to its high friction coefficient, rubber flooring reduces the chances of a fall, thereby ensuring the safety of your loved one. The main advantage of rubber flooring is it isn't slippery even when wet. The other thing is since rubber readily absorbs shock, it prevents serious injury in the event of a fall.
---
Shop Bathroom Accessories
At Bathroom City, we present you with numerous practical solutions that would suit a bathroom for the elderly to perfection. You'll find the best quality bathroom furniture that will enable you to keep essential items within easy reach. And regardless of the functional complement you're looking to add to your bathroom, you're sure to find it.
---
Other related articles that you might also like to read: