15 Bathroom Safety Tips For Young Children
Safety: It is very important to ensure that all parts of a bathroom are safe before allowing children to enter them. This includes doors, windows, taps, showers, cabinets and toilet flushes.
A majority of homes do not have a specially designed bathroom for children. However, there are a number of bathrooms that have been adapted to meet the requirements of children. Infant care is often done in bathrooms. So, it's possible to adapt bathrooms to meet infant care requirements.
A counter at one end of the bathroom can facilitate bathing, and a cabinet under the counter can be used to store baby lotions and other supplies. Special containers can be placed nearby to store soiled diapers. You can also keep clean diapers nearby.
Bathrooms are also popular with small children as temporary play areas. As a result, medicines and other objects that can be harmful should be kept out of reach. Children's bathrooms should also be designed so that they can be cleaned easily.
It's possible to decorate a children's bathroom with bright, colourful tiles, towels and curtains that appeal to children. The floor and bath tiles in the room can also be chosen to suit their interests.
---
15 Safety Tips for Keeping Children Safe in Bathrooms:
Bathroom doors need to be able to be opened in an emergency from the outside.
If your children are too young, make the bathroom unavailable to them. Install a hook-and-eye lock high on the bathroom door so that they cannot reach it.
Add a night light for the safety of children as they may accidently hurt themselves by walking into a Basin or topple over a laundry basket or something else.
Children find single-handle taps easiest to operate. Hence, you need to consider the future needs of your family when buying bathroom taps.
Always check tap handles before letting anyone touch them. Ensure that they are secure and won't come off accidentally.
Do not allow children to put things down onto slippery surfaces.
Keep children out of areas where cleaning products or medicines are stored to prevent the children from consuming them. And to be doubly safe, keep cleaning products and medicines locked up in vanity units.
Never leave small children alone in a bathroom. It's so easy to overestimate our children's understanding of their surroundings. You never know when they get overly curious and decide to explore the world around them. They might even try to imitate your actions in the bathroom – for instance, think of electrical gadgets – without really understanding the resulting consequences.
Never leave toddlers unattended near running taps, even if they appear "harmless".
Avoid putting electrical sockets too close to tubs/baths/vanities – they pose a fire hazard.
Check that taps don't leak – especially if they're near walls or ceilings, and fix leaks promptly.
Install grab bars along the wall next to toilet/shower units. These must be strong enough to support someone using one hand. There should be no gaps between them and the wall.
Children enjoy splashing around in a bathtub. Stray splashes can land on the floor and cause accidental slips. So keep the bathroom floor dry by mopping puddles of water on the floor after bathing your child.
Keep sharp objects such as scissors, razors and tweezers out of children's reach. Remember, children can climb over the bathtub or toilet and reach unsafe objects.
Bathrooms on ground level can serve as a "mud room" if there's an outside entrance.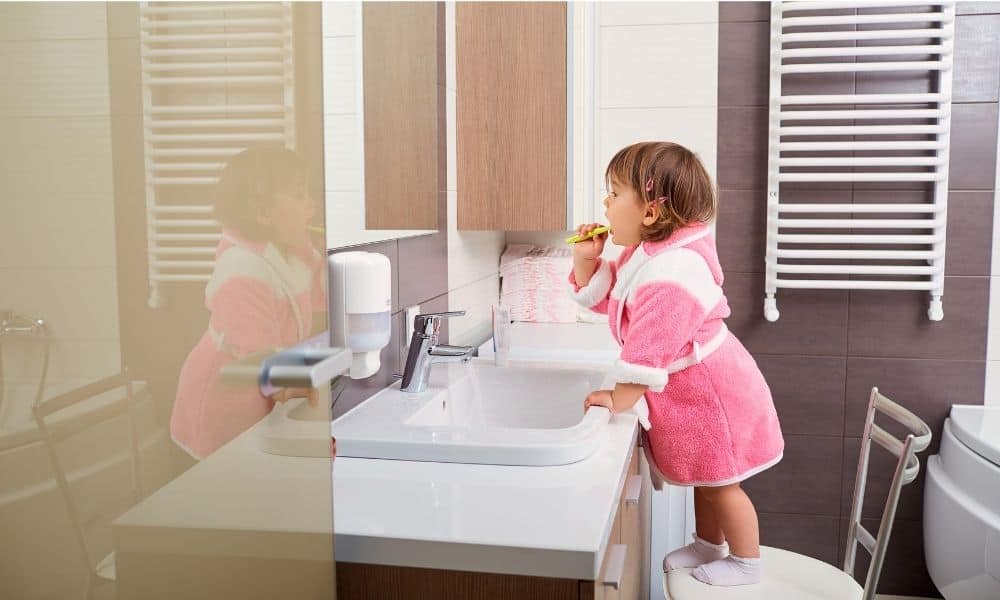 ---
If our advice and tips on How to Child-Proof your Bathroom resonated with you, you may find our article on Child-Friendly Bathroom Design Ideas helpful, when planning a Brand New Bathroom or renovating an Old One. 
---
Looking To Shop For Bathrooms?
Bathroom City is one of UK's oldest online Bathroom Specialist. We offer all kinds of Bathroom Furniture, Toilets, Showers, Accessories, and more. Feel free to check our online Bathroom Store or Browse around for some Bathroom Inspiration, Tips and Advice.  
---
Other Articles That You May Enjoy Reading