Everything You Need to Know About Carronite Baths
What Is a Carronite Bath? 
A Carronite Bath is constructed from acrylic. Carronite™ is a trademark of Carron Bathrooms and was originally designed to provide a higher level of comfort, extravagance, and peace of mind for the company's UK customers. Today, they supply their sturdy baths all over UK, through select retail partners.

The material used in Carronite Baths is not only warm and durable, but it also retains its brand-new-bath look and finish for longer than other bath materials. The main secret to the long life of a Carronite bath lies in its special, patented external coating. This Carronite™ material safeguards the bath from the demands of daily use. This material also gives the bath the renowned rigidity that is commonly associated with cast iron baths. 
Carronite Baths come in different shapes including rectangular, freestanding, showerbaths, and corner baths, making them suitable for different sizes and shapes of Bathrooms.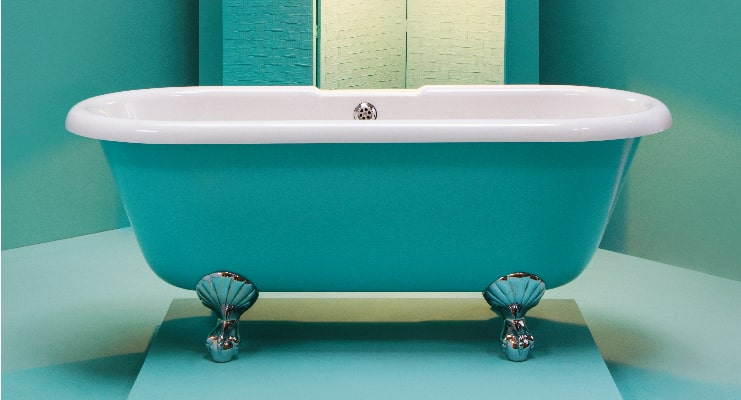 ---
Are Carronite Baths Worth It? 
Yes, certainly. Let us consider the material of the other bath options. The first material that comes to mind is cast iron because it is strong. But it is too heavy and can be freezing in winter. Fibreglass is another option. Although it isn't heavy, it becomes dull pretty quickly. Porcelain enamelled steel is yet another option. This material is warm to the touch. But the main drawback of porcelain enamelled steel is it is liable to crack. 
A dense, insulating layer of Carronite keeps the water in a Carronite bath warmer for a longer time. The other thing is although this material is as strong as cast iron, you can clean this bath easily. And it has a longer-lasting finish. The unique cradle system of this bath prevents movement when you install the bath. Some models of Carronite baths are shower screen compatible, presenting you with the added flexibility that suits both bathing and showering needs. 
Another helpful feature is the 30-year manufacturer's warranty you get when you buy a Carronite bath. You don't need to worry about replacing your bath for decades. Carronite baths simply reflect elegance and efficiency.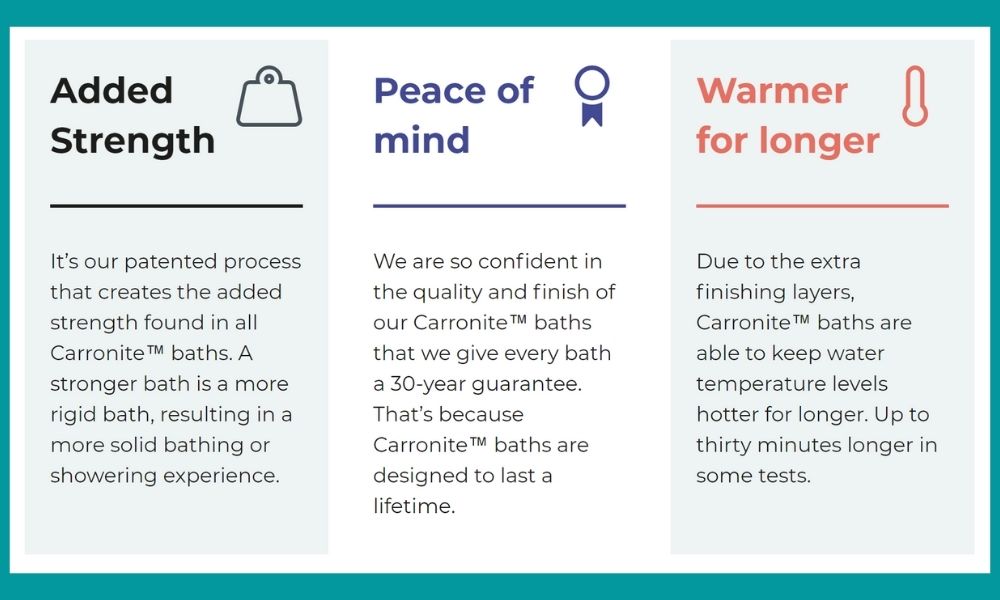 ---
Where Can You Buy a Carronite Bath in the UK? 
In the UK, you can buy a Carronite bath at Bathroom City. You can pick from an assortment of Carronite baths – classic or contemporary, long or short and fitted or freestanding. The basic model costs £242, and the price of a premium model ranges from £916 to £1,788.  
The Sigma Carronite Bath, a simple yet elegant design, is available with several additional options. Based on your bathing needs, you can opt for chrome twin grips, headrest or bespoke whirlpool, or a combination of these features. 
The Zone Shower Bath, an innovative Carronite-reinforced design, has a stylish circular standing area. The wide waste drains the water quickly and is ideal for showering. You'll simply love the sleek design of this bath, as it's perfect for showering. This bath also comes with an optional headrest.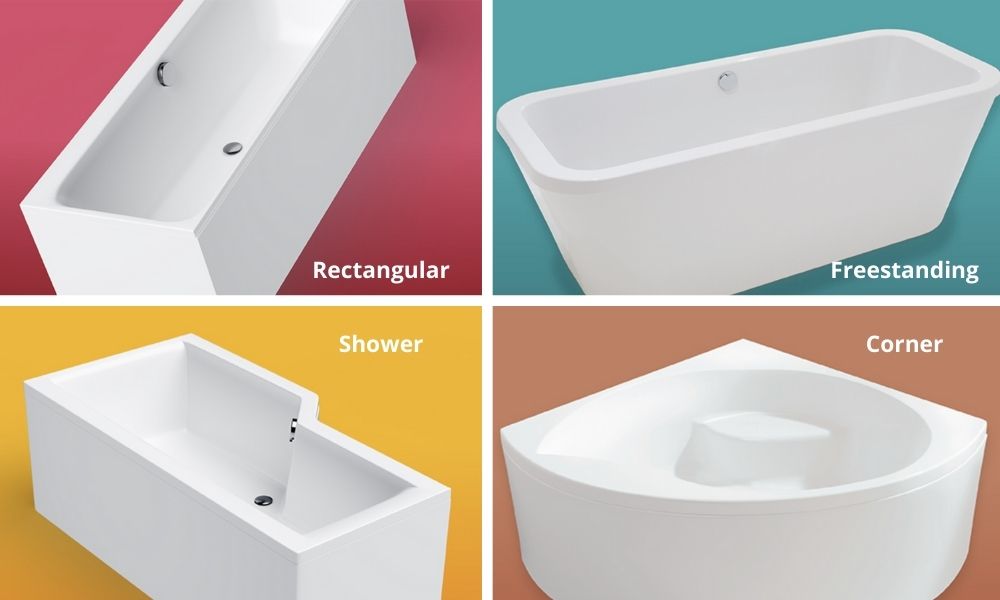 ---
What Are Some Alternatives to Carronite Baths? 
The best alternative to Carronite baths is the Carron5 Bath that has a 5 mm thick reinforcement compared to the 10 mm thick reinforcement of the Carronite baths. Although this reinforcement is just about half as thick, the bath still maintains the high quality of a Carronite bath. It's so good that as soon as you see the Carron5 bath come out of the factory wrapping, you'll know it's going to last for ages. 
The Carron5 bath retains heat well, too, and you will stay warm in your bath for longer. The stunning quality, shape of the bath and the durability from the manufacturers are the key features. You receive only a 20-year warranty with a Carron5, though – not a 30-year warranty you get for a Carronite bath. But you get this kind of warranty only because the product is meant to last. 
---
Shop Carronite Baths 
Bathroom City has a select range of Carronite baths from Sigma Carronite Bath to Axis Carronite Reinforced Bath and from Zone Shower Bath to Swing 1575 Small Carronite Bath. We have a wide selection of Baths and you're sure to find something suitable for your bathroom.

You may also like to read: Different Types of Baths or What Factors to Consider When Buying a Bath?