Top 5 Baths on a Budget
Finding the perfect bathtub is never easy, especially if affordability is a limitation. When you are looking to buy a bathtub on a budget, you'll also need to consider if you can complete the installation with minimal professional help. Giving due consideration to these factors, we chose the top 5 baths on a budget. The main advantages of these bathtubs are they are feature-rich, easy to install and above all else, light on your pocket.
Navigate to any section of this post by clicking on the links above.
---
1. Kent Straight Bath | £125
For a contemporary family bathroom with generous bathing space, the Kent 1700 Straight Bath made of hard-wearing acrylic is the perfect fit. Acrylic is a versatile and high-quality material that delivers optimal performance.
The reinforced encapsulated baseboard will last for years on end. That's the reason you get a 10-year guarantee for this bathtub. Durability, affordability and easy maintenance are the top features of this pleasant and fine-looking bath. And thanks to its light weight, the installation process is simple.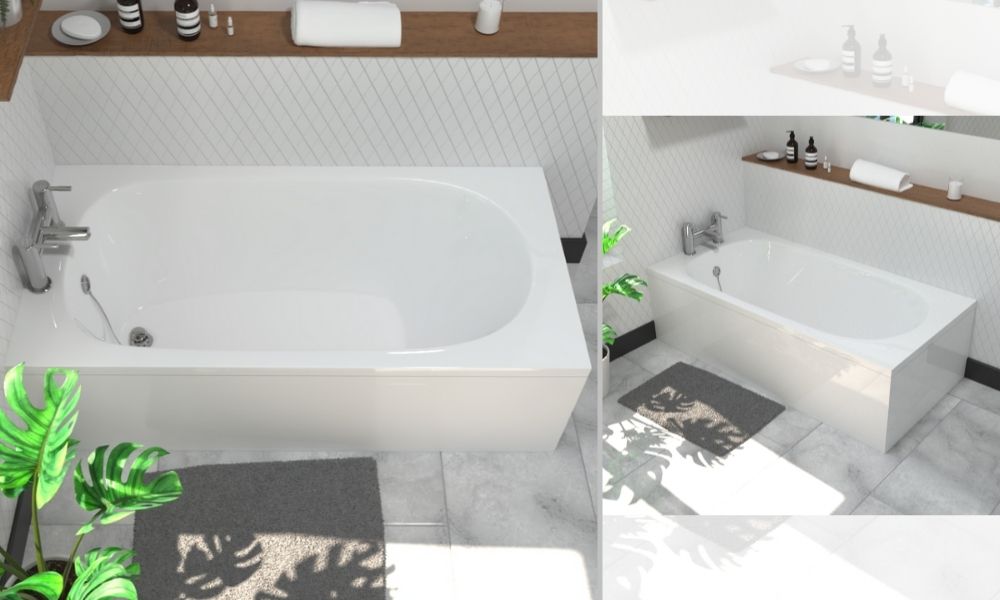 ---
2. L-Shaped Shower Bath (Left-Handed) | £209
Whether you desire a relaxing shower or a revitalising bath, you can experience the best of both worlds with this Bathroom City's L-Shaped Shower Bath. The main feature of this shower bath is the spacious showering area. Another added convenience is the hinged shower door – made of 6mm thick toughened glass – opens inwards and outwards smoothly. 
This shower bath is truly a fabulous solution for maximising space. because it not only The reason is the L shape bath combines practicality and style but also and fits snugly against your bathroom wall, as well.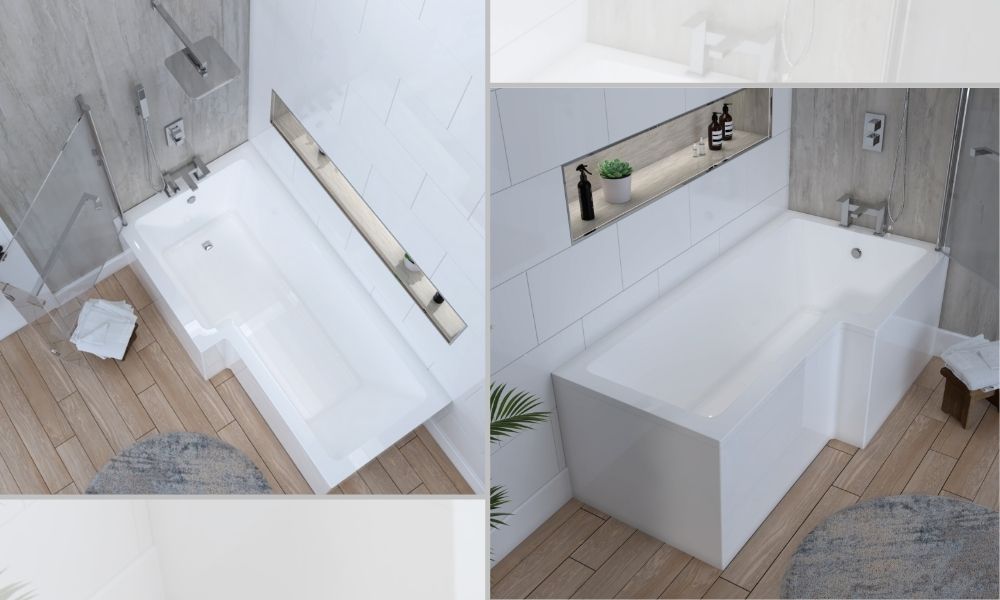 ---
3. Ethan 1700 P Shaped Shower Bath (Right-Handed) | £171
Want to stand out from the crowd? And add value to your home? Then buy the all-in-one Ethan P-Shaped Shower Bath, the ultimate statement in affordability and comfort. The inviting lines and modern styling will make this bath the focal point of your bathroom. Plus, the conventional curved front end provides you more space for showering.
The standout feature of this sturdy bath is its super-strong, fully encapsulated baseboard. And this finest quality Lucite acrylic bath is better and deeper than other baths in the marketplace. Another great feature of this bath is it retains heat for a long time. Overall, you can count on the Ethan 1700 to deliver a refreshing bathing experience every single day.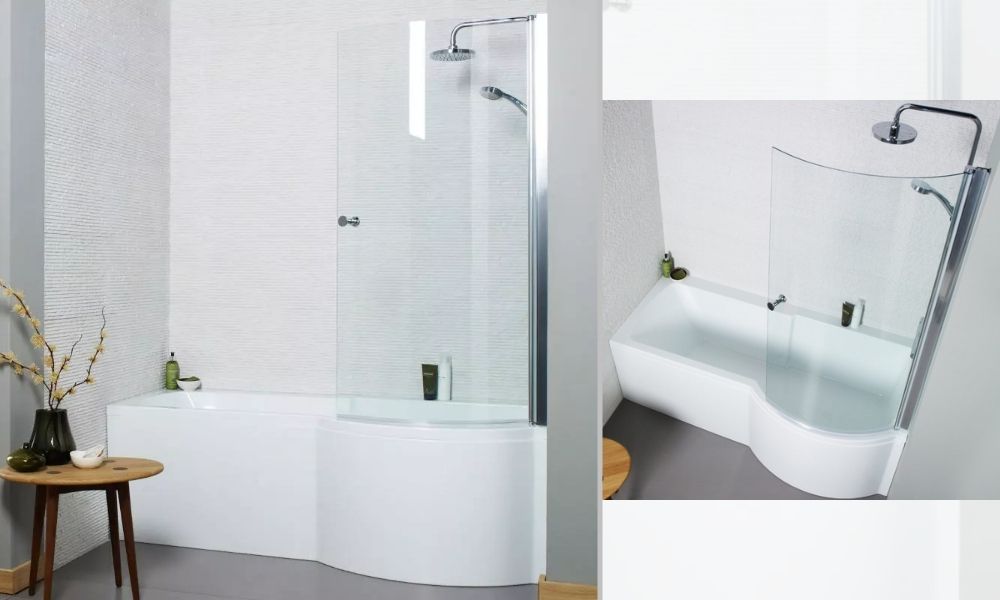 ---
4. Patello B/P Shaped Shower Bath Left-Handed | £149.00
If you're looking for a majestic bathroom adornment that lends a marvellous touch, then the Patello B/P Shaped Shower Bath is the perfect fit. This curved shower bath presents a dignified elegance to your bathroom. The curved glass cover screen – a standard feature of this bath – prevents stray water drops from landing on the bathroom floor.
The best feature of this complete bathing and showering package is it's made of reinforced 5mm acrylic that is durable and scratch-resistant. A right-handed version of this anti-slip shower bath is also available.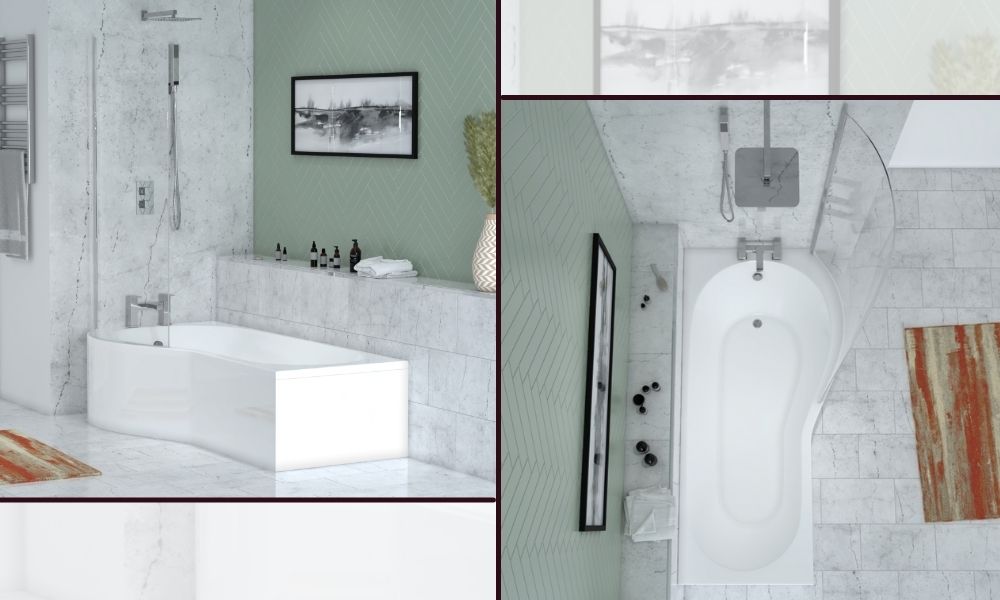 ---
5. Clia Right Hand Offset Corner Bath | £333.00
Is space a limitation in your bathroom? Do you still want the dual functionality of a shower and a bath? Then the smartest decision you can make is to opt for a corner bath. And the right choice would be the compact and curvaceous Clia Corner Bath because its organic design blends perfectly with a small space.
The unique shape of this bath will maximise the appearance of your bathroom. Two convenient optional features that you cannot overlook include a glass screen and a bath filler tap.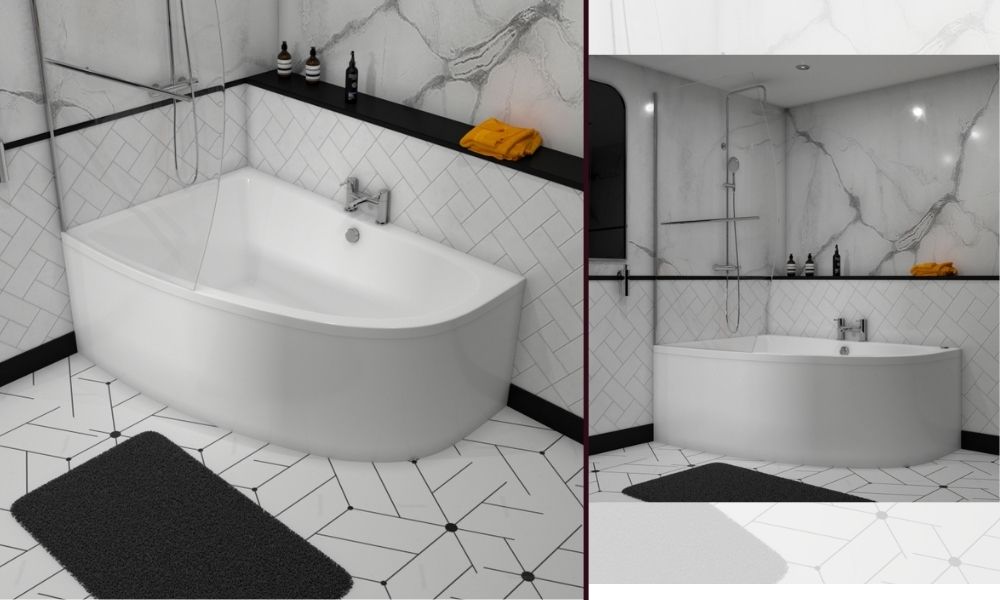 ---
Shop Baths
You don't need to shell out a fortune for soaking in the bathtub any longer. The top 5 affordable baths detailed here will help you personalise your bathtub based on your preferences. Since bathtubs come in an assortment of eye-catching shapes and sizes, and you get them in a variety of stylish designs as well, picking the right one that's cost-effective shouldn't be tough. 
At Bathroom City, we have baths right from the basic design to the most extravagant one. The innumerable bathtub designs at our store means you will find the right bath for your bathroom, regardless of its dimensions. 
---
Other Related Articles:
1. Gold Bathroom Ideas For Inspiration
2. Five Double Sink Vanity Units For a Large Family Bathroom
3. Seven Bathroom Suites For Small Bathrooms
4. 10 Smart Planning Tips For Your Ensuite Bathroom
5. Child-Friendly Bathroom Design Ideas
Category