Fashionable Freestanding Baths for you
Capturing the spotlight for many people looking to upgrade their bathrooms, freestanding baths have almost become a must for people looking for a luxurious bathroom. Being adaptable to a variety of bathrooms, we at Bathroom City hope you will understand them better while helping you find the perfect one. 
What is a Freestanding Bath?
Very simply, a freestanding bath is a bathtub that stands alone, usually in the centre of the room. Sometimes it is supported by legs, but other times it isn't. They are not attached to a wall or corner of your bathroom, which is why they are placed in the centre of the room.
Steps to consider before making a decision:
1.  Size: It is easy to imagine the long soaks you would love to take in your new bath, but first, decide how much space you have in your bathroom. Where would you place your new freestanding bath? Freestanding baths are usually between 1500mm-1800mm in length, so take this into account.
2. Shape: There is a diverse range of shapes for freestanding baths available. Bathroom City currently stocks a wide range of these shapes, so feel free to browse these to get an idea of what shapes you like:
-    Boat Baths
-    Slipper Bath
-    Roll Top
-    D-Shaped
-    Rectangle 
-    Round
-    Teardrop
3. Materials: Different materials hold a variety of advantages. Choosing what kind of material, you like will be down to personal preference after considering the advantages. Here are the main materials for freestanding baths that Bathroom City stock:
 Acrylic: Being lightweight and durable, acrylic is a fairly common material for people that are looking for more affordable options. It is also optimised for retaining heat very well, allowing you a long soak without the need to top up on water.
 
Stone: A very luxurious option to consider. The stone is crafted down to give a smooth and sensual relaxation experience, doing wonders for the skin in the process. It is heavier than acrylic and retains heat very well. Although you can expect to pay a little more with these baths, the longevity, and experience that comes along with the price are more than worth it. 
 
 Cast Iron: Retains heat very well. Once a cast iron bath is hot, you can bet this tub will stay hot for more than enough time for you to get wrinkly across your whole body. Cast iron is generally associated with a traditional style (more on that later) and comes in a mixture of prices. 
 
4. Price: Depending on the size, shape, and material, you can find freestanding baths for as low as £450, and the prices can go up to £3000 for the most luxurious options. 
5. Style: When it comes to freestanding baths, there are two distinct styles. Modern and Traditional. See below and decide which style you want to apply:
 
Modern:
You can usually tell a modern freestanding bath from their traditional counterparts from one thing. Modern one's lack of bath claw's, also referred to as legs, meaning it is supporting itself. This style has risen in popularity, but many people still think of freestanding baths as a traditional piece in the bathroom. View our modern range here, to give you some inspiration and ideas to support your decision.
Traditional:
This style is what many people think of when they imagine freestanding baths. They are distinctive with their bath legs which support the bath to stand up. With traditional ones, there is a unique selection of shapes to choose from. Although they may seem old fashioned to some, great options have arrived in the UK market. It is of select taste, so we recommend that you browse our traditional range to see if this style is for you.
Now you know what you want out of your freestanding bath, check out our personal favourites and recommendations to you:
 
Boat Bath White Acrylic
This is one of our best sellers and for good reason! As the name suggests, it is made of acrylic which is double skinned, meaning extra heat retention and durability. Coming in two sizes, 1700mm in length, or 1800mm in length. Because it lacks bath legs, we class this style as modern, although it is curvy and rounded, often like traditional sets. The shape is in the boat category. Prices for this boat bath start from £1094. View this Boat Bath in White here.
Formosone Clearstone Freestanding Bath
This has strong potential for being eye-catching and becoming a centrepiece in your bathroom. Made from stone, this is a very affordable luxury option at Bathroom City, perfect to upgrade a standard modern bathroom. Two different sizes are available; 1500mm and 1690mm. You can get one of these from £1799. If you like the idea of a minimalist modern bathroom, check out the Clearstone Freestanding Bath.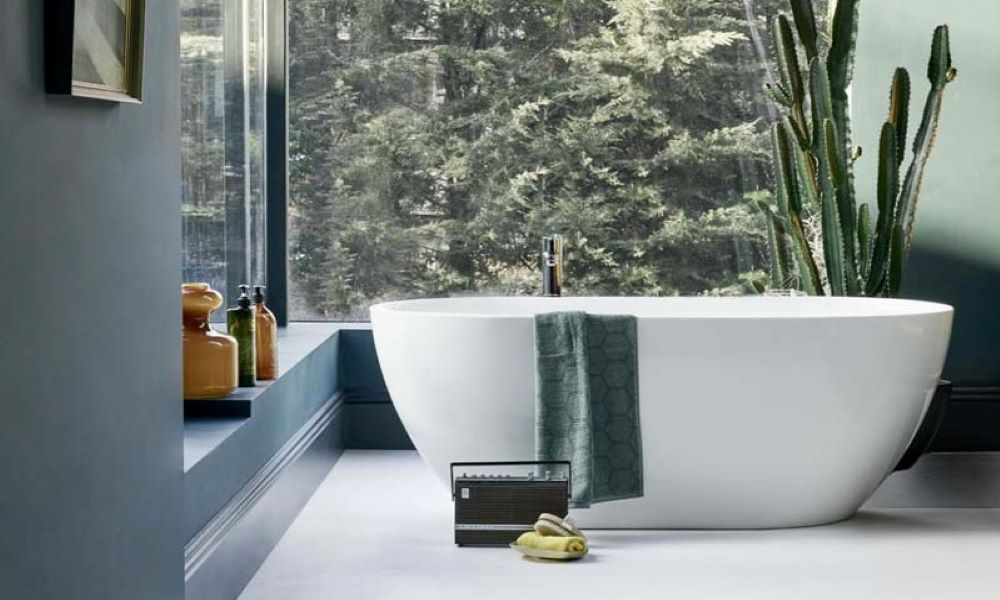 Double Skinned Boat Bath
With this freestanding bath, you can customise the colour so your bath can match other aspects of your bathroom. Any colour you wish can be chosen (call for details). Made from double-skinned acrylic which helps for longevity and durability. It has a boat shape and has three sizes available: 1580mm, 1700mm and 1800mm, so ensure you have enough space for this tub to sit comfortably. Prices vary from £1057-£1132. If this interests you, feel free to view this Double Skinned Boast Bath.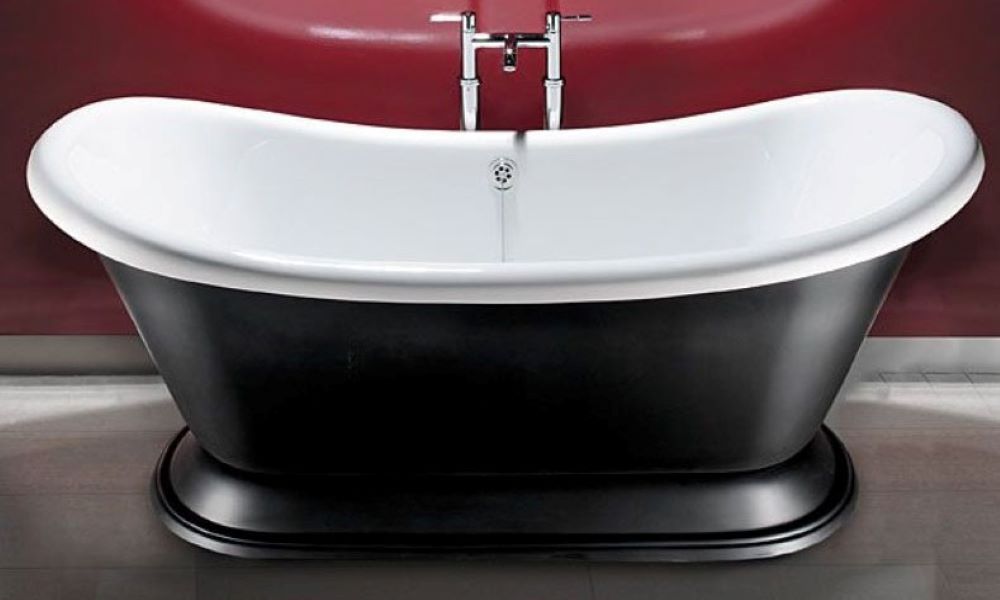 Verone Freestanding Bath
A quality choice for the modern contemporary bathroom. This bath is round making it easy to relax in. It comes with push-button waste, which means instead of unplugging the plug to drain the bath, you simply press a button. Two different colours are available, black or white, and its total length is 1680mm. For what you're getting, the price is very affordable and you can get one of these for £629. View the White bath here. You can also view the Black bath here.
Heritage Cast Iron Slipper Bath
Certainly, one of our more traditional styles, you can picture this in a Victorian yet elegant bathroom. This is constructed from cast iron and is exceptional at retaining heat. Bear in mind the length it takes up which is 1700mm. Being a slipper bath, it is designed for the person to sit on one end and have their feet relax on the other. Prices start from £2000. View this slipper bath here.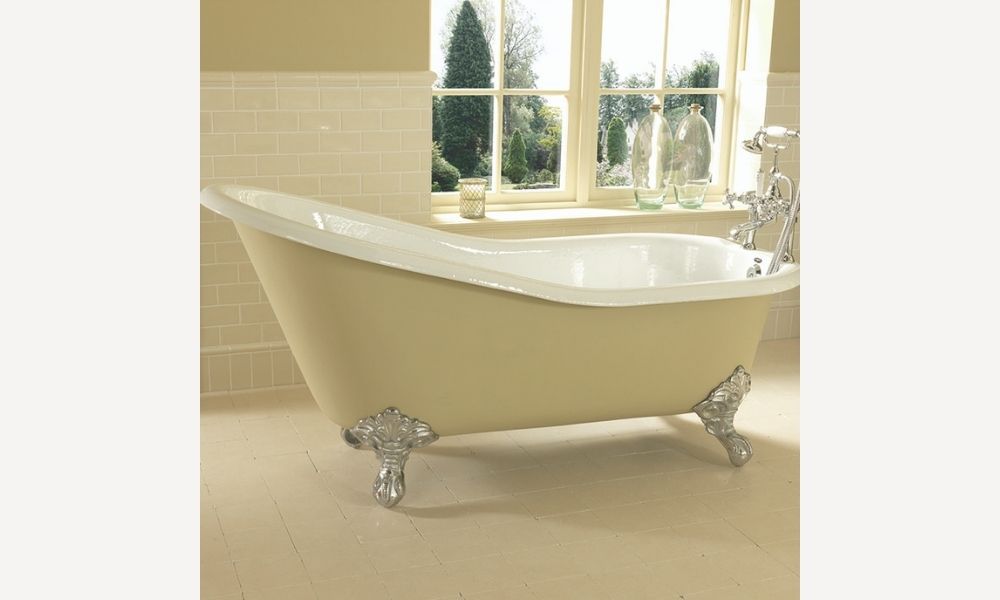 We hope that after reading this you now feel a step closer to creating the bathroom you desire. View our full range of Freestanding Baths here. 
Bathroom City is currently one of the UK's top bathroom suppliers. We are the UK's largest bathroom showroom outlet, offering bathroom suites, showers, baths, furniture and basin sinks at low prices. View our website for anything else you require for your bathroom. For any enquiries, call us on 01217530700 or Visit our showroom, open from 9 am-5: 30 pm. 
---
Other related articles you also would like to read: