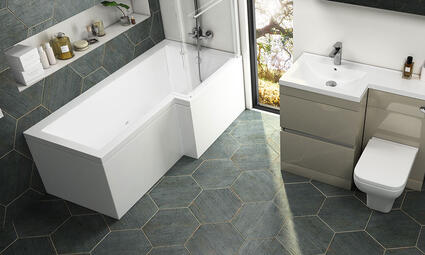 6 Min Read
The bath plays multiple roles in your bathroom ‒ from bathing cranky children on weekday mornings to relaxing grownups at the end of a trying day. Also, as a bath is the centrepiece in your bathroom, it has to look splendid. Hence, it's vital that you choose a bath that matches the overall decor as well as your style. 
Baths are available in a wide variety of shapes, sizes, and styles. Apart from that, you need to consider various factors, such as the material, colour, bath position, price range, and other essentials (taps, wastes, panels, and screens).
If you're renovating your bathroom, consider whether your current bath complements your bathroom aesthetic and is comfortable enough. This buyer's guide will help you choose the perfect bath from among the countless options in the market.
---
8 Main Factors to Consider When Buying a Bath
You need to consider the following 8 main factors when choosing a bath:
Navigate to any section of this post by clicking on the links above.
---
1. Bath Shapes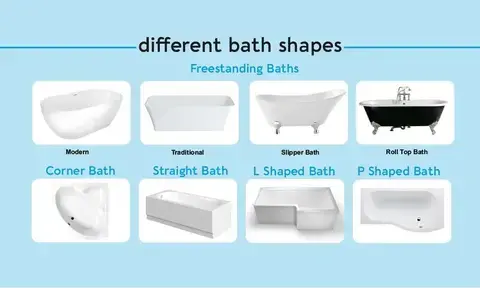 After you decide to buy a bathtub, the first step to focus on is the shape. Choose the shape and slope that suit the needs of your family. The selection of the right shape depends heavily on the design of your bathroom as well. 
You get bathtubs in various shapes. The most popular tubs are classic rectangular, freestanding, oval, and circular. If you favour a traditional design, pick a rectangular tub. Oval and circular tubs are more contemporary. An alcove-shaped tub is the perfect fit if your bathroom is cramped for space.
Also, your bath experience is one of the top considerations when choosing a bath. The shape and size will determine how well you fit in the bath and how comfortable it is. For instance, if your bath is too short, you can't fully lean back. But if it's too long, it won't be possible to rest your feet on the bath front.
Likewise, the depth of your bath will affect the volume of water it holds. While some people enjoy being fully submerged, most don't. And the insulation quality will determine how long the water stays hot.
2. Bathroom Space and Bath Sizes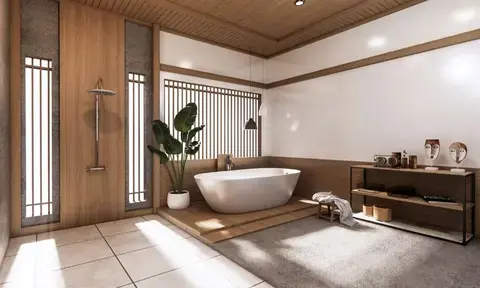 Your bath should match the proportions of your bathroom. Fitting a bath and placing it in the right position is essential.
Measure the bath area and the width of the doorway. Check the path from the outer doorway to your bathroom so that you can confidently get your new bath into the bathroom.
Next, determine how big your bathtub needs to be. The size should be sufficient for you and for others who use it. Also, ensure the bathtub is not so big that there's wastage of water each time you fill it. 
If you're considering a bath with a shower option, you can buy a shower bath. Alternatively, you can install a bath and a separate shower enclosure if your bathroom is large enough.
3. Bath Material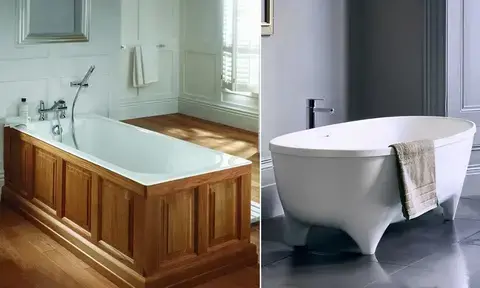 The bath material you choose will directly influence other factors, such as weight, price, and installation. No two materials are the same, and each material provides a unique bathing experience.
Some popular bath materials include acrylic, fibreglass, stone resin, cast iron, enamelled steel, copper, and natural stone.
Cast iron and stone resin baths are luxurious and have a longer lifespan. While acrylic and fibreglass baths are priced lower than baths made of other materials, they offer value for money.
A copper bath is essentially an install-and-forget accessory. The main advantage of this prohibitively expensive centrepiece is it hardly needs maintenance.
Similarly, the solid structure of a natural stone bath is extremely durable and strong. This bath is built to last for several decades.
Note: Baths made of heavy materials such as copper and natural stone will require bathroom floor reinforcement.
4. Bath Colour
A coloured bath will complement your bathroom aesthetic, adding character to your space in a fun way. But before choosing the bath colour, consider the colours in the rest of your bathroom.
While a white bath can look too stark and sterile, the comforting and chic lines of a coloured bath will work well with any aesthetic. And a glossy colour such as antique gold, bright red, or purple can add splendour to your space.
Slipper baths and acrylic baths are available in many elegant colours. The advantage of a soft-coloured bath is it can have a calming effect, helping you relax after an exhausting day.
When working with bath colours, you also have opportunities to integrate speciality finishes such as primed cast iron, chrome, or antique gold.
5. Bath Price Range
The final cost of a bath depends on the bathroom layout, plumbing, and choice of finish. Solid surface baths (price range: £439 to £2,860) are much more expensive than baths made of acrylic (price range: £149 to £566). 
Whirlpool baths used to be the most expensive baths. They have, however, transformed from being an elitist purchase to a more cost-effective one. Some of the most competitively priced whirlpool baths are available from £642. 
Freestanding Roll Top Baths are the most expensive baths. The premium models include the BC Designs Copper Boat Bath (£4,996) and the Antique Copper Boat Bath (£4,405). And at the other end of the price spectrum, you have the lowest-priced options that include the Kent Straight Bath (£149) and the Laguna Super Strong Straight Bath (£149).
6. Other Needs ‒ e.g., Children, Special Needs
If you often spend a long time in the tub, make certain it fits your body and your back like a glove. Take the natural contours of your body into consideration when you buy a bath. 
If you're going to bathe little children in the tub, consider the depth. And if an elderly person is going to use it, buy one that has grab rails and nonslip bottom. 
If you're buying a bathtub that's made from a heavy material, make certain that the area you place your bathtub can sustain its weight. 
Visit our Birmingham Bathroom Showroom and check out various options. Don't hesitate to hop in and see which one fits best.
7. Other Essentials – E.g., Taps, Wastes, Panels, Screens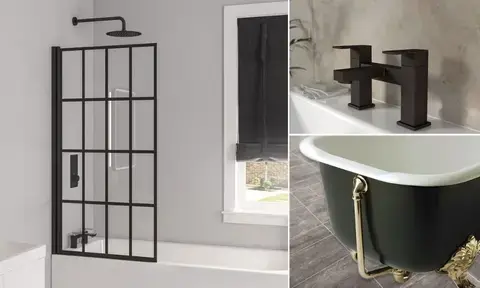 Bath taps are available in different designs and finishes. Choosing the right bath taps is an important decision as it presents you with an easy way to update your bathroom decor.
The most competitively priced bath taps are available from £32. The premium models include the Gold Bath Filler (£437) and the Belgravia Crosshead Bath Filler (£439).
Bath wastes are available in a range of options and colours. 
The three essential components of a bath waste are the plug, overflow, and trap. A bath waste not only allows water to fill up your bath but also drains water efficiently after you finish bathing.
Bath panels create a neat finish to your bath, concealing unsightly plumbing lines. They are typically available as optional extras with your purchase at a nominal price. 
Bath screens provide practical benefits by preventing water from splashing onto your bathroom floor. These easy-to-clean glass panels are a stylish way to enclose your bath.
8. Product Warranty
Product warranty is an important consideration when you buy a bath. Since a bath is an install-and-forget accessory, buying one with an extended warranty makes sense. It will safeguard you against manufacturing defects for many years.
---
Conclusion
The importance of each one of the factors discussed above need not be stressed.
While taking a bath presents you with the ultimate experience of relaxation, buying a bathtub is fraught with stress. A bathtub can simply be an affordable choice that does its job and allows you to soak in warm water without any extra features. 
The perfect bath, however, will match the rest of your bathroom decor and add style, luxury, and elegance. And it will fit your preferences and suit your lifestyle.
---
Shop for Baths
At Bathroom City, you're assured of finding an awesome bathtub for your bathroom. Every bath we sell online or in our showroom passes our stringent quality control before it's offered to you.
---
Other related articles you might also like to read: