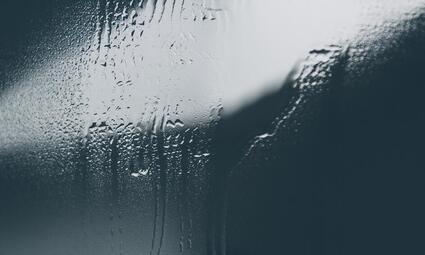 5 Min Read
We've all experienced it. You're time-poor as you step out of the shower, only to find your bathroom mirror fully steamed up.
You give the mirror a squeaky rub in frustration. You can see for a few seconds before a layer of invisible water droplets quickly settle on the mirror. More frustration is followed by more rubbing.
You begin to wonder whether there's an easy way to stop your bathroom mirror from steaming up. Sure, there are several!
Navigate to any section of this post by clicking on the links above.
---
Why Does a Bathroom Mirror Steam Up?
Steaming up or fogging happens when steam condenses on the mirror. Steam emerging from hot water can condense on a colder surface. That's the reason you can see the result on a mirror instantaneously.
Obviously, for a bathroom mirror to steam up, the steam that originates at the shower spray (or the bathtub) has to travel through the cooler air to reach the mirror. Since air tends to heat up easily, the mirror can steam up fast.
---
Seven Handy Tips To Stop a Mirror From Steaming Up
1. Soap Rub
Take a bar of bath soap (any brand is alright) and rub it gently on the mirror surface. Next, buff off the soap from the mirror surface with a towel or microfiber cloth.
You can dampen the cloth if the soap doesn't come off easily. Wipe the mirror until the surface is clean.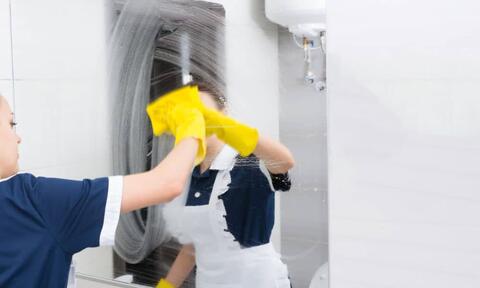 ---
2. Shaving Cream/Shaving Foam
Take a bit of shaving cream on your finger and spread it over the surface of your bathroom mirror. (You can spray shaving foam directly onto the mirror surface).
Wipe clean with a soft towel or microfiber cloth. This simple trick acts as an effective barrier against steam settling on the mirror surface. Your glassware will not steam up for a few weeks.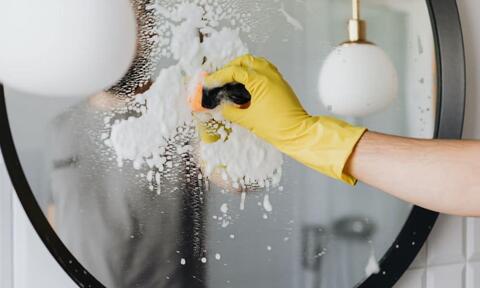 ---
3. Rain-X
This is a specialised defogging solution, normally used on car windshields. This slightly expensive option will ensure your bathroom mirror does not steam up for a month.
Spray Rain-X directly onto the mirror surface and wipe thoroughly with a microfiber cloth.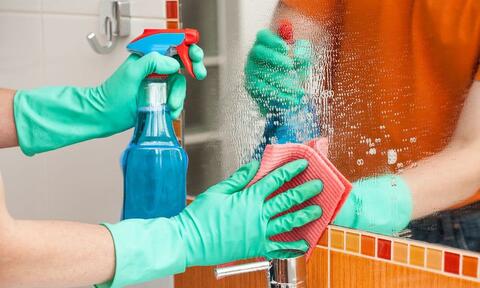 ---
4. Glycerine
You can buy this speciality product from any pharmacy. Dilute glycerine with water and wipe the surface of the mirror dry with a soft towel.
Since glycerine is non-toxic, it's safe for kids and pets. It's not as long-lasting as Rain-X but still prevents your mirror from steaming up during showers.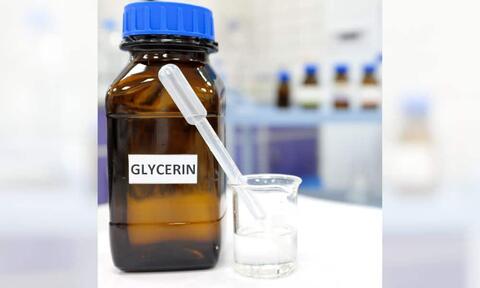 ---
5. Vinegar
Vinegar can tame misty mirrors quickly. Mix vinegar and water in the ratio of 1:1. Apply this solution on the mirror surface with a clean cloth.
Wipe it away using a different clean cloth. Ensure the surface is streak-free. This inexpensive option is effective for about a week.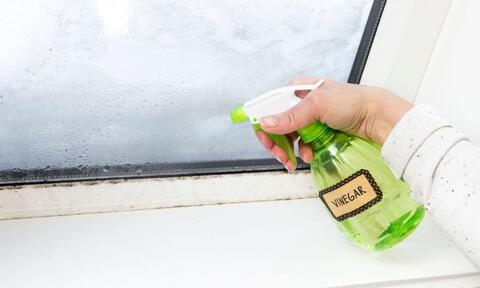 ---
6. Extractor Fan
Unlike the stop-gap solutions discussed so far, an extractor fan is a permanent solution for stopping your bathroom mirror from steaming up. This is especially true if there's no window in your bathroom.
This fan functions by removing the moisture and humidity from your bathroom after a bath or shower.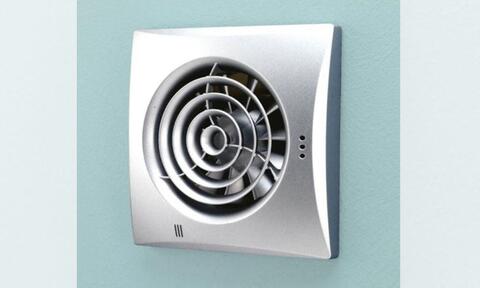 ---
7. Bathroom Mirror with Demist Pad
A heated demister bathroom mirror overcomes the condensation problem and stops the mirror surface from steaming up. A demister pad warms the mirror surface gently and keeps it free from fog and steam. These mirrors also have other features such as infra-red sensors, LED lights and integrated shaver sockets.
Depending on how acute this problem is in your bathroom, you can decide upon the best solution. If you love long, hot and relaxing showers/baths, then opt for a permanent solution.
At least, you'll not need to give this issue a second thought. In case you'd like to buy a new Bathroom Mirror with a demister pad, which won't steam up, check out our collection of Heated Bathroom Mirrors.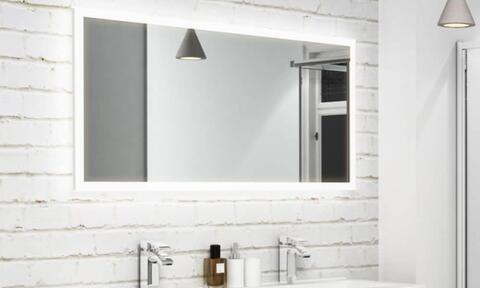 ---
About Us: Established in 1986, Bathroom City is UK's oldest Online Bathroom Specialists. We're home to a extensive collection of Bathroom Furniture, Vanity Units, Baths, Showers, Bathroom Mirrors and much more. Over the years, we're helped millions of UK customers create their dream bathroom.
Feel free to shop around or go through our expert advice on everything related to Bathrooms!  
---
Other related articles you may find interesting: