Bathroom Mirrors Buying Guide
Mirrors make a fantastic addition to your bathrooms. The old standards for bathroom mirrors have almost vanished. Nowadays, people are increasingly choosing spectacular mirrors. Whether you're designing a new bathroom or replacing a worn-out bathroom mirror, it's important that you take a look at the best mirrors in the marketplace. We are confident you'll find this mirrors buying guide useful in your quest for the perfect mirror.
Navigate to any section of this post by clicking on the links above
---
What is the Size of the Mirror You Need to Choose?
Measure the length of your vanity countertop and sink area before you head to the store – on-the-ground or online. Aim to leave a few inches of space on either side. The size of the mirror you choose depends largely on the length of your bathroom countertop. You can either choose to have a mirror that covers the full length of the countertop or limit the size to the length of the sink. This option would allow enough space on either side for light fixtures.
Pro Tip: If you're designing a bathroom from scratch, it's a good idea to choose your countertop before buying a wall mirror. It's considerably easier to buy a mirror to fit your vanity, compared to the other way round. When you take the measurements, note down the height of the wall as well as the length, so you avoid buying an oversized mirror.
When you hang your new bathroom wall mirror, consider the height of the people who will use the bathroom. In the UK, the average man is 5ft 9in tall, and the average woman is 5ft 4in. If you have children, you'll need to consider their use as well.
---
How to Determine the Right Shape and Size of the Mirror?
Circle mirrors, arch mirrors, large mirrors – bathroom vanity mirrors come in countless shapes, colours and sizes that searching for the perfect mirror can feel like an endless pursuit. A mirror that looks great in the store may look pretty ordinary – or even completely wrong – when you bring it home and decide to hang it. One way you could negate this scenario is by testing your preferred design before you head out, using a template cut from paper or poster board.
Attach this template (or various template options) to your bathroom wall with tape. You will soon get a feel for the right shape and style of the mirror that would work. Likewise, you'll get a feel for the mirror that wouldn't work. For instance, you may have your heart set on a funky hexagonal mirror. But when you try a hexagonal template, you realise it doesn't match and seems completely wrong. So take some time to really consider the style and shape of the mirror that will look best in the space you have available.
Although rectangular bathroom mirrors are the most popular, you can still consider buying a circular, square or oval mirror. Beveled edges also look stunning, so be sure to consider the entire range of shapes and colours before making your final decision.
---
Should You Choose a Framed or Frameless Bathroom Mirror?
Framed and frameless vanity mirrors can both be a stylish choice, with basic, frameless options being the more affordable, modern and minimalist – perfect for contemporary homes. On the flip side, a decorative wall mirror with an ornate or elaborate frame is ideal for a more traditional space – think brass, bronze or gold. Choose a framed (or frameless) option that suits the aesthetics of your bathroom. You could try a simple wooden frame if you want a framed mirror that isn't too over-the-top.
There's room to be as eclectic as you please and make a bold statement with your choice of the bathroom mirror if that's what you want to do.
Check out our range of affordable bathroom mirrors.
---
Bathroom City's Wide Range of Mirrors
1. Wall Mirrors
Wall mirrors come in an assortment of shapes and sizes. You can mount these easy-to-install mirrors directly on the wall to match the decor and space in your bathroom. The trending shapes are circular mirrors and rectangular mirrors, and they fit in any type of bathroom.
Some of the best-framed mirror options include:
Circular Mirror
Aluminum Mirror
Chrome Cosmetic Mirror
Curved Mirror
Extendable Magnifying Mirror
Double Arm Adjustable Mirror
Arched Mirror
If your personal preference is Frameless Mirrors, you can choose from the following options:
Bevelled Edge Mirror
Tilting Oval Bevelled Mirror
Oval Mirror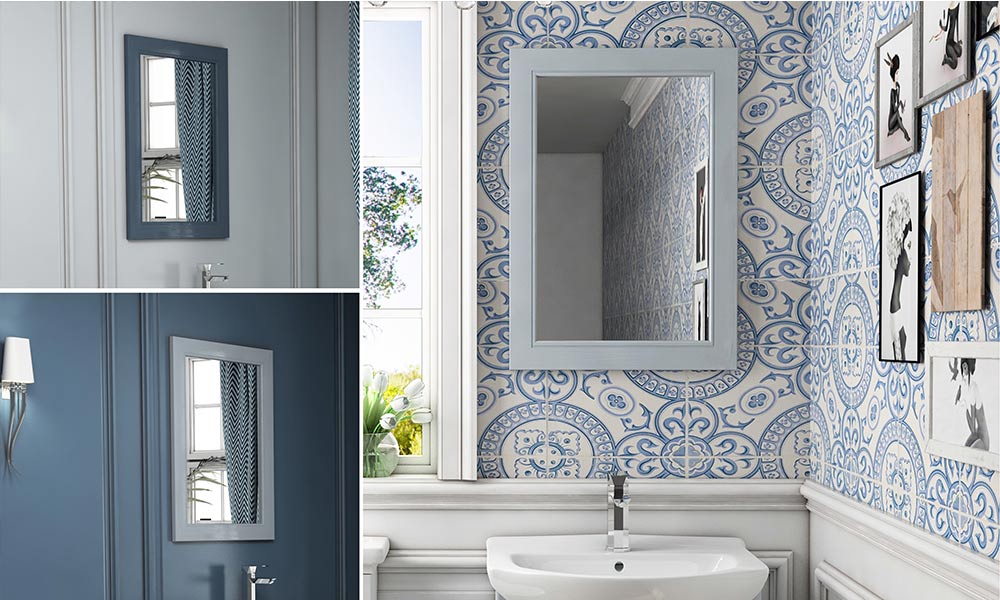 ---
2. Illuminated Mirrors
Illuminated Mirrors come with LED lights that illuminate the whole bathroom. The lighted mirror technology has undergone a sea change in the last few years. Besides brightening your bathroom, illuminated mirrors mimic natural light creating perfect conditions for shaving or makeup application. Since LEDs last a long time, you are spared the inconvenience of having to replace them often.
Other key features of illuminated mirrors include:
Built-in demister pad
Anti-fog coating
Film backed glass for extra safety
Eco-friendly
Splash-friendly
Easy installation
Illuminated Mirrors are ideal for windowless bathrooms as they emit light that is similar to natural light, thus creating a bright space. You can install a large illuminated mirror above a vanity, or you can install a smaller one as part of a personal vanity set-up.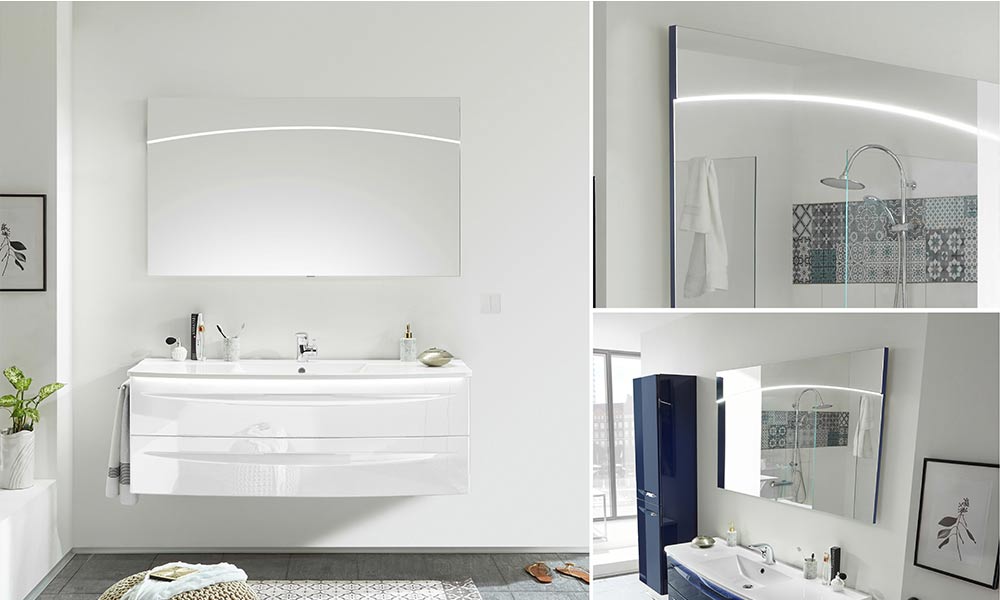 ---
3. Bluetooth Mirrors
Imagine enjoying a warm shower as you listen to your personal library of music. Well, Bluetooth mirrors make this a reality.
Bluetooth mirrors are revolutionary bathroom audio products that come with a Bluetooth speaker. You can connect this speaker to a mobile device or laptop wirelessly and listen to your favourite songs or podcasts safely. You also have the option of playing app-based radio or streaming apps like Apple Music, Deezer and Spotify.
A Bluetooth bathroom mirror safeguards your device from water damage and provides you with quality audio. This bathroom accessory saves you space and eliminates the hassle of installing an audio system in your bathroom.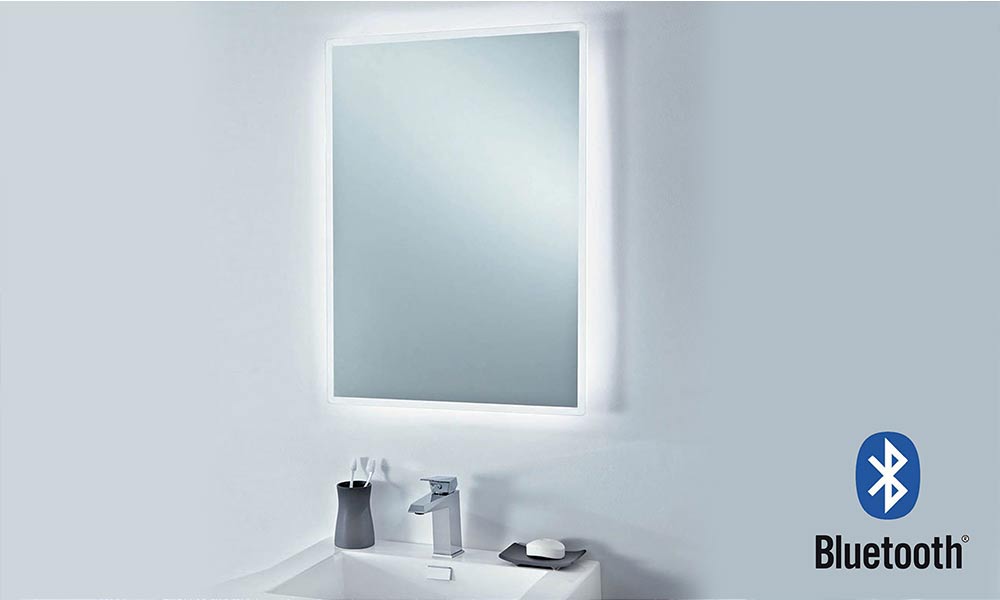 ---
4. Mirror with Shaver Socket
This multi-function bathroom accessory incorporates a handy shaver socket fitted with a flip-up cover. The socket is most often located on the bottom right-hand corner of the unit – units with the socket located at other places are available as well. You can use this mirror with shaver socket confidently as it meets the stringent British Safety Standards. The socket can be used to charge your toothbrush too.
The lamps illuminate your face brightly, making it easier to shave or apply makeup. The most interesting feature of this mirror is the motion sensor. A simple flick of your hand turns the lamps on or off. The built-in demister is another useful feature as it keeps the mirror always clear.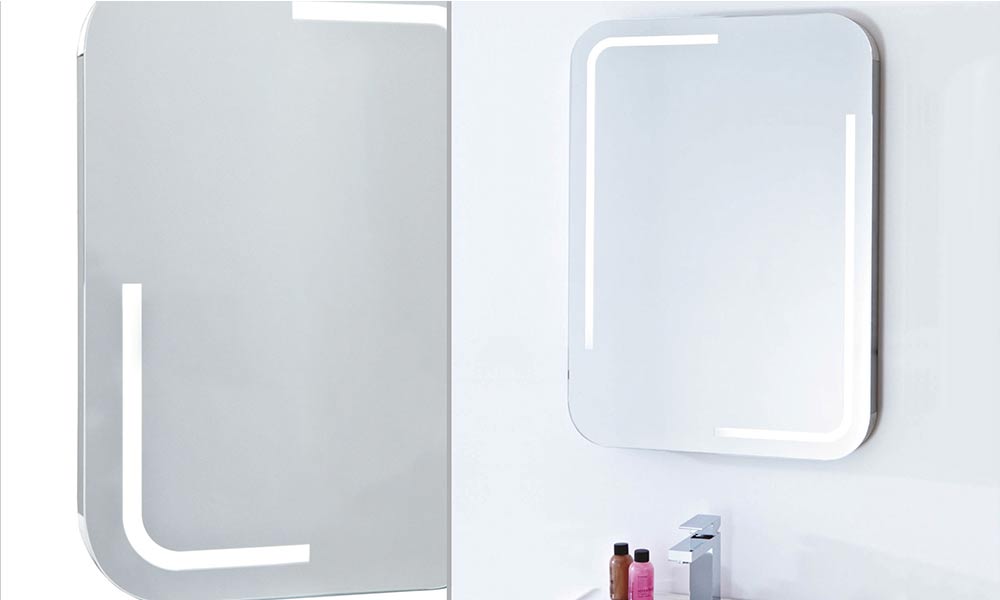 ---
5. Mirror Cabinets/Bathroom Cabinets with Lights
Mirror Cabinets are bathroom furniture that offers you innovative features, storage options and sleek designs to match the size and style of your bathroom. You'll easily find a mirror cabinet that complements the decor of your bathroom, considering the vast range of sizes and designs you get to choose from
Mirror cabinets serve a dual purpose. They provide effective storage space in your bathroom while serving the purpose of a mirror as well. The mirror itself acts as the door to the cabinet, opening to a number of compartments that provide ample space. Choose a large mirror cabinet if you want your bathroom to look brighter and bigger. You'll get more storage space in the bargain.
The best features of Mirror cabinets are:
Enhanced lighting
Availability in many designs and sizes
Superior mirror quality
Extra storage space
Anti-fog
This bathroom furniture serves as a marvelous decorative piece. Some models come with a built-in demister pad that automatically switches on and off with the lights.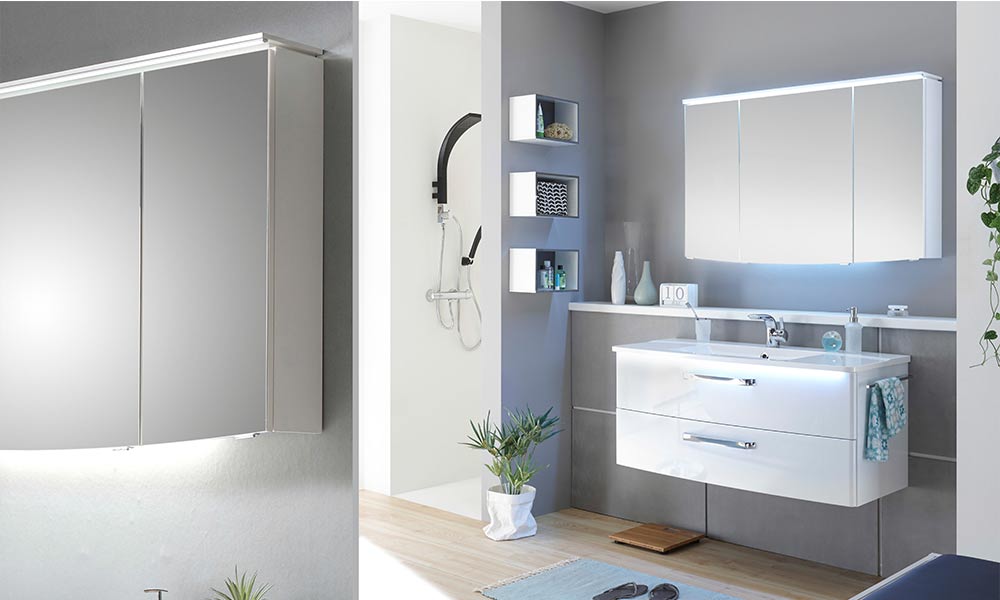 ---
6. Vanity Mirrors
Bathroom Vanity Mirrors are available in a wide range of shapes, sizes and styles. You can easily find the right one that matches your budget as well as bathroom decor. Before you buy a vanity mirror, consider whether you want it to double as storage for your medicines. Or else, do you want something more decorative? For a contemporary bathroom, a sleek square design would look better. A frameless vanity mirror or one with a stainless steel frame would be perfect as well.
As regards size, larger vanity mirrors are better. Even if your bathroom is tiny, a large, shiny surface will reflect more light and make space appear larger.
---
Shop Bathroom Mirrors
Mirrors are one of the shrewdest investments you can make for your bathrooms because they deliver instantaneous returns – the appearance of your bathrooms is transformed quickly. In this mirrors buying guide, we have examined the different varieties of mirrors – plain or one that offers extra storage, framed or frameless, lights or no lights and affordable or expensive. Head to our Mirrors section and find the perfect mirror for your bathroom.
Bathroom City is one of the UK's largest Bathroom Showroom outlets. We offer an assortment of precision-crafted bathroom products. We understand that the bathroom provides you with an opportunity for a soothing escape, forgetting the world. Visit us in-store or online for any of your Bathroom needs.