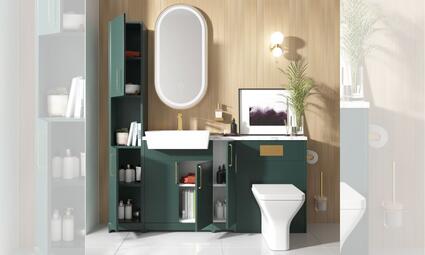 5 Min Read
The main advantage of having fitted bathroom furniture is it looks elegant. It also optimises storage space, clearing out clutter. 
A complete fitted bathroom furniture set typically includes a vanity unit, wall storage, tallboy, mirror cabinet, and toilet. Fitted furniture conceals all the pipe lines in your bathroom, resulting in a sleek, coordinated appearance. 
Are you intent on making your personal design statement? Then, fitted furniture is the perfect choice, as it gives you tremendous creative freedom.
You can choose the right fitted furniture and customise the bathroom design to suit your preferences.
Navigate to any section of this post by clicking on the links above.
---
What Is Fitted Bathroom Furniture?
Fitted furniture is a series of bathroom fixtures that blend together neatly.
Storage elements like cupboards, shelves, and drawers are combined with a countertop, vanity unit, sink, mirror cabinet, and a back-to-wall toilet. The full combination of these crucial fixtures and fittings is used to create a cohesive furniture structure.
Fitted furniture gives that luxurious feel, improving the functionality of your bathroom. The convenience factor and also practicality are huge.
---
Why Should You Choose Fitted Bathroom Furniture?
While there are several reasons you should choose fitted bathroom furniture, we will look at four key reasons.
1. Sleek and Stylish
Fitted furniture will help you create a designer look in your bathroom with ease. The ultra-modern elegance of fitted furniture adds a sleek and stylish look, delivering understated sophistication.
The pleasing lines create a perfect aesthetic, elevating the visual appeal of your bathroom. Overall, the unit strikes a wonderful balance of all the fixtures, ensuring the style will remain timeless.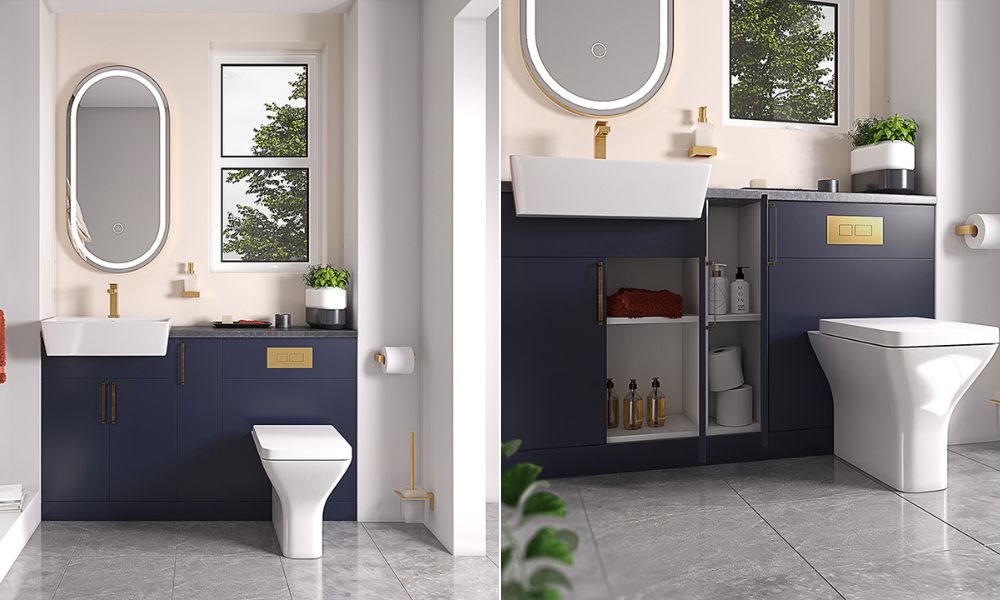 2. Storage Space
Depending on the size of your bathroom, fitted furniture presents you with several storage options – drawers, shelves, cabinets, and tallboys. 
The various choices in optimising the available storage space will help you keep your bathroom essentials organised, allowing you to say goodbye to clutter and create order. 
Your life will be a lot easier because this unit comes with efficient storage solutions. Hence, fitted furniture enables you to maximise storage in any bathroom, regardless of its size.
3. Space Saver
Fitted bathroom furniture – whether slimline or standard size – occupies less space.
Slimline fitted furniture pieces have really compact dimensions, and the design also includes closed storage space.
Even if your bathroom is too tiny and space is a serious constraint, you need not worry. Size doesn't matter. With reduced-size fitted furniture, which is essentially ultra-compact, you can revamp your bathroom into a stylish mini space.
However, if your bathroom can accommodate a standard-size or slightly larger fitted furniture, you have dozens of options.
4. Customisable
Fitted furniture is highly customisable, enabling you to furnish your bathroom your way.
For instance, you can pick cabinets of varied widths and depths to maximise storage space or choose from an assortment of colours and finishes to complement the overall bathroom decor.
You can also mix and match furniture across the bathroom, allowing for an assortment of options and immense flexibility in designing your dream bathroom.
---
Things to Consider When Choosing Fitted Bathroom Furniture
1. Bathroom Space
Assessing your bathroom space is the first consideration. Spend time taking careful measurements. Make an accurate sketch on paper, and note down the correct dimensions of your bathroom space. 
Analyse the available space where the fitted bathroom furniture will be installed. Before you decide on the new buy, confirm whether it will fit your space. 
Keep in mind the extra space you will need in front of the washbasin, drawers, shelves, and toilet. Give sufficient leeway to ensure the fitted furniture won't cramp your bathroom.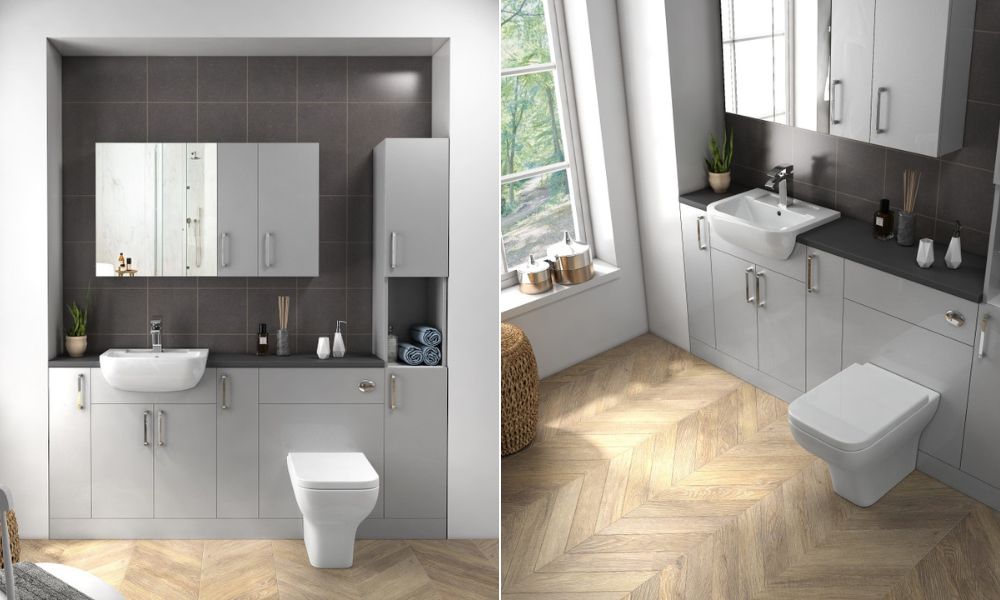 2. Fitted Furniture Size
At Bathroom City, you'll find fitted furniture in a wide range of sizes. While the standard height of the furniture units is around 800mm (31.5 inches), the width varies from 900mm (35.5 inches) to 2,300mm (90.5 inches).
You can find fitted furniture units in increments of 100mm in width – i.e., 1,000mm, 1,100 mm, 1,200mm, and so on right up to 2,300mm.
Before you decide the width of the unit that would be right for your bathroom, consider your storage needs. Also, determine whether you want wall-to-wall fitted bathroom furniture, some space on one side, or uniform space on both sides.
3. Fitted Furniture Style
Fitted furniture presents you with an opportunity to make a style statement. The main feature of these units is they are free from the rigid restrictions of standard vanity units.
Hence, you must make sure the fitted furniture style you choose matches your personal taste. Don't ever settle for an uninspiring style.
While the exterior design of the fitted furniture must look appealing, the interiors are important as well. A great unit will score high on functionality, offering optimal storage space for your bathroom essentials.
Pick a unit that is personalised to suit your style and storage requirements. Also, consider the bathroom's functionality. A children's or guest bathroom will need a much smaller unit compared to a family bathroom.
4. Plumbing
Check the existing plumbing lines. The primary advantage of fitted furniture is that the unsightly pipes in your bathroom will be concealed.
If extensive work is needed to fit the new washbasin and toilet, then hire the services of a professional plumber.
Even if minor work is needed, it's best to update the plumbing lines. Compared to a decades-old system, a modern plumbing system is efficient, easy to maintain, and eliminates water wastage.
When you coordinate your plumbing updates with your bathroom remodel, your bathroom will function at its best. You can also choose the fixtures and finishes that complement the new aesthetic, creating a matching look.
5. Price Range
Last, before deciding to buy the fitted bathroom furniture, make sure the price range suits your budget. 
The price of the basic fitted furniture models ranges from £399 to £439. These models have only the basic fixtures, such as a washbasin and storage cabinet.
The price of the mid-range fitted furniture models ranges from £520 to £844. These models have additional fixtures, such as a toilet unit and a tallboy.
The price of the premium fitted furniture models ranges from £962 to £2,009. These models have additional fixtures, such as wall storage and mirror cabinets.
---
Shop Fitted Bathroom Furniture
At Bathroom City, our collection of fitted bathroom furniture includes trending designs from top brands such as Oliver, Lucido, Patello, and more. The product range of fitted furniture complements every style, matching every price point.
With over three decades of experience in the bathroom products industry, we offer unmatched product guarantee and after-sales service.
---
Other related articles you might also like to read: