Bathroom Furniture Buying Guide
Bathrooms are one of the most important personal spaces in a house where we usually begin and end our days. They are a safe space that provides calm solitude to relax and unwind from the strain of life stresses at the end of the day, with a pleasant hot shower or a warm bath. So, when looking to add furniture to your bathroom, it is important to be aware of the different furniture types, space requirements, furniture shapes, styles and materials available. Our bathroom furniture guide will give you ample advice on what to look out for when setting up your new bathroom or renovating an old one.
Navigate to any section of this post by clicking on the links above.
---
Things to take into consideration when choosing Bathroom Furniture
Furniture Size and Orientation 
Before you begin to look at the different types of bathroom furniture, you need to get an idea of the space you have available to work with. Accurate measurements of the length, width and height of your bathroom will be essential, along with the locations of any utilities such as mains water and power supplies. Plot your layout in your mind, or with a drawn plan if needed.  
Large units will look stylish and give you more storage, but you will want to ensure that walkways into and within the bathroom are clear. Remember to check things such as door openings and their protrusion into the room to ensure that they do not clash with each other and that all storage remains accessible. Having a smaller bathroom or a cloakroom does not mean having to miss out on furniture in your bathroom. Space-saving options such as Slimline units, Wall-hung storage cabinets and cloakroom basin and toilet units will provide much-needed storage in the smallest of spaces.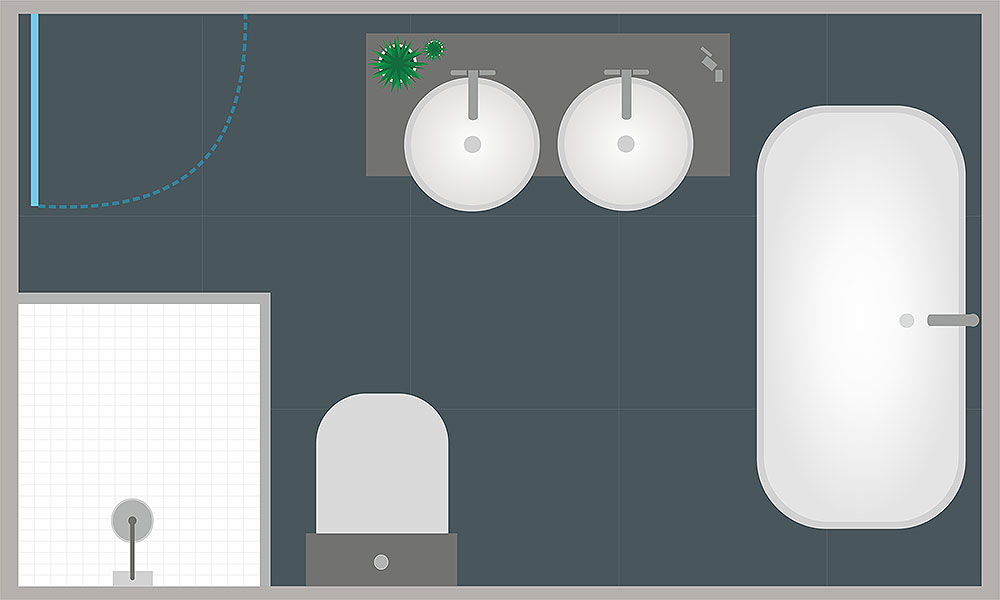 ---
Furniture Shape and Colour 
Bathroom furniture is available in many shapes, from square sink units, curved vanity units with basins, corner vanity units, L-shaped and P-shaped bathroom suites and much more. There is a variety of shapes to suit your bathroom style and space. Bathroom furniture comes in simple colours such as white, black and grey but also has various striking variants such as the high-gloss grey, white, and wooden bathroom suites. 
---
Furniture Style
You can choose from three broad styles of Bathroom Furniture namely Traditional, Modern and Contemporary.
Traditional Bathroom Furniture comes in classic old-fashioned, antique styles and is great to create a period-themed bathroom.
Modern bathroom furniture is usually designed with the modern-day consumer in mind and comes in sharper, sleeker designs.
Contemporary bathroom furniture is regularly changing to reflect the best-selling designs of present-day trends.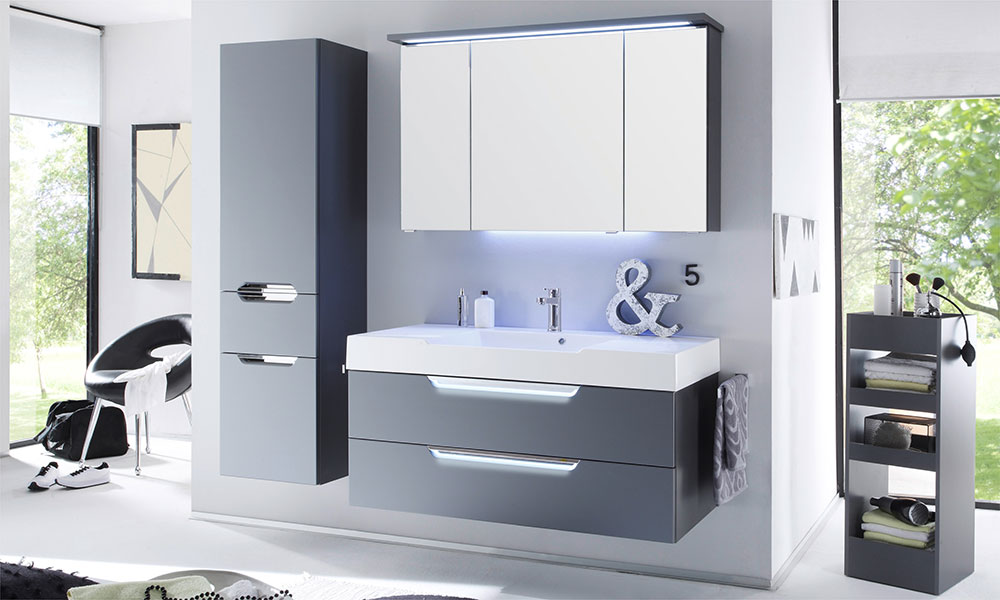 ---
Furniture Material
When selecting your new bathroom furniture, the different kinds of materials to pick from can be varied. Let's run through the ones you are most likely to encounter. Most bathroom cabinets will be comprised of wood material of some type. The three main contenders listed below are:
Melamine Faced Chipboard (MFC)
Probably a material you are already familiar with due to its use in kitchens, MFC consists of a melamine resin material bonded to chipboard. Melamine board is a very resilient material due to its tough outer finish and can be cleaned very easily. It is however very susceptible to water damage and must be finished properly to avoid this. Most MFC units represent extremely good value for money and are ideal for use in a secondary or rented bathroom. 
Medium Density Fibreboard (MDF)
Another material used in making bathroom furniture is MDF. It consists of offcuts and waste from other wood manufacturing processes mixed with binders and glues and then pressed together. Much denser and more substantial than MFC, it is one of the most popular choices in the bathroom industry. MDF comes in a dazzling variety of colours and veneers and is resistant to temperature and humidity changes. It is also resistant to warping. Most quality bathroom furniture will be manufactured from MDF. 
Solid Wood 
For a premium finish to a bathroom, look no further than solid wood. The natural character of oak or walnut is often enhanced using stains and paints that reveal the grain. The wood grain of any cabinet will never be identical not just because of the different trees used but also the choice of cut during manufacture. Crown cut tend to be more visually circular grainy in comparison to quarter sawn. Heavy and substantial, solid wood furniture should last decades if treated correctly. The beauty of real wood needs extra care to ensure it is not exposed to high humidity or rapidly fluctuating temperatures
Whichever wood product you choose, keep a lookout for The Forest Stewardship Council (FSC) logo. This means that the wood in your furniture comes from FSC certified forests. This ensures that the material has been environmentally sourced.
---
Furniture Finish
After you have decided the material you want for your bathroom furniture, you must decide the type of finish that suits your requirements. The various types of finish for Bathroom Furniture include: 
Foil Wrapped
A foil-wrapped finish is exactly what it sounds like. A base material is taken and wrapped with a thin plastic "foil" which is then heat set with adhesive. Giving a characteristic contoured look, foil-wrapped material is a great value proposition.  Historically, foil-wrapped materials have suffered in the bathroom, as the heat and humidity of a bathroom caused this foil to peel and bubble. Modern foil-wrapped material handle these environments much better but still have this vulnerability 
Painted
Painted finishes have some major advantages over their foiled wrapped counterparts. Available in a huge palette of colours, including custom colours in some circumstances, painted finishes are far more resilient to moisture and heat.  Over the past 5 years, we have seen a wide-scale change in colours and finishes. No longer are we sticking to the standard white sink unit and basin or the old traditional oak washstands, we have moved on to greys and blues in matte and eggshell paint finishes. 
Acrylic
Historically a premium finish generally the core is treated MDF with bonded acrylic to all sides. The high gloss finish of the modern bathroom furniture set in acrylic will add light and shape with its mirror finish with its reflective surface. This modern-day finish is in trend for not only the basin units but also the toilet furniture. The acrylic finish is well worth the little extra expense as it is more resilient to bumps and scratches, unlike the traditional bathroom furniture of the bygone days.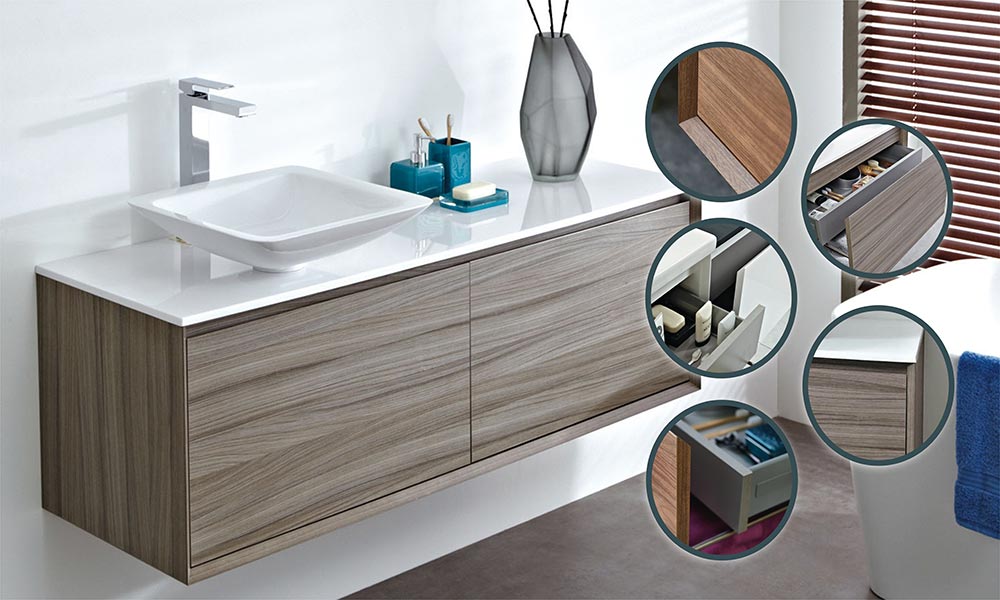 ---
Furniture Assembly and Fitting
We deliver bathroom furniture in a pre-assembled format. The furniture is shipped by a two-person delivery team to the address of your choice. This ensures a damage-free and speedier setup, saving you hours of furniture assembly time. Furniture fitting is an easy, direct process for free-standing furniture. However, for wall-mounted units, we recommend using the services of a qualified bathroom fitter.
---
Different types of bathroom furniture
Vanity Units
Quite simply, a vanity unit consists of a piece of furniture with a basin installed on top. This simple definition does not quite cover the vast scope of sizes and configurations available. The main advantage of a bathroom vanity unit over a traditional basin and pedestal is that the addition of cupboards or drawers under the basin creates much more storage in your bathroom, allowing all those miscellaneous bits and pieces to be tidied away.  
As mentioned, vanity units come in a huge variety of styles and types.
A basin vanity unit is a freestanding unit, with the washbasin set fully or partially into a flat top. The unit usually comprises a set of drawers or a small cabinet, making it very useful for extra storage.  
Slimline vanity units will prove ideal for smaller bathrooms, while corner vanity units are perfect for those bathrooms with awkward floor plans. For a busy bathroom, a vanity unit with double basins means no more fighting and elbowing over who brushes their teeth first.
Wall hung vanity units also called Wall hung basin units are mounted on the wall. These and highly space-efficient, opening the floor of your bathroom and creating free space that may be left as is or used for additional storage. 
Finally, Combination Vanity Units, combine a basin vanity unit and a back to wall toilet unit. A compact and multipurpose design, they are ideal for the main bathroom where space is a premium, or for those that desire neat bathroom furniture.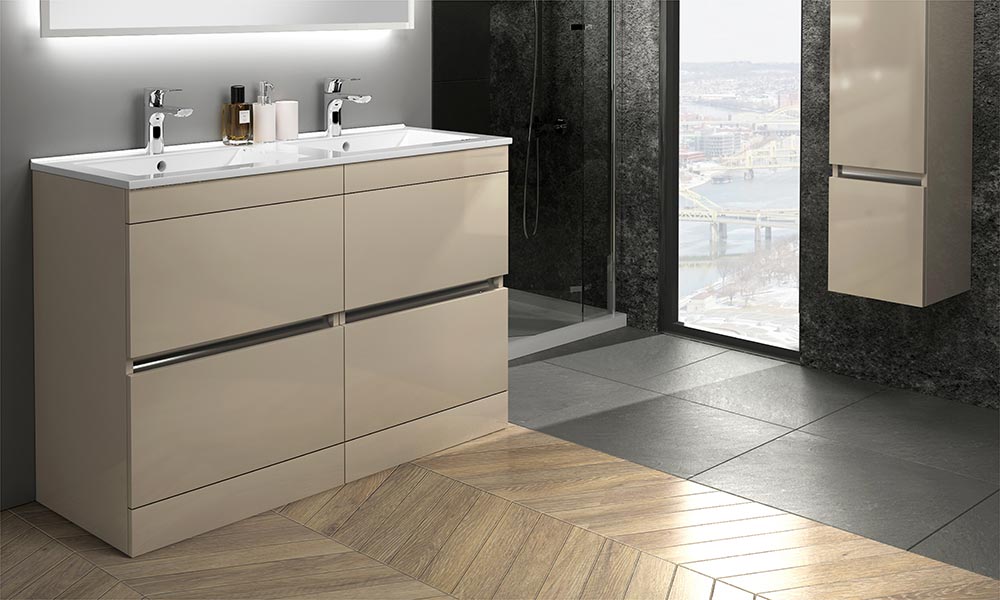 ---
Back to Wall Toilet Unit
A Back to Wall toilet unit is a sleek and intelligent solution to smaller bathrooms or en-suite bathrooms, giving an utterly modern style and feel. The Back to wall cabinets in these units, hide the toilet cistern inside the furniture itself. This not only gives an extra storage shelf behind the toilet pan but can instantly create a contemporary look for your bathroom.  
Installing a Back to Wall Toilet Unit also make installation of a back-to-wall-toilet far simpler, as the cistern does not have to be embedded in the wall, meaning your bathroom is back up and running without delay.  
---
Storage Cabinets
When developing your bathroom suite, storage may take less priority over aesthetics. However, storage is extremely important and there is a variety of storage cabinet options to choose from for your bathroom needs. 
Floor standing storage cabinets and Wall-hung storage cabinets are by far the most popular choice for bathroom storage. These units are easily portable and may be moved around, offering flexibility and convenience. At Bathroom City, we offer floor standing storage units that may have open shelves for storage, have multiple drawers or come with shelves hidden behind a small cabinet door.  
Tall Storage Cabinets, also called Tallboys, are dedicated freestanding cabinets for those in need of the most amount of storage possible. Tallboy storage units can be floor standing or wall-mounted and are perfect for storing things such as extra towels, toilet rolls or toiletries. Some tallboys storage cabinets have laundry baskets inside, keeping those clothes out the way until washing day. The freestanding option obviously can be moved around the bathroom as you needed. 
Storage benches are a great alternative to floor standing storage cabinets, providing both storage as well as a sitting space. The extra sitting space can be a great convenience for large families with children or older adults. 
Finally, there are Illuminated Mirror Cabinets that serve the dual function of providing both storage and a mirror. These cabinets come in various sizes to suit different bathroom sizes and offer fantastic value while taking up minimal floor and wall space. We offer a wide range of stunning Mirrored bathroom cabinets, so do check out our collection.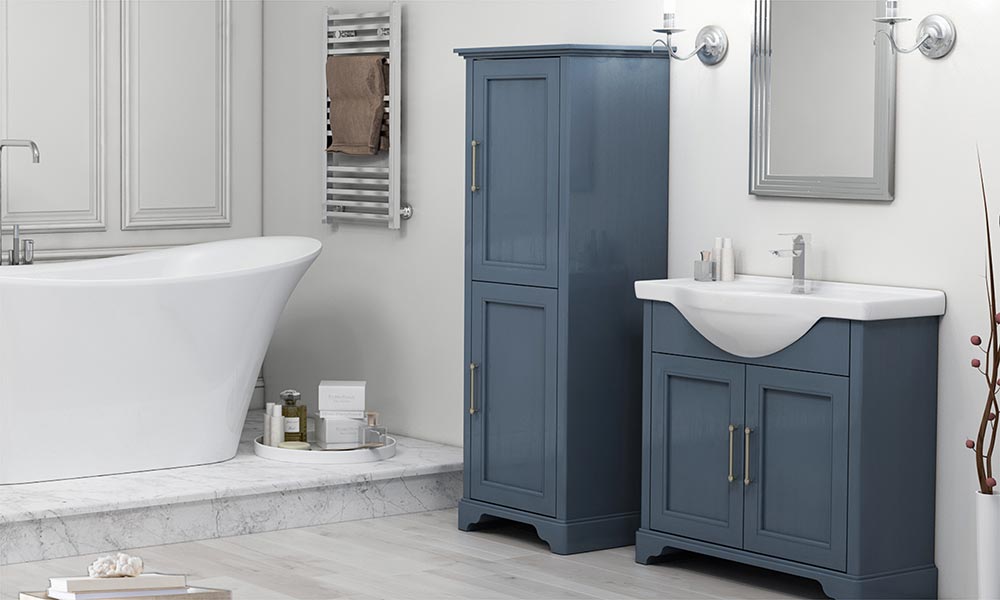 ---
Fitted Bathroom Furniture 
Fitted Bathroom Furniture is furniture that is custom-fitted to your bathroom shape and design. It is a popular option for creating a clean designer look and is a great option for those wanting to create a differentiated bathroom aesthetic. It usually consists of matching units and comes with ample storage and a worktop.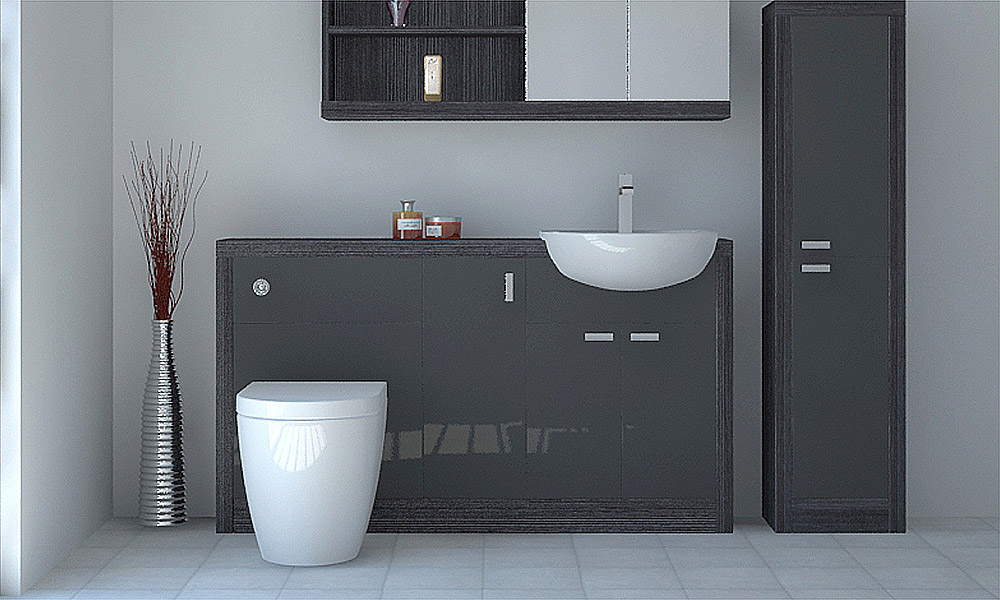 ---
Our final recommendations when choosing Bathroom Furniture
Consider your bathroom style, design, current and future needs, and budget in deciding the right bathroom furniture for your requirements
Preferably, visit a store to help you clearly differentiate and then decide between various furniture alternatives
Talk to the Store sales staff as they are usually very knowledgeable and can help you make the right decisions based on your budget and bathroom size requirements 
Be on the lookout for furniture bundling options as they can help you create a stylish look while being cost-effective
Hire a trusted plumber for having any basins and wall-hung units fitted to ensure a clean, professional look and to avoid any accidental damage 
---
Shop Bathroom Furniture 
If you liked our Bathroom furniture guide, why not browse through our online selection of Bathroom furniture? You can also visit us online or in-store, or call us on 0121 753 0700 for any enquiries. 
---
You may also like to read more Helpful Guides by our Bathroom Experts on Buying Showers, Buying Toilets, and Buying Basin Sink Units, for your new Bathroom.