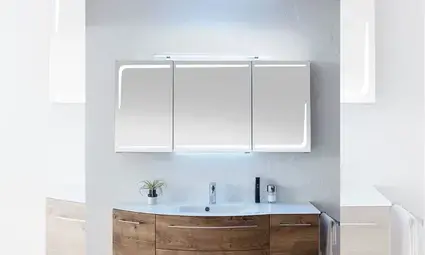 4 Min Read
A bathroom mirror cabinet is a boon for storing a collection of handy essentials – toiletries, hygiene items, and even prescription medicines. It's usually positioned over the washbasin, which is the perfect spot for quickly accessing bathroom essentials.
Many models come with an integrated LED lamp to illuminate the mirror and the space. Several models also include a built-in electrical outlet for connecting an electric shaver or hairdryer.
The latest models include technological marvels, such as anti-fog mirrors, mood lighting, and Bluetooth music. 
Since a mirror can catch the eye quickly, a mirror cabinet can easily become the centre of attention. Hence, choosing the right mirror cabinet is vital, as it can tie your bathroom's decor and layout together. It can also elevate the style and functionality of your bathroom.
Navigate to any section of this post by clicking on the links above.
---
Benefits of Bathroom Mirror Cabinets
A bathroom cabinet with a mirror is a versatile fixture that provides you with ample lighting and presents the perfect spot to get ready for a workday. Let's look at its three main benefits.
1. Space-Saving
A mirrored cabinet can squeeze the most out of a small bathroom. This space-saving furniture piece allows you to opt for a simple wall-hung washbasin instead of a more expansive vanity unit, as you will still have space for storing your essentials.
Even in a bigger bathroom, a cabinet with a mirror can save space by allowing you to make optimal use of precious wall space to store all your cosmetics and toiletries out of sight. As a result, your bathroom will have a minimalistic and clean appearance without making concessions on space.
2. Dual-Functionality
A mirrored bathroom cabinet provides two functions: The mirror fulfils grooming needs, while the cabinet offers concealed storage for grooming essentials. This dual-functionality feature means you'll not need a separate mirror, saving precious space and money. 
With the right design, you can also add more features such as bright lighting, charging points, Bluetooth speakers, and USB ports to this smart furniture piece.
3. Aesthetics
The modern and fashionable appearance of a mirrored cabinet will elevate the overall aesthetics of your bathroom. For instance, an elegant LED mirror blends stylish design and innovative functionality to perfection. 
In addition, the stunning minimalistic design of modern mirrored bathroom cabinets adds a luxurious touch. The mirrored doors of these cabinets blend seamlessly with the rest of the bathroom decor. Nothing can beat the incredible fusion of style and practicality of these cabinets.
---
Things to Consider When Choosing Bathroom Mirror Cabinets
1. Mirrored Bathroom Cabinet Style 
Bathroom mirror cabinets come in various styles – traditional, modern, or minimalist – to suit any decor. The cabinet style you choose must complement the overall design of your bathroom – e.g., wall or tile colour and other fixtures.
If you are looking for a distinct style that matches your taste, some of the features you should look for include decorative accents, adjustable shelving, and framed or frameless mirrors.
Framed mirrors add a hint of traditional splendour and can complement a traditional aesthetic. On the contrary, frameless mirrors create a minimalist look, making them perfect for modern bathrooms.
A frameless mirror can also add glamour and make your bathroom feel more sophisticated. Opting for one is a great way to infuse a striking texture or colour into an otherwise boring space. 
The advantage of adjustable shelving is you can adjust the shelf dividers to suit your changing storage needs.
2. Colour Options
Mirror cabinets are available at Bathroom City in a range of colours, such as natural oak, Hacienda black, grey gloss, steel grey, white gloss, pointing white, Stiffkey blue, and many more.
With dozens of shades and colour combinations to choose from, picking the right one for your dream bathroom can be a real challenge. But don't worry. We'll simplify it for you as much as possible. 
The first step in picking the right colour is to evaluate your bathroom space, as the relationship between space and colour is unique.  If your bathroom is small, picking a dark colour will make it appear even smaller. Hence, a lighter shade is a better option, as it can make your space feel open and airy. 
The next step is to consider the colour of the bathroom wall or tiles and other fixtures. Also, consider the cabinet style you choose. Ensure the colour you select complements these features.
3. Size and Placement
The width of your vanity unit is the best guide to determine the size of the ideal mirror cabinet for your bathroom. A cabinet of the same width would be perfect, or one that's a few centimetres smaller would also be alright.
Typical vanity unit width dimensions are 600mm (~24"), 900mm (~36"), 1200mm (~48"), 1500mm (~60"), and 1840mm (~72"). You can buy a mirrored bathroom cabinet of any of these dimensions at Bathroom City so it's in proportion to your vanity unit.
While these are standard width dimensions, there are quite a few variations as well. A bathroom mirror cabinet of width 320mm (~12") is also available. Hence, you can find any size, colour, and style you want.
In regards to the appropriate placement of the mirror cabinet, the mirror should be high enough so that all the adults in your family can see their face and neck, and there's about 12" of space above their head. 
4. Storage and Shelving
You have a great many options when it comes to storage and shelving. The primary advantage of a bathroom cabinet with a mirror is that you can conceal a host of essentials without taking up any floor space.
The storage space and the number of shelves will depend on the width, height, and depth of the mirror cabinet you choose. And based on the width, the range includes single-door, double-door, triple-door, and even quadruple-door cabinets.
A few models come with a single door with a mirror (or two doors with mirrors) on one side and open shelves on the other. While triple- and quadruple-door cabinets offer generous storage space, they are suitable for family bathrooms, as their width is large. They will appear oversized in a small bathroom. 
Most often, the available wall space in a small bathroom may not accommodate a triple- or quadruple-door cabinet. Even when it does, the cabinet will appear too large or awkward.
While the storage space in a single- or double-door mirror cabinet may seem limited, you can easily work around this problem by opting for an extra-height cabinet that has more shelves and storage space.
5. Mirror Options
The two mirror options are standard mirrors and LED (Light Emitting Diode) mirrors.
The main difference between these mirrors is that while LED mirrors feature integrated lights, standard mirrors don't. But unlike standard mirrors, LED mirrors are expensive. Lighted mirrors are hugely popular because they facilitate ease of grooming tasks.  
LED mirrors also provide uniform and flattering illumination, making grooming tasks easier. You can also customise the lighting to your preferred brightness level and colour temperature, creating a perfect ambiance.
One more area in which an LED mirror scores over a standard mirror is it can make a small bathroom seem larger and more spacious. Although a standard mirror doesn't come with in-built lights, you can pair it with other light fixtures to achieve the level of illumination you desire. 
Ultimately, the choice between a standard mirror and an LED mirror will depend on the layout, the specific needs of your bathroom, and, of course, your personal preference.
6. Price Range
Your budget also needs consideration.
A plain mirror cabinet with just a standard mirror and glass shelves will cost between £73.00 and £454.00. 
But mid-range mirror cabinets with additional features such as LED lights and electrical sockets will cost between £422.00 and £766.00. Some cabinets in this segment also have the Bluetooth feature. 
Bathroom mirror cabinets in the premium range cost between £811.00 and £1,285.00. Some models in the mid and premium ranges are available in a variety of surfaces and colours. They also have the option of top lighting.
Please check all the mirrored cabinets available in our store. We're confident you'll find the perfect piece that is of exceptional quality and matches your budget too. All the cabinets are built to last. They are made of sturdy materials and come with a 2-year guarantee.
---
Shop Bathroom Mirror Cabinets 
Bathroom City's range of mirrored bathroom cabinets represents the pinnacle of style and storage solutions. Browse through some of the UK's best brands such as Patello, Grove, Hacienda, and Pemberton at our online store.
---
Other related articles you might also like to read: