Semi Pedestal Basin Buying Guide
A semi pedestal sink is an elegant and minimalist option for modern bathrooms, available in a variety of shapes and sizes. Semi pedestal basins keep the floor clean, and help maximise space in the bathroom.
This Buying Guide will give you an overview of Semi Pedestal Basins, and answer some of the most frequently asked questions.
---
What Is a Semi Pedestal Bathroom Basin?
In semi pedestal wash basins, as the name suggests, the pedestal is semi or half. The stand and the washbowl are mounted on the bathroom wall, and the pedestal conceals the plumbing lines. Since the pedestal extends only halfway to the floor, the floor area is free, making even a small bathroom appear large. Maintenance and cleaning are also easy. Another advantage is you can position a semi pedestal basin at the right height to suit your needs.
---
What Are the Different Styles of Semi Pedestal Basins?
1. Modern / Contemporary
Want to install a statement piece in your bathroom? You couldn't pick anything better.
Top brands have created sleek, innovative designs, maximising functionality and saving space.
The smooth lines cut a dramatic profile. You also have a wide choice. You can choose a minimalistic 420mm basin, a generous 700mm basin or anything in between.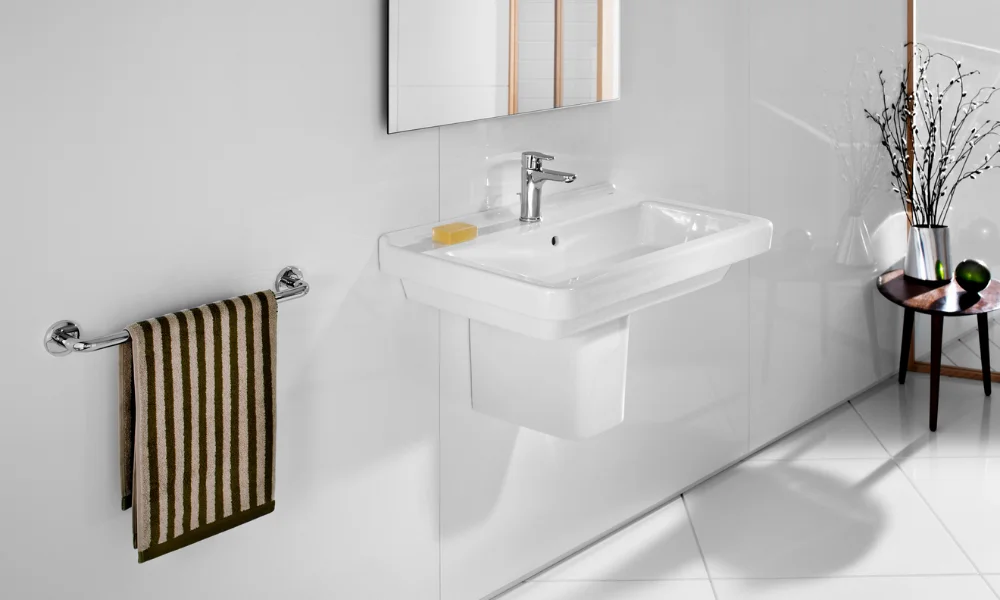 ---
2. Traditional
A traditional semi pedestal basin presents a charming, classic look. You can count on this stunning bathroom essential to evoke a traditional appeal.
Thanks to their compact footprint, you don't need to worry even if your bathroom is tiny. Once you install this long-lasting accessory made of superior vitreous china, your bathroom will appear larger and brighter.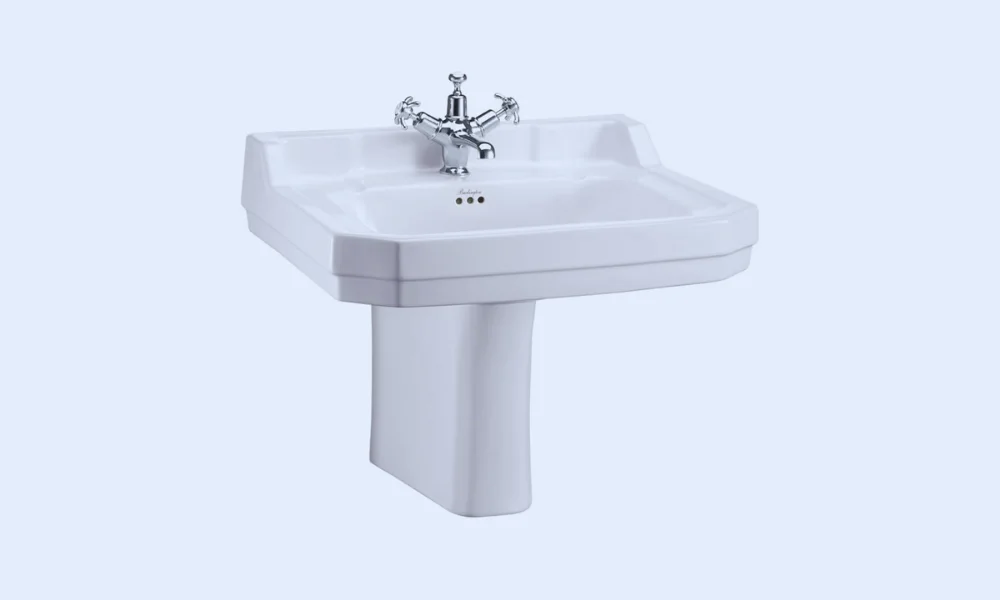 ---
What Should You Look for When Buying a Semi Pedestal Basin?
Semi pedestal wash basins are available in an assortment of shapes and sizes. Look for a shape that would match the general theme of your bathroom. Some of the regular shapes are rectangular, semicircular, square and oval. You can also opt for a unique shape if it complements the aesthetics of your bathroom.
Usage is another factor. Consider the usage carefully before selecting the right size of the basin. For instance, a basin of wider dimensions would be a better option for a family bathroom, where the traffic is bound to be high. But in a guest bathroom, the traffic is bound to be low. So, in this case, a minimalist basin would be an intelligent buy.
One last bit of advice. Don't forget to add essential bathroom accessories -  a mirror shelf, strategic lighting, toothbrush holder, soap dish etc.
---
How Much Space Do You Need For a Semi Pedestal Sink?
In terms of dimensions – width, height and depth – semi pedestal basins take up minimal space.
In fact, their main feature is they occupy less space. But you still need to know the correct dimensions of your bathroom. So before finalising the purchase, note down the dimension of the widest part of the semi pedestal basin you choose.
The range of the width is from 420mm to 700mm. Likewise, there's a broad range in the height and depth, as well. But the width of the basin is the most important dimension that you need to be aware of.
Make sure there's sufficient space on either side of the sink and between the sink and the opposite wall, as well.
There's another common problem that can crop up if your bathroom is especially small. The basin can get in the way of the door, obstructing it from fully opening.
---
Is a Semi Pedestal Basin Right for Your Bathroom?
If space is at a premium, then a semi pedestal basin is right for your bathroom. But if space isn't a concern, then a vanity unit with basin is a better buy, as you get storage space.
Price is another factor to consider. Some small vanity units cost less than semi pedestal basins.
---
Shop Semi Pedestal Bathroom Sinks & Basins
At Bathroom City, our large range of semi pedestal basins presents you with a wide choice. We stock semi pedestal basins that match every style and every budget. You'll find space-saver designs as well as family bathroom semi pedestal sinks in our online store.
---
More Bathroom Advice On Basins:
The Most Comprehensive Bathroom Basin Buying Guide
Basin Wastes Guide: Everything You Need To Know
Corner Basins Buying Guide
Pedestal Basin Buying Guide