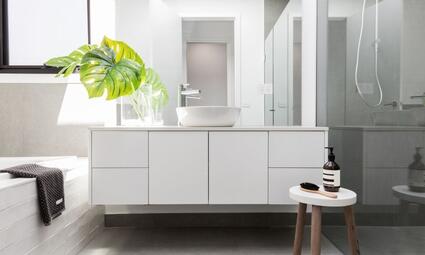 4 Min Read
Choosing the right type of basin can automatically provide a five-star vibe to your bathroom interior. It's an area that is most noticeable when you first walk into a bathroom, so it's definitely a purchase that should be given thoughtful consideration.
It's also one of the most regularly used areas of the bathroom (more so during & after the pandemic), so it's important that you invest in a decent basin that will last many years to come.
In this comprehensive basin buying guide, we'll cover the most critical aspects of buying a basin for your bathroom. Read on to learn more.
Navigate to any section of this post by clicking on the links above.
---
Things To Consider When Buying a New Basin
Some important factors to help you narrow down the choices available:
1. Bathroom Size
Basins are available in various sizes and styles, so keep that in mind when selecting the one that best fits your needs. 
Most bathrooms in modern housing have limited space, making wall-hung basins & Corner Basins ideal solutions for them.
Pedestal Basins are the quintessential choice in many family bathrooms.
What's important to remember here is that the basin you choose must not occupy too much space or cause excessive spillage, creating a mess on the bathroom floor.
---
2. Basin Height
Ideally, the height of the basin must be equal to the height of your waist. This makes it convenient to use.
A comfortable height also allows for sufficient space to add a vanity unit under it and a mirror above the basin, which is easier to access. 
The height may also depend upon who is likely to use the basin. If you have children or elderly relatives who find it difficult to stand for long, you might want to consider positioning basins a little lower or opt for height-adjustable washstands for ease of use.
---
3. Mounting Options
Different Basins are designed to be installed in the Bathroom in different ways. For example, a Corner basin needs to be fitted in a Bathroom Corner, and a Counter-Top Basin is suitable to mount on a Worktop or Vanity Unit.
Besides the Mounting Options, it's also important to know the style of Basin Waste you will need. Basin Waste is not generally included when you buy a standalone Basin, though this may vary depending on where you're buying your basin products.
You can easily find this information by checking your Basin product specifications, or by making an inquiry with the Store Sales Staff. You can also learn more by reading our Detailed Basin Waste Guide.
---
4. Basin Taps
Once you have decided on a basin style, you'll need to consider the number of basin taps. The number of tap holes that are drilled into a basin, at the time of manufacture, will decide the type of taps you can choose. 
Most basin sinks in the market have one tap hole.
This is mainly because the majority of taps are mixer taps. These mixer taps combine both hot and cold water so that it's easier to find the perfect temperature. Single mixer taps also offer a more modern design to keep in trend with contemporary styles. 
However, if it's a traditional style that catches your eye then you may want to consider a basin that offers two tap holes.
---
Different Styles of Bathroom Basins Available in The Market
Basins, Sinks, Washbasins - Call them what you like, they come in various types. Some of the most common ones are:
1. Wall-Mounted Basins
Wall-mounted basins are a great choice if you're working in a small space. They attach to the wall which allows you to utilise the space underneath the sink. It's important to remember that with wall-mounted basins, the pipework underneath the sink will be exposed and visible.  
Even though the plumbing may be exposed in some of these designs, adding a chrome bottle trap to a wall-hung washbasin in place of a white plumbing waste will improve its overall visual appeal.
It is also important to note that wall-mounted basin sinks, although sturdy, must not be climbed upon with force as that may cause damage. 
If space efficiency is your highest priority, don't forget to check out our selection of wall-hung basin units.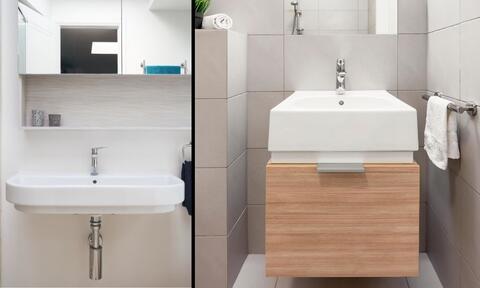 ---
2. Pedestal Basins
Pedestal basins are your classic basin option and probably the one people recognise the most. 
The benefit of a pedestal basin is that it hides any pipework, leaving you with a clean and tidy finish. The basin is actually supported by a fixture to the wall so you don't need to worry about the pedestal taking the weight of your basin. 
We have a superb range of both contemporary and more traditional pedestal basins, that you can choose from.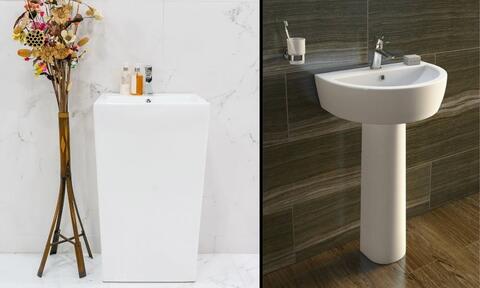 ---
3. Counter-Top Basins
The bathroom is an area of the house where space is usually at a premium. Installing a countertop basin is a handy way to utilise space as there's no need to fix a pedestal. 
A countertop basin also has the added advantage of bringing a super stylish, modern edge to your bathroom. As it looks as if the basin has simply been placed on the countertop or vanity unit, it leaves your bathroom with a minimalistic, orderly finish and plenty of space for furniture and storage. 
If you're looking to breathe some life back into your bathroom, do check out our countertop basin range.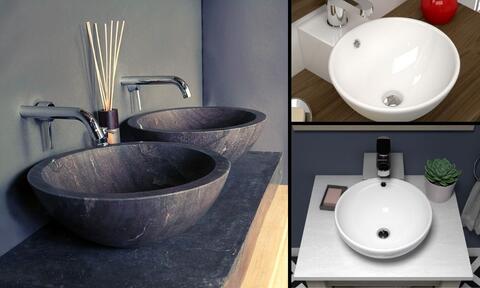 ---
4. Fully Recessed Basins
A fully recessed basin, also known as an inset basin, is a chic option for any bathroom. Set into the counter-top or benchtop in your bathroom, it lends a stylish & contemporary appeal. 
There is significantly less spillage, and the counter looks spacious and easy to clean. You can use the space underneath the counter for additional storage or vanity units.
These fully-recessed bathroom basins come in various stylish and great designs that you can choose from based on the space and the design of your bathroom.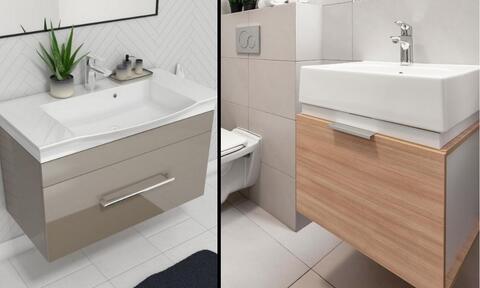 ---
5. Semi-Recessed Basins
Semi-recessed basins are the ideal choice for slim, galley-style bathrooms where space is at a premium.
A semi-recessed basin is a combination design between a fully recessed basin and a counter-top. The basin sink is mounted on a unit, but it doesn't fit into the counter-top completely and protrudes slightly at the front.
With this basin, having a slimline storage cabinet for all your essentials ensures that you do not compromise on the size of the sink. It hangs over the cabinet but still allows for maximum floor space to stand.
Make sure to browse through our selection of Semi-recessed basins, if the design appeals to you.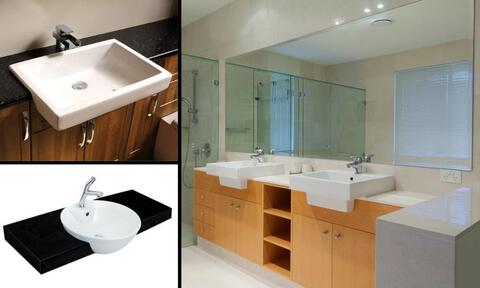 ---
6. Corner Wash Basin 
The ultimate space-saving design for your bathroom or cloakroom is the corner wash hand basin. The corner basin unit can be either mounted on a corner wall or positioned on a corner storage cabinet.  
Corner washbasin shapes have changed dramatically over the years giving you the option to choose from among rectangular, round, or offset corner basins in various colour options. 
Various styles and shapes are available such as the Celin Corner Wall Hung Basin, a popular Italian design, made from porcelain. You can also try unique products in this range, like the bluestone marble basin which is a statement piece in itself. 
For more information on different types of basins, read our article on What Are Different Types Of Bathroom Basins and Sinks?
---
What Accessories Do You Need to Go With Bathroom Basins?
1. Taps
When choosing Bathroom Taps, you need to consider factors such as Water Pressure, Number of Tap Holes, Material, and Style.
The most popular bathroom taps include the basin mixer taps, the tall basin mixer taps, and the mini basin mixer taps. The smaller taps tend to be the lowest-priced, while the tall mixer taps are a more premium option.
Make sure to check the water pressure in the taps. Different taps offer different water pressure ranging from low to medium to high. Some of the better-quality mixer taps have internal valves that can be easily and cheaply replaced if needed. 
You can also consider adding aerators at the end of the tap head to manage the water flow. Aerators or flow regulators are fitted into the end of a tap assembly and add air to the flow of water. This reduces the amount of water passing through the tap giving a different look and feel to it.  
Choosing a suitable material for the basin tap determines its cost and durability. The best options available today are chrome-plated and brass-plated taps. These taps are erosion and rust-free. This way, you do not have to worry about the tap when using hard water in your bathroom.
The operation of the tap is also an essential factor to consider. You can choose between taps that have a knob or a flip-type handle. You can even get taps that allow water temperature settings and switch from hot to cold or vice versa when needed. A flip handle tap or a mixer tap is most popular due to ease of use.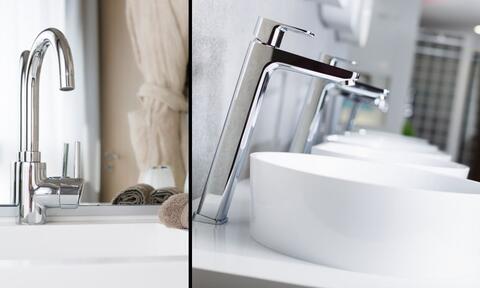 ---
2. Waste
A bathroom sink waste is simply a tube where the water drains out. The purpose of the basin waste is to ensure that water runs off easily, preventing any overflow. These wastes also come with a plug that allows you to block the sink pipes when you want to fill the basin with water. It may not sound like it, but Basin waste is an important bit of Bathroom plumbing. 
Two types of basin wastes are commonly used — slotted waste and the unslotted waste. Before you read any more about them, you must first understand what an overflow is. An overflow is a small hole at the back of a basin. Water can drain from this hole in case the level gets too high. 
The Unslotted basin wastes must be used on sinks without overflows. Slotted wastes must be fitted to all basins with overflows. 
It is crucial to make sure that you choose the right type of basin waste. Installing the wrong one may damage your sink. Also, if there's oversight, you're at risk of flooding your bathroom.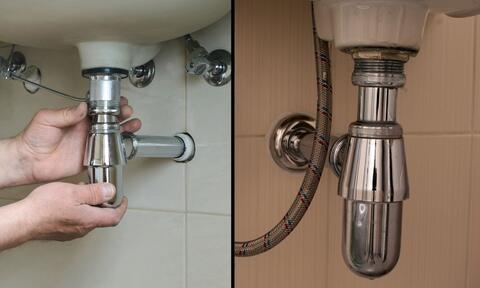 ---
3. Traps
Any wastewater from your basin units is disposed of in a drainage system. This system must be efficient to prevent any build-up of waste or dirt leading to blockages. This is why a basin wastewater trap is an essential accessory for your Basin.
A washbasin trap is used at the point where the sink connects to the wastewater pipes. 
The trap acts as a seal between the bathroom and the basin unit. That way, any smell or microbes from the waste in the drained water do not re-enter the wastewater pipes.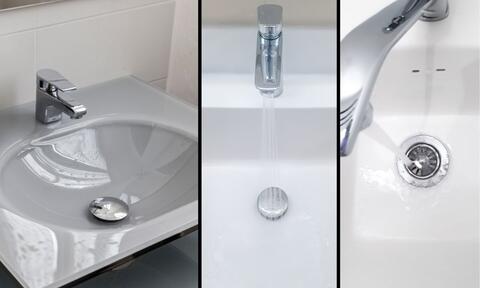 For more information on basin installation, read our article on How to install a basin / bathroom sink?
---
Common FAQs about Basins
How High Should a Bathroom Basin Be?
The standard height of a bathroom basin is about 850mm. However, this varies depending on the users. If you are a taller individual, using a higher basin is a good idea as it prevents any strain on your back. You also have family-sized basins and kids-sized basins that are designed to suit particular users. Ideally, the basin must be just at the height of your waist for ease of use.
What are Different Colours Available For a Bathroom Basin?
From basic white or ivory to coloured bathroom basins, you can pick from a wide variety of colours available these days. You also get designer bathroom basins that may incorporate patterns, textures, or designs on them for added visual appeal.
Is it possible to paint a Bathroom Basin?
It is possible to paint a bathroom basin. However, this depends upon the material of the basin that you have used. Porcelain and ceramic are easier to paint as they can be scraped and primed with a bonding agent before painting. Acrylic paints are the best option for such bathroom sinks. However, with a large number of colour options available today, this may not be necessary.
How Long Does a New Bathroom Basin Last?
A good-quality bathroom basin lasts for up to 20 years. However, the life of the faucets or the taps may vary depending on the quality. You must also ensure that you use a suitable cleaning material to preserve the surface of the basin. Make sure that you do not use corrosive cleaning agents regularly as they may damage the basin.
---
Shop Bathroom Basins
Bathroom City is one of the UK's oldest Bathroom Furniture Suppliers, trading for the past 35 years. From contemporary to traditional styled Basins, you can find a range of options suitable for all types of small, en-suite & large family bathrooms. Shop Online from our wide assortment of bathroom furniture products, or visit our Store at our Birmingham Bathroom Showroom. 
---
If you're in the market to buy a New Basin, make sure to check out our Top 5 Recommendations for Basin Sink Units.  If you enjoyed reading this Guide, you should also check out our Detailed Guide To Buying Bathroom Furniture and the Bath Buyers Guide.