Top 13 Space-Saving Bathroom Ideas
Although your bathroom is one of the most hardworking rooms in your home, it's often the smallest. Hence, putting every square inch of available space to good use becomes crucial. Regardless of the size of your bathroom, we're confident these space-saving bathroom ideas will help you free up more space and make your bathroom look bigger. From wall-mounted vanity units to wall-hung toilets, mirrored bathroom cabinets to designer vertical radiators, and waterfall taps to digital showers, we cover practical, ready-to-implement ideas in this post to save space without compromising on usability.
Our Recommendations for Top 13 Space Saving Bathroom Ideas
Navigate to any section of this post by clicking on the links above.
Wall Mounted Vanity Units
A wall-mounted vanity unit frees up valuable floor space in your bathroom, providing much-needed storage space. From sharp contemporary basins to sleek modern draws, you can find the perfect wall-mounted vanity unit that blends seamlessly with your bathroom décor. You don't need to compromise on design as it's easy to find a slim and reduced in depth (200 mm) version of this space saver bathroom furniture.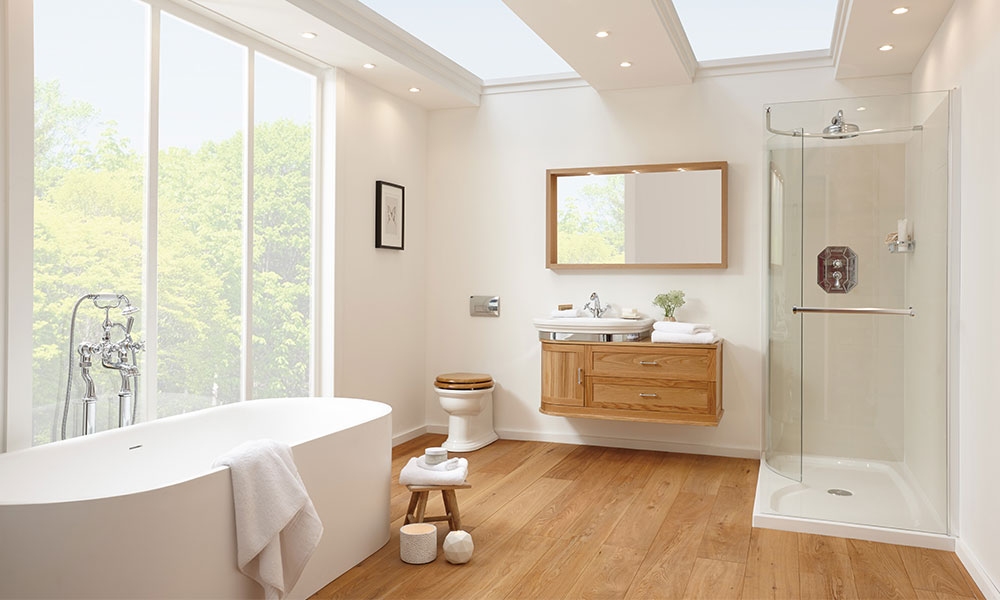 ---
Shower Baths
The main advantage of a shower bath is that it provides you with the best features of both a shower and bath, without limiting the shower area like a standard shower. The unique P, L or D shape of the shower bath provides an unrivalled showering space, presenting you all the luxury and space-saving of a compact shower installation. Ultimately, you save space by combining the two bathroom essentials as installing a separate bath and shower can mean a fair amount of extra floor space.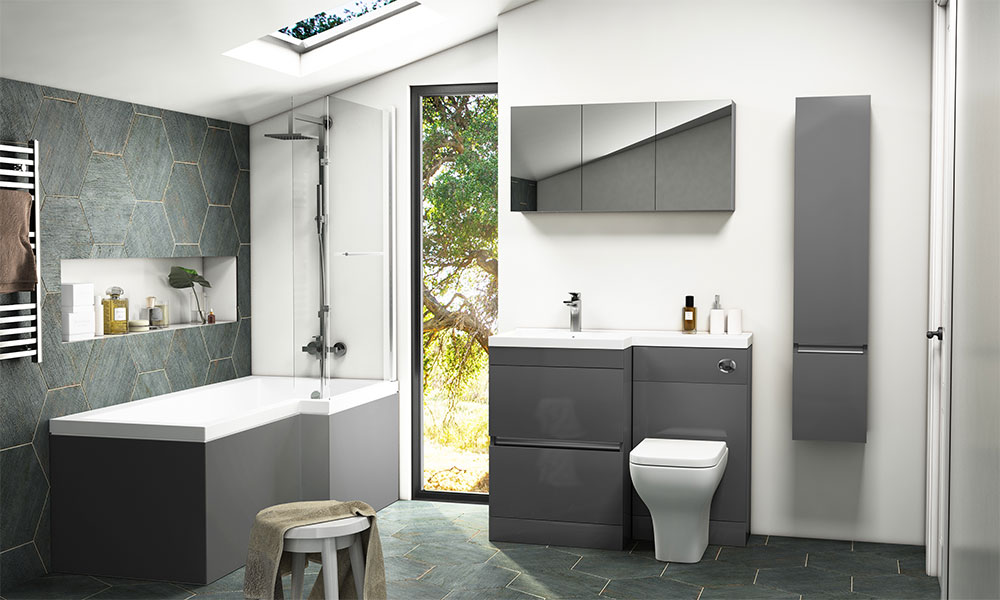 ---
Quadrant Shower Enclosures
The door style is the key feature you must note when choosing a quadrant shower enclosure for a small bathroom. While a sliding door is the best bet for saving space in a small bathroom, a hinged shower door is a better option for a larger one. Quadrant shower enclosures come in various shapes and sizes. Their versatile design delivers a solution to smaller bathrooms as well as larger family bathrooms. The ultimate space saver is the corner entry shower enclosure that's fitted with a sliding shower door.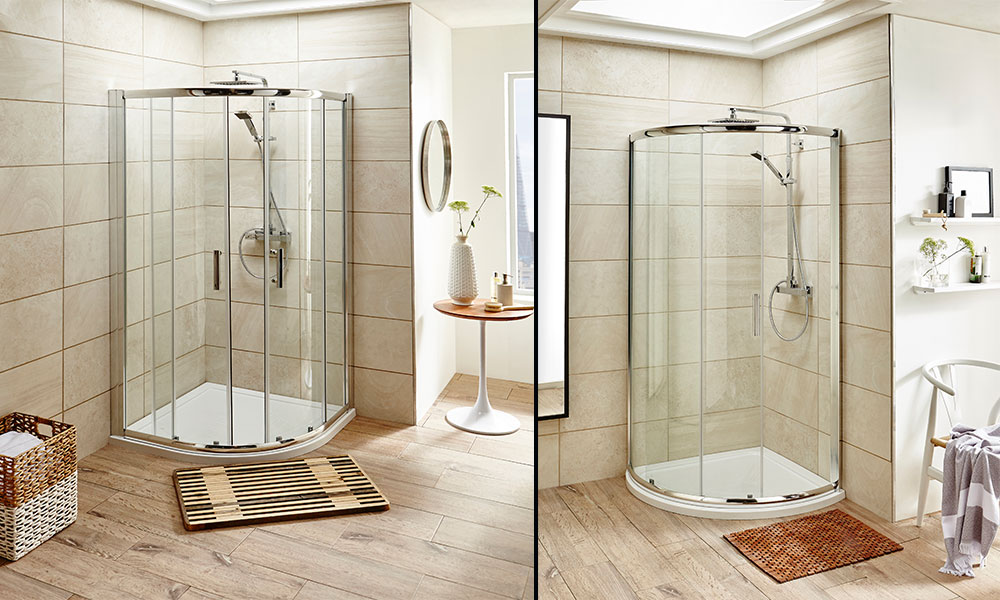 ---
Tallboy Cabinets
A tallboy cabinet is the perfect space-saving freestanding furniture you can find for your bathroom. This handy storage cabinet not only looks great and minimalist, but it's also very practical. Their tall height and size permit you to conceal a lot of bathroom accessories whilst retaining the stylish appearance of your bathroom design. The tallboy cabinets range comprises a single door, double door, single door with shelves, single door with drawers, double door with shelves, and many more.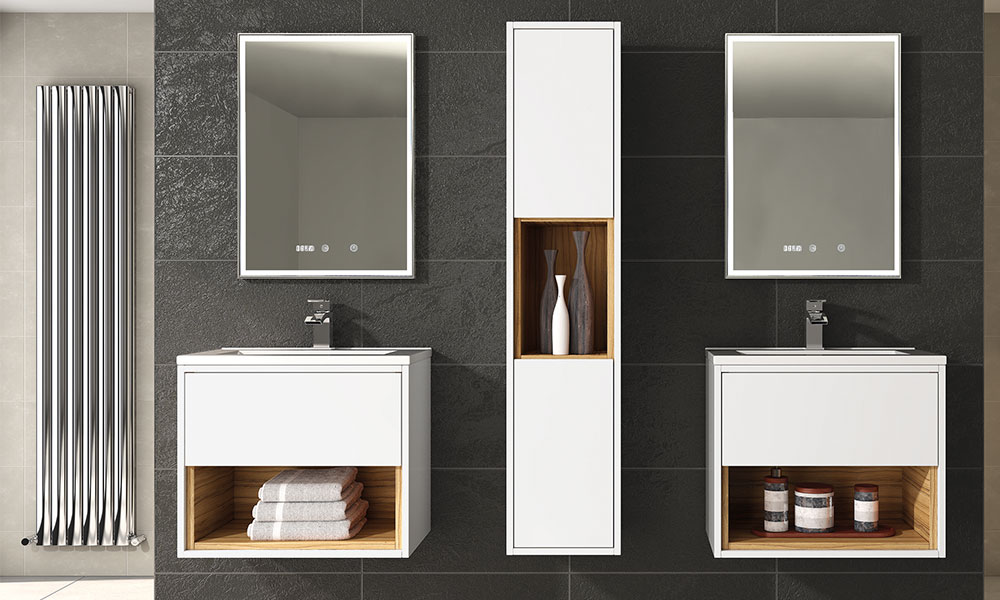 ---
Wall-Hung Toilets
A wall-hung toilet is another excellent space-saving solution, and it's the perfect choice for a compact bathroom. Since a wall-hung pan occupies far less space than a conventional pan, you can place it closer to other bathroom furniture. And as the pan is suspended above the floor, an illusion of a more spacious bathroom is created as more floor space is visible. You can also easily clean around and underneath the pan as it hovers several inches off the floor. An ultra-modern wall-hung toilet design helps you achieve a streamlined, minimalist look.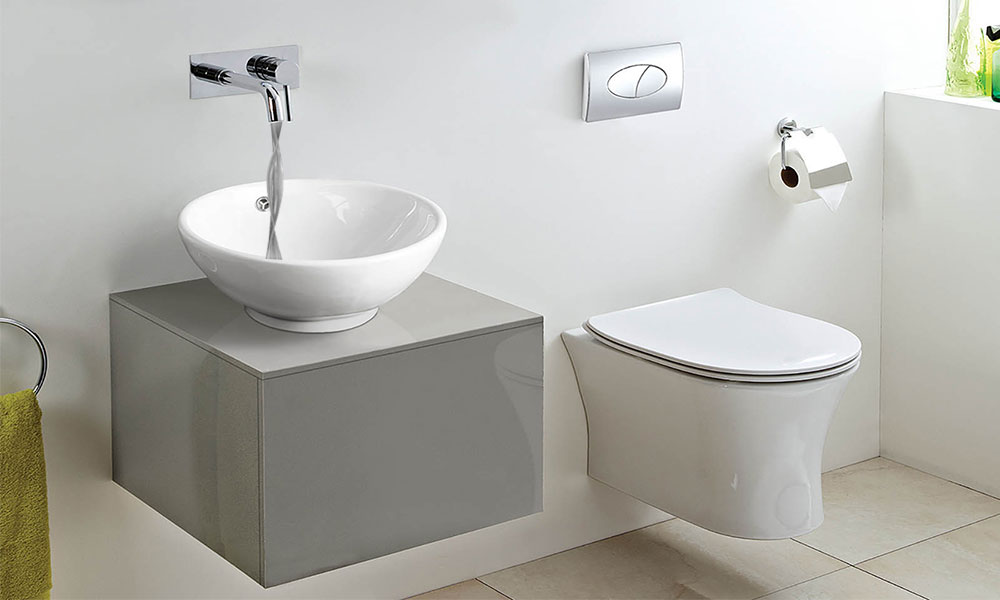 ---
Short-Projection Toilets
When space is limited, a short-projection toilet allows you to make the optimal use of the space you have, without compromising on style or taste. The short projection pan is typically 600 mm deep (you can also find models that are only 500 mm deep), and the entire unit comes with a dual flush cistern including fittings. Most toilets feature smooth curves with a contemporary look, and you can couple it with a matching basin and pedestal.
---
Back to Wall Toilets with Cabinets
A back to wall toilet with cabinet is a fantastic space-saving option that saves you a substantial amount of space without altering the style of your bathroom greatly. The back to wall toilet allows you to hide the cistern inside the furniture unit, presenting a modern look and feel. This sleek unit is perfect for the contemporary bathroom as its size helps you maximise your bathroom's potential. This stunning bathroom furniture is available in multiple colours and comes with a reduced depth.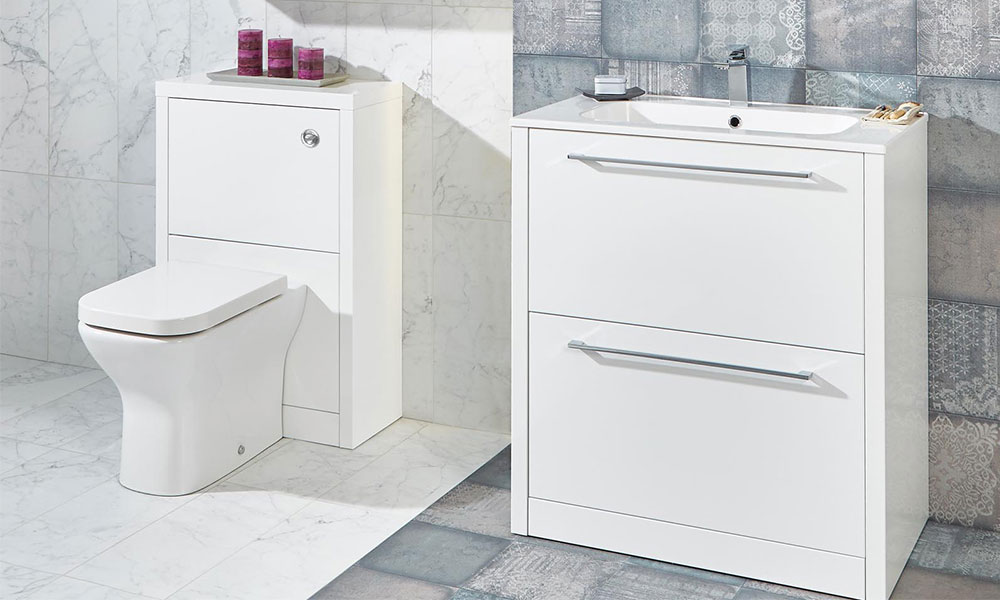 ---
Mirrored Bathroom Cabinets
A mirrored bathroom cabinet is another two-in-one space-saving solution. Whilst providing valuable storage space for your bathroom accessories, it also provides the mirror that's vital in your bathroom. Mirrors are ideal for a small bathroom as they create the illusion of a larger space. Since wall-hung mirrored bathroom cabinets are available in an assortment of finishes and storage options, you can pick the right one to create the perfect stylish finish for your bathroom.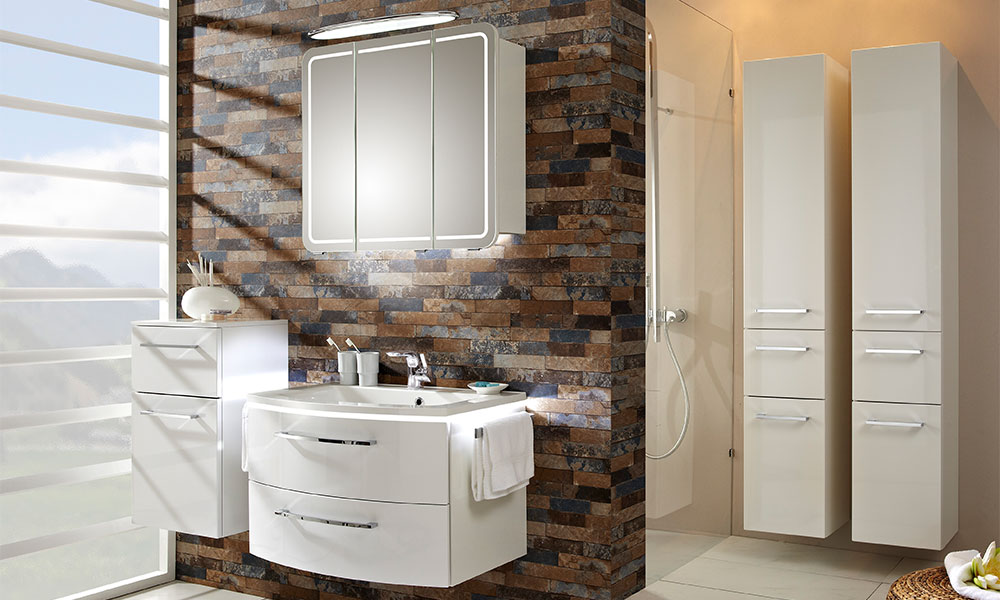 ---
Designer Vertical Radiators
Looking to create a warming ambience for a pleasant bathroom escape? An unsightly, old-fashioned heating unit is the last accessory you want in your bathroom. Why not choose a designer vertical radiator to deliver a premium heating solution? You can select from a range of luxury bathroom radiators and heated towel rails that are available in a variety of styles and finishes, both traditional and contemporary. All the models are capable of providing a high level of heat output, promising you a cosy bathing experience.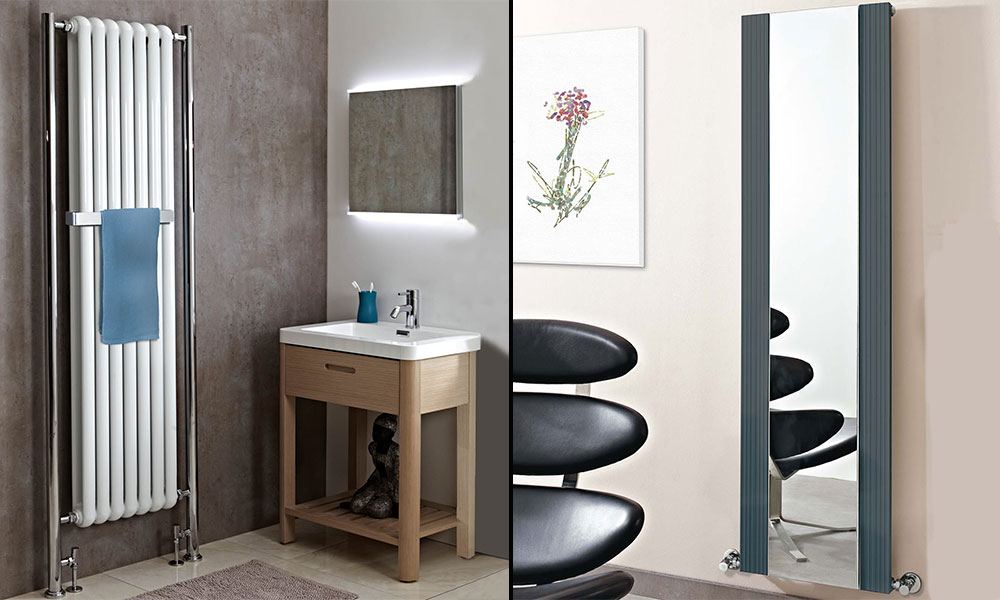 ---
Waterfall Taps
A waterfall tap is a mini tap that saves you space. This miniature tap is a perfect fit for any small basin. The basin mono mixer tap includes flexible water connections for easy installation and eco-click water technology that saves up to 50% water. This tap features a broad, single lever that delivers water via a luxurious open waterfall spout. This tap is also easy to use and low on maintenance.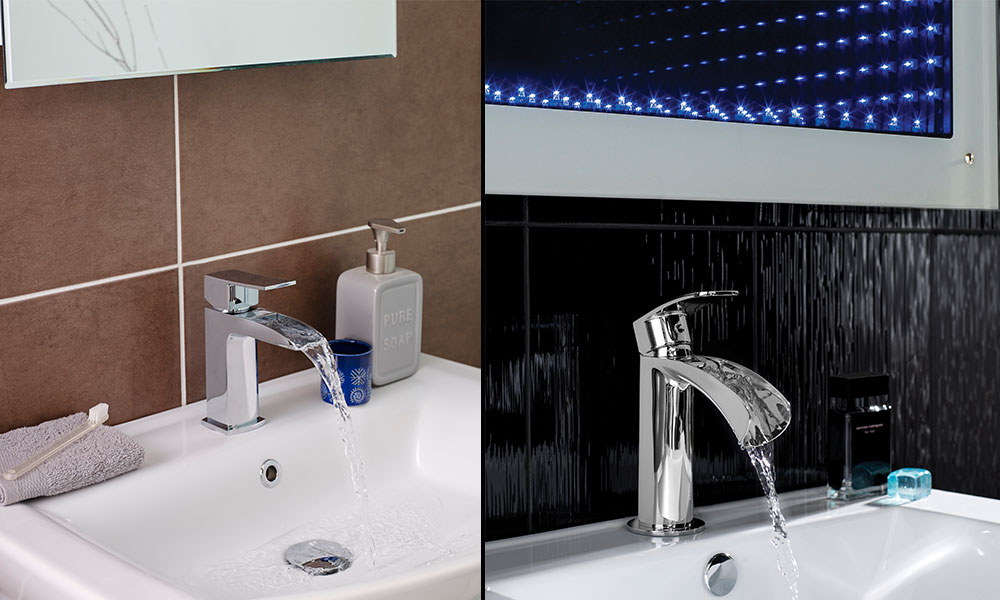 ---
Fitted Bathroom Furniture
Fitted bathroom furniture allows you to design bathroom furniture pieces that are hand-built to suit the dimensions of your bathroom. You can develop fitted furniture from scratch around your bathroom space to improve convenience. You can further enhance the practicality and decor of your bathroom by choosing your colours, ceramics and extras. The homegrown craftsmanship of our workshop promises great versatility in personalising your design, helping you achieve the best quality finish.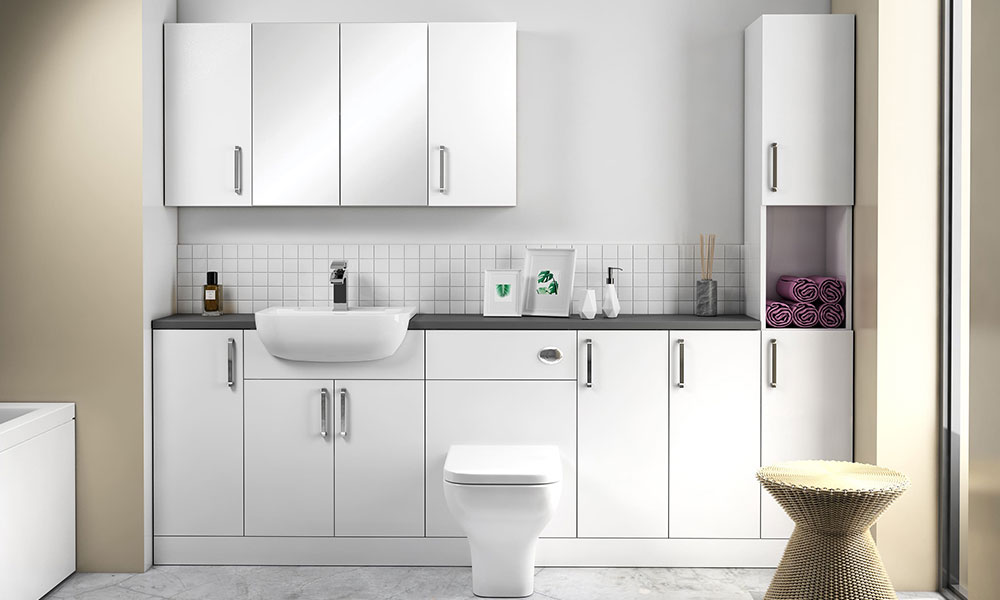 ---
Waterfall Shower Heads
A waterfall shower head is one of the most exquisite shower heads as it is intended and designed to mimic a waterfall. For many people, a waterfall shower is a fabulous experience – the water provides them with a soothing feeling as it cascades down their skin. You don't have to wait until your next holiday. Experience the wonderful feeling of a natural waterfall in your home every day. And enjoy a better showering experience in the same available space!
---
Digital Showers
A digital shower is an ultra-thin bathroom accessory that not only saves space but also delivers the benefits of intelligent showering technology. The touch of a button presents you precise control. Compared to a traditional manual shower with limited functionality, a digital shower enables you to enjoy a greater degree of personalization. This shower comes with innovative features and endless possibilities. Accurate temperature control is, of course, the most sophisticated safety feature in a digital shower.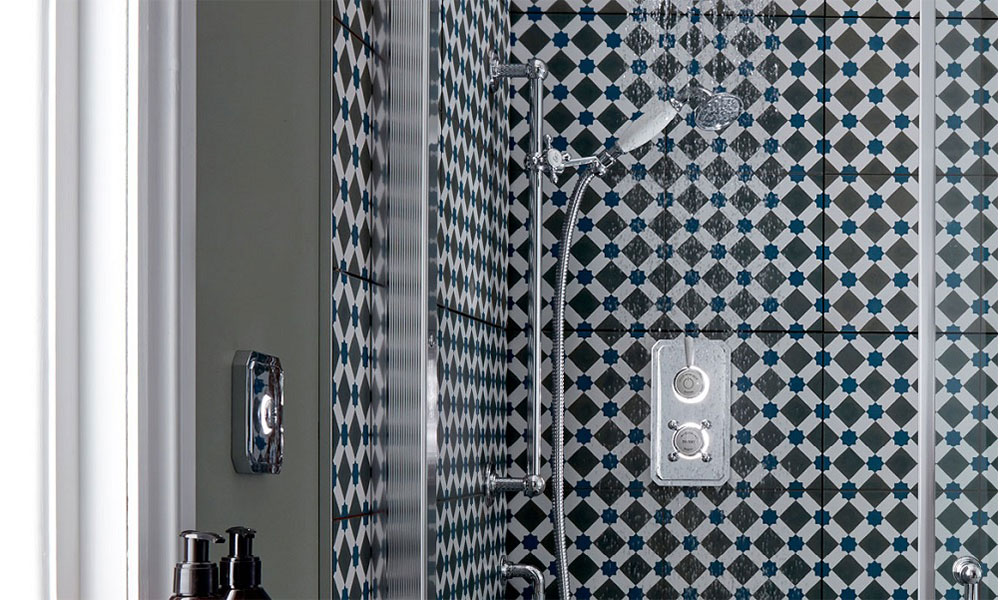 ---
Shop Bathrooms
No two bathrooms are identical, especially when you consider the amount of space you can put to use. Whether you live in a studio apartment, a huge mansion, or somewhere between these two, you need to get creative to apply the space-saving bathroom ideas detailed above.
At Bathroom City, we offer you a wealth of practical solutions that suit any setting. You'll find the perfect bathroom furniture whether you're looking to add a functional complement to a small bathroom or a big wall-hung vanity unit to a family bathroom.