7 Amazing Shower Enclosure Designs To Inspire Your Remodel
When it comes to a shower enclosure, sometimes, a minor design change to your existing enclosure can make a world of difference. The brand new shower enclosure designs discussed here can easily transform your ordinary-looking bathroom into a splendid one instantaneously. And the main advantage of this stunning selection of shower enclosures is that it has options to suit virtually any bathroom. 
Navigate to any section of this post by clicking on the links above.
---
Shower Designs to Inspire Your Remodel 
1. Jaquar Shower Enclosure: Black Frame, Sliding Door, Clear Glass, Various Sizes, Optional Side Panel | £800 - £900
The black matt frames and the long heavyweight black handle of the sliding door of the Jaquar Shower Enclosure add monochromatic sophistication without encroaching on the bathroom space. You can effortlessly slide in and out of this shower enclosure with the easy-clean roller technology. No more morning struggles with the awkward hinged shower door. Now, isn't that a relief? And the 8mm safety glass ensures that both quality construction as well as functionality is top notch. A full-length magnetic strip – supplied with the door – provides watertight protection and ensures the door remains shut while the shower cubicle is in use. You can install the Jaquar Slider either wall-to-wall or with a side panel. 
A convenient feature of this shower enclosure is its availability in both left and right-hand options. You don't need to worry about unsightly screws and seals as this neat, streamlined shower enclosure comes with concealed fixings and translucent seals. You also get a 10-year guarantee on this shower enclosure.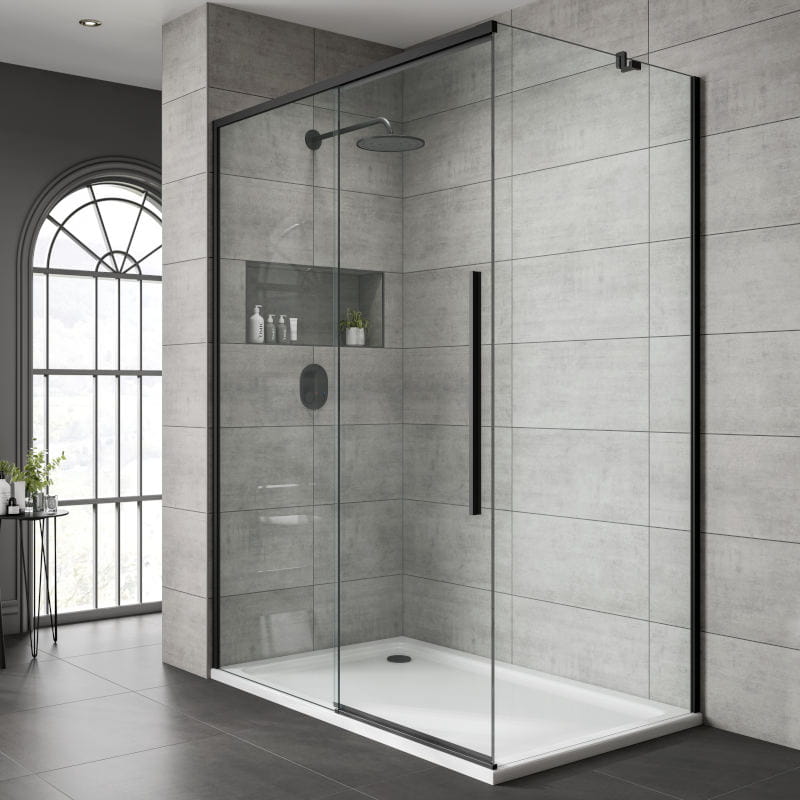 ---
2. Matki Illusion Quintesse Shower Enclosure | £1,400 - £1500 
The 3-Sided Matki Illusion Quintesse is the right choice if you are intent on bringing home one of the most fascinating shower enclosures on the market. The elegant contemporary looks and uncompromising functional prowess make this shower enclosure truly marvellous. A specially designed channel holds the harmonious curved glass panels securely, integrating the shower tray and the shower enclosure glass. The channel does away with the need for unsightly silicone sealant or extra framework at the point the glass panels meet the shower tray. 
The frame elements of the Illusion Quintesse are mirror polished, with the shower tray featuring a delightful white finish. This shower enclosure will outlast the 10-year guarantee by a long way as the 8mm glass door and the 6mm curved panels are designed to stand the test of time. Also, you don't need to worry about cleaning the enclosure after every shower as the integrated Glass Guard protection makes maintenance a breeze and prevents the build-up of limescale and grime.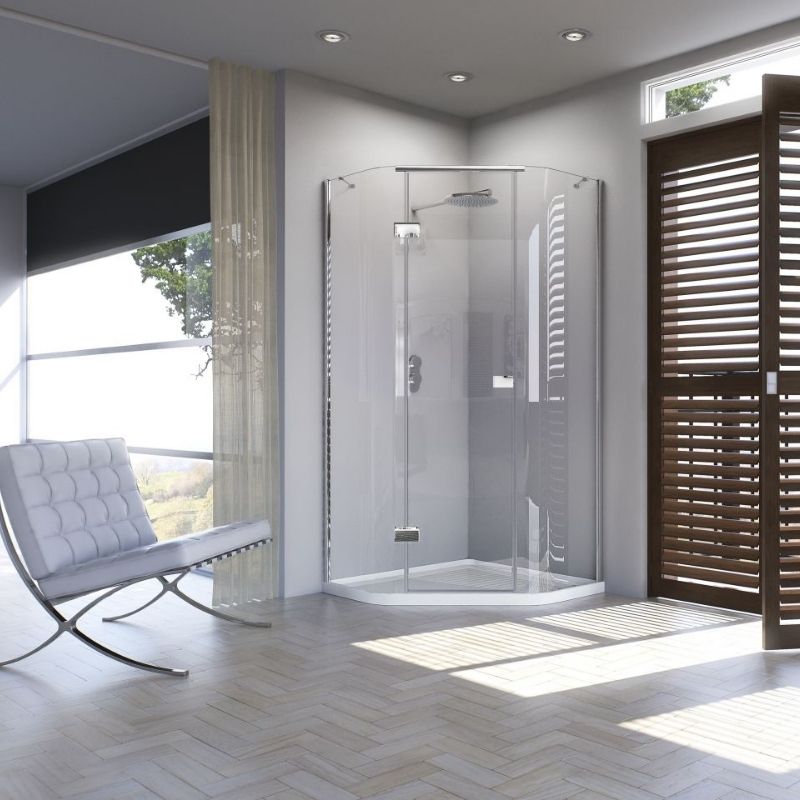 ---
3. Burlington Offset Quadrant Shower Enclosure | £700 - £800
The D-shape of a quadrant shower enclosure is designed to fit in any corner of your bathroom. The universal format of Burlington's Offset Quadrant Shower Enclosure is perfect for a remodel, as it helps you achieve your desired bathroom design. The premium, easy clean 8mm toughened glass evokes a striking appeal. 
This quadrant shower enclosure features two hinged doors with handles that are perfect for both left and right-hand installation. This durable shower enclosure is a value buy as it comes with a 10-year guarantee from Burlington, safeguarding you against any manufacturing defects. This compact and neat quadrant shower enclosure is the right choice if you desire to combine style and functionality in your bathroom.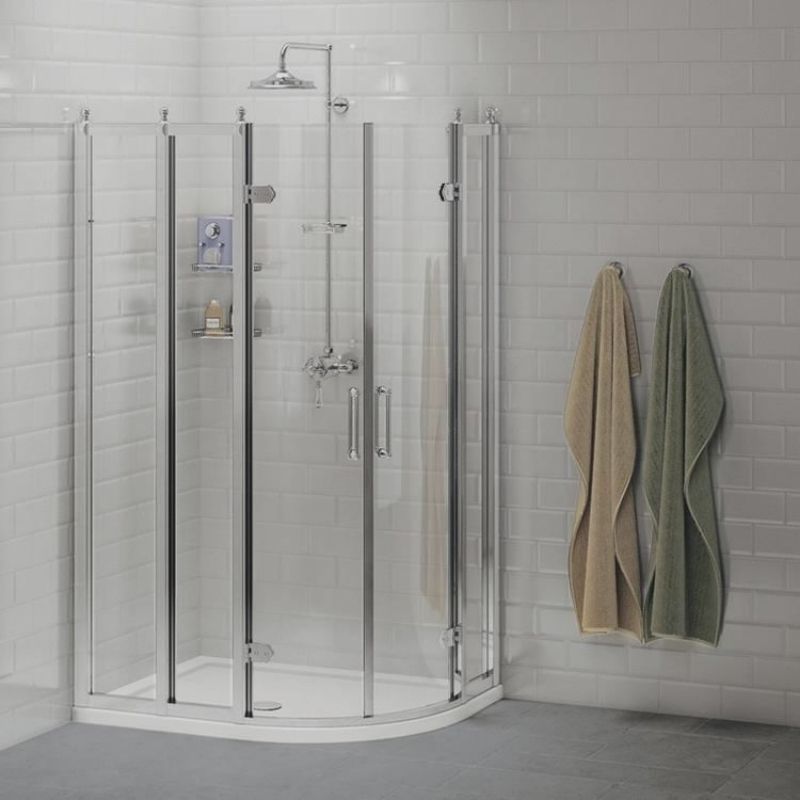 ---
4. Jaquar Shower Enclosure: Black Frame, In-swing Door, Clear Glass, Various Sizes, Optional Side Panel | £800 - £900
The Jaquar In-swing Shower Door is ideal for a recessed enclosure or alcove, as it can be fitted between two walls. When fitted this way, this door essentially completes a pivot shower enclosure. This in-swing shower door is an all-round quality addition, as it combines space-saving technology with innovative black matt frames. The door neatly folds into the shower cubicle instead of swinging out, presenting easy access while saving valuable bathroom space. The concealed fixings and translucent seals of this bifold shower enclosure make its design highly streamlined. 
The Jaquar in-swing door is suitable for a corner installation, as well. You only need to install the door alongside a side panel. The resulting enclosure is then essentially a bifold shower enclosure. The Clear Screen 8mm toughened glass is coated with Easy Clean Shield protection to reduce limescale damage. You don't need to worry about stray water splashes outside the showering area as the door also features a magnetic vertical strip, permitting it to be watertight when closed.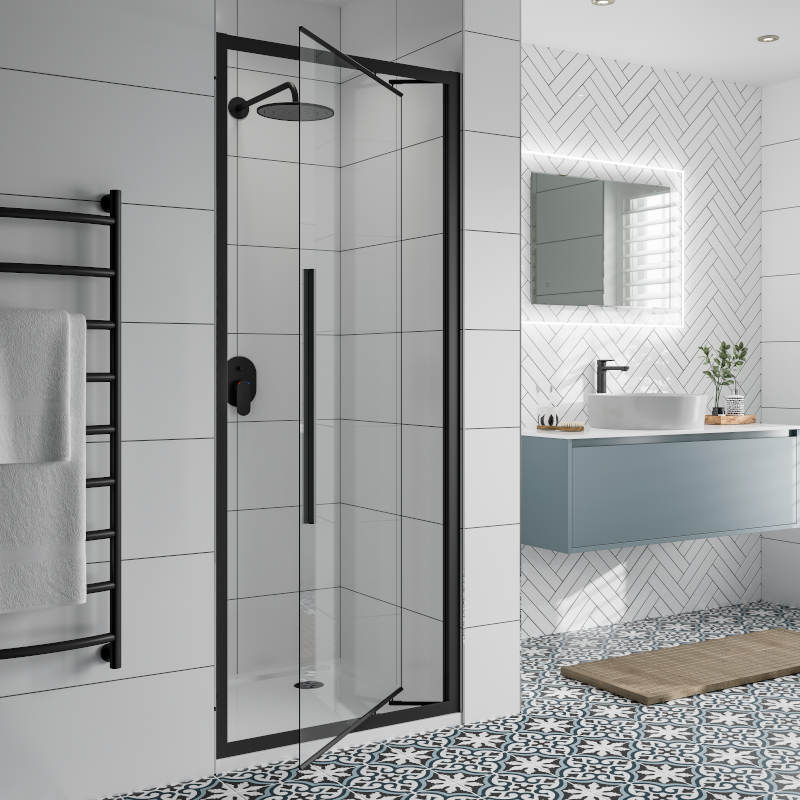 ---
5. Inline Hinged Shower Door Two-Sided Shower Enclosure | £600 - £700
The main advantage of this corner installation is it enables you to determine how large you want the showering area in your bathroom to be. The Inline Hinged Shower Enclosure presents you with several options – in fact, you have nine size options to choose from. The striking and elegant looks of this shower enclosure take your bathroom to the next level in terms of style and functionality. 
This two-sided shower enclosure is a compelling remodel option as it is made from robust 8mm toughened safety glass. The glass is coated with innovative Easy Clean glass treatment that repels soap scum and grime, making it easy to maintain for several years of family use. You also get a 10-year guarantee from Aquadart, safeguarding you against any manufacturing defects.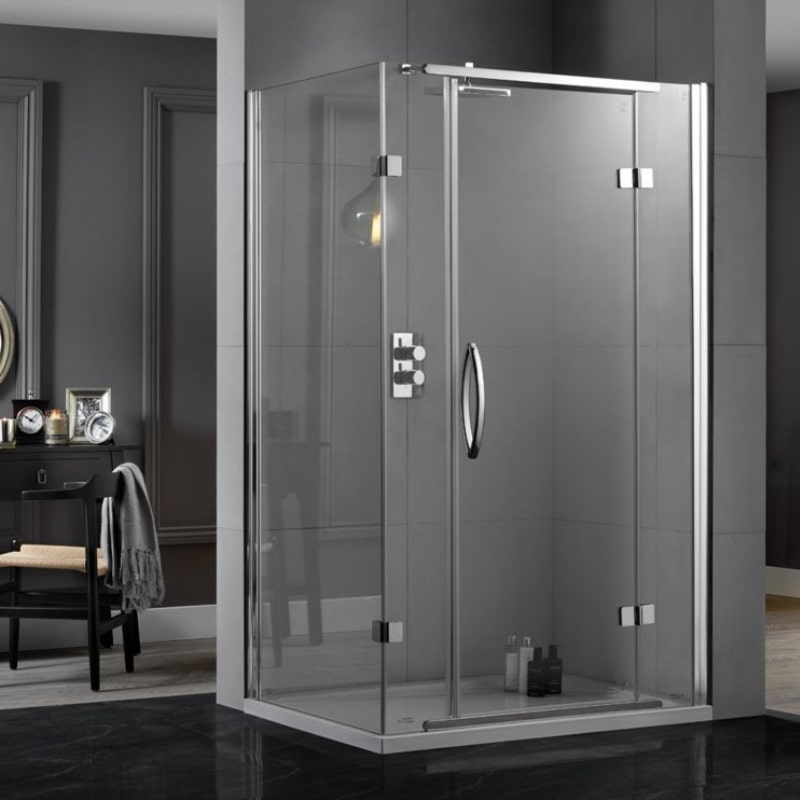 ---
6. Radiant Reduced Height Pivot Shower Enclosure: Optional Side Panel, 1750 x 900 | £200 - £300
Regardless of size, height or other limitations of your bathroom, the Radiant Reduced Height Pivot Shower Enclosure enables you to enjoy a full showering experience. The 900mm Reduced Height Radiant Pivot Door is suitable for a bathroom of any dimensions but especially perfect for recess installation. You can also complete a corner installation using this pivot door along with a side panel that you can purchase as an optional item. 
This pivot shower enclosure is another compelling remodel option as the beautiful chrome-framed finish bordering the 6mm toughened glass simply looks splendid. Also, this shower enclosure comes with a lifetime guarantee. An effective reversible design makes this pivot door suitable for left or right-hand installation.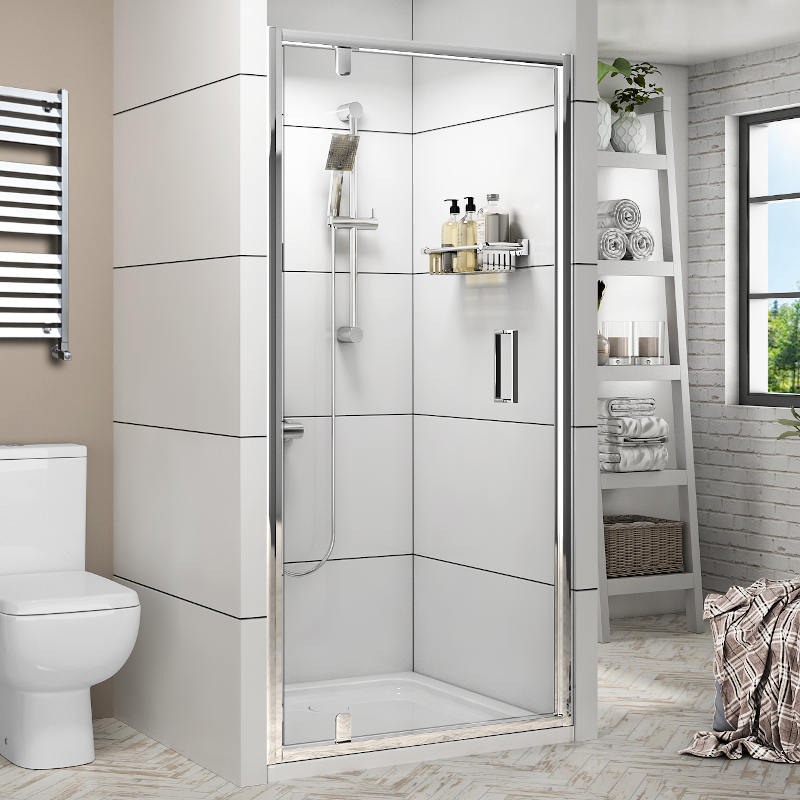 ---
7.  Jaquar Wetroom Shower Screen | £400 - £500 
The Jaquar Wetroom Shower Screen with concealed fixings isn't really a shower enclosure design. But this shower screen is certainly an inspiring bathroom remodel option. This universally appealing, reversible design shower screen comes with a dual-purpose support bar that you can use as a high-level horizontal towel rail. This modern black-framed shower screen is suitable for wetrooms and gives your bathroom space a dash of glamour. 
The matt black frame with partition lines running horizontally oozes visual elegance and contemporary architecture. The 8mm toughened glass is coated with Easy Clean glass protection to withstand soap scum and grime.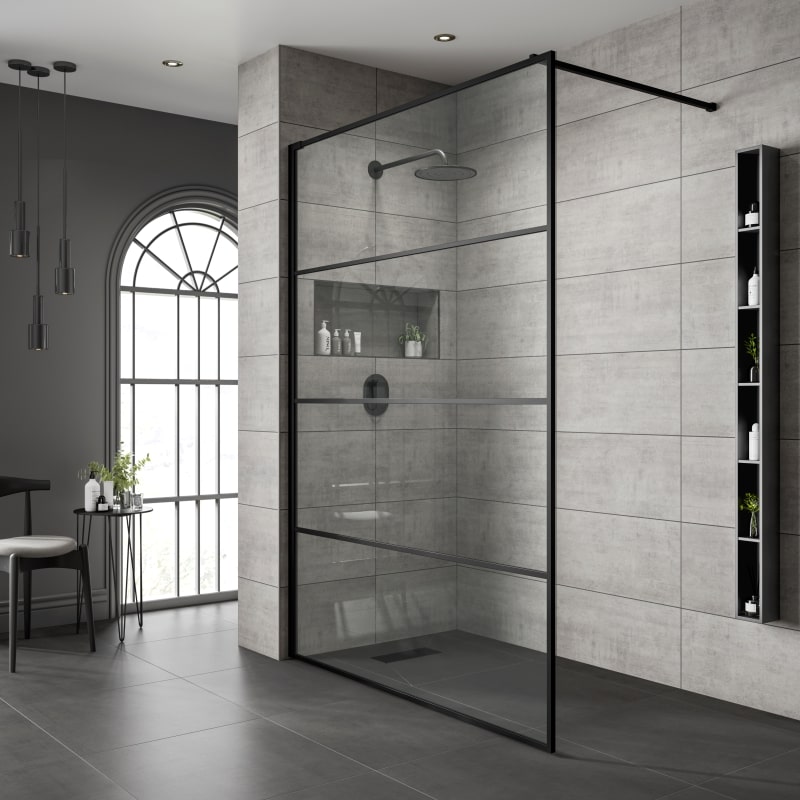 ---
If you enjoyed reading this article, be sure to learn more about picking the right Shower Enclosure for your Bathroom project in our Detailed Guide To Shower Enclosures.