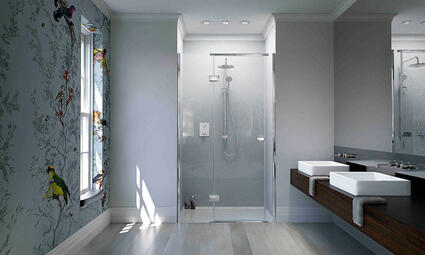 4 Min Read
In today's time-poor, always-connected lifestyle, a shower enclosure could easily be the most convenient feature in your bathroom. It'll help you get ready for the day real fast. Hence, no bathroom is complete without one.
If you are worried about your bathroom aesthetic because your shower enclosure does not look spanking new or is plain boring, it's time to change it. The great news is you have come to the right place!
We are confident you'll find this ultimate guide to shower enclosures useful in your quest for the perfect shower enclosure.
Navigate to any section of this post by clicking on the links above.
---
What is a Shower Enclosure?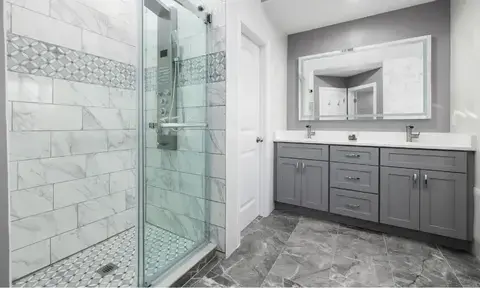 A shower enclosure is an essential part of your bathroom's success. This whole unit not only provides distinctive boundaries inside your bathroom but also makes an authentic style statement in terms of design. Similarly, a shower cubicle is a minimalist-styled showering space that makes a beautiful style statement, especially in a contemporary bathroom.
Broadly, all types of shower enclosures come in two styles – Framed or Frameless. A framed shower enclosure has a metal frame around the entire structure including its door. A frameless shower enclosure has glass panels of a minimum thickness of 9.5mm without metal frames anywhere, including on its door. However, metal hinges are used to hold the door in place.
What Are the Benefits of a Shower Enclosure?
A shower enclosure adds a touch of glamour while presenting your bathroom with lasting safety features. This accessory also enables you to add an elegant and contemporary look to your space.
A bathroom can be hazardous for the elderly and young children, especially when the floor is wet. But the water-tight design of a shower enclosure will drain water quickly, preventing accidental slips and falls.
The main advantage of a glass shower enclosure is it needs minimal maintenance. Unlike shower curtains, glass is naturally resistant to water and soap stains. The chances of bacterial growth are also minimised due to less water splashing around, enhancing the overall hygiene inside the bathroom.
Why Buy a Shower Enclosure?
A shower enclosure can easily become the focal point of your space, raising the style quotient several notches. Installation is simple and fast, saving both time and money.
A shower enclosure is also a highly functional space-saving accessory that makes your bathroom appear larger. 
---
What Are the Different Types of Shower Enclosures?
1. Quadrant Corner Shower Enclosures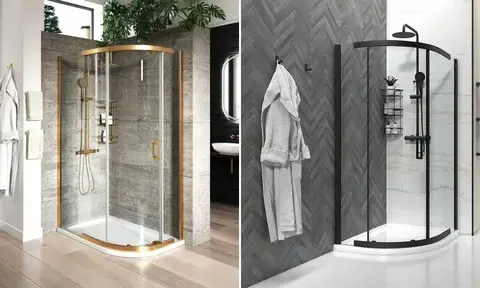 Quadrant Corner Shower Enclosures are designed to fit snugly into any corner of your bathroom or ensuite. Quadrant Corner Shower Enclosures are some of the cheapest models of shower enclosures.
Variants of these models are the Offset Quadrant Corner Shower Enclosures, which are longer on one side and shorter on the other.
2. 3-Sided Shower Enclosures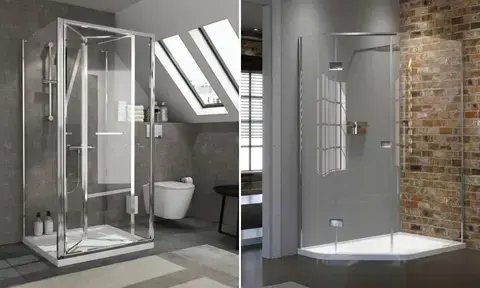 3-Sided Shower Enclosures use the two side walls of any corner in your bathroom and couple this space with two side panels along with a shower door to complete a pentagon-shaped enclosure. 3-Sided Shower Enclosures are ideal for small bathrooms.
3. Bi-fold Shower Enclosures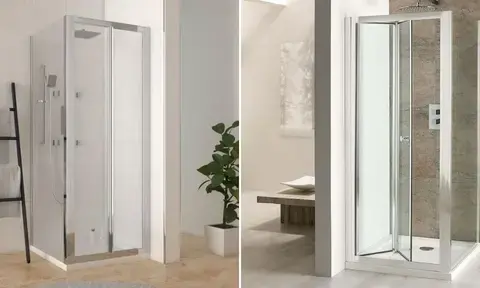 Bi-fold Shower Enclosures come with a folding shower door that opens and closes into the shower enclosure, saving valuable space. The distinctive feature of Bi-fold Shower Enclosures is the doors occupy less space.
4. Hinged Shower Enclosures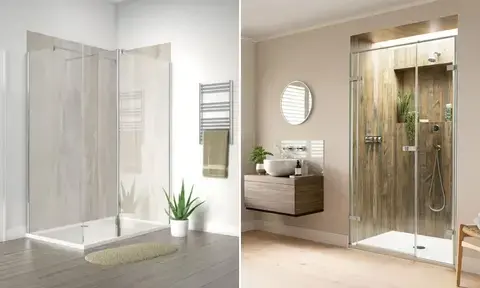 Hinged Shower Enclosures are fitted with minimally-styled hinged shower doors for an open and airy feel. In Hinged Shower Enclosures, hinged joints hold the shower door firmly in place.
5. Frameless Shower Enclosures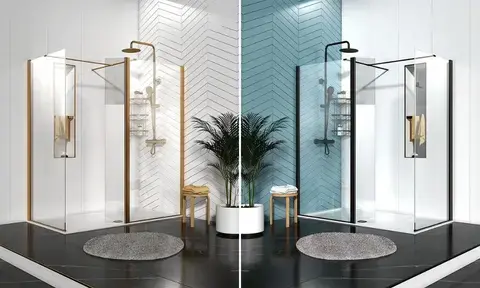 Frameless Shower Enclosures are sleek and minimalist. Although there's no visible supporting framework in Frameless Shower Enclosures, they are strong and durable.
Shower Enclosure Recommendations for a Small Bathroom
The best option for a small or en suite bathroom with space restrictions would be a quadrant corner shower enclosure that curves elegantly around the corner of your bathroom. This enclosure takes up little space and is available with an assortment of shower door styles and shower trays. 
Bi-fold shower enclosures are also ideal for smaller bathroom suites. The door of this shower enclosure splits in two and glides effortlessly to one side within the enclosure. This mechanism makes for a space-saving solution that optimises the shower door's functionality by not limiting the available showering space.  
Reduced Height Shower Enclosures also present a perfect solution for a small bathroom, especially when the roof of your bathroom is low.
Shower Enclosure Recommendations for a Large Bathroom
For a large bathroom, a hinged shower enclosure is the ultimate solution. The hinged door swings out into the generous space in your bathroom, delivering a minimalist look. This shower enclosure is a pleasure to use and mirrors the sleek functionality you find in luxury spas.
The second best choice for a large bathroom is an offset quadrant corner shower enclosure. This enclosure offers you the space-saving features of a standard quadrant shower enclosure, as well as the added advantage of a generous "offset" showering area. If you are looking for a larger shower enclosure that promises a luxurious showering experience, then this enclosure will not disappoint you.
Walk-in Shower Enclosures of large dimensions – 1500mm x 800mm, 1600mm x 900mm, or 1700mm x 900mm – would also be a good choice
---
What to Consider When Buying a Shower Enclosure?
1. Bathroom Space
The size of your bathroom is the most important factor to consider when buying your perfect shower enclosure. If space is a constraint, consider a small-sized shower enclosure. If space is not a constraint, a walk-in shower enclosure is the best choice.
2. The Location of the Shower Enclosure
The shape of your bathroom plays a decisive role in the location of the shower enclosure. Shower enclosures are available in three shapes: rectangle, square, and quadrant corner. While a rectangular- or square-shaped shower enclosure can be installed anywhere in the bathroom, a quadrant corner shower enclosure fits perfectly in any corner.
If your bathroom is not a normal-shaped room with four walls but is irregularly shaped, then a 3-sided shower enclosure is the right choice. This enclosure saves a lot of space thanks to its unique design. But if your bathroom is large, you can opt for a large square or rectangular shower enclosure, even if it's irregularly shaped.
3. Glass Types
Protected glass is a premium shower product that presents added glass protection and makes them easier to clean as well. The transparent coating causes water droplets to bounce off the glass surface and repels dirt and lime scale, making it easier to keep the glass sparkling.
Mirrored shower doors and side panels are a new trend that is increasing in popularity. These products come with a full-length mirrored coating that creates the illusion of more space in your bathroom. Also, a separate bathroom mirror is no longer needed.
Quick-release rollers are a special feature of premium sliding doors and quadrants. These rollers make it easier to ensure your shower is spotless. The special mechanism of the roller allows you to make cleaning a breeze by enabling you to push the shower door away from the bottom of the shower tray.
Glass thickness is also an important factor you need to bear in mind. The glass thickness of most modern shower enclosures is 6mm, 8mm, or 10mm. The glass thickness determines how robust your enclosure feels. The most popular choice among our customers is 8mm glass, and this is the glass thickness we tend to recommend. Shower enclosures of 10mm glass thickness are manufactured only by premium brands such as Matki and Radiant and are a pricier option.
4. Shower Tray
Shower trays create robust and long-lasting foundations for shower enclosures, and the majority of our customers prefer stone resin trays. It's best to avoid trays made entirely from the lightweight material acrylic as they have the tendency to move, which can lead to broken shower seals. 
5. Wall Protection
You'll need appropriate wall protection to minimise bathroom wall deterioration due to constant water splashes inside your shower enclosure. The top choices are ceramic tiles and shower wall panels.
Shower wall panels are cost-effective and enable you to personalise your showering space in the finish you prefer. The different wall panel finishes include wooden, brick, tiles, and traditional.
---
How Much Do Shower Enclosures Cost?
The price of framed shower enclosures ranges from £161 to £1,350. There are dozens of options in this price range. Frameless shower enclosures are more expensive. Their price ranges from £327 to £1, 978, and you have plenty of options in this type as well.
Quadrant Corner Shower Enclosures are available in a wide price range: cost-effective (£218 to £492), mid-range (£510 to £955), and premium (£1,350 to £2,697).
Likewise, Hinged Shower Enclosures are also available in a wide price range: cost-effective (£289 to £498), mid-range (£511 to £978), and premium (£1,001 to £1,553).
---
What Do I Need to Buy Along with a Shower Enclosure?
You'll need to buy the following accessories along with a shower enclosure to create a stunning harmonious look: 
1. Shower wall panels, also called bathroom boards or bathroom panels, are a waterproof system that presents you with a cost-effective alternative to expensive tiling. Shower panels have transformed bathroom design as you know it, and they can be used in smaller en suites as well.
2. A shower tray is a vital component of your shower enclosure as it is the durable foundation slab. The right installation of this accessory ensures that the water flow is smooth and there's no water stagnation inside your shower enclosure.
3. A shower waste is a key accessory to a bathroom shower. This shower accessory is fitted at the exit point in a shower tray to drain wastewater, ensuring your showering space remains dry. Shower wastes come with a removable grid for easy cleaning and maintenance.
---
What Are Some Alternatives to a Shower Enclosure?
1. You can configure ceiling shower rods to match the shape of any shower. You can then choose the shower curtains that match your bathroom decor. This is a great alternative to a shower enclosure as the shower curtain glides left and/or right and smoothly around corners as well. The curtain movement is not hampered by bars or braces. All the hardware you need is easily available, and the installation is easy too. 
2. A bath screen or shower screen is another alternative to a shower enclosure. This glass screen ensures that water remains in the showering area only. This bathroom shower accessory has become an increasingly popular choice over the traditional shower curtain.
3. A wet room is a water-tight bathroom equipped with a shower that does not have a separate shower tray. The walls of the bathroom act as the shower enclosure. The conventional shower tray is replaced with a drain inset into the bathroom floor.
---
Conclusion
The right shower enclosure will enhance the appearance of your bathroom and deliver a satisfying showering experience. We are sure that the information in this detailed guide will help you choose a shower enclosure that fulfils all your expectations.
---
Shop Shower Enclosures
At Bathroom City, our vast variety of shower enclosures includes frameless shower enclosures, walk-in shower enclosures, double shower enclosures, shower enclosures with trays, and quadrant shower enclosures through to square shower enclosures. We are confident you'll find the perfect shower enclosure for your bathroom.
Other related articles you might also like to read: