How to Clean and Maintain your Shower Enclosure?
Cleaning a shower enclosure is a thankless job. Even at Bathroom City, we are yet to meet a customer or even a member of staff who can honestly say they enjoy undertaking it. That's mainly because shower enclosures tend to accumulate soap scum and grime every day. And unfortunately, the truth is it's a job that has to be done because leaving it can significantly affect not just the condition of your bathroom, but also the condition of your health and well-being. 
It's been reported by the Centre for Disease Control and Prevention (CDC) that a mouldy shower environment increases your chances of catching colds, sore throats and even eye and skin irritation. This means making sure your enclosure is clean should be considered as a valued necessity. 
We have some good news. When you use the right cleaning method, your shower enclosure can repel soap scum and remain clean longer. And you can use the same process for cleaning both glass and plastic components of a shower enclosure – using either commercial or natural cleaning agents. 
Jump to any section of the guide for an answer to your specific question or feel free to read the guide in it's entirety:
---
General Steps for Cleaning a Shower Enclosure 
Wipe and dry your shower unit with a soft dry towel after using it. This will help you get rid of hard water deposits on a daily basis. Although perhaps not the first thing on your mind after showering, this simple activity that takes a few moments will help you in the long run. 
Use Glass Cleaner. At the slightest evidence of a build-up of deposits on the shower glass, spray glass cleaner onto the glass and leave for a minute. 
Using a paper towel, rub the glass cleaner into the sprayed areas and wipe the shower glass dry.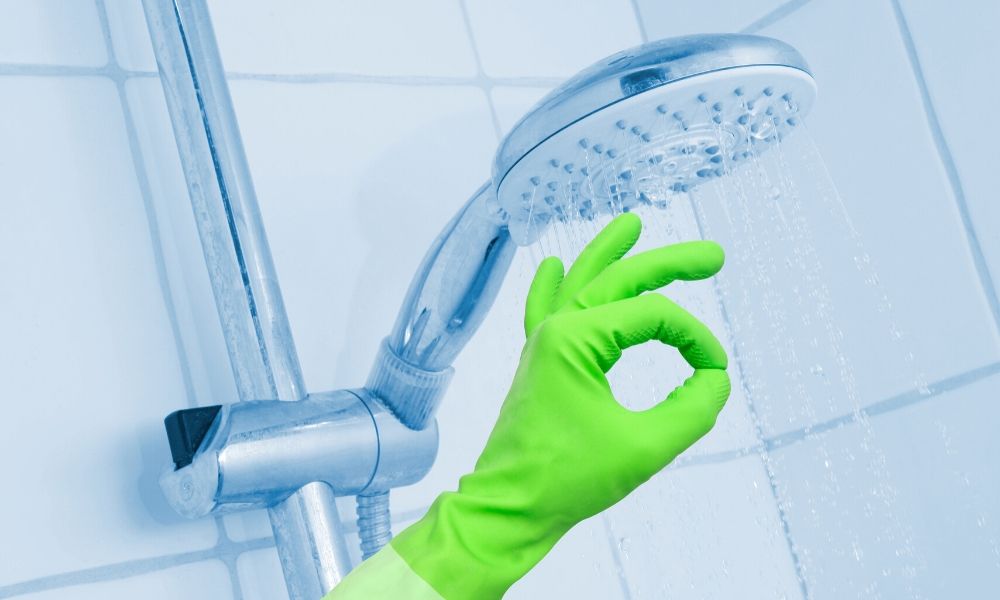 ---
What Are the Best Market Products for Cleaning a Shower Enclosure? 
This low-priced, quick and easy daily cleaning liquid is perhaps the best product for cleaning your shower enclosure. This cleaning solution is highly convenient because there's no scrubbing involved as you simply spray and forget. The solution quickly dissolves soap scrum and watermarks, resulting in a crystal clear shine. The main benefit is regular usage prevents the build-up of limescale. This vegan solution is suitable for use on the other shower enclosure accessories such as plastic wheels of the shower door, enamel tray, glass screens, tiles and vinyl curtains. 
If you hate scrubbing, you'll really love this cleaning solution. After a shower, you spray a light mist of this premium product and simply walk away. Yes, that's right. You can clean your shower cubicle – whether it's a walk-in shower cubicle or corner shower cubicle – minus the rubbing, wiping, rinsing and squeegeeing. This product is especially effective in hard water areas. The only drawback is this cleaner spray is not suitable for use on natural stone and marble. Please note this point before you place your order. 
This daily shower enclosure cleaner is yet another low-priced product that eliminates scrubbing, rinsing or wiping. Yes, you just spray and walk away. This convenient spray is effective in preventing the build-up of soap scum, grime, grout and limescale on the various surfaces in your shower enclosure. You can use this versatile shower cleaner on acrylics, plastics, fibreglass, chrome, porcelain, glass, tiles and shower curtains. 
This everyday bathroom cleaner is suitable for plastic shower cubicles, tiled walls and washbasins. This spray works on all bathroom surfaces, including marble, granite, travertine, enamel and natural stone. A convenient refill bottle makes this product even more affordable. Using it is simple, too. Spray the surface of the shower enclosure and leave it to work for a few minutes. Rinse the surface thoroughly with water. 
This premium product makes the shower cubicle surfaces hygienically clean in an easy two-step process. This spray is suitable for use on shower enclosures made from glass, plastic or aluminium. You can use it on shower partitions and curtains, as well. After showering, spray a light mist and rinse off with water.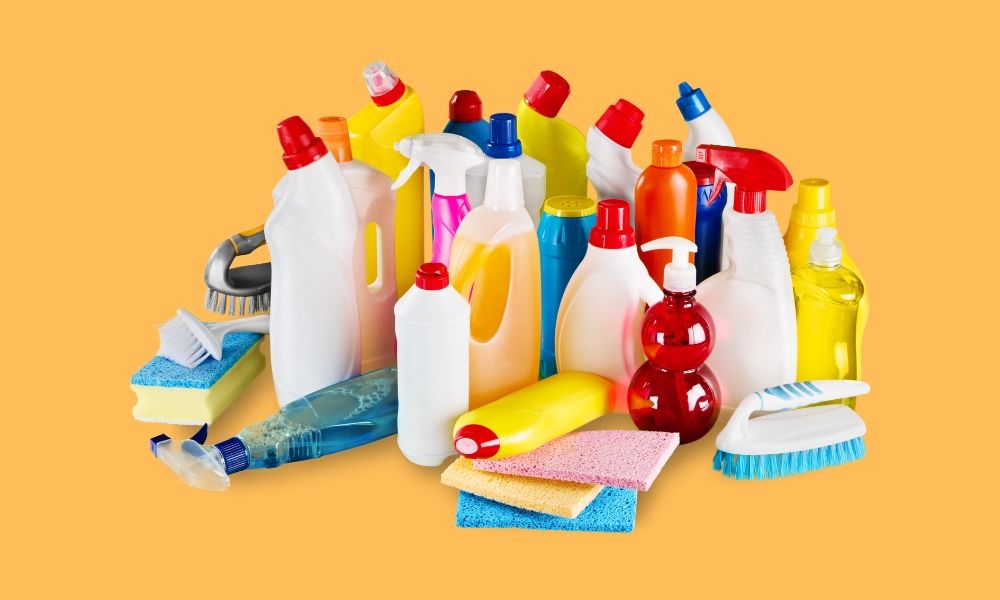 ---
How to Clean the Shower Door Glass Without Scratching or Causing Damage? 
A natural way of cleaning the shower door glass would be by mixing a tablespoon of baking soda with water to make a thick paste. The next step is to scrub the glass surface using a nonabrasive sponge. And the last step is to rinse the glass with vinegar until it sparkles. (Since undiluted vinegar can cause skin burns, it's safer to wear gloves.) 
If you hate scrubbing, there's an equally effective alternative cleaning solution. The Method Glass Cleaner Spray (828 ML) simply makes cleaning your shower door glass a breeze. You spray the solution on the glass surface and wipe immediately with a soft dry towel.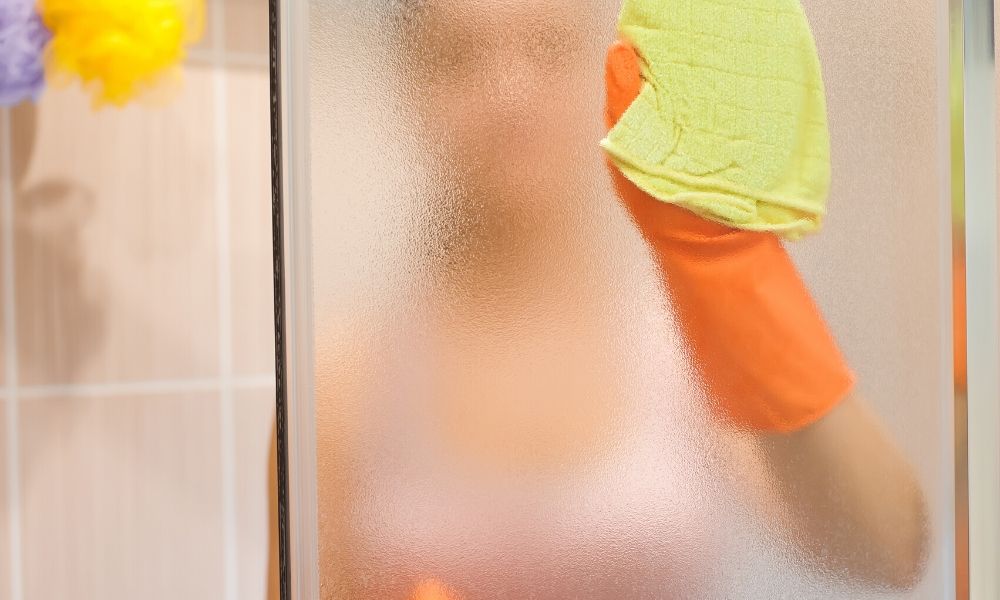 ---
How to Clean a Shower Door Glass with Protective Coating? 
For glass with a protective coating, you should be careful. Don't use any product that has ammonia, hydrofluoric acid or phosphoric acid as an ingredient. And avoid using any sharp object, abrasive brush or razor blade that may scratch the protective coating. A natural way of cleaning the shower door glass with protective coating would be by using vinegar. Wipe the glass with a Scotch-Brite Non-Scratch Scrub Sponge dipped in vinegar. Then, rinse the glass surface clean with water. 
Since you cannot wipe and rinse the shower door glass after each showering, an easier solution to cleaning glass with protective coating is using Clean Shower Cleaner Shower Daily Spray. As mentioned above, you can get a sparkle minus the wiping and rinsing. And you can use this premium cleaner to clean the whole shower cubicle – whether it's a walk-in shower cubicle or corner shower cubicle.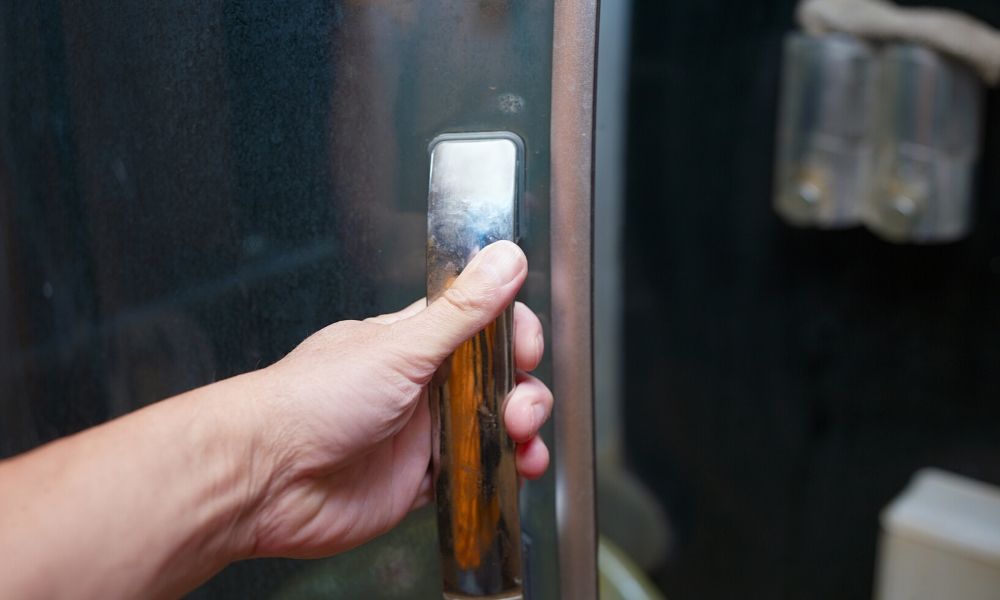 ---
How to Clean the Shower Door Tracks? 
Unlike a walk-in shower cubicle, a corner shower cubicle has a sliding door. And shower door tracks can be the most difficult part of the shower enclosure to clean because soap scum and dirt tend to accumulate there. Door tracks are also the most neglected section of a shower enclosure.  
The natural way – and, of course, the most effective way – of cleaning door tracks is by using readily available household cleaning supplies: old toothbrush, one tablespoon of lemon juice and two tablespoons of salt. Make a smooth paste by mixing lemon juice and salt. Use the old toothbrush to apply this paste inside all the inaccessible parts of the sliding rolls. Wait for 15 minutes, and rinse the dirt off with warm water. If necessary, repeat this process.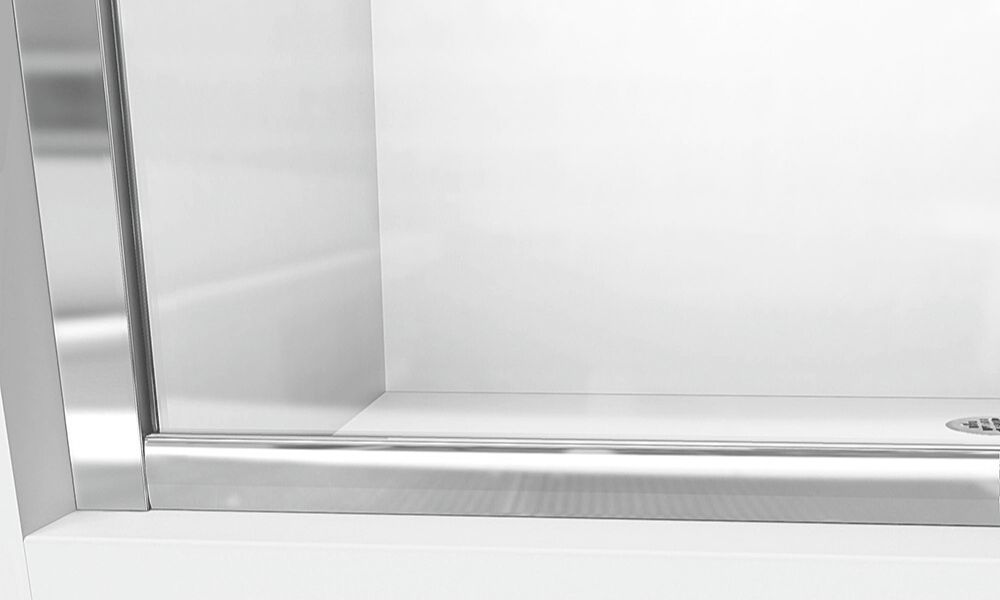 ---
How to Clean the Shower Enclosure Drain? 
Cleaning the shower enclosure drain is a tough task. Ideally, if you do it once a month, your drain will not get clogged and the water in the shower enclosure will drain properly. Although a chemical drain cleaner is quick and effective, we don't recommend it because the harsh chemicals can damage your plumbing lines. So, we recommend you to do this the natural way following the steps detailed here. 
Step 1 : Wear rubber gloves. Remove the shower drain cap. First, you'll need to remove physical blocks like hair. Use a drain snake for this. A thin wire coat hanger is an effective alternative. 
Step 2 : Remove the initial debris, using your fingers. Next, slip in the movable end of the drain snake carefully and push it down the drain. With a slight twisting motion, move the end forward so that snake winds down the drain. 
Step 3 : Tug upwards gradually. Pull the blocking debris out, and put this in a plastic bag.
Step 4 : If necessary, repeat this process. Ensure all the blockages have been cleared.
Step 5 : In this extra step, you'll need to use 1 tbsp of baking soda and some vinegar to clear any remaining debris. Pour the baking soda down the shower drain. Next, pour some distilled white vinegar. A fizzing sound signals that the remaining blockages are being cleared.
Step 6 : Wait for 30–40 minutes. Pour half a bucket of hot water into the shower drain to flush the mixture. Replace the shower drain cap. 
If you think all this is too much work, then the alternative is Mr Muscle Max Gel Unblocker or Scotch Corporation Liquid Drain Opener. These unclogging liquids do the same work in a jiffy, presenting you with an easy solution.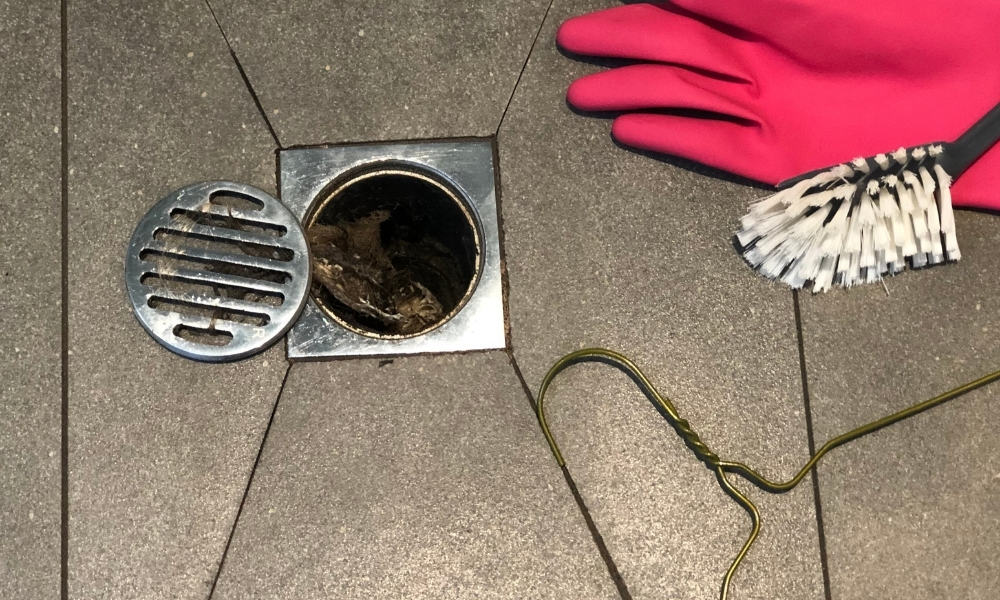 ---
How to Clean the Shower Enclosure Wall or Floor tiles? 
Dirty wall tiles and floor tiles are not just a health issue, but they are a serious embarrassment, as well. Scrubbing the tiles is the best method of cleaning, but this process can take a lot of time. If you have the time and if your tiles are not made of natural stone, then you can use lemon juice for cleaning wall or floor tiles. There is no scrubbing involved in this process. First, spread lemon juice uniformly on the stubborn spots on tiles. Then, let it stand for two hours. Last of all, wipe with a soft cloth and rinse the tiles thoroughly.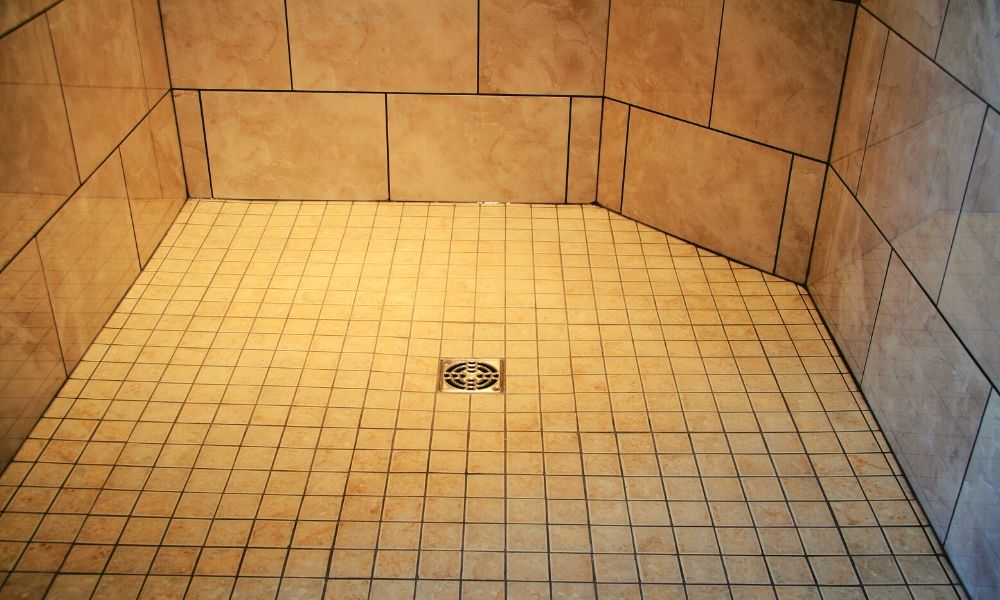 ---
How to Clean a Shower Enclosure with Commonly Available Home Food Preparation Products Such as Vinegar and Baking Soda? 
A mixture of vinegar and baking soda is a practical solution for cleaning most surfaces. But this mixture should never be used on natural stone as it will leave a discolouration spot. And using them individually is more effective than using them together. The reason is combining them and bottling them can neutralise the effects, producing mainly water and some sodium acetate. Hence, you can make a thick paste by mixing baking soda with water. Wear rubber gloves and apply this paste uniformly over the surface of the shower enclosure you want to clean. Let it stand for a few minutes before wiping the surface with a clean, soft towel dipped in vinegar. Rinse the surface thoroughly with water.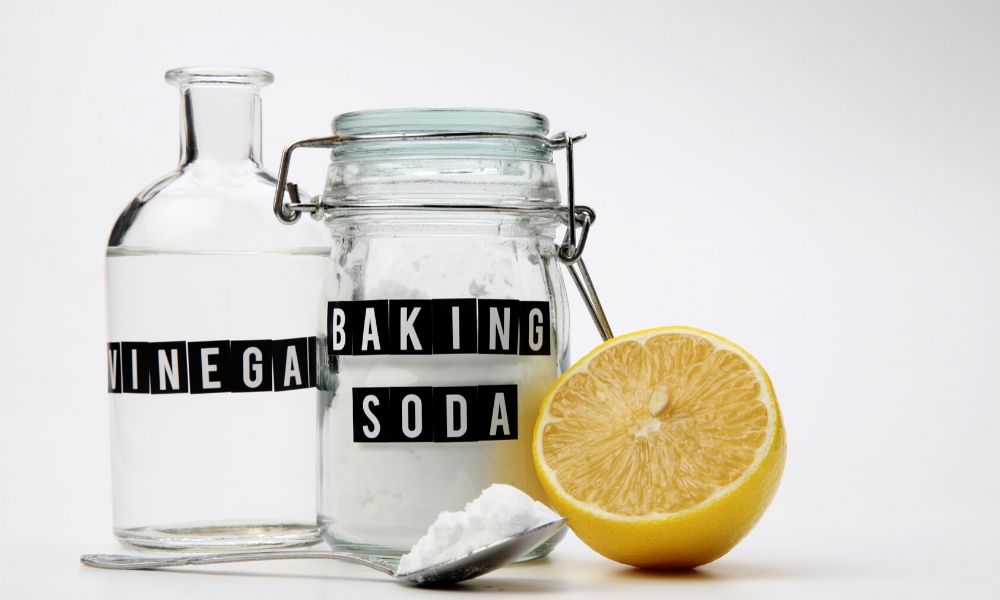 ---
How often should you clean your Shower Enclosure? 
Ideally, you should clean your shower enclosure once a week to prevent mildew growth and unwanted stains from building up. But if you miss your weekly bathroom clean up, you'll need to work harder during the subsequent week. If you're dependent on the spray-and-forget method for cleaning your shower enclosure on a daily basis, you'll need to rinse the shower enclosure once a week after you spray. Focus on the showerhead and the shower unit as well as the wall tiles. 
---
Are You in the Market For Buying Shower Enclosures? Check Out Our Collection. 
At Bathroom City, we present you with a fantastic range of shower enclosures, and we want you to get the best value for your money. For more information on our collection of shower enclosures, call us today on 0121 753 0700 or visit our showroom open Monday to Friday 9:00–5:30, Saturday 9:00–5:00 and Sunday 10:00–16:00.
---
Other related artilces that you might also be interested: